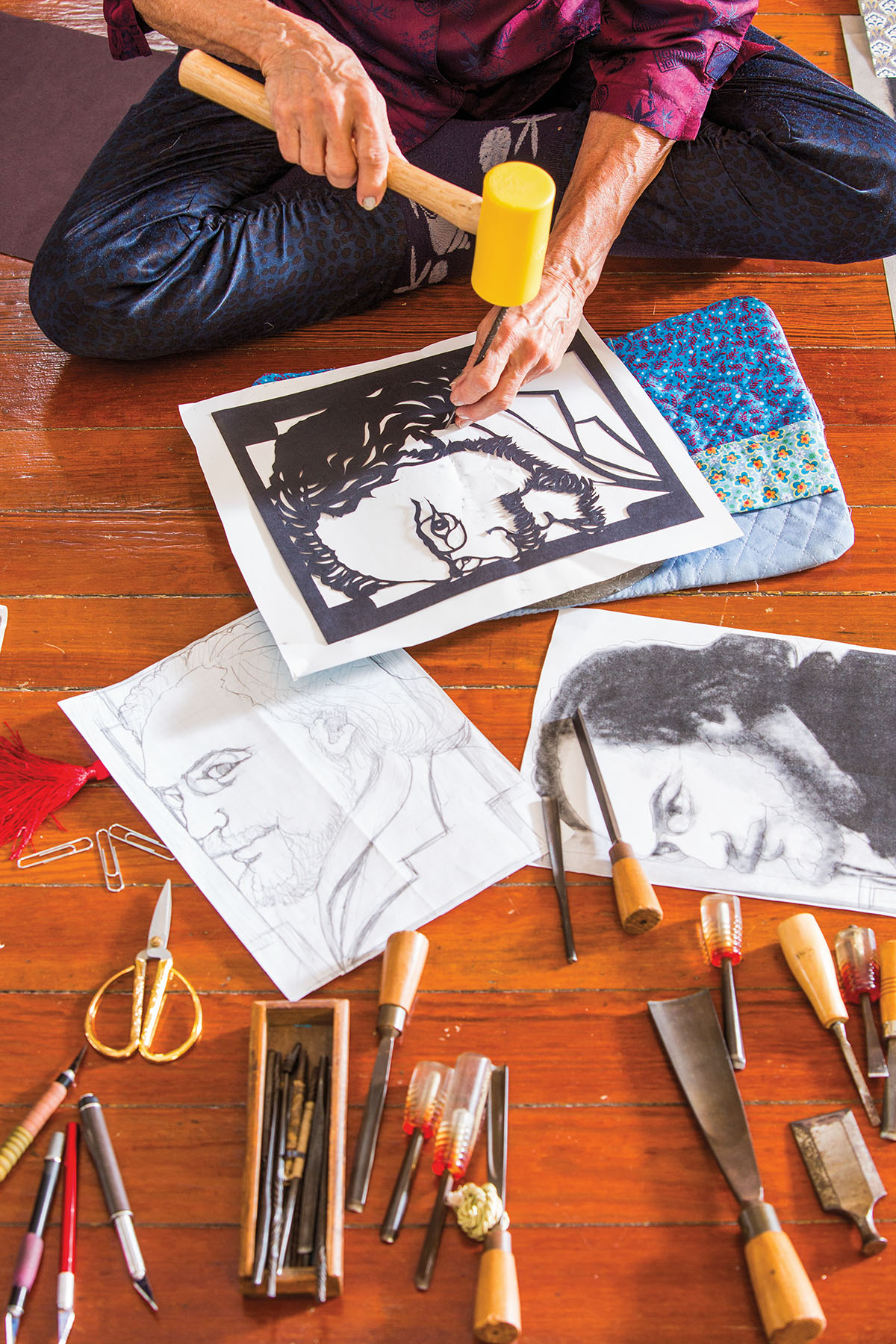 Kathleen Trenchard sits at her desk inside a sunlit studio in San Antonio, turning a piece of tissue paper into something resembling lace. She is surrounded by work tables bearing the tools of her trade: mallets, knives, and a battalion of bladed chisels. Trenchard makes papel picado, or "punched paper," a traditional Mexican folk art that dates to the 17th century. Today, papel picado continues to sway over Mexico's cobblestone streets and old stone churches on holidays like Día de los Muertos and Christmas—not to mention at Fiesta San Antonio.
Trenchard first came to the Alamo City in 1986 for an equestrian show and fell in love with the area's historic atmosphere. The following year, the New Orleans native relocated to San Antonio, not knowing then that a visit to a local gallery would change the course of her creative life. Inside the now-shuttered Popularis Gallery, Trenchard remembers eyeing papel picado for the first time.
"I was amazed that so much work and art had gone into a fragile piece of tissue paper," she recalls. "The magical shadows these banners cast on the wall behind them seemed to dance with the slightest breeze or movement."
Trenchard's interest in paper-cutting started in her childhood in Louisiana. Growing up, she and her mother and sisters would cut paper dolls and miniature garments from the cardboard inserts on the family's dry-cleaning hangers. This creative upbringing led Trenchard to Newcomb College and later the Pratt Institute, where she received a fellowship in painting and printmaking.
That night at Popularis Gallery, she purchased her first papel picado. This marked the start of a collection of cut-paper artworks now totaling more than 700 pieces, from places including Mexico, Vietnam, Poland, and China. It also spurred the start of Trenchard's own artistic rebirth. While employed at the San Antonio Museum of Art, she began organizing papel picado workshops for visiting students and patrons. She also went on a sojourn to San Salvador Huixcolotla in Puebla, Mexico, to learn the history and heritage of the craft firsthand.
"We're fortunate to have such an outstanding artist who stayed true to the traditions but has also taken it to the next level," says Denise Barkis Richter, author of 100 Things to Do in San Antonio Before You Die.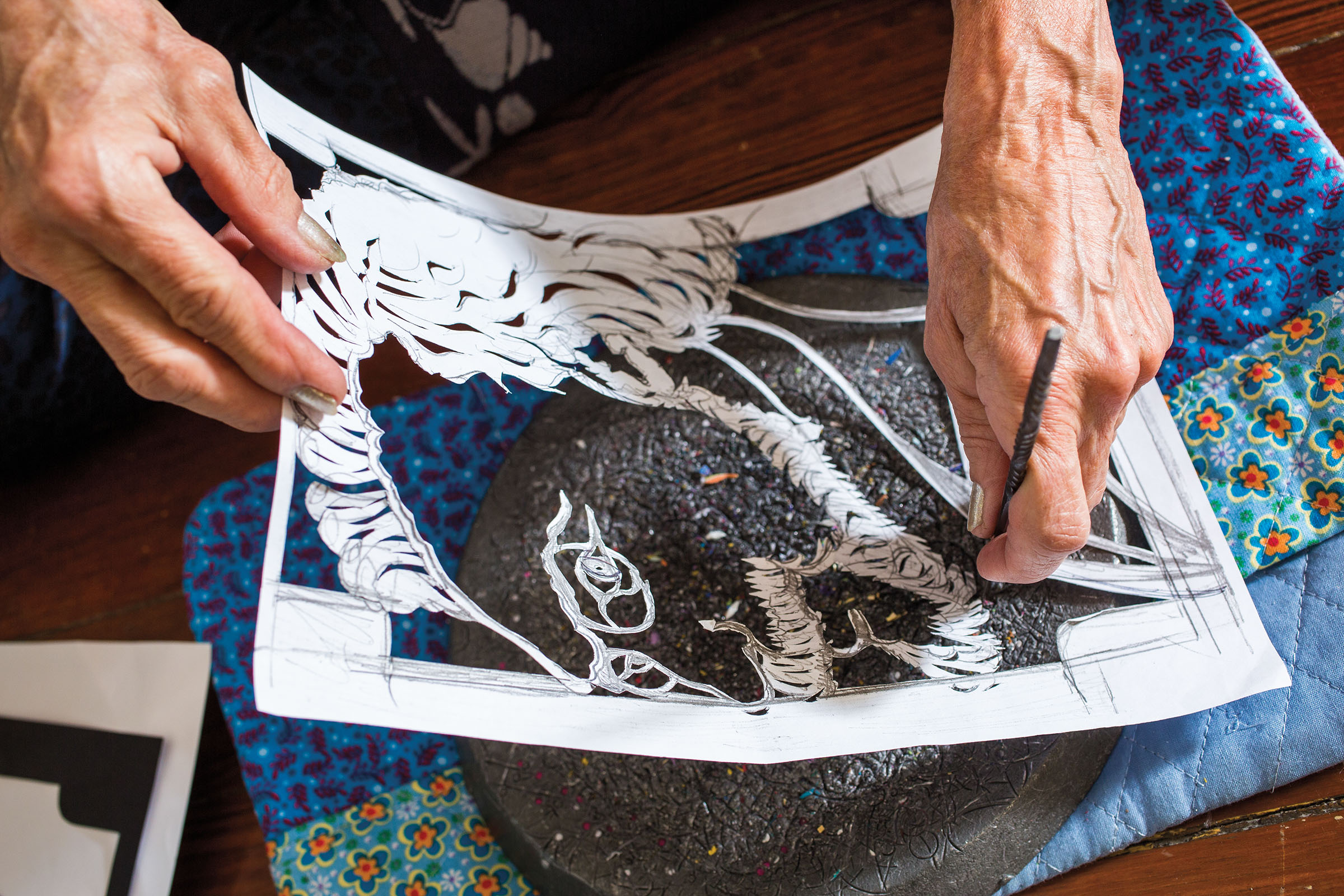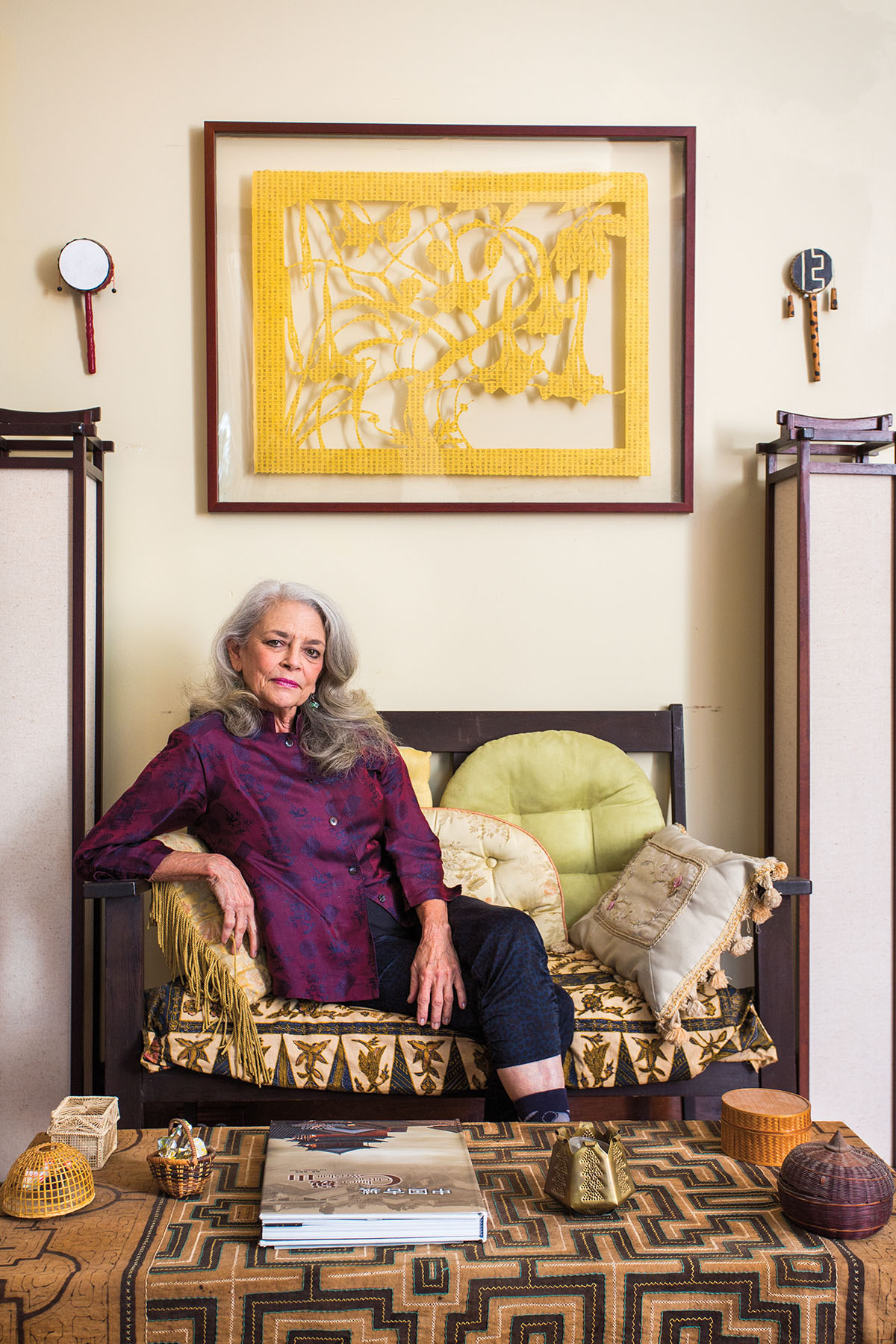 Mechanical production of papel picado has become commonplace, but Trenchard still proudly works by hand. Today, she runs her paper-cutting business, Cut-It-Out, from her 19th-century home on the edge of Woodlawn Lake. She says every piece of papel picado starts as a drawing. "The main thing is to design something that hangs together," she explains. "There has to be an infrastructure, and there's a real complexity to it."
Once the loose sketch is mapped out, she uses rulers and T squares to draw in the "connectors"—the gridwork that holds the design together. Then, she'll staple or paper-clip a photo copy of the sketch to the tissue and place it atop a padded platform, which helps preserve the sharpness of the blades. Trenchard rarely uses scissors.
Multiple sheets of tissue can be cut at once with the hit of a hammer or the turn of a knife. Trenchard tackles the center first and works outward, one tool at a time, toward the connectors and the border frame. "You get into the groove," she says, admitting the repetition, rhythm, and fluidity of the work is both therapeutic and meditative. "I take it out on the paper."
Trenchard finds inspiration everywhere: history, traveling, even her innervisions. "I often dream of exploring exotic places and participating in dances and local rituals," she says. "My works attempt to capture some of the movement and ambiance of these dreamscapes."
The craft requires strength and precision, focus and flexibility. Trenchard likes to say she doesn't make mistakes, but rather opportunities. "The thing is not to be afraid," she says. Amateur paper cutters looking for guidance can purchase a basic book of patterns on Trenchard's website, complete with step-by-step directions in both English and Spanish.
"You get into the groove," Trenchard says, admitting the repetition of the work is both therapeutic and meditative.
Trenchard has a varied portfolio with often experimental work, from a laser-cut metal fence for a private client to the oversized PVC plastic installation Four Seasons of San Antonio, located on the mezzanine level of the AT&T Center. Most popular, however, are the traditional tissue designs, which she customizes for clients' milestone moments, like anniversaries, birthdays, and weddings.
Trenchard is also working on her own cut-paper portrait series featuring inspirational people, from Harriet Tubman to Greta Thunberg. She is available for private classes and educates a wider audience through her books. In her first, Mexican Papercutting: Simple Techniques for Creating Colorful Cut-Paper Projects, Trenchard shares her craft and process. In her second, a work-in-progress, she delves deeper into the form's roots.
Walking beneath a canopy of fluttering papel picado is a soothing, spiritual experience. As wind whispers through the tissue, patterns emerge in the form of skeletons dancing, birds flying, and hearts beating with love. The paper is a fitting metaphor for the ephemeral nature of life: While its creation is time and labor intensive, its lifespan is short. Yet impermanence makes papel picado an ageless art form, a way to tell stories in a clear-cut manner.
From the April 2020 issue