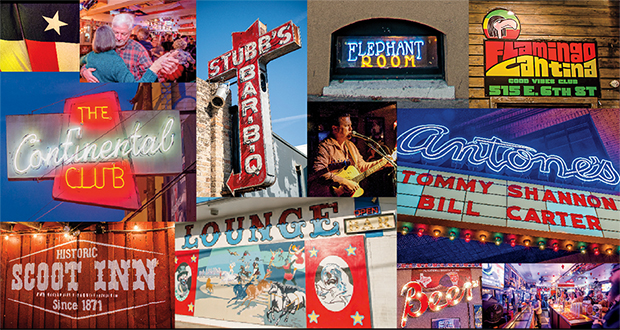 The Old Austin crowd loves to reminisce about all-night jam sessions with Stevie Ray Vaughan and the lost progressive-country paradise of the Armadillo World Headquarters. Listening to "Austalgists," it might sound like all the great clubs closed long ago.
Live Music Capital

For upcoming shows at music clubs, along with Austin travel information, call the Austin Convention & Visitors Bureau at 512/474-5171.

SXSW 2017

Austin music venues are gearing up for the city's busiest week of live music during the annual South by Southwest Music Festival (March 13-19), when more than 2,200 bands come to town.
But on any night of the week, venues across Austin keep the beat going with bands playing the best of Texas music of all genres—from country to jazz and conjunto to punk. At least 16
of these clubs have been open for 16 years or more. Few cities in the world can match that claim. In club years, 16 is about 87.
It's true that such beloved clubs as Liberty Lunch and Flipnotics have fallen victim to soaring real-estate values, but new ones take up the slack, praying to break even. And hot new acts like A Giant Dog, Walker Lukens, Tameca Jones, and Moving Panoramas reinforce the "Live Music Capital of the World's" independent-music prominence.
It makes no financial sense to open a venue for live original music, considering the overhead of installing a stage and sound equipment, then hiring a band, soundman, and bouncers each night. The rock-and-roll crowd is getting old, and the kids want to watch Netflix or roll to laptop disco. A smarter investment would be a cocktail lounge. Or an emu farm.
Nevertheless, the energy of regularly hosting mini-concerts hooks certain people. The plot changes every night. "On a good night, when the band's great and the folks are totally into it, you feel like, 'Wow, I'm the nerd from high school and I did this,'" said Randall Stockton, who opened Beerland on Red River Street in 2001.
As Austin is becoming more like Dallas and Houston, one thing that distinguishes the Texas capital's quality of life is the live-music scene. The almighty South by Southwest conference, which makes Austin the capital of the new world each mid-March, was built on the backs of Austin clubs. They are to Austin what the missions are to San Antonio, though these venues are not physically impressive. In fact, most are dumps. But you don't go to a music venue because of how it looks from the street. And when the band's really great, it doesn't matter that the wall you're leaning against is painted plywood. You pay your cover (which is usually low in Austin) because you're chasing magic. It doesn't always happen, but you don't want to be home watching Big Bang Theory when it does.
The only true motivation for opening a live music venue is a passion for the music and community around it. That's the characteristic that ties these clubs together, as well as newer clubs that will someday be legends, such as the Mohawk, Hotel Vegas, White Horse Saloon, Parish, and C-Boy's. Live music clubs are the heart and soul of Austin.
opened 1979
Some folks like their music loud or danceable, but the Cactus serves those who want to hear words elevated by melody. Located in the Texas Union building at the University of Texas—in the same space where Janis Joplin got her start, then a café called the Chuck Wagon—the Cactus sets the "listening room" standard in town. Legendary songwriters like Townes Van Zandt, Lyle Lovett, and Nanci Griffith favored the Cactus when they were starting out. Now the club hosts younger artists who look up to that group, along with intimate shows by influential veterans. 2247 Guadalupe St.
opened 1991
This Sixth Street club is known for Jah-dropping reggae, ska, worldbeat, and Latin music. It's all for the love of irie, so it's where Jamaican dub legend Lee Scratch Perry plays, even though he could fill bigger rooms. The Cantina is a tiny place, but tiered benches provide good sightlines, and there's a rooftop deck. 515 E. Sixth St.
opened 1996
The Fugees played the weekend this barbecue restaurant opened its 2,100-capacity stage along Waller Creek. And Stubb's has continued
to draw staggering talent. Iggy and the Stooges, the Pixies, Merle Haggard, White Stripes, Loretta Lynn—you get the idea. There's also an inside stage mostly for
local bands and the very popular Sunday Gospel Brunch.
801 Red River St.
opened 1963
It's hard not to think about the "Pink Elephants On Parade" scene from Dumbo when you're at this ultra-campy, circus-themed dive bar. With an old wooden phone booth inside and crazy clown and elephant art, the Carousel is always the headliner, no matter who's on stage—usually four-piece rock bands on the weekends. 1110 E. 52nd St.
opened 1974
It was front-page news when the only consistent live music venue on Guadalupe Street adjacent to the UT campus closed in 2002. A parade of great talent played on the tiny stage in the front window overlooking "The Drag"—from Steve Earle to Timbuk 3, Spoon, and Alejandro Escovedo's garage band Buick MacKane. It was sad to lose all that. But a trio of entrepreneurs saved the club from the wrecking ball, kept the live music, and installed a beer garden for folks who'd rather talk than rock. More recently, a ramen shop occupied a restaurant space in the back. The Hole has adapted without losing its edginess. 2538 Guadalupe St.
opened circa 1950s
This tiny stone-and-mortar building on Burnet Road is thought to be over 100 years old and once housed a grocery store and a filling station. But for the past 50-some years, The Little Longhorn—called Ginny's Little Longhorn under previous ownership—has been a bastion of true honky-tonk music. Not to mention Sunday's "Chicken Sh*t Bingo," an Austin tradition. Don't miss one of the regular performances by James Hand, an original Texas honky-tonk troubadour who isn't a nostalgia act. 5434 Burnet Road
opened 1964
Built on the edge of town, this two-steppers' roadhouse is now smack dab in the middle of trendy South Lamar Boulevard. But when you're inside, it's still the '60s. One of owner James White's first touring acts was Bob Wills in 1966. From 1975 to 1982, George Strait played here monthly. The Spoke's got history—and a damn fine chicken-fried steak! 3201 S. Lamar Blvd.
opened 1975
Can you name all six locations of Austin's "Home of the Blues"? Antone's feels like it's home again with its 2015 move to East Fifth Street, about four blocks from where the late Clifford Antone opened the original club so he could hear the likes of Muddy Waters and Jimmy Reed. Now co-owned by guitar great Gary Clark Jr., who got his start at the club's fourth location when he was 15, Antone's nurtures a mystique that lives on in a new club that's nicer inside but just as gritty onstage as ever before. 305 E. 5th St.
opened 1990
Booking as many as six acts a night, from happy hour to last call, the small club with the giant knight in armor out front has hosted an estimated 24,000 sets. Richard Vannoy, the Saxon's soundman for 25 years, has likely heard more live music than anyone in town. There were some lean years early on, but the Saxon eventually found its crowd—older live-music lovers who have to work in the morning and don't want to deal with Sixth Street, Red River, or the Warehouse District. The Saxon was a launching pad for Los Lonely Boys, Hayes Carll, Carolyn Wonderland, Monte Montgomery, and many more. Bob Schneider's Monday night residency is his favorite gig every week. 1320 S. Lamar Blvd.
opened 1955
Taking over a former laundromat, the Continental began as a private club featuring jazz combos. It was a sad haven for day-drinkers for most of the '60s and '70s but found its identity in the '80s as a club that booked the best in rock music, from punk to roots. And the bands get an instant review: If bartender Clara "Que Si" Reed jumps onstage to go-go dance during your set, that's four stars! If you want to see what Austin used to be like, there's the Toni Price "Hippie Hour" love-fest every Tuesday. Upstairs, a show at the separate Continental Gallery's intimate room is like having a jazz combo or singer-songwriter James McMurtry in your home. 1315 S. Congress Ave.
opened 1992
Only the name is the same. The Emo's at Sixth and Red River was the coolest punk dive in the country, "a home away from home for misfits," says original manager David L. Thomson III. The glorious dive closed in 2011 and relocated into a state-of-the-art rock box. Now owned by Austin-based promoters C3 Presents, Emo's current incarnation has more in common with a House of Blues than its dive roots. But Emo's still books great shows with top club talent. 2015 E. Riverside Drive
opened 1996
Known more for its home-cooking than its house rocking, Threadgill's South Austin location was built next door to where the legendary hippie venue Armadillo World Headquarters (owner Eddie Wilson's first club) was located, so there had to be a live-music component. This 600-capacity, open-air venue is a great place to see Shinyribs, Carolyn Wonderland, and other acts that infuse roots music with new ideas and energy. 301 Riverside Drive
opened 1978
When the authentic juke joint T.C.'s Lounge closed in 2011, Old Austin sighed. Beloved clubs are almost always replaced by cleaner, fancier establishments with no soul. But the new owners, mother and son Eileen Bristol and Topaz McGarrigle, both musicians, renamed it the Sahara, kept the lounge's old wooden building intact, added a beer garden, and carried on T.C.'s community tradition. Saturday is Africa Night, with music by Zoumountchi or the Sahara House Band, and the rest of the week you'll find Latin music, rock-and-roll, neo soul, blues, psych, and more. Robert Plant was a regular when he lived in Austin circa 2012. 1413 Webberville Road
opened 1955
For decades this was a neighborhood bar, but live music became the draw about 10 years ago. The club's 1,100-capacity, outdoor stage often hosts touring rock acts, while the newly renovated indoor Ivy Room has a piano for cocktail jazz and blues. There's also a small room of old photos that chronicle the venue's history, starting when freed slaves opened a grocery store on this corner after the Civil War. 1308 E. Fourth St.
opened 2001
Garage rock heaven! Former Bates Motel punk club employees Randall and Donya Stockton took two years and put everything they had into opening their own club. And the crowd from the shuttered Bates followed them from Sixth Street to Red River. Beerland likes its bands loud. Three chords are preferred, but two will do if your singer screams like his hair's on fire. 711 1/2 Red River St.
opened 1991
If jazz is your thing, then you want to check yourself into this E.R. The best musicians in town play this basement club, which often doesn't charge a cover (it's $5 on Fridays and Saturdays), and you never know which Marsalis is going to pop in for a jam. You can't miss with trumpeter Ephraim Owens, an E-Room regular when he's not on tour with Mumford & Sons or the Tedeschi Trucks Band. 315 Congress Ave.
–
Michael Corcoran has been covering Austin music since 1984, including for the Austin Chronicle and Austin American-Statesman. Austin freelance photographer Tiffany Hofeldt has seen most of the city's music venues through the excursions of her guitar-playing husband. She embraces any opportunity to photograph all things Texas and music related.
From the March 2017 issue