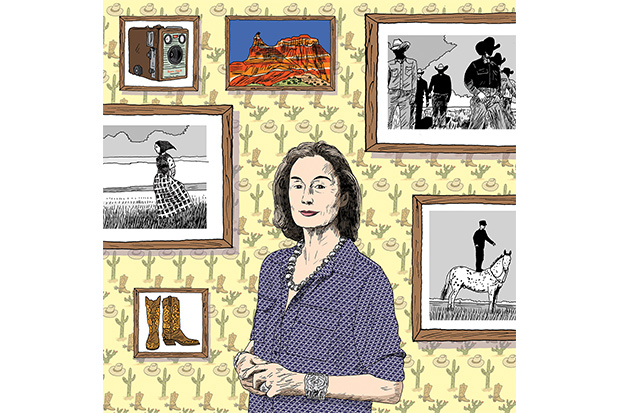 For more than four decades, photographer Laura Wilson has been documenting the American West—and Texas in particular.
Her lens has captured such subjects as the drama of small-town football games, the time-honored traditions of ranchers and cowboys, and the challenges of life along the border. Although Wilson grew up in Massachusetts, she has made her home in Dallas since 1966. It was there that she launched her career and, with her late husband, Robert, reared her three sons (Andrew, Owen, and Luke, of Hollywood fame). She got her start in 1979 as an assistant to renowned photographer Richard Avedon. For six years, she served as the location scout for his project In the American West. Afterward, she pursued her own photographic vision of the West and began landing assignments from publications such as the London Sunday Times Magazine, The New York Times Magazine, and Vanity Fair.
"I learned that in order to take good pictures, it's not about the f-stops and shutter speeds, it's about having something to say."
Whether in black-and-white or color, Wilson's work uncovers the essential humanity of her subjects, be they Texas Rangers, Laredo debutantes, undocumented immigrants, or rodeo trick riders. She also has made insightful portraits of famous creative types—among them the minimalist sculptor Donald Judd, musician Jimmie Dale Gilmore, and, of course, her sons. Her various projects have resulted in several books: Watt Matthews of Lambshead (1989), Hutterites of Montana (2000), Avedon at Work: In the American West (2003), Grit and Glory: Six-Man Football (2003), and the retrospective monograph That Day: Pictures in the American West (2015). The latter accompanied an exhibition of more than 70 photographs that's currently on display at the Booth Western Art Museum in Cartersville, Georgia.
Q: How did you become interested in photography?
A: When I was growing up, an uncle would send us U.S. Camera Annual each year. It had the most amazing photographs by Robert Capa, Henri Cartier-Bresson, W. Eugene Smith. I got a Brownie camera at 7 years old and started taking pictures. U.S. Camera would give technical information, f-stops and shutter speeds. It sounded so complicated. I thought you had to be a scientist to take a picture. But single-lens reflex cameras made it more accessible. That same uncle gave me a good camera when I was in college. I learned that in order to take good pictures, it's not about the f-stops and shutter speeds, it's about having something to say.
Q: What was it like working with Richard Avedon?
A: He needed someone in the West to assist him because he was coming from New York. I was to scout locations and subjects that I thought would be of interest to him. We started in Texas, first in the oilfields in Shackelford and Throckmorton counties, then Abilene and San Antonio. It was a remarkable education, seeing the American West with a first-rate artist, from Mexico to the Canadian border, and from the 98th meridian to the West Coast. I was inspired by the contemporary West.
Q: Where else do you like to photograph in Texas?
A: I particularly like the prairies and the plains, and far West Texas, the Davis Mountains, and Palo Duro Canyon. I've done work in the eastern part of the state, but really it's West Texas that has a purchase on my soul. I think it's because I grew up seeing Western movies and reading about explorers and the frontier. It all seems so recent, and it's remarkable to be able to see those locations now.
Q: I hear you have quite a boot collection. Do you have a favorite maker?
A: John Weinkauf, who lives in Kerrville. I also admire the shop of Gary Dunshee in Alpine. His Big Bend Saddlery has of all sorts of equipment, bits, and tooled saddles. But John makes the best boots. My favorites right now are ones that he made based on an old pair from the 1940s, with yellow tops and a lime-green boot with turquoise arrowheads on the toe and heel.
Q: Where do you go for artistic inspiration?
A: I go to the Amon Carter Museum in Fort Worth, and to the Museum of Fine Arts, Houston. I like paintings as much as photographs. I go to the Dallas Museum of Art, the Nasher Sculpture Center, the Modern in Fort Worth, the Kimbell Art Museum, and also the Panhandle-Plains Historical Museum near Amarillo in Canyon, and the Old Jail Art Center in Albany. We're lucky to have these great museums in Texas.
Q: What are you working on now?
A: I'm working on a project of portraits of the very best writers—Pulitzer Prize, Booker Prize, and Nobel Prize winners. It will include 35 writers, and I have 29 completed so far. The photographs will be published as a book with the Harry Ransom Center in Austin, and some of them are already on exhibit there now.
Q: What keeps you interested in photography?
A: I like the idea of telling a story through pictures—not just portraits, but pictures of how people live and exist. All of the work I've done in Texas for over 45 years now, especially of rural people removed from mainstream America, continues to inspire me. I think photography is an incredible form of expression. The idea that 20 years from now I can know what a person looked like on the day I photographed them, at that moment in time, seems magical.
Q: What do you want viewers to take away from your photographs?
A: I hope they respond to the people I photograph, and that my photographs open their eyes to others. The writer Eudora Welty wrote about wanting to "part a curtain" to reveal each other's wonder, each other's struggles. I hope I'm parting that curtain.
---
Read more about Laura Wilson and her work at her website, laurawilsonphotography.com.
The exhibition Laura Wilson: Photographs in the West is on display at the Fort Works Art gallery in Fort Worth through Feb. 3. Her new book, From Rodin to Plensa: Modern Sculpture at the Meadows Museum, co-authored with Steven Nash, will be available Feb. 25.
From the February 2018 issue