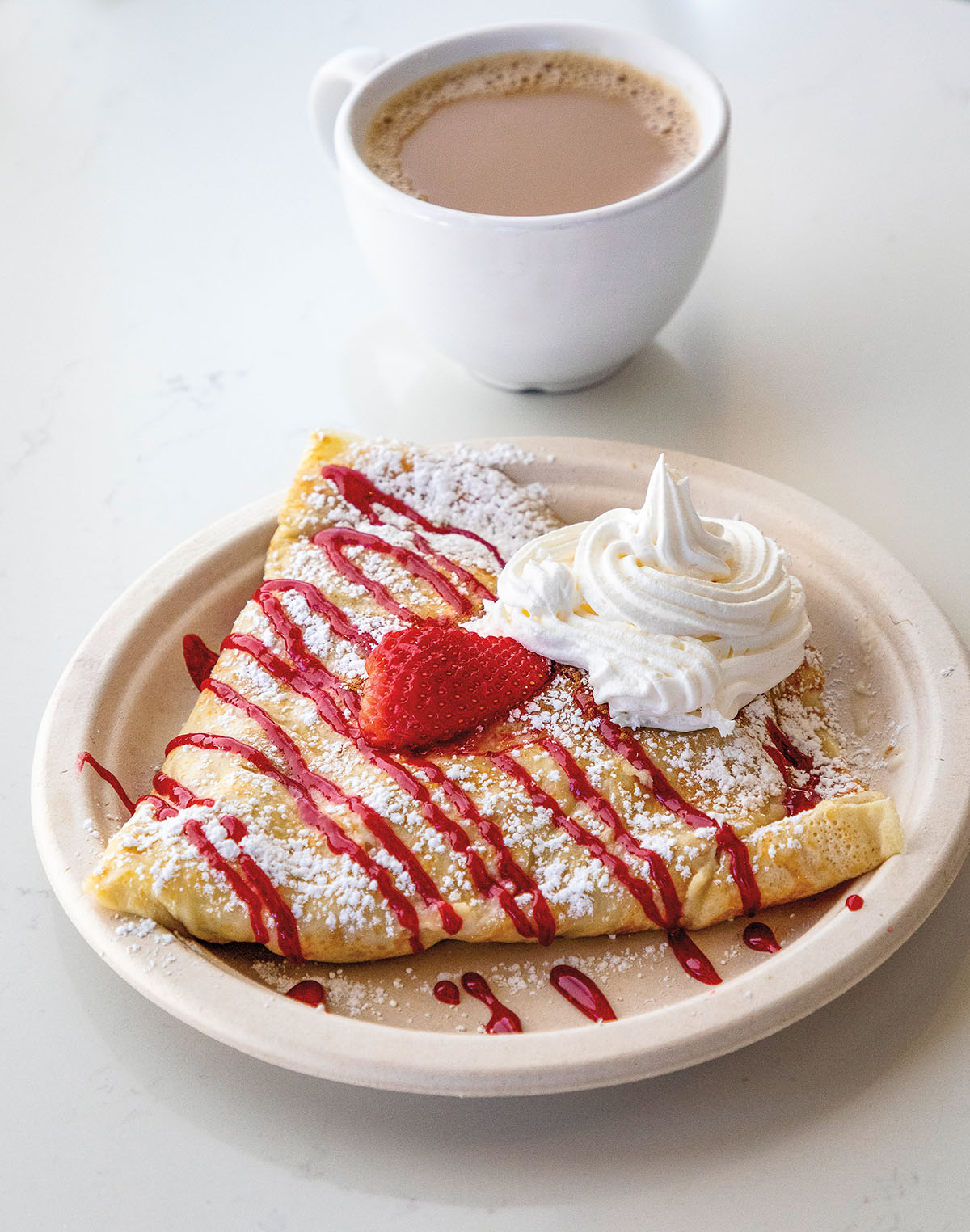 It's not polite to point. At least, that's what my mother always said. But at Crêpe Crazy, a petite eatery just off US 290 in Dripping Springs, pointing is not only acceptable—it's encouraged.
"Point and ye shall receive," reads a sign by the counter, where a menu lists a smorgasbord of sweet and savory options. That's because most of the people who work there—including the owners, husband-and-wife team Vladimir and Inna Giterman—are deaf and use American Sign Language. For those unfamiliar with the complex visual language, pointing is the easiest way to order—but choosing among the multitude of crepes is a harder task.
"I personally like the brie and apple with bacon," Vladimir signs. "But there are so many good ones. I never tire of them, to be honest."
Crepes, which originated in northwest France, are thin pancakes stuffed with either sweet or savory fillings. According to the Gitermans, some of the most popular choices at Crêpe Crazy are the chicken with basil pesto and the avocado and turkey. A sweeter favorite is the Nutella with strawberries and bananas crepe, along with one featuring sweet cream with strawberries and raspberry coulis.
Inna spent three years developing the menu. She and Vladimir traveled to Belgium, Germany, Holland, and other several small cities in France to sample local flavors for inspiration. "There just are so many different ways to offer crepes," Inna signs. "You can have them at any time of day—breakfast, lunch, or whenever."
For instance, you could start the morning with a Norwegian crepe (lox and scrambled eggs with lemon-dill cream cheese), then later indulge in the vegetarian Florentine (garlicky sauteed mush-rooms, spinach, and a trio of cheeses), and top it off with a dessert like the brown sugar and cinnamon crepe drizzled with caramel sauce. Monthly specials keep customers returning to try the latest flavors.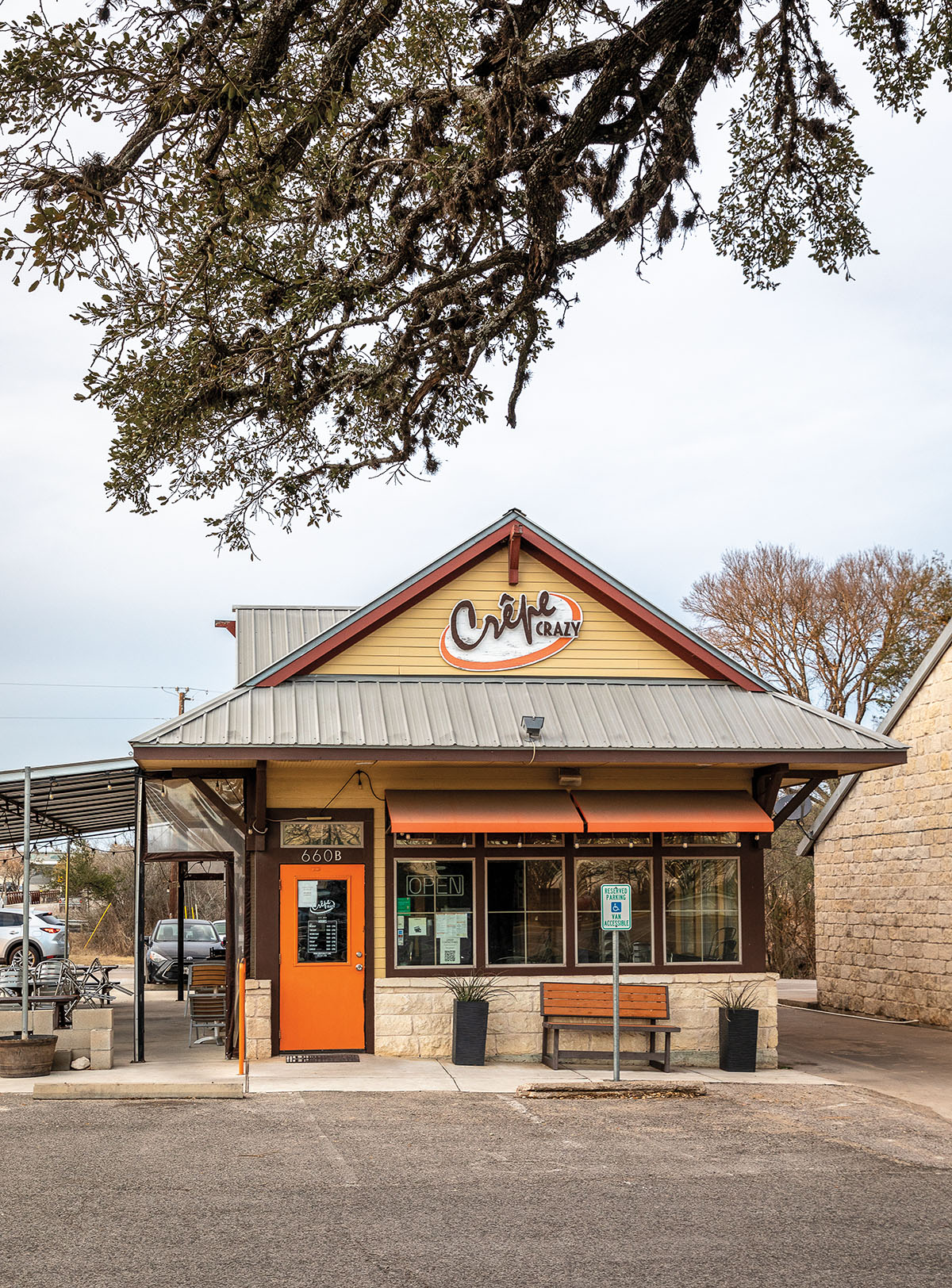 One recent special, the strawberry lemon angel crepe, incorporates pound cake, lemon curd, and fresh strawberries drenched in a strawberry sauce.
Inna, who hails from Ukraine, learned to cook crepes, as well as other recipes, from Vladimir's mother in Russia. The couple met at a deaf club in Minsk, Belarus, in 1987, and by 1990, they had immigrated to the United States and settled in Brooklyn. In search of a more affordable town with better work opportunities, they relocated to Austin in 1996. They were also drawn to the large deaf community in the city, which is home to the Texas School for the Deaf.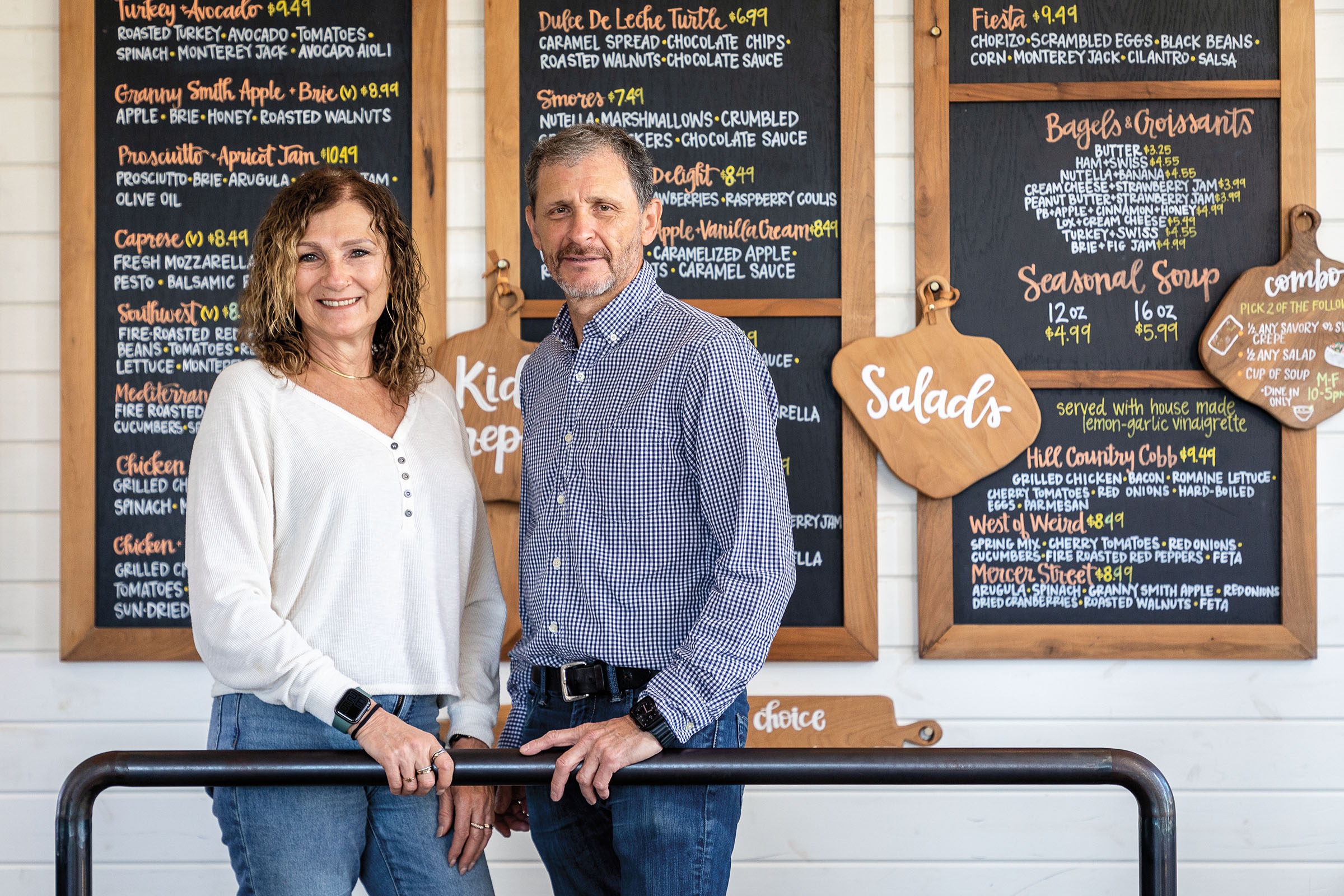 "We thought this would be a good place to start up a food business because there wasn't much variety then, mostly just Mexican food, pizza, and barbecue," Inna signs. "At that time, there were no crepes in town. So, we thought, why not try crepes?"
In 2006, the Gitermans began serving their custom crepes at festivals around the state and were met with praise. Customers repeatedly asked them if they had a restaurant they could visit. In trying to meet demand, the Gitermans spent a couple of years searching for a brick-and-mortar spot in Austin, but they were unable to secure the necessary financing.
Then, in 2014, they were voted the best food vendor at the Dripping with Taste Food and Wine Festival in Dripping Springs, about a 35-minute drive west of Austin. It just so happened the owners of Oak Creek Cafe in Dripping Springs were looking to lease out one of their buildings. The space had a limited amount of room for indoor dining so the Gitermans added an awning to the patio to accommodate more seating outside. Its location, right along the busy highway, was ideal for catching the eye of passing travelers.
"It was a gamble," Inna signs. "We went ahead and jumped in knowing nothing about what we were doing. We just decided to do it." They quickly scaled up the menu to add a larger variety of crepes and began welcoming a stream of eager customers. "People were really excited about the crepes," Inna signs. "They were thrilled to see that we were offering something different."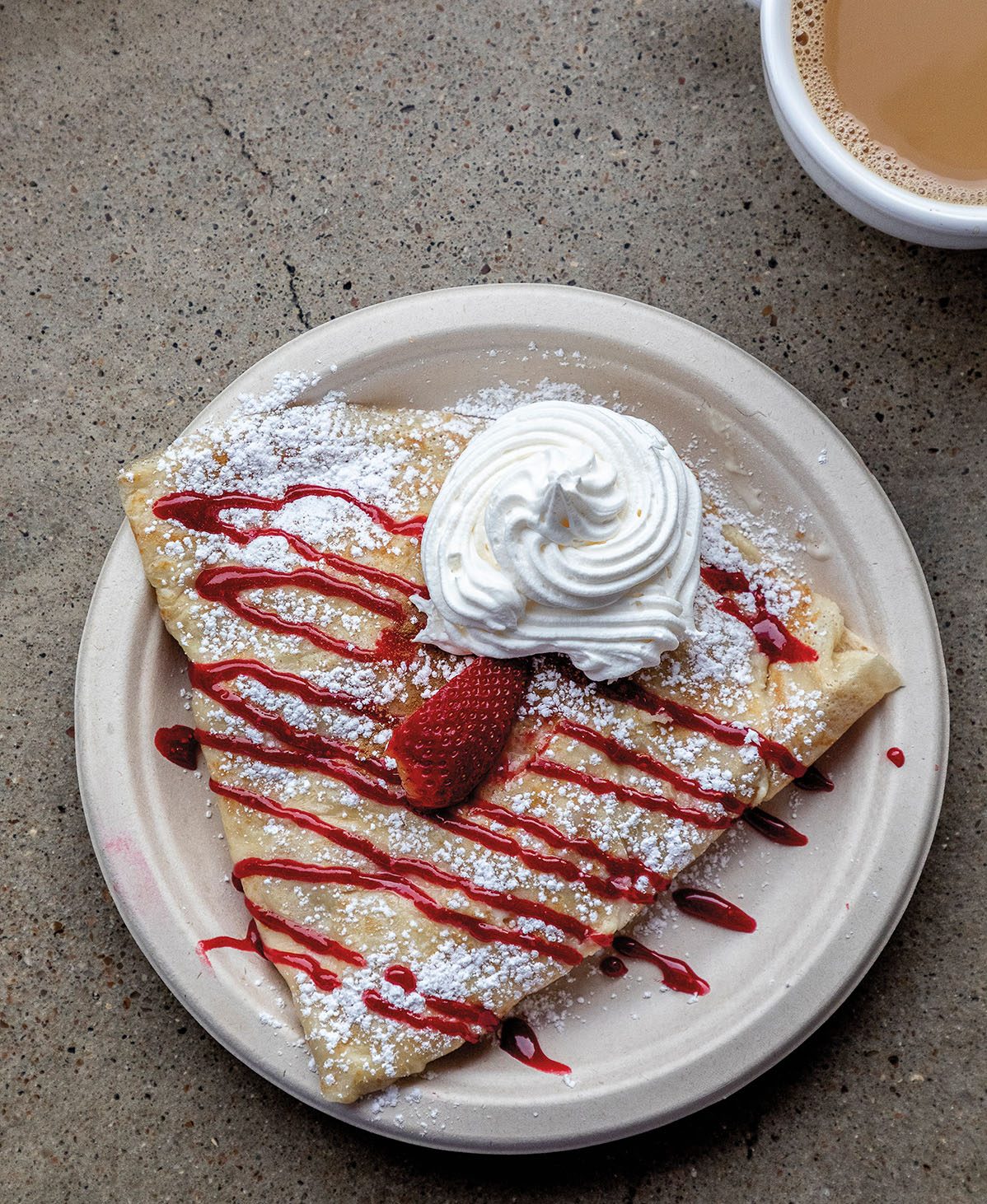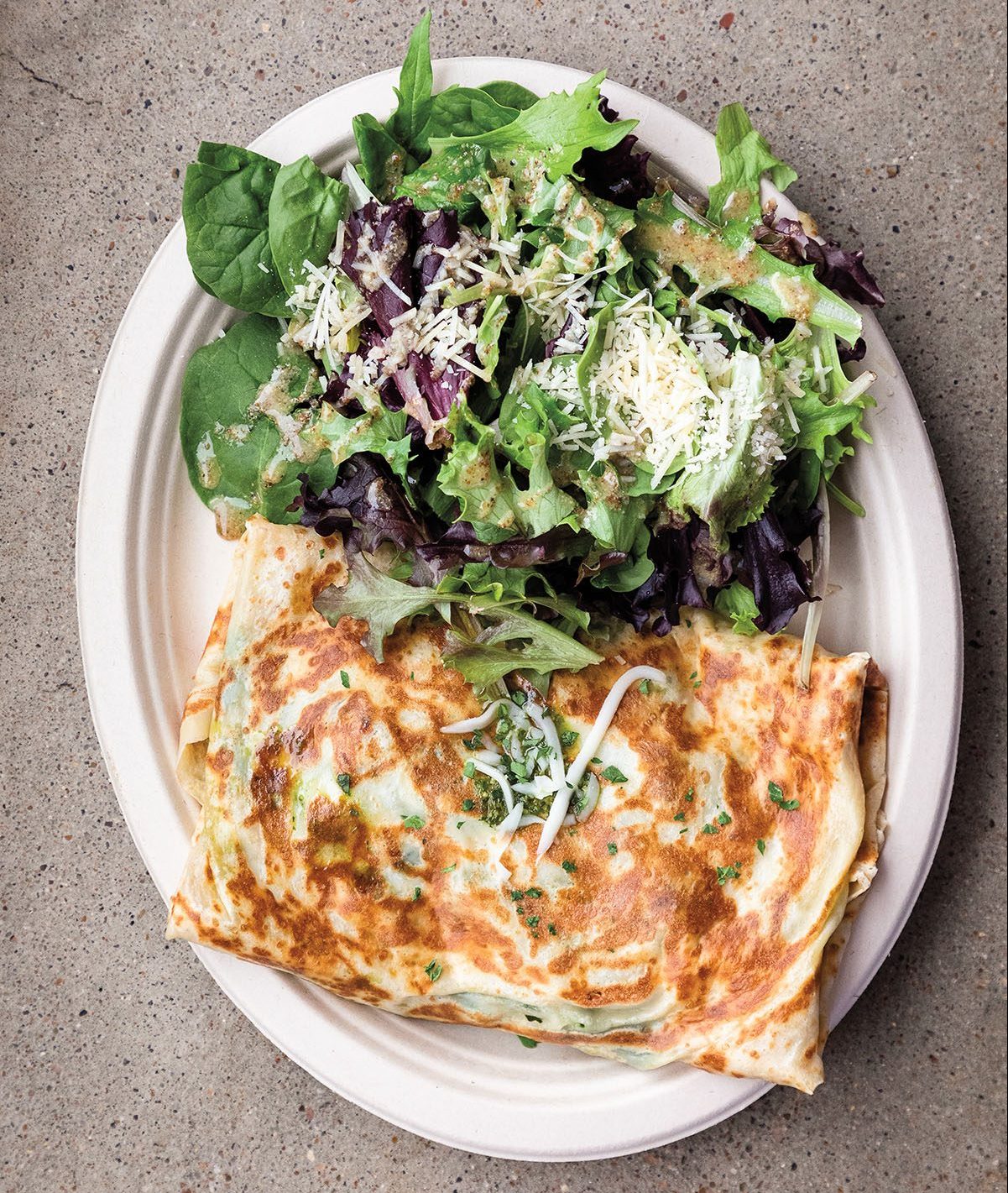 The venture was a success. The Gitermans opened a larger second location on South Lamar Boulevard in Austin less than two years later. The Austin restaurant differs somewhat in that it is open until 8 p.m., offers beer and wine, and serves only crepes. The Dripping Springs site is open until 3 p.m. and also has sandwiches and salads on the menu. For both locations, it was important to the Gitermans to hire deaf staff whenever possible. However, as Inna is quick to note, they don't cater only to a deaf clientele.
"We get a variety of customers, some who know basic sign language, some who don't," she signs. "People are curious: they want to learn more about us and about the restaurant. When people sign incorrectly, our workers will show them the correct sign and help them out."
Inna adds that the restaurants have eased the difficulties of finding work for deaf persons by providing support that few other local businesses offer. "Just because someone is deaf doesn't mean they can't do something," she signs. "Deaf people can do whatever anyone else can do, except hear. We are showing that deaf people can do anything."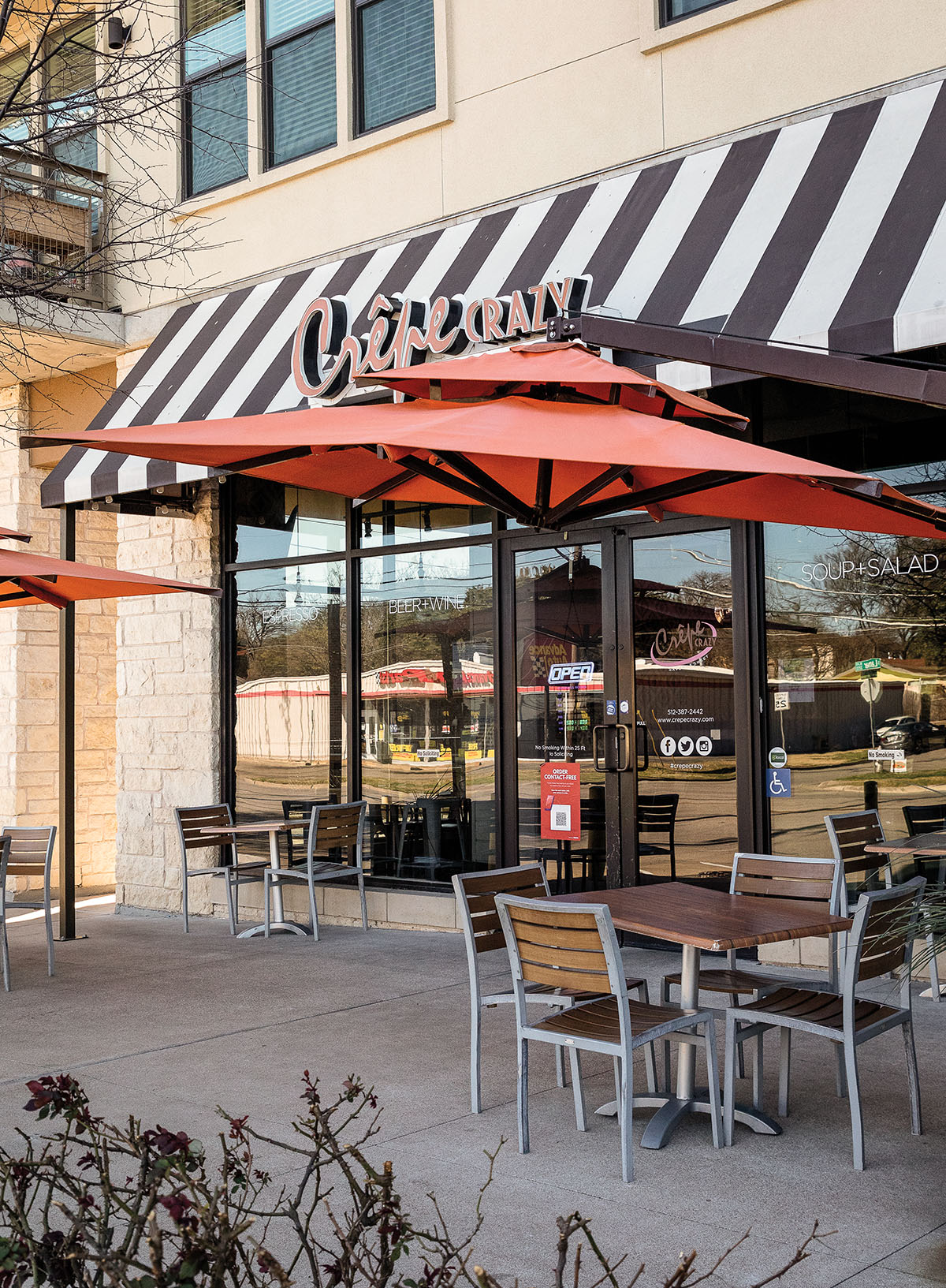 From the September 2022 issue