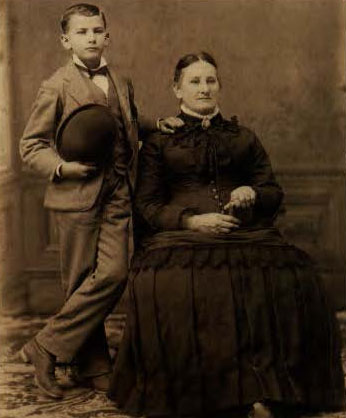 Today's Texas State Park system, which includes more than 90 state parks, historic sites, natural areas, and visitors centers from Abilene to Washington-on-the-Brazos, offers visitors myriad opportunities to commune with the outdoors and learn about the history of the state. The millions of people who have happy memories of such adventures owe a debt of gratitude to a woman named Isabella Neff (1830-1921), who upon her death donated six acres of family land—a shaded swath along the Leon River near Moody—to "the public, for religious, educational, fraternal, and political purposes." Isabella's son, Governor Pat Neff, so admired his mother that in 1923 he established the State Parks Board. And in 1934, Mother Neff State Park—augmented by acreage donated by Governor Neff and others—became an official state park of Texas. Some call it the first official state park in Texas, though in fact several sites preceded it. Regardless, it's not hard to imagine that "Mother" Neff, a hardworking woman who embodied the pioneer spirit, would have been pleased.
Isabella Eleanor Shepherd was born on her grandfather's plantation near Roanoke, Virginia, in 1830. As a young woman, she taught school, then at age 24, married farmer Noah Neff, who owned land in Texas. In 1854, the couple embarked by horse-drawn wagon to begin a new life in Texas, settling for a short time in Belton before moving to a site near the Leon River in today's Coryell County.
Here, the Neffs planted cotton and built a one-room log cabin next to a spring, keeping a constant watch for much-feared raiding parties as they worked. At first, Isabella wasn't so sure about her new home. In an 1855 letter to a friend in Virginia, she wrote, "I cannot say that I am much pleased with Texas… I think this is very pretty country, but like all new countries, has many inconveniences- everything is scarce and high, and nothing but bread and meat to eat, and cornbread at that."
The Neffs raised nine children—including their youngest son, future Texas Governor Pat Neff—in their ever-expanding log cabin. According to Neff biographers Dorothy and Terrell Blodgett and David L. Scott in their book The Land, The Law, and The Lord: The Life of Pat Neff, Isabella taught at a "common school," where children from the area met for classes in one of the cabins or under a tree. When the Neffs took in three orphaned children to raise, family, friends, and neighbors began referring to Isabella as "Mother Neff."
In 1882, Noah contracted typhoid pneumonia and soon died. During the difficult years following his death, Isabella opened a part of the farm along the Leon River for public gatherings, civic events, and church groups, and the area came to be called "Neff Park."
As the matriarch of the family, Isabella passed along her love of learning to her children. In an interview for Macklyn Ward Hubbell's 1953 University of Houston master's thesis, Pat Neff described how his mother insisted he take a dictionary to the fields with him so he could study while the plow horses rested.
For Pat Neff especially, education paid off. He graduated from Baylor University in 1894, taught school in Arkansas, received a law degree from the University of Texas School of Law in Austin, and eventually turned to politics. As Democratic nominee for governor in 1920, he sent his mother a telegram expressing his admiration and respect. "I am proud of my nomination for your sake," he wrote. "The people properly … give you much credit for raising me." When Pat Neff and his family moved into the Governor's Mansion in 1921, Isabella came to live there, too. She was 90 years old.
Throughout his career, Pat Neff maintained his allegiance to parks and outdoors education. "The call of the open country is ever a natural one of the human heart, and the massed life in the cities should never cause it to be crucified or become dormant," said Governor Neff in 1925. Nearly 100 years after Isabella Neff's death, Mother Neff State Park retains the feeling of hospitality that is a part of Isabella and Pat Neff's legacy. "We work hard to uphold that tradition," says Park Superintendent Leah Huth.
Read more about "The Mother Lode," Mother Neff State Park
From the January 2010 issue