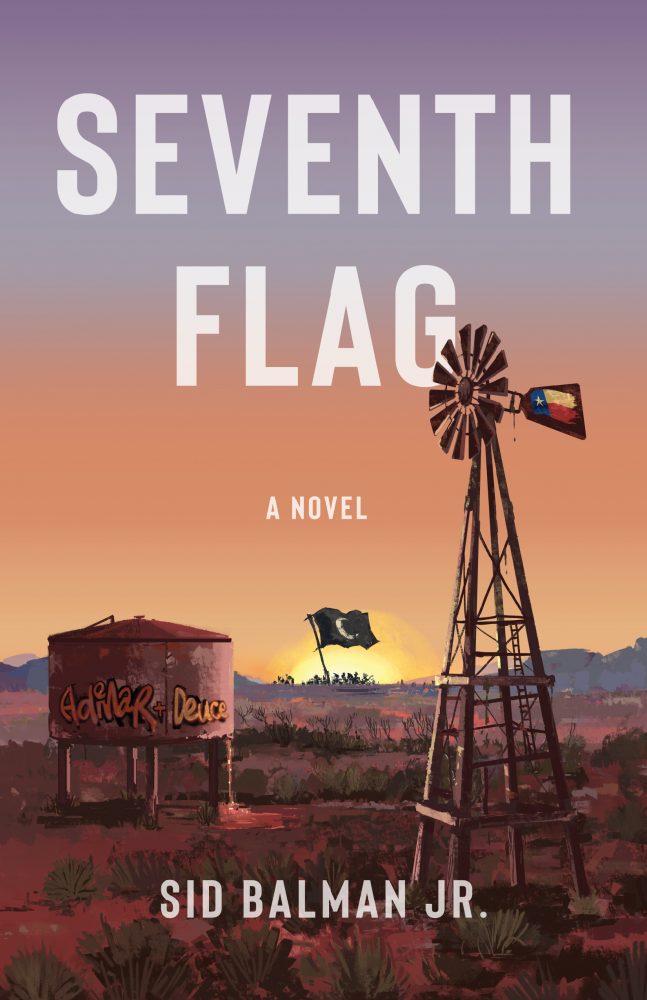 Dallas native Sid Balman, Jr., is returning to Texas for a two-week romp across the state promoting his novel, Seventh Flag. Balman, a fourth-generation Texan who now lives in Washington, D.C., is accustomed to a heavy travel schedule: As a reporter for United Press International, the Pulitzer-nominated national security correspondent covered wars in the Persian Gulf, Somalia, Bosnia-Herzegovina, and Kosovo, and traveled extensively with two American presidents and four secretaries of state on overseas diplomatic missions. Now working in business communications, Balman's first novel revolves around the members of two close families in Dell City, following dramatic paths that take them to Austin, West Point, the World Trade Center, the Middle East, India, and home again.
Why the title Seventh Flag?
No greater highlight of a summer day than when my parents would take us to Six Flags Over Texas, an amusement park near Dallas thematically designed around the six sovereigns that ruled over the state: Spain, Mexico, France, the Republic of Texas, the Confederate States of America, and the United States. In Texas and in America today there is a "Seventh Flag"—not one of a state or a nation but one that represents a mosaic of cultures, religions, and people from every corner of the world struggling to define what it means to be unified as Americans under an ambiguous banner. The reader comes to understand this ambiguity through the four generations of two families in the novel—the Laws, an iconic West Texas farming family; and the Zarkans, Syrian-Muslim migrants who help them carve an empire out of the unforgiving high desert.
How much of your novel is based on true events?
As a work of historical fiction, much of the novel—such as creation of the U.S. Army Camel Corps in the mid-1800s, the invasion of Iraq, the Texas water wars, and a landmark Supreme Court case—is based on facts, although I may have taken some liberties in portraying events through the characters. I spent many months researching the book with several West Texas families who generously shared their stories.
What's unique about your perspective when it comes to writing historical fiction?
I have been lucky in my career as a journalist to have been in a front-row seat for many of the monumental paradigm shifts over the last three decades: the breakup of the Soviet Union: the signing of a peace treaty between Israel and the Palestinians: the Iraq war(s): genocides in Rwanda: the Balkans and Darfur; and the rise of fascism in the United States. I consider myself a student of history who studied and came to understand the way it repeats itself and shapes what comes after.
I hear you enjoy smoking a Texas-style brisket for parties at home in D.C. What do you look forward to experiencing on your upcoming whirlwind tour of Texas?
In Dallas, Mia's for the best tortilla soup I've found. In Austin, Franklin Barbecue for the incomparable brisket—if I can drag myself out of bed at dawn to stand in line—and Cisco's for chilaquiles. In Marfa, Marfa Burrito for sausage-egg-cheese burrito. In Alpine, Cowdog for the Hangover Dog. And in El Paso, the huevos rancheros at L&J Café or Rosa's Cantina for the Don Haskins special (Mexican meat loaf) and an icy Negra Modelo—that's featured in Seventh Flag.
Catch Sid Balman, Jr., on his promotional tour for Seventh Flag on one of his Texas stops:
Dallas: Park House, 6-8 p.m. Oct. 30. This event is sponsored by Interabang Books, which sustained serious damage in the Oct. 20 tornado.)
Fort Worth: Commonplace Books, 6-8 p.m. Nov. 1
San Antonio: The Twig, 5-7 p.m. Nov. 4
Houston: Brazos, 6:30-8 p.m. Nov. 6
Austin: BookPeople, 7-8:30 p.m. Nov. 8
Alpine, Front Street Books, 7-9 p.m. Nov. 12
Marfa, Marfa Book Company, 7-9 p.m. Nov. 13
El Paso, El Paso Public Library, 6-8 p.m. Nov. 15