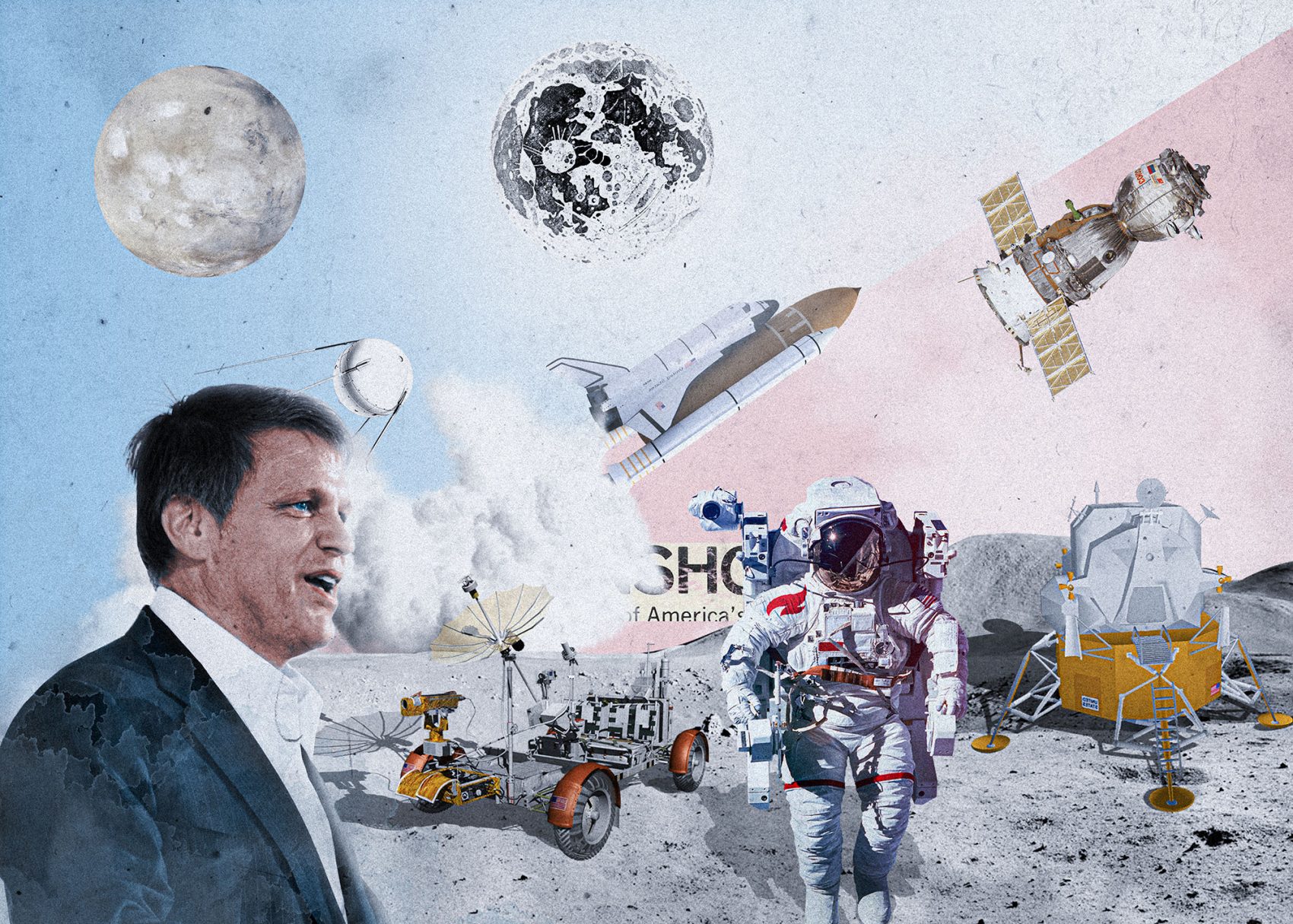 Rice University professor of history, CNN presidential historian, and perennial bestselling author Douglas Brinkley takes us to the moon this summer with his newest book, American Moonshot: John F. Kennedy and the Great Space Race. Released in time for the 50th anniversary of the first moon landing in July 1969, Brinkley's historical page-turner brings to life the personalities and interplaying forces that made this American triumph possible. Brinkley, who lives in Austin with his wife and three children, is a gifted storyteller who's written or edited more than 20 books covering topics from both Roosevelt presidencies to Jack Kerouac and Rosa Parks. In American Moonshot, recently No. 10 on the New York Times bestseller list, he takes us on the enthralling ride that leads up to Neil Armstrong's unforgettable words from the moon on July 20, 1969: "Houston, Tranquility Base here. The eagle has landed."
Q: What was Texas' role in the moonshot?
A: In the 1950s, Rice Institute, which is today Rice University, was an epicenter for space studies. It also had a big booster in a local congressman from Houston named Albert Thomas; Thomas became head of the Congressional House Sub-Committee on Space and Aeronautics. In October 1957, when Sputnik was put up by the Soviet Union as the first earth satellite, there was a panic across America. We were seemingly losing the satellite technology race with Russia. So there became a "Hurry up, let's do something smart" mode during the Eisenhower years, and in 1958, NASA was created. NASA was based out of Washington, D.C., but before long there became a hunt for a Manned Spacecraft Center, a place that you could train astronauts and also do the Mercury and Gemini spacecraft missions, and eventually Apollo to go to the moon. Under John F. Kennedy in 1961, Houston was chosen for that. What used to be pastureland and wetland prairie out at Clear Lake City, Texas, suddenly became the Manned Spacecraft Center, later renamed the Lyndon B. Johnson Space Center.
"Houston just starts humming with space dollars. By 1962, what was 'Bayou City' becomes 'Space City, U.S.A.'"
Q: How did the Manned Spacecraft Center impact Houston?
A: All of these aerospace companies started opening up facilities around it, to the point that an area that had been rural became highly urbanized in a tech way. And a big reason, also, for Houston getting that golden ticket was Lyndon Johnson. He had been a Texas senator and was a big NASA booster. He lobbied hard for Texas to get the facility. So then, Houston just starts humming with space dollars. By 1962, what was "Bayou City" becomes "Space City, U.S.A." The Houston Astros are born in baseball in 1962, the NBA Rockets come in the early '70s. And if you look at a Yellow Pages from around 1962, you'll see everything became, you know, the Moon Café, Astro Babysitters, Rocket Laundry—just all of this space language based around Houston.
Q: Were other Texas cities involved?
A: San Antonio plays a large part in the moonshot because Brooks Air Force Base did space medicine, and ideas were evolved there that become the CAT scan, the MRI, and heart defibrillators. These are all spin-off medical technologies that grew out of us sending astronauts to space. So, you really could argue that Houston-to-San Antonio was America's space corridor in the 1960s. In fact, John F. Kennedy, the day before he was murdered in Dallas, was in San Antonio giving a speech about space, and that same evening he spoke for a gala honoring Congressman Thomas in Houston. Then, when Lyndon Johnson becomes president, he continues to promote the Texas facilities. So, by the time we go to the moon, Neil Armstrong evokes Houston when he says, "Houston, Tranquility Base here. The eagle has landed."
Q: A suspenseful aspect of the book is American espionage, like when the CIA nabs a Soviet satellite in Mexico City.
A: We were able to heist a Soviet satellite from a Mexico City exhibition where the Soviets were showing off their hardware. You know, thousands of people would queue up to go see a Soviet satellite and touch it, and our CIA was able to divert a truck moving the satellite from a convention hall and into a secret warehouse. They disassembled the satellite and took a lot of photographs, reassembled it, got it back on the truck, and then shipped out of Mexico back to Russia, all without the Soviets knowing it. It's important because the big question in the early '60s was, do the Soviets have the technology to go to the moon? Kennedy's administration decided they did not. They were on the road to going to the moon, but they weren't any more advanced than we were. The word John Kennedy keeps using is, he wants to "leapfrog" the Soviets.
Q: What did Kennedy mean by that?
A: Up until Kennedy, we were going tit for tat. The Soviets put a satellite, the Sputnik, up. We put Explorer up. The Soviets put up Yuri Gagarin, the cosmonaut. We put up the astronaut Alan Shepard. But then on May 25, 1961, Kennedy said, "We'll put a man on the moon by the end of the decade." He was confident, from our intelligence, that we had a great chance of beating them there. And Kennedy continues to come back to Houston. On Sept. 12, 1962, he gives this speech at Rice University's football stadium in front of around 35,000 people, when he famously says, "We choose to go to the moon, not because it's easy but because it's hard." [This was just after he said, "But why, some say, the moon? … Why does Rice play Texas?"] This speech was filmed in color, and it's now considered one of a handful of the greatest presidential speeches ever.
Q: It's a powerful scene in your book.
A: It's the only time a U.S. president really engaged moving language to describe public discovery, space, the history of exploration, challenging the universities to enhance the sciences. So, it's a monumental speech delivered there at Rice. In the end, if you ask people what are the two places in America they think of when we talk about NASA, it's Cape Canaveral, Florida, and Houston.
Q: What can we learn from Kennedy's audacious plans and achievements?
A: Any president can say, "Let's go to Mars." It's another thing to lobby on Capitol Hill for appropriations. NASA, during Kennedy, had 4.4 percent of the annual federal budget. Today, it's down to one-third of 1 percent. So, as they used to say in NASA, "No bucks, no Buck Rogers." It takes leadership to prioritize a grand national endeavor. The term "moonshot" now stands for Americans doing big things in unity. And so on the 50th anniversary of Neil Armstrong going to the moon, we're asking ourselves, what's the next moonshot? Is it going to Mars? Is it eradicating cancer? Is it an earthshot? Scientists think that climate change is such a challenge; maybe we need to make an earthshot the new moonshot?
What's exciting is that most big historical events we recall because of the horror of them: Pearl Harbor in 1941, the Kennedy assassination in 1963, Martin Luther King's death in 1968, 9/11. These are all tragedies. Going to the moon was an American triumph, so this summer we're celebrating 50 years of Apollo 11, and there's nothing to mourn
The 50th Anniversary of Apollo 11
Space Center Houston will honor the 50th anniversary of Apollo 11's moon landing with a galaxy of stellar events. From July 16 to July 24—the dates of Apollo's take-off and splashdown—events will include a lunch with Apollo-era flight controllers; a 1960s-themed Splashdown Party; and a dinner and panel discussion with the children of Apollo-era astronauts and flight controllers. NASA Tram Tours will offer daily shuttles to the historic Apollo Mission Control Center, and the Pop Up Science Lab for children will focus on Apollo-related technologies. On July 20, the date Apollo 11 touched down, an outdoor festival features speakers, tram tours to Rocket Park, an evening concert, and a countdown to Neil Armstrong's first steps on the moon at 9:56 p.m.
From the July 2019 issue