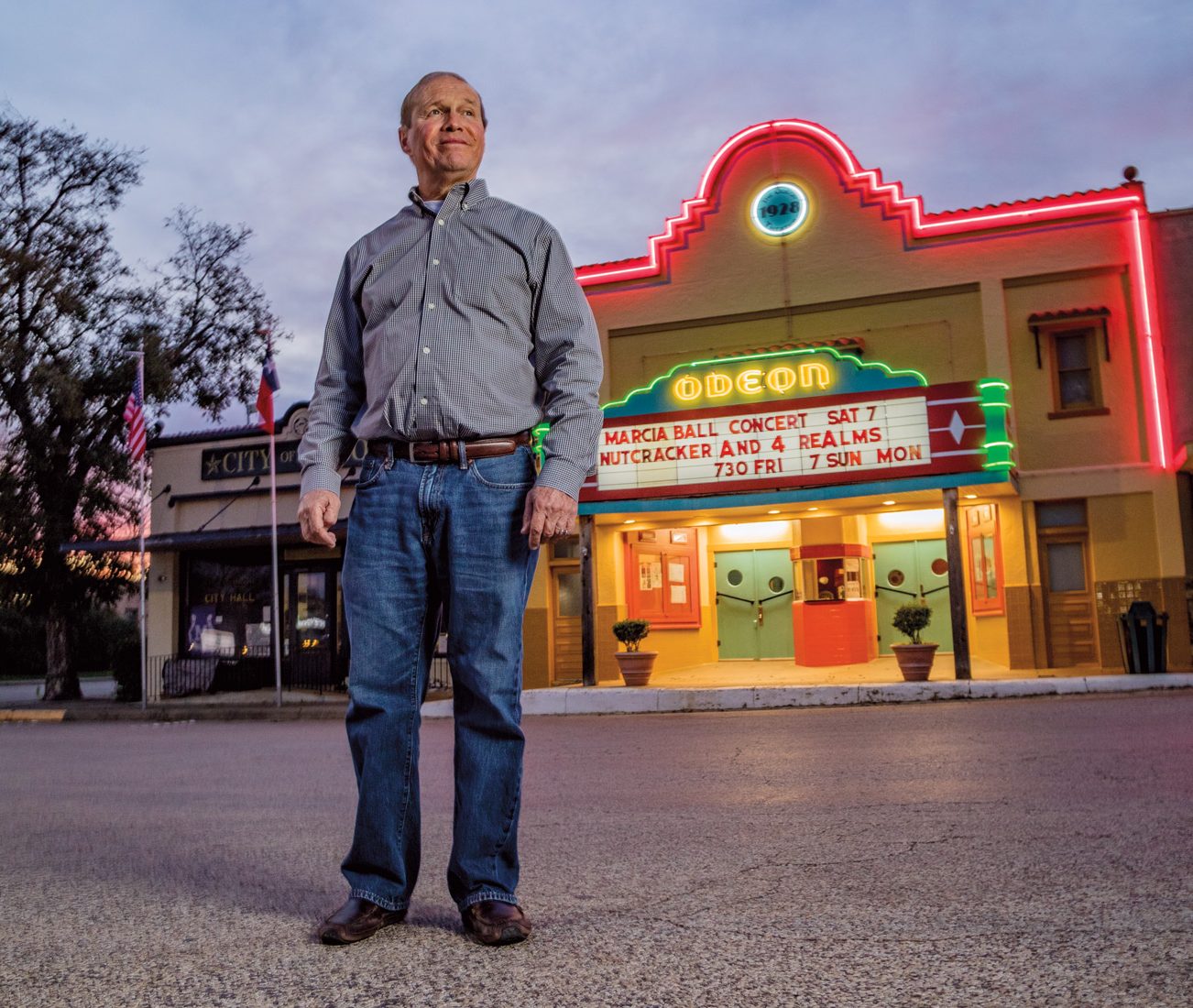 When writer and historian Scott Zesch walks through the central square of Mason, everybody he meets has something to say, a question to ask, or a handshake to offer. You're likely to be a familiar fellow around town when your great-great grandfather settled in the area from Germany in the mid-1850s, you went to Mason High School, and you're known for throwing rollicking chili parties. First settled as a fort in 1851, Mason formed as a community of Old World settlers scratching out a new life in harsh Comanche country. Zesch brings this history to life in his award-winning book, The Captured: A True Story of Abduction by Indians on the Texas Frontier, which chronicles the lives of nine kidnapped children, including his great-great-great uncle Adolph Korn. Here Zesch, who lives on his nearby family ranch with his wife, Amelia, muses on Mason's past and present.
Small-Town Saturday Night
In 1957, Walt Disney visited Mason to attend the Odeon Theater's premier of Old Yeller, a movie based on the book by local writer Fred Gipson. The community rallied in 1994 to restore the Odeon, which is now a venue for movies and concerts.
Interesting Times
"The Mason Square Museum is a small but remarkable museum that focuses on a very interesting period in Mason history—from 1847 to 1877. You know the old Chinese proverb, 'May you live in interesting times?' Those were very interesting times in Mason: 1847 is when the Germans and the Comanche made their peace agreement, which opened up this area to settlement by immigrants. The 1850s were the heyday of Fort Mason, which is where an elite unit of the U.S. army was sent. During the Indian Wars of the 1860s and early '70s, a high number of captives were taken here since there were so many raids. And then from 1874-77, there was a deadly range feud called the Mason County War, or Hoodoo War, which erupted over cattle rustling. For those 30 years, this was a wild and unpredictable place to live. Things really settled down around here after 1877."
Union Band
"The Mason Square Museum is a small but remarkable museum that focuses on a very interesting period in Mason history—from 1847 to 1877. You know the old Chinese proverb, 'May you live in interesting times?' Those were very interesting times in Mason: 1847 is when the Germans and the Comanche made their peace agreement, which opened up this area to settlement by immigrants. The 1850s were the heyday of Fort Mason, which is where an elite unit of the U.S. army was sent. During the Indian Wars of the 1860s and early '70s, a high number of captives were taken here since there were so many raids. And then from 1874-77, there was a deadly range feud called the Mason County War, or Hoodoo War, which erupted over cattle rustling. For those 30 years, this was a wild and unpredictable place to live. Things really settled down around here after 1877."
Gordita Goodness
"Get the gorditas at Santos, a restaurant owned by the Silerio family. They did a wonderful job of converting an old Texaco station with an open kitchen. Ask for the corn gorditas. Santos [the matriarch of the family] makes the masa fresh on the spot so you have to wait a bit, but it's worth it."
Ecotourism
"Nature is a big tourist draw. In the summer, the Llano River is a good place for kayaking or canoe trips. It's mostly unspoiled, and there are several crossings for access to the Llano River in Mason. And during the fall, hunting is a big thing, especially white-tailed deer."
The Show Goes On
"What I really love about Mason today is the people who have chosen to make their home here and have really contributed so much to the community. When I was growing up here in the '60s and '70s, Mason was a town in decline; the square had a neglected look, buildings were boarded up. It would remind you of The Last Picture Show. One big thing that helped change that was the Mason Main Street Project started in 1985; it was entirely a local initiative. They hired an architect, and with a few simple changes, really spruced up the Mason square."
Nearest City
Fredericksburg
35 miles southeast
Marquee Events
April 4
The Mason Chamber Music Festival
Second weekend of July
Mason County Roundup and Rodeo
Map It
Mason Square Museum
From the February 2019 issue