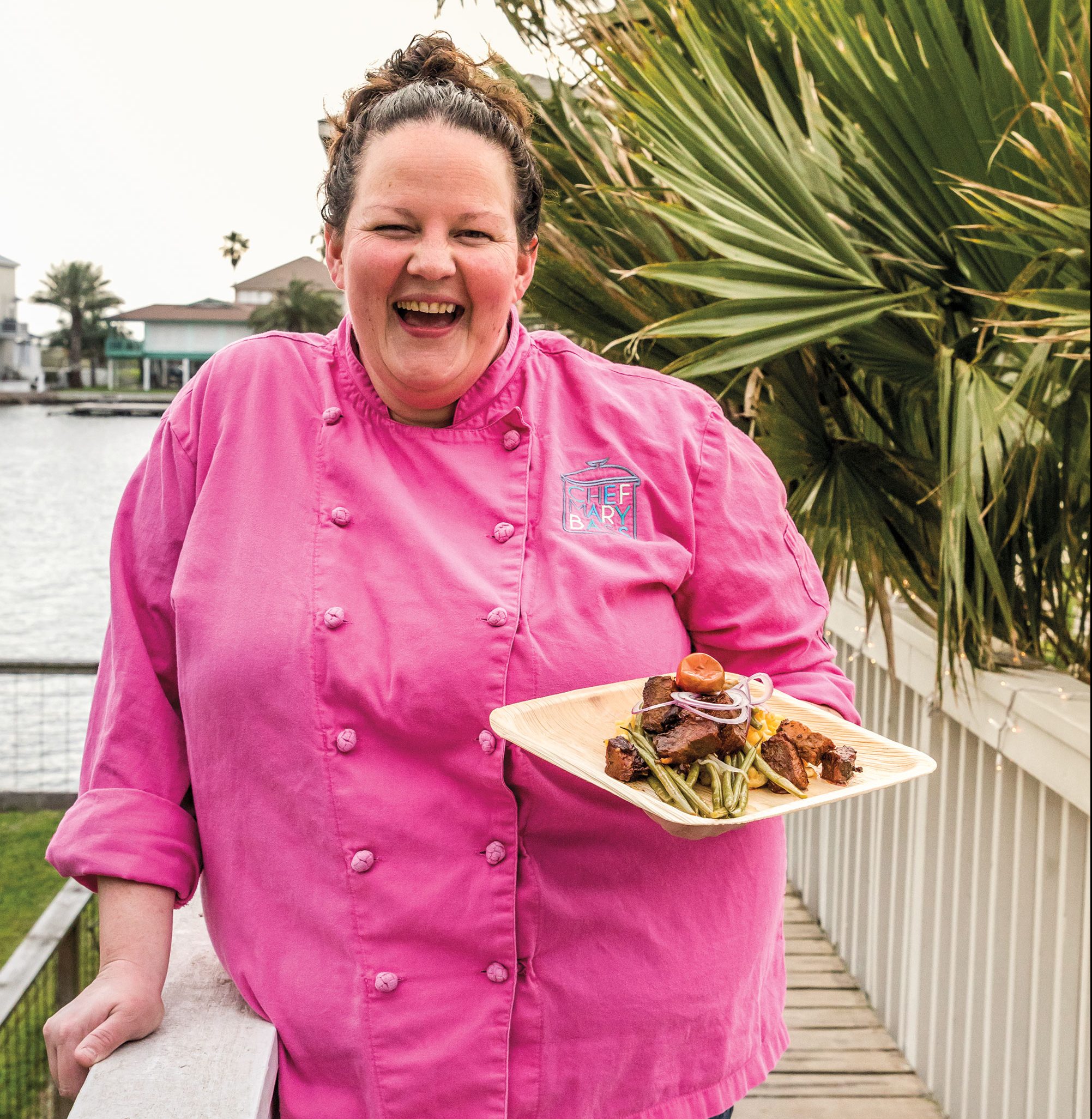 For chef Mary Bass, the simple act of hospitality—watching people gather and enjoy a meal together—far outweighs any other culinary aspiration.
"Just being able to see my kitchen work and feed guests and watch my dining room flow is what I most enjoy about the whole process," she says.
Visit chefmarybass.com for more information about catering services
A Galveston native, Bass started her career by launching a bakery business, Viva la Cake Balls. She later became executive chef at Haak Vineyards & Winery in nearby Santa Fe in 2013, before becoming executive sous chef at BLVD Seafood when it opened in 2015. In 2018, Galveston.com named her "Best Chef on the Island" for the fourth consecutive year.
Recently, Bass left the restaurant world in order to focus on catering private events and cooking intimate meals for locals and visitors. Although she serves her food at larger functions like the annual Dickens on the Strand and Mardi Gras festivities, she most enjoys catering meals for families who come down for the summer.
"Those are my favorite," Bass says, "because you get to become part of the family. I love explaining the history of Galveston and interacting with them on a one-to-one basis."
Bass credits her love of hospitality to the influence of her German grandmother and namesake, Mary Grunden. Growing up during the Great Depression, Grunden knew how to make a few quality ingredients go far, welcoming up to 80 people in her home every Sunday after church.
"Grandma's mantra was, 'Love must be shown, love must be demonstrated,'" Bass says, sharing fond memories of helping prepare the weekly feast. "We gardened a lot: collard greens, mustard greens, strawberries—[Grandma] grew everything, and she would say 'OK, here's what we got, whatcha makin', baby?'"
Grunden taught Bass the basics of whole butchery and cooking efficiently long before the farm-to-table trend swept Texas decades later. Attending culinary school at Galveston College, Bass learned the names for techniques she had known since age 7: the French term remouillage, for example, which means to recycle (literally "rewet") a second stock from a batch of bones or scraps. Bass used the method as executive chef at Haak Vineyards, at BLVD as sous chef, and now in her private catering business.
"It's not just eco-friendly," she says. "It's the best way to maximize flavor by minimizing food costs."
Her private events feature lavish cheese boards and four-course meals, all in the comfort of her clients' homes. Bass describes her menu as approachable: "Southern, with a global influence." Staples include her specialty Mardi Gras Snapper, a vibrant plate of five-spice red snapper resting on coconut curry, mashed potatoes, and green beans, topped with a beet raita mix of yogurt, mint, cilantro, and Mexican crema—all delicately drizzled with chimichurri. 
Adding to the family feel of her private functions, Bass brings her kitchen family along with her to every event: She calls herself the Mother Hen and her staff—all former students from her time teaching at Alvin Community College—"her babies." When she started at Haak Vineyards in 2013, she brought her best Alvin students with her, and they've been with her ever since.
"I've built a brand and a name for myself that is more about being a good person who makes good food than just being a great chef."
Bass believes teaching is one of the best ways to give back to her community, which is always her main goal as a chef. She regularly partners with Galveston's Own Farmers Market, teaching classes for mothers receiving Special Supplemental Nutrition benefits from the Women, Infants, and Children federal program.
After the Santa Fe school shooting in May 2018, Bass worked with local businesses to bring the community together over food and help the students heal. Through her nonprofit, Chef's Table Charities, she provides meals during times of crisis, feeding locals in need after Hurricane Harvey and over 320 families during the government shutdown earlier this year.
"I've learned that I don't work well inside four walls. I like being able to say, 'This week, we are going to build Easter baskets for low-income families in the community,' and knowing that will change next week."
Bass attributes that generosity to her family legacy, describing how the "packed house" at her grandmother's funeral a few years ago showed the enormous impact she had. Through her cooking and teaching, Bass hopes to leave the same impression.
"I've built a brand and a name for myself that is more about being a good person who makes good food than just being a great chef," she says. "If you aren't giving back, if you keep your gifts and talents to yourself, then the world doesn't get to enjoy it."
From the June 2019 issue