On Call
A volunteer firefighter and emergency first responder finds community in West Texas
By E. Dan Klepper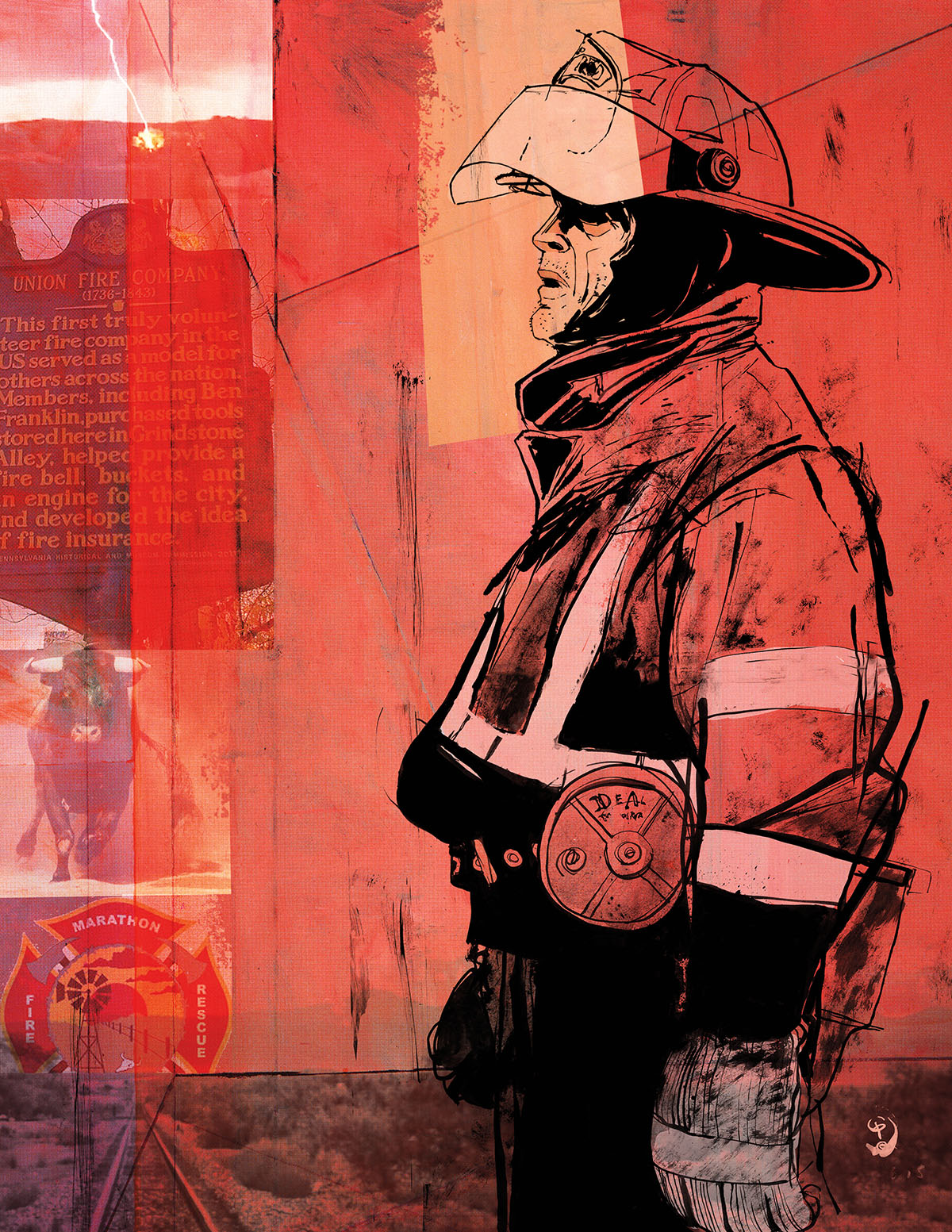 O
n a muggy Memorial Day in 2001, lightning struck the Housetop Mountains, a narrow 4-mile ridge resembling the roofline of a house. The mountains are located in Brewster County, southeast of the small Big Bend community of Marathon. They're one of many arid chains rising above this Chihuahuan Desert landscape, a geography exposed year-round to wild weather. The lightning strike would have been an inconsequential event had pale puffs of smoke not appeared after it, drifting above the ridgeline, within sight of motorists traveling along nearby US 90. The smoke signal was faint but significant, alluding to a fire in a wooded basin below the mountains' bumpy peaks. In less than an hour, those little puffs turned into substantial plumes as dry grasses fed the flames, causing piñon pines and juniper to spontaneously combust in the heat. The blaze launched the summer wildfire season for Brewster County and its local volunteer firefighters, including me.
I joined the Marathon department the previous year after moving to the community of around 430 in the county's northern region. Our small brigade of a half-dozen volunteers, with our battered hand-me-down equipment, could do little on the Housetops other than knock back some flames and wait for reinforcements. By nightfall, smoldering sotol plants, torched back to their oval cores, were rolling down the mountainsides like cannonballs, spreading fire in their wake. Over 4,300 acres would eventually burn despite the best efforts of multiple volunteer fire departments and the Texas Forest Service, the state agency tasked with responding to wildfires (it was renamed the Texas A&M Forest Service in 2012). Dubbed the "Lemons Gap Fire" after a natural gap in nearby hills, the fire blazed across the Housetops for three days before finally burning out.
Lemons Gap wasn't my first wildfire, but it was the largest I had faced, and it provided a fundamental lesson in a wildfire's uncontrollable force. Growing up, I never expressed any interest in becoming a firefighter. I had a poor grasp of mechanics, after having slept through shop class in school, and I failed basic physics in college. I also dislike regimented organizations and make a lousy team player. A loner at heart, I am an awkward socializer who finds solace and inspiration in a rugged, unpopulated landscape and outdoor adventures. These characteristics led me to this life in the Big Bend. But we all have a need to keep company at some point, so as the new guy in a very small town, joining the department seemed like a good way to come out of my shell and make some friends while getting to know the community.
Although my commitment to volunteering ended up accomplishing these goals, in retrospect, I could have just as easily tackled them by hanging out at the local bar. But by responding to emergencies across this expansive landscape, I was able to experience its beauty and severity in surprising ways.
It's difficult to pinpoint exactly when the idea of coordinated public service entered Americans' discourse, but historians suggest volunteer firefighting dates to Benjamin Franklin. In 1736, Franklin organized the first volunteer firefighting society in America. He called it Franklin's Union Fire Company, but it was better known as the "Bucket Brigade." At the time, fire protection societies existed only to serve their paying members. But Franklin's public service company extinguished fires on properties throughout the community rather than just on properties belonging to society members. Franklin set the precedent for the modern volunteer system that survives across the rural countryside today, a surprisingly tenuous solution to every community's most pressing and constant need: emergency response.
Marathon's solution to this problem included a group of local men and women whose numbers fluctuated between six and 12 during the six years I served. The department was similar to other rural emergency-service organizations across Texas—small, enthusiastic, and underfunded. According to the National Fire Administration, approximately 85% of all registered fire departments in Texas are volunteer organizations like Marathon's.
We held weekly meetings, performed maintenance on equipment, and spearheaded fundraisers to help finance gear and meet operating expenses. Democratic decision-making was encouraged at the station but gave way to a hierarchy of leadership in the field. We used Robert's Rules of Order to conduct our business, kept up a constant exchange of shady banter, and didn't allow beer drinking during meetings.
As volunteers, we also practiced simple skills together like operating the firetruck water pump and connecting and disconnecting hoses to the town's fire hydrants. Routine training was the best way to become familiar with our equipment and, just as importantly, with our group dynamics. We weren't friends who had decided to create a fire department. We were strangers who had come together to make a fire department work.
To help train volunteers like us, the Texas A&M Forest Service furnishes in-the-field instruction and equipment grants. Each summer, the Marathon department, along with volunteer firefighters from around the state, participate in an intense, weeklong municipal firefighting school sponsored by the Texas A&M Engineering Extension Service (TEEX). Our instruction took place on the Brayton Fire Training Field in College Station, one of the most important emergency and disaster training facilities in the world. Its 280 acres of realistic, live-fire structures called "props"—designed to imitate dozens of municipal and industrial disasters—provided us with firsthand experiences in tackling structure fires, industrial explosions, and automobile crashes.
Despite the summer heat in College Station, we geared up in our heavy, flame-retardant coats and overalls made of Kevlar, sweating it out to participate in fiery simulations. We learned to extinguish flames shooting from damaged propane tanks, extricate people safely from vehicle collisions, and tactically ventilate a structure. I found an exercise in which I had to crawl through a dark, smoke-filled apartment especially challenging. After strapping on an oxygen tank and mask over my Kevlar, I entered the apartment and then made my way over and under a maze of obstacles I couldn't really see until I found the exit. It was scary but exhilarating.
The simplest team exercise, controlling a fully charged fire hose under pressure, imparted a valuable takeaway. Even with nine other volunteers holding onto the hose, it was difficult to keep the hose from flailing out of control. I felt like the force of the water would prevail at any moment and turn our exercise into a Three Stooges routine in which we'd lose our grip and be forced to dodge the spray of a whipping fire hose. The thought made me laugh as we rotated forward along the hose, each volunteer getting closer to the nozzle. A few of my colleagues cursed in my ear, as if I weren't giving it my all, to compensate for their own dwindling strength. But others laughed with me at the calamity we were all keeping at bay. I realized then that I wasn't the only one struggling. I believe that was the point of the exercise. It took all of us cooperating together, every last person, to hold the line.
We also joined other volunteer departments closer to home for training specific to our part of the state. We learned how to mountain rescue by rappelling down rock faces to retrieve injured hikers, contain hazardous materials spills, perform controlled burns, and of course, how to fight wildfires. Next to roadside fires caused by motorists, grass fires and wildfires are the most common fire emergencies in Brewster County. The latter usually occur deep in the Chihuahuan Desert countryside and far from public roads, making the landscape itself the biggest challenge.
The region is vast, with Brewster County alone accounting for 6,169 square miles of largely rough and mountainous terrain. Private ranches comprise most of this country, typically with one graded road augmented by dozens of branching dirt tracks that end suddenly at stock tanks and feed troughs or at the edges of steep rocky draws. The terrain is dominated by broad grassland basins filled with hundreds of species of plants in various stages of thriving and drying, resulting in layers of detritus and deadfall called "duff," which accumulates year after year, ready to burn. Smoke rising above one of these duff-laden basins is bad news. The fires are perilous and unpredictable, like nature's version of a runaway train.
During one late afternoon grass fire, in an isolated pasture an hour from pavement, I watched fast-moving flames suddenly disappear into the duff. Minutes later, a breeze fanned the duff and resurrected the flames from the ground like spirits, propelling them across the stubble and consuming whatever was left to ignite. The fire burned a dozen acres before abruptly collapsing and dying with the breeze.
There were three of us on the scene, all wearing our Forest Service wildfire gear, liberally smudged with soot from previous wildfires. The heavy, flame-resistant yellow shirt and green pants were lighter than Kevlar but still made you sweat. One volunteer squirted water as the tank slowly drained, while another volunteer and I upturned smoldering spots along the ground by swinging pulaskis, firefighting hand tools that combine an axe with a spade-like adze. We moved around the burn slowly as wisps of smoke floated in the winter light, the sky cloaked in a velvet cloud cover. A stand of bee brush survived near the burn's center. As we moved closer to inspect its edges, a massive bull, hidden and brushed up against the flames, charged from the confines. Frightened but free, the dung-white beast rushed between us and through the threading smoke, as surreal as mythology, before disappearing over a hillock into the fading light.
I spent most of my time battling wildfires like these, scrambling up stony mesas, lumbering through canyons full of fireflies, negotiating grassy basins ablaze at midnight, and watching antelope wander over far-flung plains before they vanished behind smoke and fog. These were moments I would never have experienced otherwise, in a land with which I have slowly but enduringly conjoined, despite its indifference to my allegiance and charity. West Texas has extracted a tariff for my commitment anyway, if only by dictating the narrow parameters of my rural, self-made life.
Tackling emergencies in rural counties like Brewster often requires more than just fighting fires. During my volunteer years, Marathon maintained a volunteer ambulance service. Several of us firefighters joined the service, undergoing basic emergency medical-responder training offered by the Texas Department of Health and Human Services. My training included a Saturday night shift with an El Paso ambulance department, an experience that transformed my understanding of trauma and underscored the challenges that urban first responders face every day.
That night, we responded to a call about someone who had locked themselves in a bathroom, bleeding. They had threatened suicide during an argument with their partner, then smashed a window and barricaded themselves in the shower stall. Combining a great deal of compassion with a little persuasion, the EMTs were able to talk the injured party out of the stall, treat his wounds, and resolve the conflict. I swept up the glass. The call taught me that patients are at their most vulnerable during an emergency, suffering from emotional turbulence that requires attention alongside their physical deficits. When someone's life is cartwheeling out of control, a dose of empathy is as important as medical know-how to help restore the patient to some kind of mental and physical balance.
With training, I became an Emergency Care Attendant, level one of five in paramedic certification, and spent two years responding to medical emergencies in Marathon. I transported diabetics, expectant mothers, and vehicle accident victims. I also assisted elderly patients in need, assessing them and loading them into the ambulance, sometimes with a do-not-resuscitate directive shoved into my hand by a relative on my way out the door. I got to know my neighbors, without a doubt, but kept my interaction with them compassionate and discreet. I tried to put them at ease with a little humor as I prepared the stretcher or hooked up the oxygen, all necessary duties to transport them to the emergency room. For Marathon patients, that meant a half-hour to 45-minute trip, depending on how many deer tried to cross the road along the way.
After my second year, Brewster County officials hired an ambulance team from the neighboring town of Alpine to cover the northern region, ending my stint as a volunteer emergency medical responder. I enjoyed the work—I actually considered a midcareer switch to being a paramedic—but I was relieved. Being a volunteer on call 24-7, even in a little community like Marathon, can lead to periods of hypervigilance and lack of sleep. Volunteer organizations like Marathon's thrive on personality dynamics and enthusiasm, and they are always in need of a refresh. So, after six years, I left the fire department as well, making room for new recruits. I had done all I was willing to do and had received far more from my efforts than I had ever expected.
My volunteer years permanently altered the way I approach the world, though. They infiltrated the comfortable bubble I had created for myself while demonstrating just how many things could go wrong in a day, whether a grass fire or heart attack. But as a result of my training, I learned that some of those things could be alleviated, at least long enough to alter the outcome or assist someone in surviving another day. Throughout my volunteer experience, I was motivated most of all by the unpredictable drama of an emergency's spectacle and the easygoing camaraderie generated in responding to it. So, it came as no surprise that the emergency that left me with the most clear-eyed impression involved neither a life-threatening trauma nor an out-of-control wildfire.
The call about a train on fire came late one autumn night, long after I had fallen asleep. A freight with three engines had stopped on the tracks a few miles from town after a spark from Engine 2 had been sucked into a vent along Engine 3's side, igniting the pooling oil inside its powerhouse. When we arrived on the scene in a firetruck loaded with a 300-gallon water tank and a bucket of surfactant (when mixed with water, it helps smother flames), the fire was piercing Engine 3's vent, illuminating tumbleweeds lodged against a barbed-wire fence nearby.
A tannin moon hung above dark clouds, dim as candlelight. The hazy glow seemed to merge the train's shipping container names with the graffiti spray-painted below them, creating strange boxcar phrases like "Uniglory SKELETOR" and "Evergreen PEEPS." Near the head of the train, I spotted the engineer's silhouette as he swung a red lantern along Engine 3's catwalk, signaling the way to the access ladder. We fed a hose from the firetruck to the catwalk. Then we mixed in the surfactant, cranked up the water pump, and coated Engine 3's catwalk, vent panel, and oil slicks with a foamy mixture that shot from the hose like shaving cream.
Once the fire was under control, we tried to remove the vent panel to soak the engine's interior. Heat had corrupted the seal of the panel, its paint scorched and bubbly. The engineer used a hammer and chisel to pop open the panel door, and it fell away against the force, offering a glimpse of the mysterious, soot-laden assembly composing the heart of the train. We filled the entire chamber with foam and then replaced the panel.
After the fire was out, the engineer shook our hands. He reboarded the train and had it moving down the tracks within minutes. The boxcar words moved with him, flashing red in the firetruck's rotating dome light until darkness swallowed the train completely. We finished loading our gear, pitching a tumbleweed into the bed of the firetruck before heading home.
Back in town, we gathered around a fire pit to drink a few beers and ward off a chill. We were worn out but adrenalized, indulging in a replay of the call's odd circumstances. No one seemed ready to call it a night. After a couple of rounds, someone tossed the tumbleweed into the fire pit, and we watched it burst into flames, a surprisingly swift and powerful combustion that erupted rapidly into chaos before gently dying out.
From the October 2020 issue