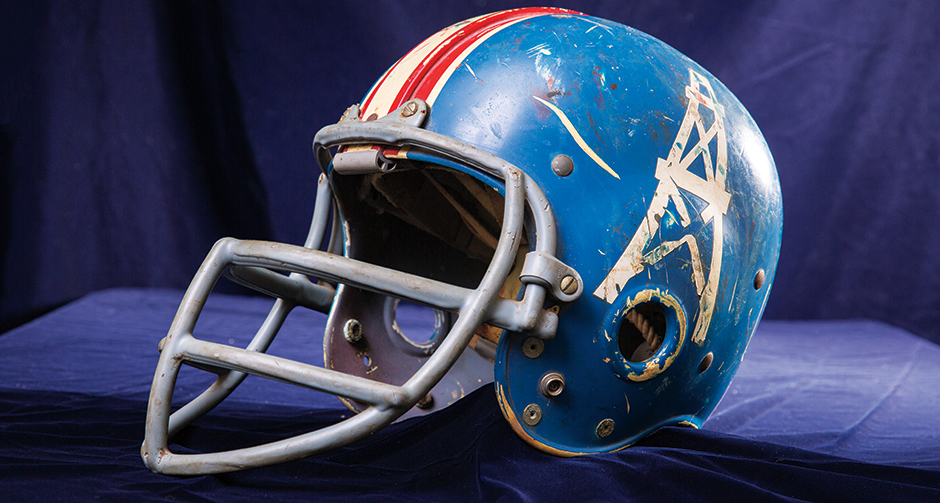 True Texas football fans we are.
We stand in lines, endure the swelter of early-season day games, and pay top dollar in donations and seat licenses to cheer our college and pro teams. We turn out to watch the local boys play under Friday-night lights, whether on six-man squads with bleachers set up next to pastures or suburban dynasties in multimillion-dollar stadiums.
 

Texas' football heritage

Football history is on display throughout Texas in places like the African American Museum's Texas Black Sports Hall of Fame at Fair Park in Dallas and at the Tomato Bowl stadium in Jacksonville. Read more about Texas' football heritage.

Essentials

AT&T Stadium, 1 AT&T Way in Arlington, offers tours on days without conflicting events. Call 817-892-8687.

The Star, 1 Cowboys Way in Frisco, offers a VIP Tour most days. Call 800-745-3000.

NRG Stadium, 1 NRG Park in Houston, offers guided tours Tuesdays and Thursdays. Call 832-667-1842 for blackout days.

Kyle Field, 756 Houston St. in College Station, offers tours Mondays through Thursdays. Call 979-847-8113.

Darrell K Royal-Memorial Stadium, 405 E. 23rd St. in Austin, offers tours throughout the year with dates announced two weeks in advance. Tickets available online only,

The Texas Sports Hall of FameHall of Fame is at 1108 S. University Parks Drive in Waco. Call 800-567-9561.
Texas' two most storied teams—The University of Texas Longhorns and Texas A&M Aggies—draw 100,000-plus spectators to big homes games. And the state's two NFL teams, the Dallas Cowboys and Houston Texans, take the field in precedent-setting stadiums that push the boundaries of technology and fan experience.
But the Longhorns, Aggies, Cowboys, and Texans each play only a relative handful of home games a year. Fortunately for super-fans—and the merely curious—their stadiums open year-round for tours that provide close-up looks at the facilities, chronicle the teams' legacies with historical artifacts and displays, and engage our imaginations with interactive exhibits. At AT&T Stadium in Arlington, dads can throw wobbly passes to their kids over the familiar Dallas Cowboys' Star emblem; and at Texas A&M's Hall of Champions, fans can try on virtual uniforms in the spirit of the "12th Man."
In anticipation of football season, give the couch a break and join us for a tour of Texas' most exciting palaces of pigskin.
1. AT&T Stadium, Arlington
Leave it to the Joneses to have a Stadium and Art Ambassador, Phil Whitfield, who leads AT&T Stadium tours that focus on major artworks commissioned or purchased under the direction of Gene Jones, Cowboys' co-owner and wife of Jerry Jones. Whitfield's narrative weaves together the art, architecture, and athletics of the audacious building, which is big enough to house the Statue of Liberty.
A separate VIP guided tour covers the football essentials and fan amenities, including access to the field, the player and cheerleader locker rooms, million-dollar luxury suites, and the outsized 60-yard-long video board jokingly referred to as the "Jerrytron."
"When I came here, I thought art was in a picture frame," said Whitfield, who shepherded artists decorating the building during its construction. Some artworks are football-related, like Line of Play, an abstraction of coaches' play drawings on two walls and a ceiling at AT&T's northwest entrance for premium seats.
The creations, which represent styles like minimalism, kinetic art, and surrealism, adorn stadium entrances, suite-owners' private areas, and concession stands. "Art people want to see the art," noted Whitfield, who's also part of the Dallas Cowboy Cheerleader selection process. "They may not care whether the Cowboys are winning or losing."

2. The Star, Frisco
Northeast of Arlington in Frisco, The Star—the new Dallas Cowboys headquarters and training facility—greets visitors with a jaw-dropping five-story glass atrium decorated with 19,200 flickering LED lights hung from the ceiling on 160 mirrored rods. Artist Lee Villareal, creator of The Bay Lights display on the San Francisco Bay Bridge, fashioned the installation.
VIP Guided Tours lead fans downstairs to the Taj Mahal of locker rooms, where players have faux leather seats with built-in compartments for street clothes and ventilated storage for sweaty shoes and shoulder pads.
The tour also stops at the War Room, where Cowboys officials plot their annual draft strategy with an interactive video wall; and at the practice fields of natural grass or artificial turf (the team switches from one field to another depending on the turf for the upcoming game).
The Star exhibits Cowboys artifacts throughout the facility. In a hall near the entrance, the team's five Super Bowl trophies shine on a display stand—with room for more. In another hallway display, a scouting report on then-UCLA star Troy Aikman is open to a page reading, "He very clearly fits the character requirement for the important position of quarterback in an 'almost perfect' fashion." Of course, the Cowboys drafted Aikman No. 1 in 1989, and he went on to lead Dallas to three Super Bowl titles. The scout who wrote that early assessment: Jim Garrett, the father of Jason Garrett, the Cowboys' current head coach.
Don't miss Hail Mary, a staircase of freeze-frames of the Roger Staubach-Drew Pearson TD connection that provided a last-ditch 1975 playoff victory against the Minnesota Vikings. It was a defining moment for both players and, as Cowboy fans recall, quarterback Staubach said, "I closed my eyes and said a Hail Mary."
The nucleus of a $1.5-billion mixed-use development, The Star includes the 10,000-seat Ford Center, which serves as the Cowboys' indoor practice field and home to Frisco's high school football teams. Tour participants can try out the practice field (except on practice and event days) and run around on the 50-yard turf field replica on the outdoor plaza, complete with a large video board.
3. Darrell K Royal-Texas Memorial Stadium, Austin
Darrell K Royal-Texas Memorial Stadium still gets plenty of use when it isn't hosting one of the Texas Longhorns' home football games.
The Stark Center for Physical Culture and Sports, housed in DKR's north end zone, comprises an academic research center and 10 separate museum galleries celebrating athletic interests from bodybuilding to golf. Exhibits rotate, such as 1914: A Perfect Season, which honors the Longhorn football squad whose national record for points-per-game stood for 91 years.
Tours begin in the cavernous Red McCombs Red Zone food court, where UT students and visitors relax and refuel near the Texas Longhorn Band's 8-foot-diameter bass drum—the 90-year-old "Big Bertha." Outside, Veterans Memorial Plaza honors all U.S. war veterans—hence the stadium's name before Royal's was added.
Tour guests also visit the press box and hospitality areas, where boosters hang out on game day. Beyond the south end zone is the Moncrief-Neuhaus Athletic Center, home to football offices, locker and equipment rooms, a display of UT's national championship trophies, the Heisman trophies of running backs Earl Campbell and Ricky Williams, and plaques naming every team captain back to James Morrison in 1893.
Underneath the south end zone, there's a moving memorial to safety Freddie Steinmark, who was diagnosed with bone cancer after Texas' 15-14 win over Arkansas in 1969, the game that decided the national championship. His leg amputated, Steinmark stood on the sidelines during the Longhorns' 1970 Cotton Bowl win over Notre Dame. Just like Longhorn players, fans can touch the Steinmark memorial before they enter the tunnel and run to the field.

4. Kyle Field, College Station
What has 1.6 million bricks, 29 million pounds of structural steel, 109 flights of stairs, and a sprawling sign declaring "Welcome to Aggieland"? The new Kyle Field, which Texas A&M University unveiled in September 2015 after a $485 million renovation of its 1927 stadium.
Led by student guides, Kyle Field tours ascend via elevator to the East Side's Level 7 for an expansive view of stands that seat 102,733 spectators, more than any other Texas football stadium. Nearby, a concession stand sells signature chicken-fried hot dogs, and one of the stadium's four air-conditioned 60-degree Cool Zones thwarts heat-related ailments on late-summer game days.
Larger-than-life tributes characterize the new Kyle Field, including a two-story club space with design details inspired by the Aggie Ring and soaring portraits of A&M's two Heisman Trophy winners, the late John David Crow (1957) and Johnny Manziel (2012).
Tours also explore the Hall of Champions, a 30,000-foot indoor exhibition hall that showcases all Aggie sports. Visitors can watch videos of modern-day football action, access a virtual trophy room of 360-degree images of the hardware commemorating Aggie championships, and view Kyle Field's transformation in photos and time-lapse video. From there, the tour continues to the track surrounding the field. No strolling on the turf itself—it is natural grass.
Outside, statues ring the stadium's exterior, including the 40-foot-long War Hymn Monument of Aggie students arm-in-arm and the 12-foot-tall bronze rendering of E. King Gill, the Aggies' historic 12th Man. The Hall of Champions is open most days even if you aren't on a tour.
Aggie officials note that many artifacts from the now-closed A&M Sports Museum are in storage with future plans to display them in the Hall of Champions.
5. NRG Stadium, Houston
Located next door to the historic Astrodome, NRG Stadium holds its own with a facility that in 15 short years has hosted not only the Houston Texans but also two NCAA Men's Final Four Championships, the annual Houston Livestock Show & Rodeo, numerous international soccer matches, and two Super Bowls.
Tours, which cost $6 and last about an hour, cover the visiting team locker room, the stadium press box, the club level, and party suites. The tour also includes the field sideline, where visitors can get a look at the field turf (when it's installed) and gaze up at the stadium's massive retractable roof, the first in the NFL. The roof took center stage earlier this year when Lady Gaga rappelled from the top of the stadium during her Super Bowl LI halftime show.
For now, NRG has fewer historical exhibits than Kyle, DKR, and AT&T; after all, the Texans debuted in 2002. Displays where the tour starts in the south lobby illustrate NRG Stadium's versatility with memorabilia from the Houston Rodeo, the 2011 and 2016 Final Four tournaments, monster truck events, and the Texans. A vintage Houston Astros baseball uniform and a Houston Oilers helmet serve as tributes to the teams that played in the Astrodome, and historical photographs chronicle the construction of both the Astrodome and NRG Stadium.

6 Texas Sports Hall of Fame, Waco
The Houston Oilers left the state before NRG Stadium was built, but memories of the Oilers are celebrated in Waco, where the Texas Sports Hall of Fame displays "Luv Ya Blue" memorabilia like Coach Bum Phillips' boots and cowboy hat and a battered Oilers helmet.
The Hall also tells the history of the Southwest Conference, the athletic association made up of Texas' biggest universities before it disbanded in 1996. Artifacts aren't limited to football. The University of Houston section has signed jerseys of Clyde Drexler and Hakeem Olajuwon, anchors of the Cougars' Phi Slama Jama basketball team of the early 1980s.
Long before ESPN, football fans in Texas spent Saturday afternoons by the radio listening to Kern Tips, "Voice of the Southwest Conference." Tips narrated countless dramas on the collegiate gridiron, many of which Hall visitors can hear in an on-demand audio exhibit of Tips and other broadcasters.
The Hall also focuses on the history of 300-plus members of the Texas High School Football Hall of Fame. Exhibits include quarterback Bobby Layne's No. 86 gold-and-black Highland Park High jersey, which he wore before he started as a freshmen at UT in 1944 and led the Detroit Lions to NFL championships in 1952 and 1953.
And, of course, the Hall honors Tom Landry, the scrappy athlete from Mission who went on to coach the Dallas Cowboys for 29 years. In the Tom Landry Theater, visitors can select videos of memorable Cowboys' moments and their famous coach.
There's a saying in Texas that football season lasts year-round. With visits to Arlington, Frisco, College Station, Austin, Houston, and Waco, fans can get their football fix whether or not it's game day.
From the August 2017 issue