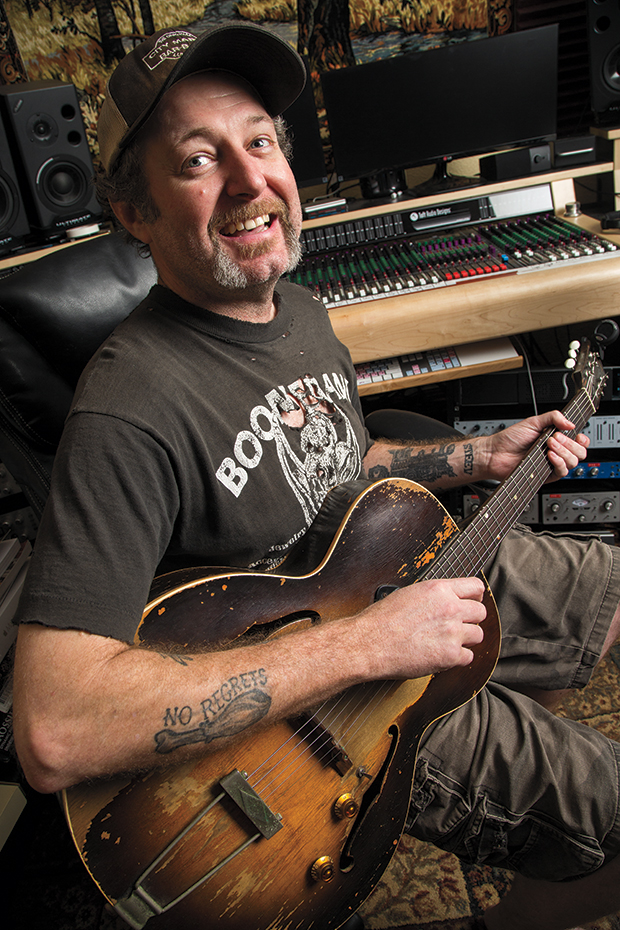 Scott H. Biram is a one-man band who has blown five-piece rock groups off the stage. But the San Marcos native is just as at home picking country blues on his back porch, with his chickens running around the yard, as he is in a nightclub.
Scott H. Biram

Scott H. Biram's next Texas show is July 23 at 3TEN ACL Live in Austin. Keep up with Biram's touring schedule and other news at scottbiram.com.
Biram's favorite venues, dives, and BBQ

Scott H. Biram has played just about everywhere in his 20-plus years as a traveling one-man band. Along the way, he's found some favorite stages across Texas, among them The Continental Club in Austin and Houston, Riley's Tavern in Hunter, the Gas Monkey in Dallas, and the now-defunct Triple Crown in San Marcos.

When he's off the road, Biram likes to revisit his Central Texas dive bars of choice, including Fuzzy's Corner near Buchanan Dam and Riley's Tavern. And he can't get enough of smoked meats.

"I consider myself a barbecue connoisseur," Biram said, listing City Market in Luling, Smitty's in Lockhart, and Opie's in Spicewood as his top three. "Barbecue is hit-or-miss on the road, so when I'm home I go to the old standbys."
Artists such as Lightnin' Hopkins, Bill Monroe, and Woody Guthrie led the way for Biram's supercharged roots music. But wearing a faded Black Flag T-shirt and stomping out rhythms with his left foot on a rectangle of electrified wood, Biram plays with the swagger of a punk rocker.
With the February release of his 10th solo album, The Bad Testament, the 43-year-old Biram is back on the road, including shows across the United States and Europe, after taking his first extended break from touring in 20 years. "Usually when I come home from a tour, the guitars stay in the van. I don't want to touch a guitar," he said. "But with six months off, I got back into practicing the guitar five hours a day. I started loving to play the guitar again."
Biram is a student of traditional blues and country who also loves punk, early Metallica, AC/DC, and Slayer. But he doesn't go through musical phases—he piles his influences on top of each other like a musical junkman and sets out in the world with his sonic wares. His songs celebrate the road life and the redemption of rivers, which wash away the grit of the road.
"The highway and the river are the two places I feel most at home," said Biram, who now lives in Austin. "Growing up, the San Marcos River was just a part of life."
Biram's musical mind was set as a 6-year-old when his parents took him to see the legendary folk/bluegrass guitarist Doc Watson at Austin's Armadillo World Headquarters. Even as he played in loud, fast garage bands while attending San Marcos High School and Texas State University (Southwest Texas State at the time), Biram returned to the music of the mountains and the Mississippi Delta.
His affinity for lo-fi studio produc-tion was sealed at age 14, when his parents bought him a four-track tape recorder for Christmas. Biram found it hidden in the closet a week earlier and recorded his first original tunes before putting the recorder back in the box and acting surprised on Dec. 25.
Billing himself "The Dirty Old One-Man Band," Biram is a self-contained unit, also doing most of his production work by himself at his home studio.
"I guess band politics didn't sit with me too well," he said of his earlier career as guitarist for such San Marcos bands as the Thangs and Bluegrass Drive-By. "But I never wanted to be that guy in a coffeehouse, singing his songs. I always had the rock-and-roll club in mind."
"Hiram," as Biram often refers to himself, comes to those venues with an economical advantage. "Scott says he's never lost money on a show," said Jesse Dayton, an Austin musician who has toured the country with Biram four times. "It helps when you just have to pay yourself."
Another great thing about being a one-man boogie machine is that you can play off the crowd without any filters. During a recent show at Cheatham Street Warehouse in San Marcos, Biram started his set with a mix of blues, folk, gospel, and metal before ending with a flurry of songs that roared off the stage and down the highway. "I guess you guys want to hear some truck-driving songs," Biram said after the first one ended in whoops and hollers. "All right then, let's just haul on down that road."
Four more trucker songs followed, and even the stray metalhead in the crowd was banging his head to the rhythm of Biram's hard-worn 1959 Gibson hollow-body electric guitar. "I've been to Detroit, L.A., New York, Mississsip-eye-aye/ Grand Canyon, Hoover Dam, East Texas, and Vietnam," the crowd sang along on "Truck Driver," a Biram classic.
Forgotten in the moment was the afternoon in March 2003 when an out-of-control truck driver almost ended Biram's life. Biram was driving from San Marcos to Kingsbury on Texas 123 when an 18-wheeler crossed the centerline and collided head-on with his pickup. Photos of the wreck make it hard to believe anyone could have survived. "They didn't think I was going to make it to the hospital because of internal bleeding," said Biram, who was trapped in his mangled car for 25 minutes.
"Everybody still wants to talk about it," Biram said of the accident, "but I've moved on." He acknowledged, however, that his tale of survival is hard to top. "I wouldn't do it again," Biram said with a big laugh. "But that wreck helped give me a legendary story."
After 13 surgeries, Biram was the man tough enough to take whatever life threw his way. The experience reinforced Biram's reputation as a heroic outlaw whose music is shot through with real life drama. His songs have been used in several TV shows, including Sons of Anarchy and Dog the Bounty Hunter, plus the Oscar-nominated film Hell or High Water. That's made for some nice mailbox money, but this guy in a mesh-back trucker hat makes most of his living on the road.
The life of a touring musician, especially one who has metal rods in his legs, is not an easy one. But when you can rock the house like Biram does, you have a lot of nice memories for those long drives.
"It's not a bad life," Biram said. "My music is built for the road."
From the July 2017 issue