The Texas Arts and Crafts Fair, which the legislature deemed the official arts and crafts fair of the Lone Star State in 1995, is returning this fall after five years of absence. The Hill Country Arts Foundation will debut its newly updated Ingram campus to an estimated 5,000 guests in support of more than 150 Texas artists Sept. 28-30.
The 2018 Texas Arts and Crafts Fair

Sept. 28-30
Hill Country Arts Foundation Ingram Campus
120 Point Theatre Rd S, Ingram

Tickets are $8, student tickets are $5, and children 12 and under get in free.
"I'm looking forward to reviving this beloved tradition in the Hill Country," says Wanda Garner Cash, the Hill Country Arts Foundation event director. "We just thought it was a natural fit for our mission out here with visual and performing arts."
The fair was on a five year hiatus after the Texas Arts and Crafts Fair Educational Foundation, which hosted the fair from 1972 to 2013, declared bankruptcy. It was an unfortunate development for the fair, which at its peak in the mid to late '80s brought around 20,000 people to the Schreiner University campus in Kerrville over four days. The Hill Country Arts Foundation bought the rights, and Cash says that after undergoing infrastructure and parking improvements, the foundation is ready to bring it back in full force this year.
The festivities will start Friday night with live music from Kerrville Folk Festival performers and will continue all day Saturday and Sunday with Texas-made arts and crafts, food, performances, and more.
"All of the performers, artists, and demonstrators are Texans," Cash says. "They have to be Texans in order to be involved in the fair."
The foundation is located on 13 acres on the Guadalupe River, about two hours west of Austin, and the fair will take place around the site's Stonehenge replica. Art spans from oil paintings and jewelry to metal sculptures and mesquite furniture, and the fair will include an "Art Explorations Zone" that features an interactive children's area where kids can craft masterpieces, as well as artist demonstrations of glass blowing, quilting, and leather making, to name a few.
There will be a "Heritage Artists" exhibit held inside in the foundation's Duncan-McAshan Gallery that showcases artists who have long been supporters of the fair and the foundation, such as Austin-based mixed-media artist Daryl Howard, who has been attending since the early 1980s.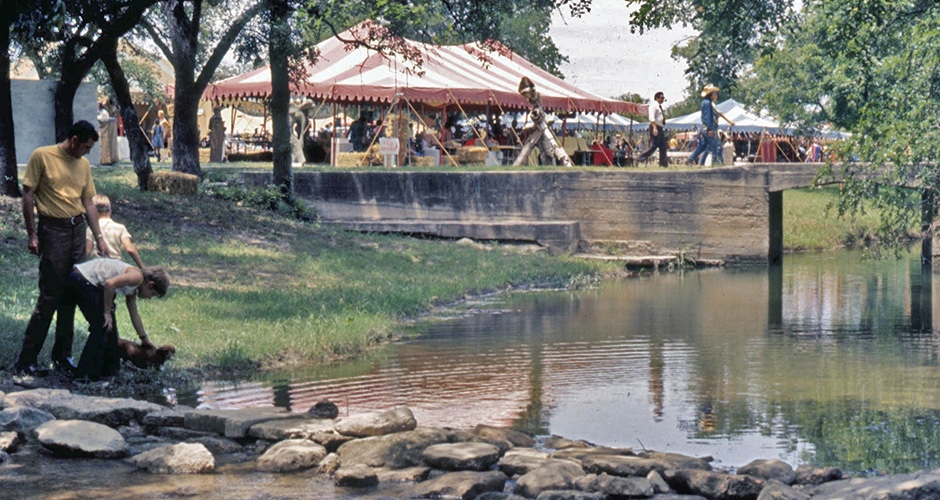 "The fair came along at a time in my life that I was making a transition from teaching into making a full-time living from art," Howard says. "I made the basis of my career at the Texas Arts and Crafts Fair."
This year's fair is dedicated to James Avery, the renowned Kerrville-based jewelry designer who died in April. Avery was a longtime board member and supporter of both the fair and the Hill Country Arts Foundation, according to Cash.
Cash says the foundation is excited for the five-year process to culminate in this year's event and the events of many years to come.