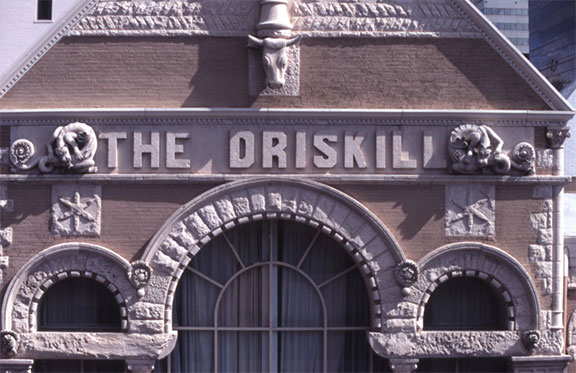 Located in the heart of downtown Austin, the Driskill Hotel is probably best recognized for its rich history (it was around long before the State Capitol and the first building at the University of Texas at Austin even existed) and its proximity to the Sixth Street entertainment district. But that's not all it's known for.
According to the folks at Austin Ghost Tours, an organization that offers nighttime explorations of downtown's spooky past, the 130-year-old building is haunted. Over the years, several resident ghosts have been spotted throughout the hotel's grand hallways and rooms, including that of original owner and cattle baron Jesse Driskill, a jilted bride, and a young girl. However, Jeanine Plumer, founder of Austin Ghost Tours, explains that most hauntings are not visual, and that it's rare for someone to see an actual ghost. "Most hauntings are feelings, smells, or movements of objects," she says.
Folklore suggests that Jesse Driskill haunts the hotel because he never got to enjoy its success during his lifetime. Shortly after the Driskill opened in 1886, Jesse had to forfeit ownership for financial reasons. Today, his spirit is said to make its presence known through the smell of cigar smoke and the flickering of lights.
A bolder ghost is that of a bride who, in the 1990s, checked into Room 329 after her fiancé called off their wedding. To recoup, the woman went on a shopping spree racking up a $40,000 credit-card bill. After her excursion, she calmly walked back to her room and shot herself, muffling the sound with a pillow. Past guests claim they have seen her ghost walking down the halls with shopping bags in tow. Another ghost, that of a child who died after falling down a flight of stairs, can be heard giggling and bouncing a ball.
The Driskill Hotel, with all its paranormal folklore, has been in business for more than a century. It has played host to several inaugural balls, and it was where Lady Bird and President Lyndon B. Johnson had their first date. Whether or not the hotel houses paranormal guests is debatable, but it certainly offers visitors historical ambiance. And who knows, you might even have a haunting experience.
From the October 2007 issue