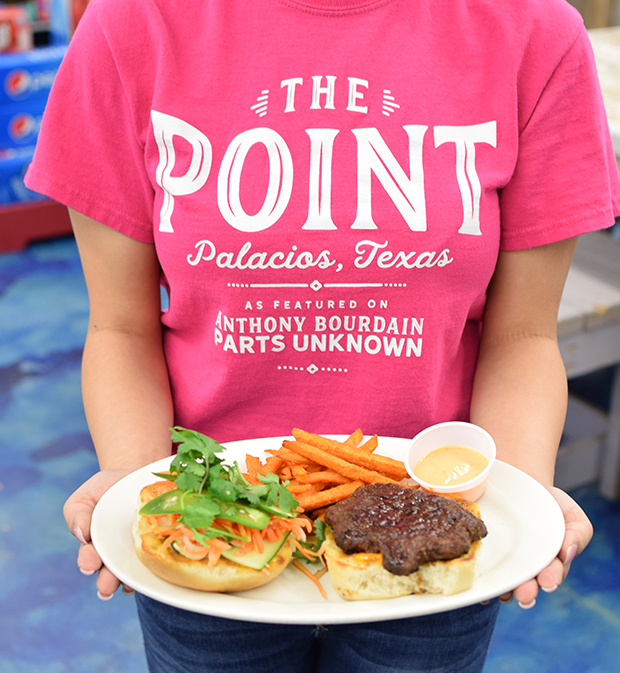 When you visit Palacios, Texas, chances are, you're going to stop in at The Point. A convenience store located prominently at the juncture between 1st Street and East Bay Boulevard, The Point's neon green sign and bright red tagline reading "Beer-Ice-Bait-Tackle-Grocery-Lottery," is hard to miss.
The Point is at 608 First Street in Palacios, (361)-972-2106.
Need some bait for your day out fishing? Stop in at The Point. Want some gum or Gatorade or a six-pack of beer? The Point is where it's at. A place for tourists and locals alike, what's cool about its latest incarnation (The Point has had numerous owners over the years) is that it also offers food. Specifically, Mexican food like breakfast tacos in the morning, and Vietnamese food like pho beef noodle soup in the evening.
Owners Bryan Thuc Tran and wife Yen Tran are the duo behind this bright, hospitable little shop. Both came over to the United States with their families after the fall of Vietnam in 1975, settling in Palacios in 1978. Yen married Bryan straight out of high school, raising three kids while working full time as a teacher's aide and taking night classes to gain her teacher's credential, after which she taught the 7th grade. Bryan worked for Alcoa, an industrial company specializing in aluminum, until the company closed, forcing him into early retirement.
The couple didn't know anything about running a business, but it had always been Bryan's dream to own something of his own. In December 2015, with his wife by his side, and after some extensive remodeling, he opened up The Point.
The shop had only been open for a few months when one of the producers for Anthony Bourdain: Parts Unknown found their website and contacted them. "I didn't even really know what the show was when they called," recalls Yen. "They said they had a show on CNN, but they didn't tell me what it was." Yen helped the producers get in touch with local Vietnamese shrimpers and businessmen, and it was decided that a meal would take place at The Point.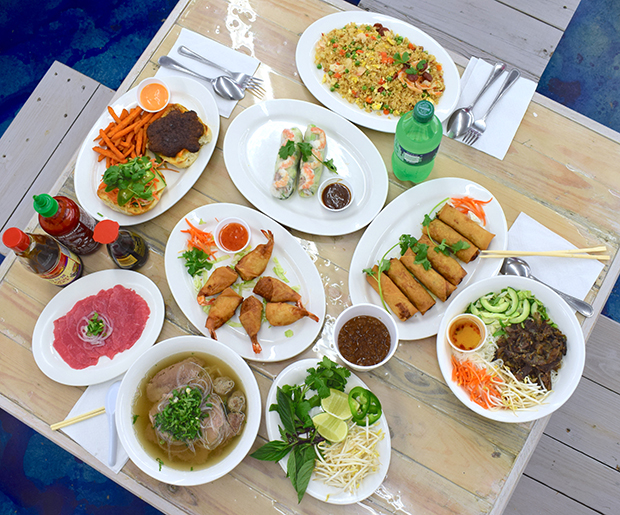 The Anthony Bourdain: Parts Unknown – Houston segment aired in October of 2016, less than a year after The Point opened. In it, Bourdain sits around a table with Bryan, Yen, her children and some of Palacios' most successful Vietnamese businessmen, sharing conversation over bowls of pho, plates of Vietnamese egg rolls and Mexican migas tacos.
It was a big deal for a small shop in a town of 4,700 residents. Even so, not much has changed at The Point since the showed aired. You can still stop at The Point to pick up cigarettes or a lottery ticket. Bryan is still manning the cash register, and Yen is still overseeing the kitchen. In the mornings, from 5 a.m. to 2 p.m. daily, you can order Mexican food made by one of the town's most beloved Mexican cooks, Marcella. From 10 a.m. to 8 p.m., you can also order Vietnamese food.
"Pho is the most popular item on the menu," says Yen. It was also praised by Bourdain, who said, "The pho here is good. Brisket, eye round, meatball, tripe and tendon just like back home." It's a point of pride for Bryan, who makes it daily by simmering beef bones and aromatics for several hours to produce a rich, fragrant broth.
Yen and her cooks do everything else, including the Vietnamese banh mi sandwiches, crispy shrimp wraps, grilled pork and rice vermicelli bowls, fried rice and the occasional seasonal special, like papaya salad. A banh mi-style Asian burger is on the menu as well.
Bourdain tried all of these dishes when he was there. If you want to follow in his footsteps, just ask the staff what he and order it. When you sit down for your meal, you'll find Bourdain smiling at you from the photos mounted onto the napkin holders at each table. And then you might want to pick up a T-shirt as a souvenir. Offered in colors like bright green and hot pink, they are displayed on the walls and worn by the staff, and say: "The Point, Palacios, Texas, As Featured on Anthony Bourdain: Parts Unknown."
From the June 2017 issue