Sacred
Find divine inspiration and quiet reflection in Texas' transcendent landmarks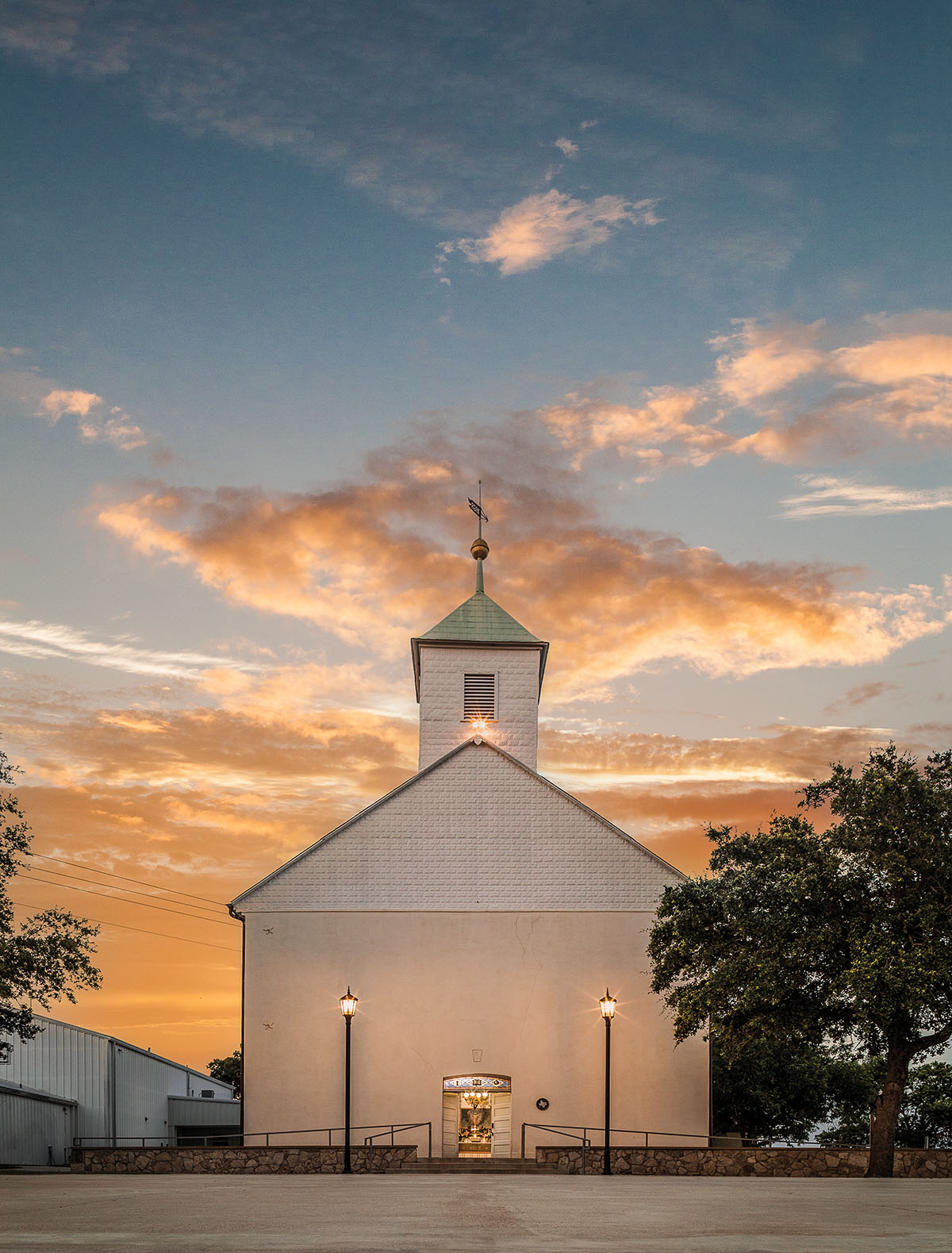 Spaces
Photographs by Jeff Wilson
From the ancient Chisos
Mountains to the majestic Piney Woods to the roar of waves crashing on the South Padre Island shore, Texas' natural wonders offer no shortage of grandeur. But there's beauty to be found in the human-made structures that surround us, too. The places we construct for prayer, meditation, remembrance, or rumination reveal our human attempts to define the undefinable.
Whether it's temples, churches, or cultural sites, Texas has an abundance of places that offer visitors, religious or not, a space to reflect in an increasingly noisy world. Austin-based photographer Jeff Wilson says he has always been interested in these outward expressions of people's faith. "It can be really powerful and insightful into how people think," he says. "You can see what their faith looks like built out of brick and mortar."
Over the course of one month, Wilson traveled to nearly every region of Texas capturing some of the state's most sacred spaces, like the San Fernando Cathedral in San Antonio and Houston's Rothko Chapel. In all, he visited seven cities, including El Paso, Alto in East Texas, and San Juan in the Rio Grande Valley. Photographing inanimate structures is different from capturing live subjects, he says. "The work itself is solitary and contemplative."
Wilson spent hours with each structure, photographing each one at dusk and dawn, determining how they fit into the environment around them. To get a feel for what he wanted to shoot, he'd put his camera down and walk around, waiting for what the space had to reveal. "The architecture of these different places is so varied, in terms of their age and expression," he says. "They're really interesting when you start to piece them together."
—Danielle Lopez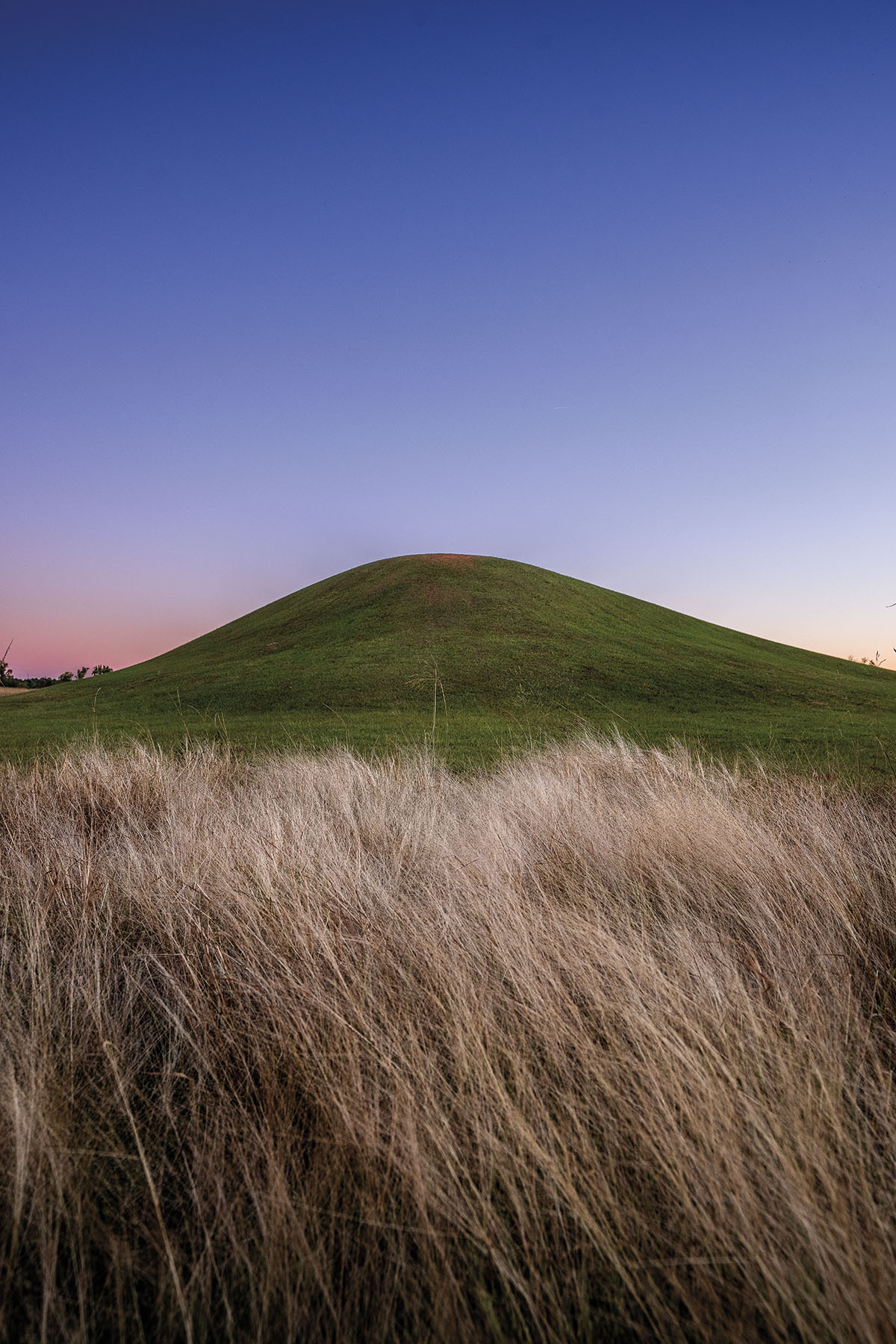 Caddo Mounds State Historic Site
Situated in the Piney Woods of East Texas, Caddo Mounds comprises three earthen mounds that once served as a flourishing settlement for the Indigenous Caddo people roughly 1,300 years ago. The Caddo built each mound for a different purpose: one to build a temple, one as a burial site, and one as ceremonial grounds. "I've been all around that area of Texas, but somehow this was my first time seeing the Caddo Mounds," Wilson says. After a tornado tore through much of the site in 2019, local Texans, with the help of Caddo, began working to restore the area. During Wilson's visit, they were working on a new visitors center and museum and rebuilding a replica of a traditional grass house, which was recently completed.
1649 SH 21 West, Alto. 936-858-3218;
thc.texas.gov/historic-sites/caddo-mounds-state-historic-site
Rothko Chapel
The Rothko Chapel in Houston is part chapel, part modern art piece. Opened in 1971, the nondenominational building is named after Latvian American abstract painter Mark Rothko. While artist Barnett Newman's Broken Obelisk, a 25-foot structure dedicated to Martin Luther King Jr., stands outside, the chapel's exterior is otherwise simple. Inside, the chapel contains 14 of Rothko's large, dark, textured paintings, which create a solemn environment. "When you walk in, it really does the trick," Wilson says. "It's peaceful and contemplative—and people respect it as much as they would any other chapel." With nearly 100,000 visitors each year, the Rothko maintains an expansive collection of sacred texts, ranging from the Bible to the Quran to the Bhagavad Gita, the core text of Hinduism.
3900 Yupon St., Houston. 713-524-9839;
rothkochapel.org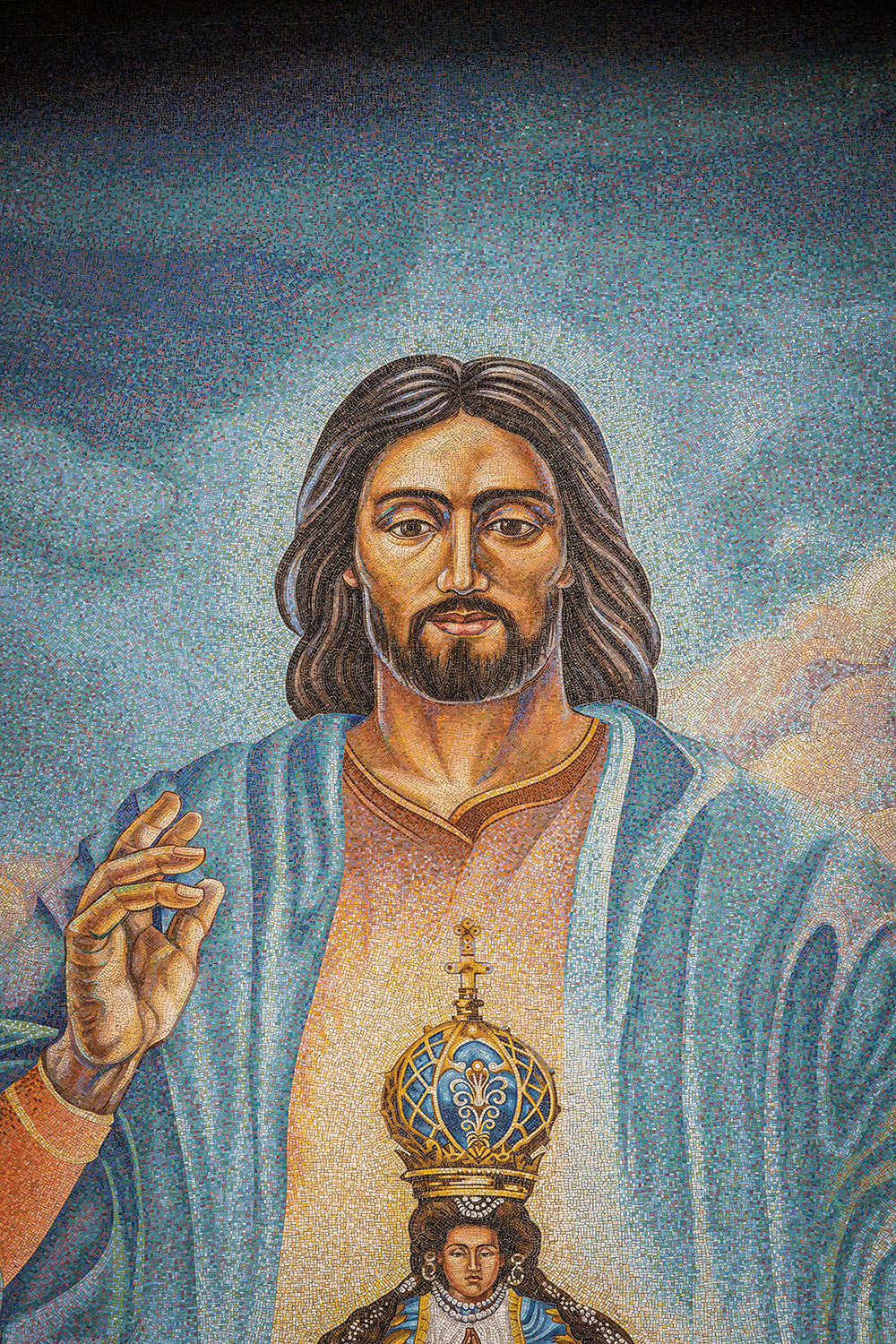 Basilica of Our Lady of San Juan del Valle
This national shrine welcomes roughly a million visitors each year who come to pray, light candles, and roam the 55,000-square-foot campus. "It feels like an old Catholic church," Wilson says. "It's very grand and ornate." Deemed a minor basilica of the Catholic Church, the shrine is named after "La Virgen de San Juan," an iteration of the Virgin Mary that originated in the Mexican town of San Juan de los Lagos. It is said that in the early 1600s a young girl came back from the dead after her parents placed the image of the Virgin Mary over her. Since then, people have sought out La Virgen's help. People's faith in her grew stronger in 1970 after a plane crashed into the shrine's original structure while 50 parish priests were inside the church and 100 children were in the school next door. All of them survived. The current building
was opened in 1980.
400 N. Virgen de San Juan Blvd., San Juan. 956-787-0033;
olsjbasilica.org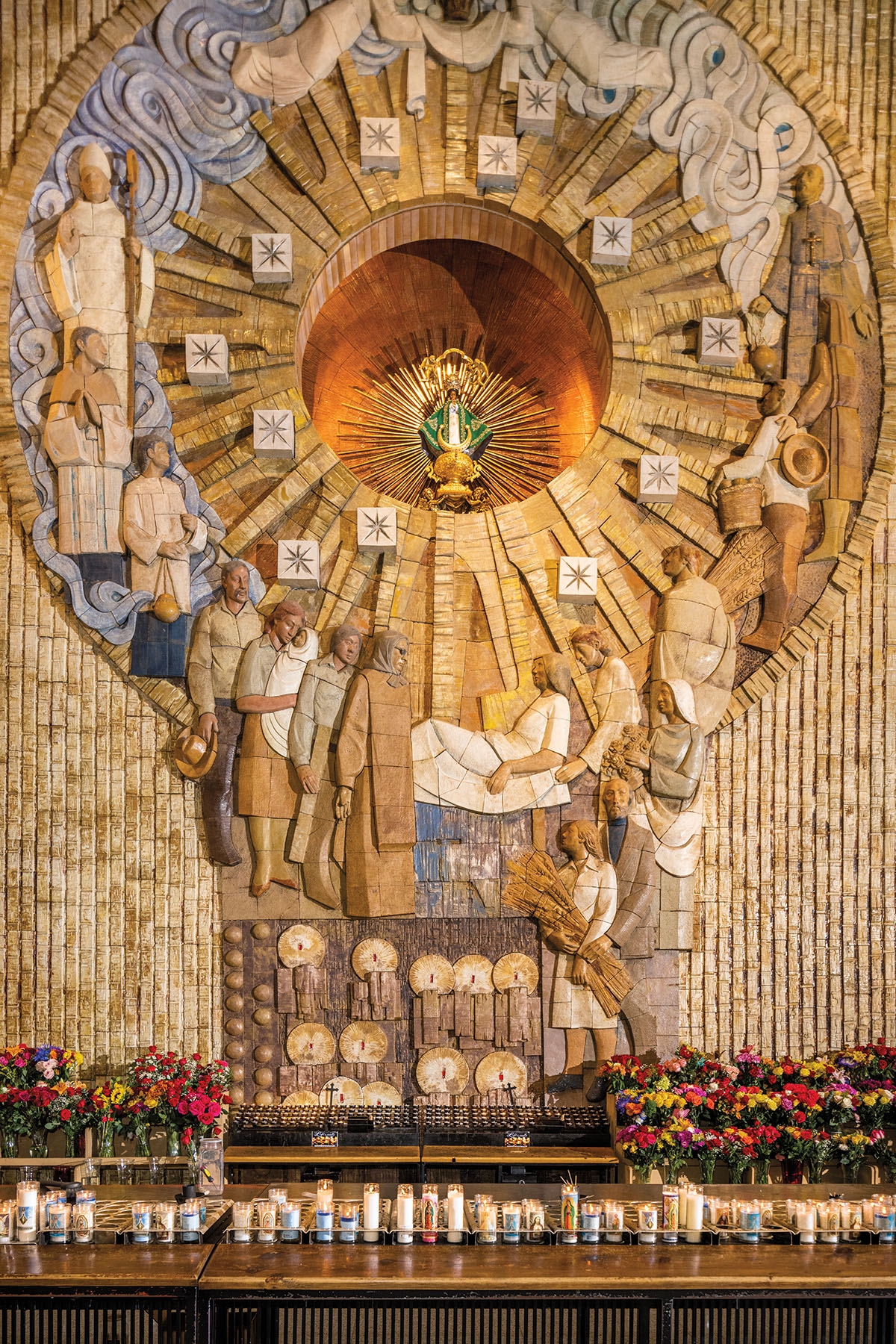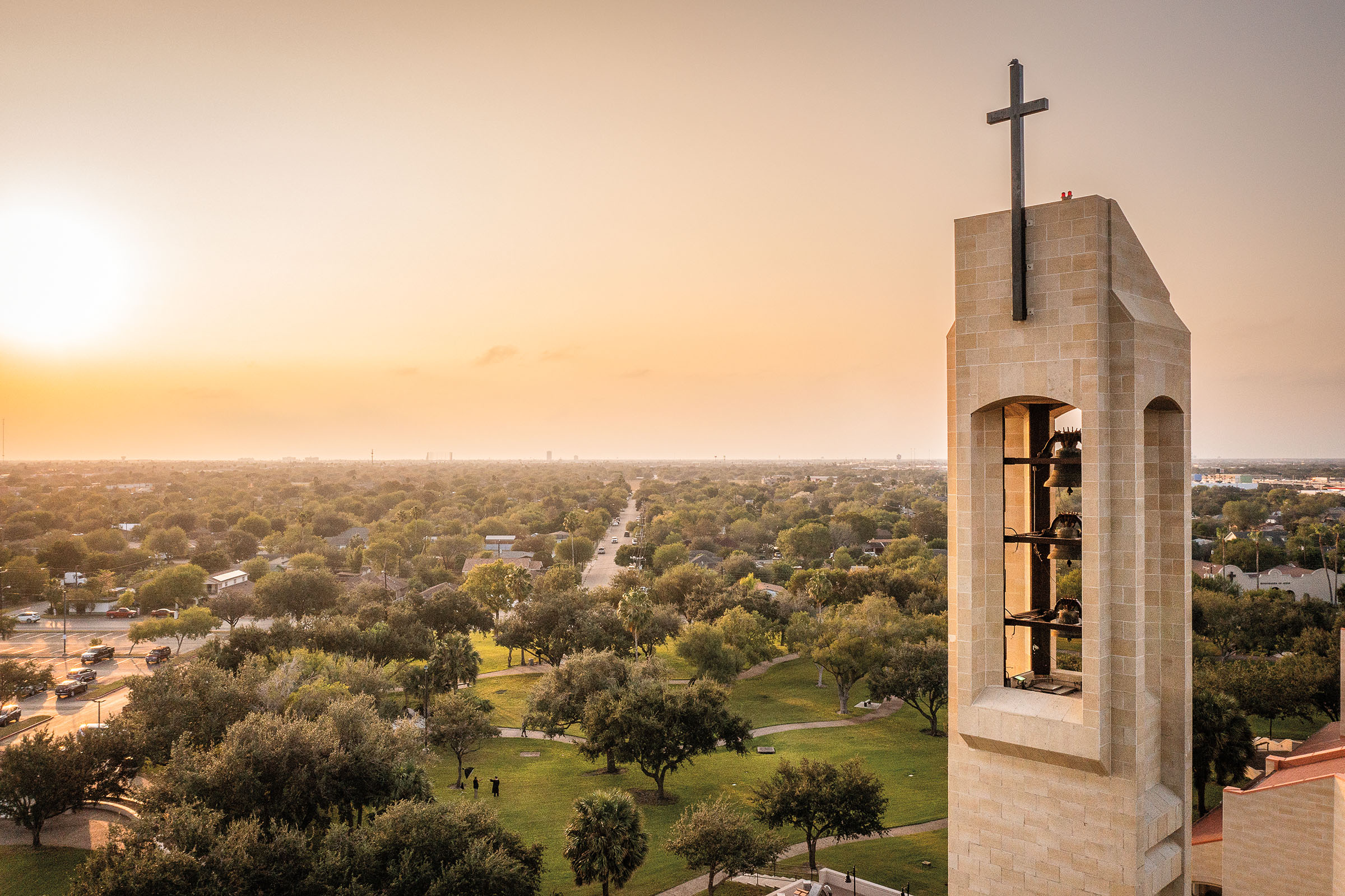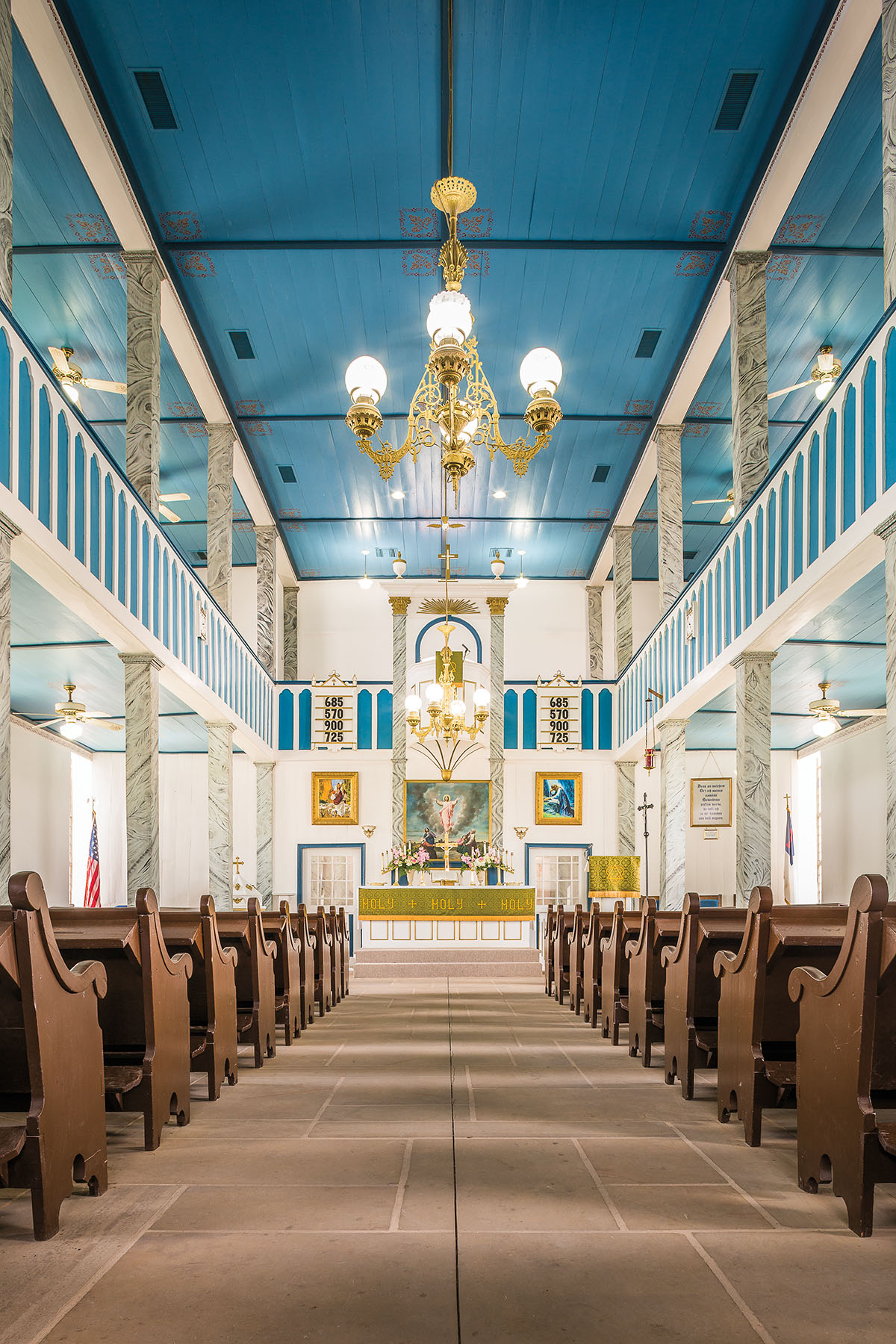 St. Paul Lutheran
Church of Serbin
When Czech, German, and Wendish immigrants settled in Central Texas in the 1800s, they built several churches, painting them in styles reminiscent of home. Many of these churches still stand today, known as The Painted Churches of Texas. Built in 1854, St. Paul Lutheran Church in Serbin has the tallest pulpit in the state and still holds services. Wilson says the church is one of his favorite places in Texas. "It is hands down the coolest church I've ever been in," he says. "It's colorful and beautiful, and though it's not very big, it feels grand."
1572 County Road 211, Giddings. 979-366-9650
stpaulserbin.org

Queen of Peace
Shrine and Gardens
Following the Vietnam War thousands of Vietnamese refugees arrived in Texas, many of whom settled in the Golden Triangle—an area between the cities of Beaumont, Port Arthur, and Orange. The refugees who made a home in Port Arthur created the Queen of Peace church in 1977. To honor those who escaped Vietnam and thank the town for welcoming them, members of the church created the Queen of Peace Shrine and Gardens in 1983. The site features a large statue of the Virgin Mary and the Stations of the Cross, a 14-step devotional depicting Jesus' final days on Earth. Throughout the hours Wilson was there, he noted numerous people came in to pray at different monuments. "The whole garden feels somber," Wilson says. "The Vietnamese Christians
have a very dedicated community there."
801 Ninth Ave., Port Arthur. 409-983-7676;
gxnuvuongportarthur.org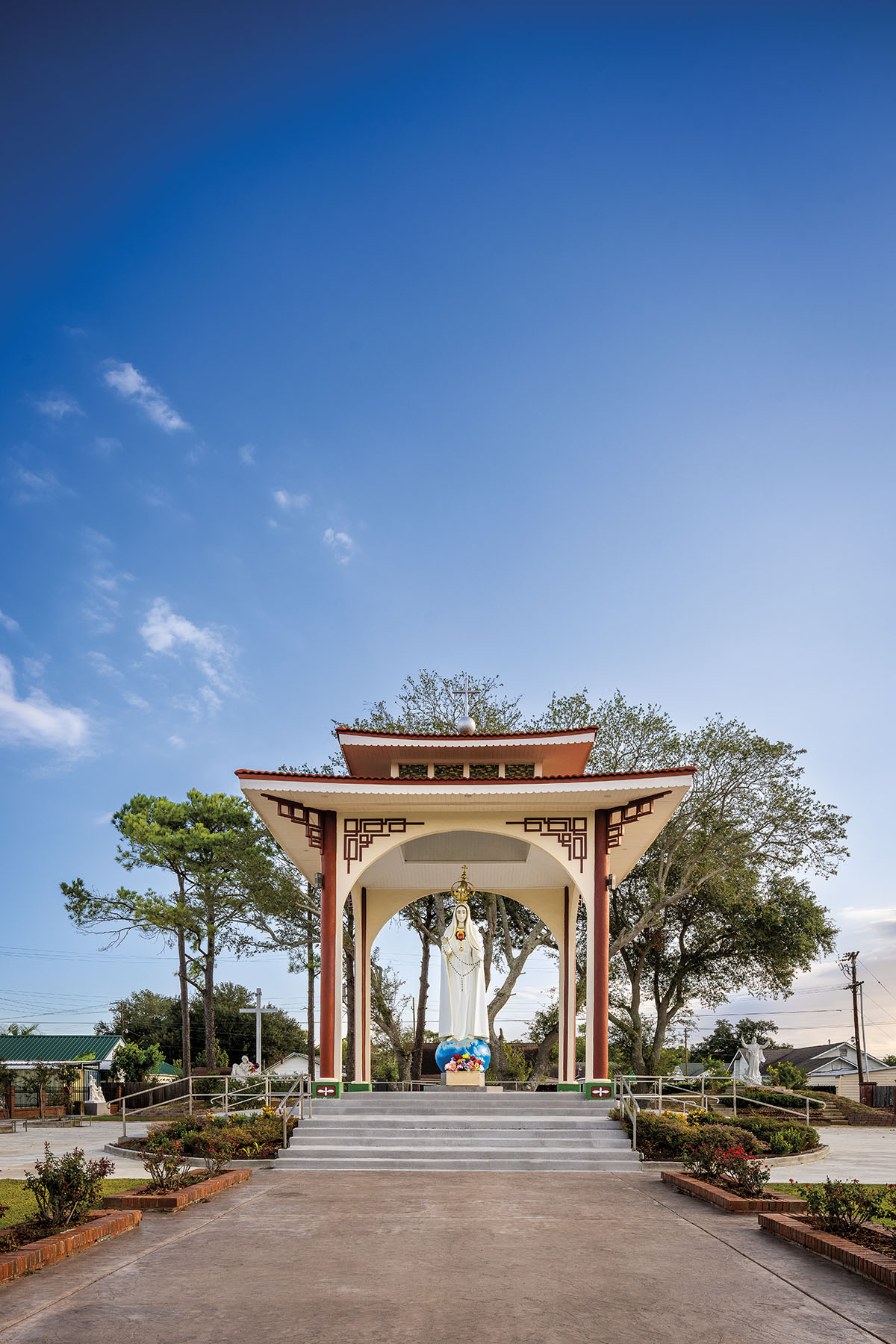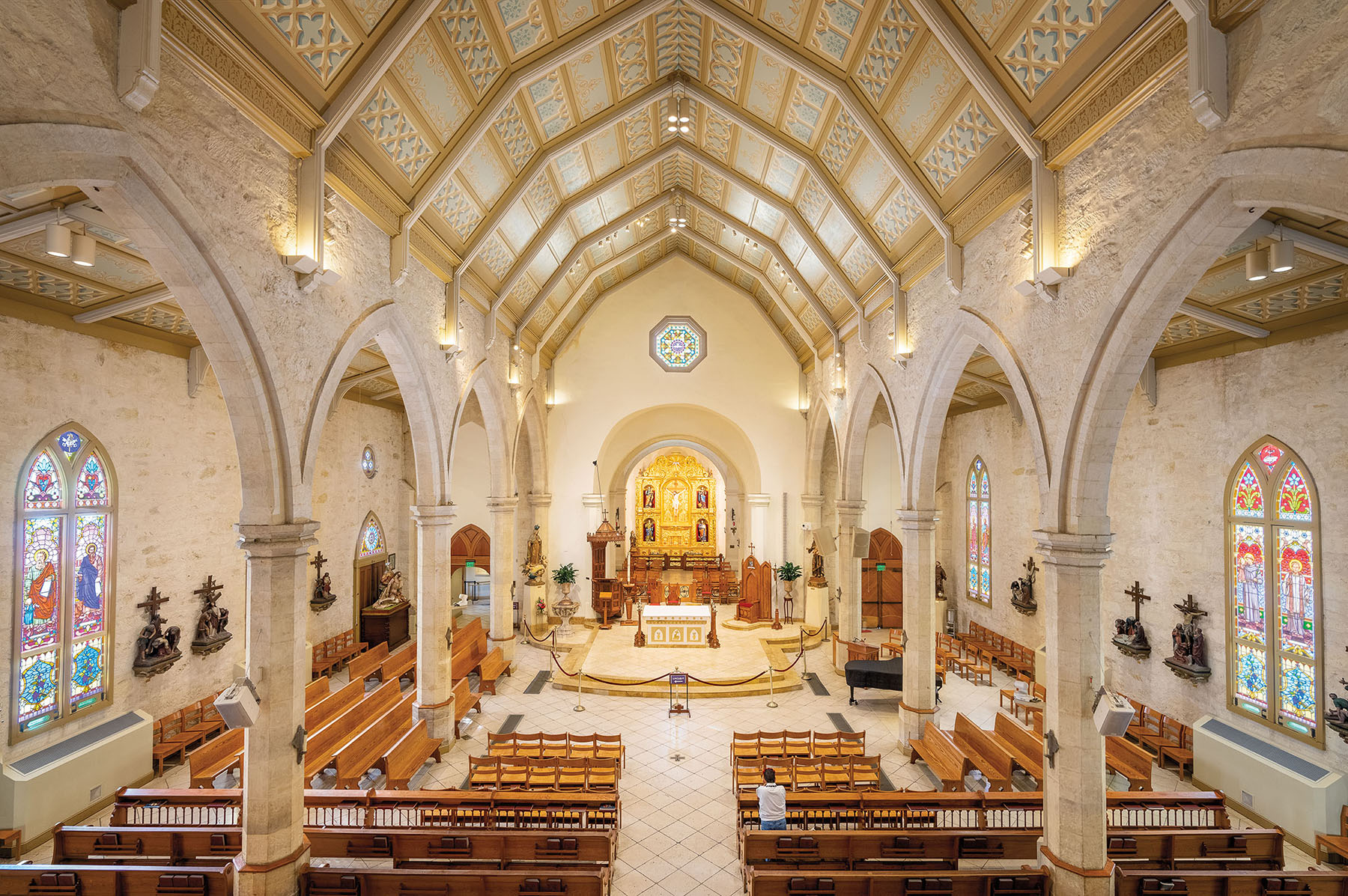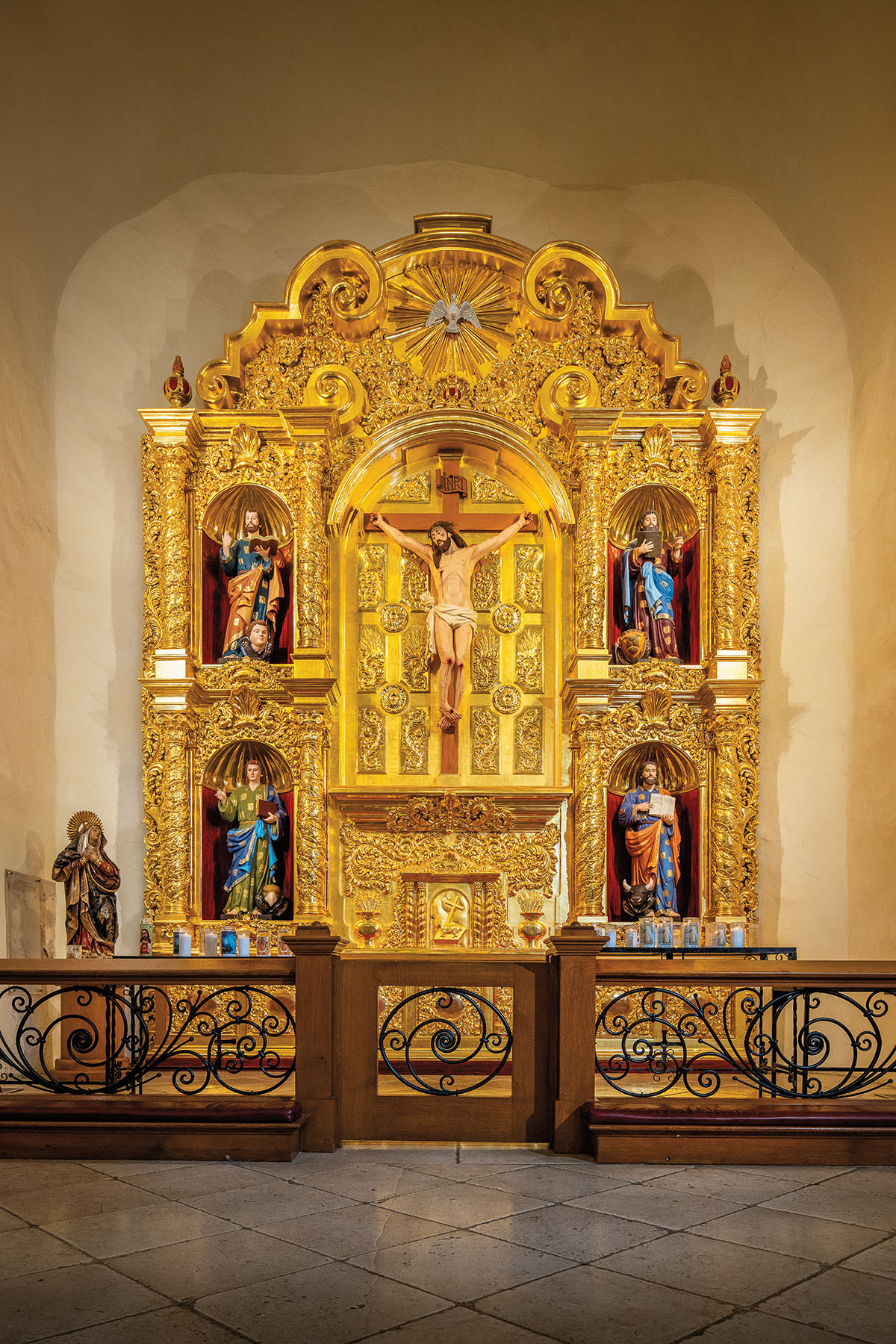 San Fernando Cathedral
Located in the center of San Antonio, the San Fernando Cathedral is Texas' oldest continuously running church and one of the oldest cathedrals in the country. Founded in 1731, the grand, Spanish Colonial building welcomes more than 5,000 people for weekly masses. "There's nothing else like it here," Wilson says. "In Europe you see these kinds of places everywhere, but in Texas it's so strange to have something this old and beautiful still around."
115 Main Plaza, San Antonio. 210-227-1297;
sfcathedral.org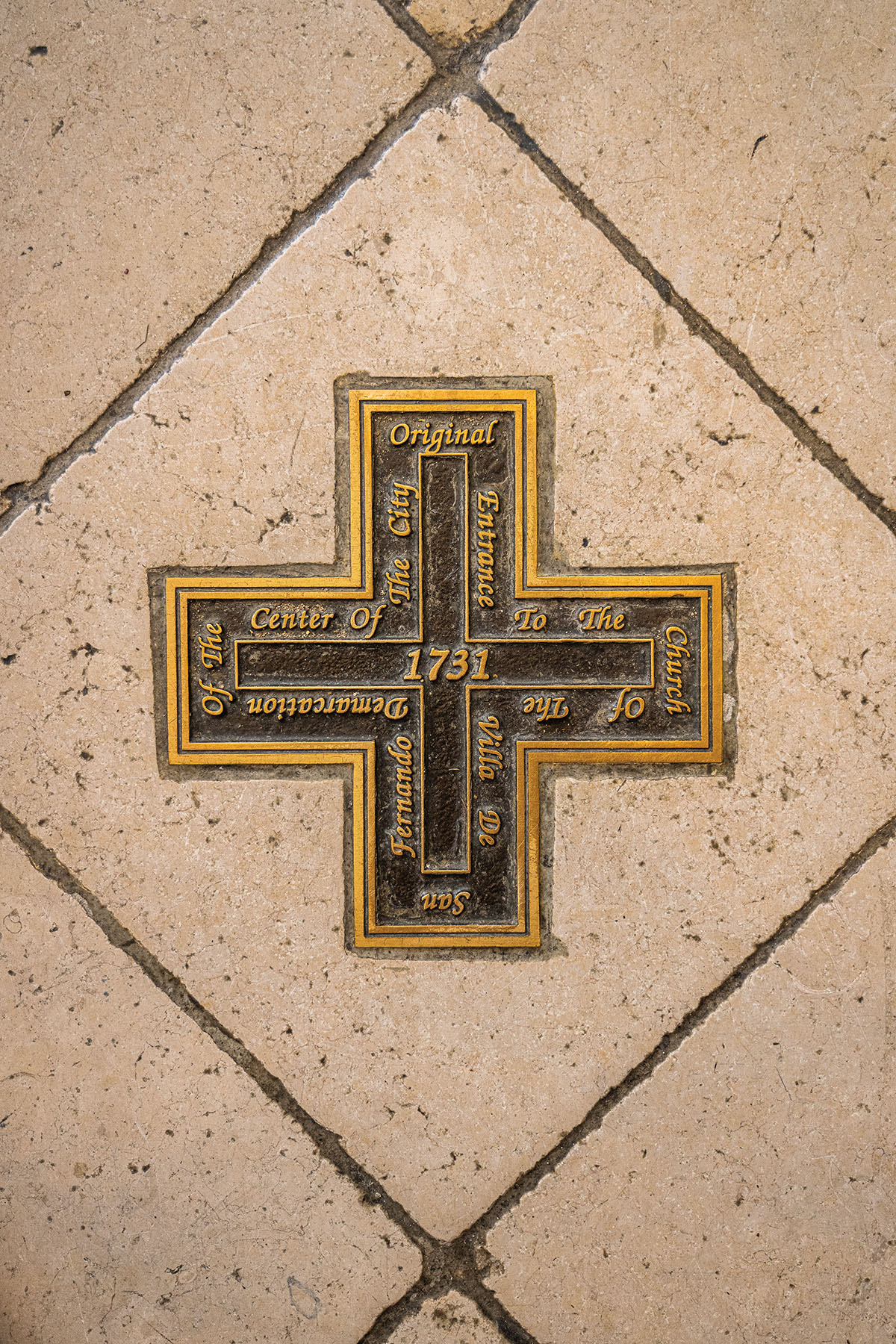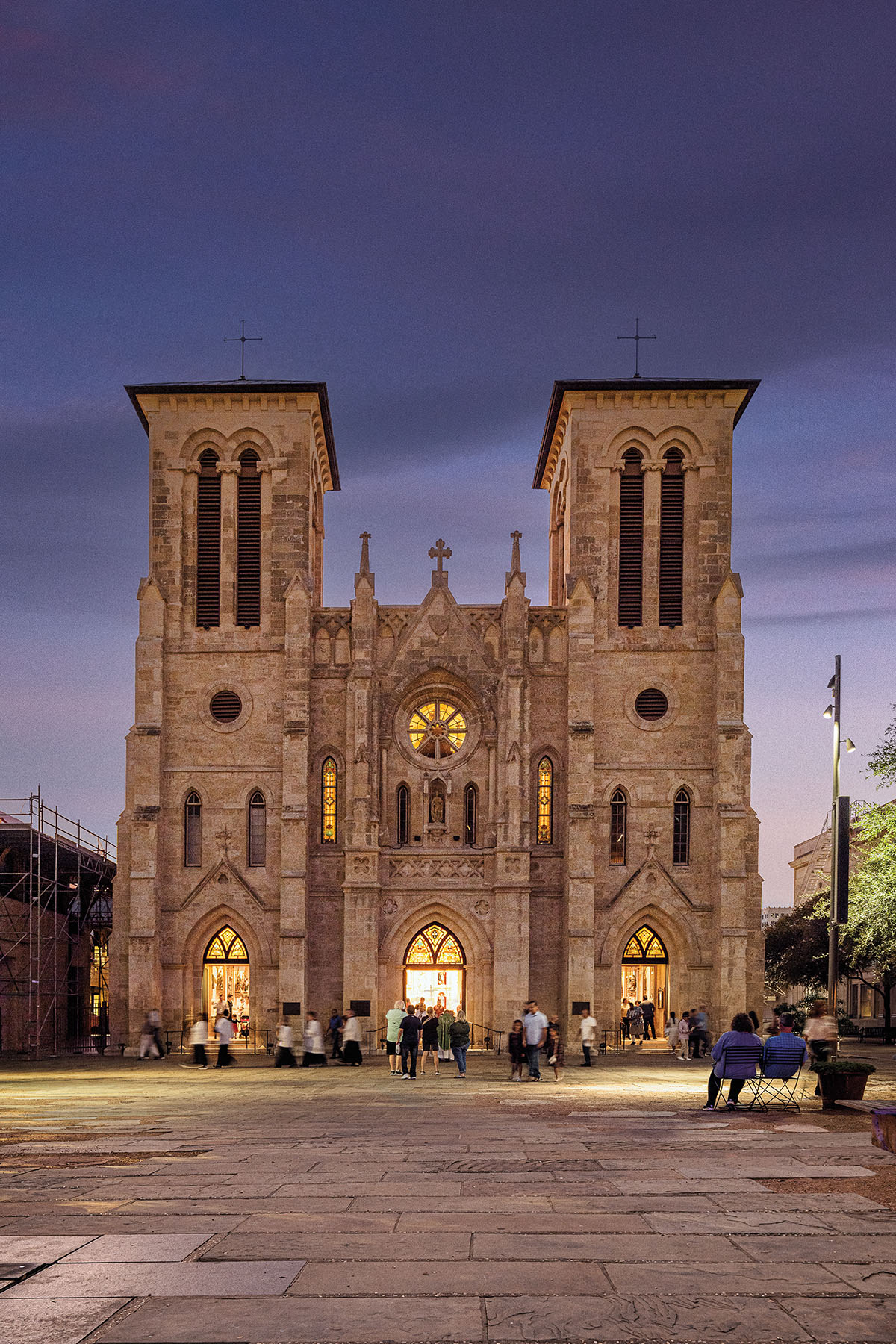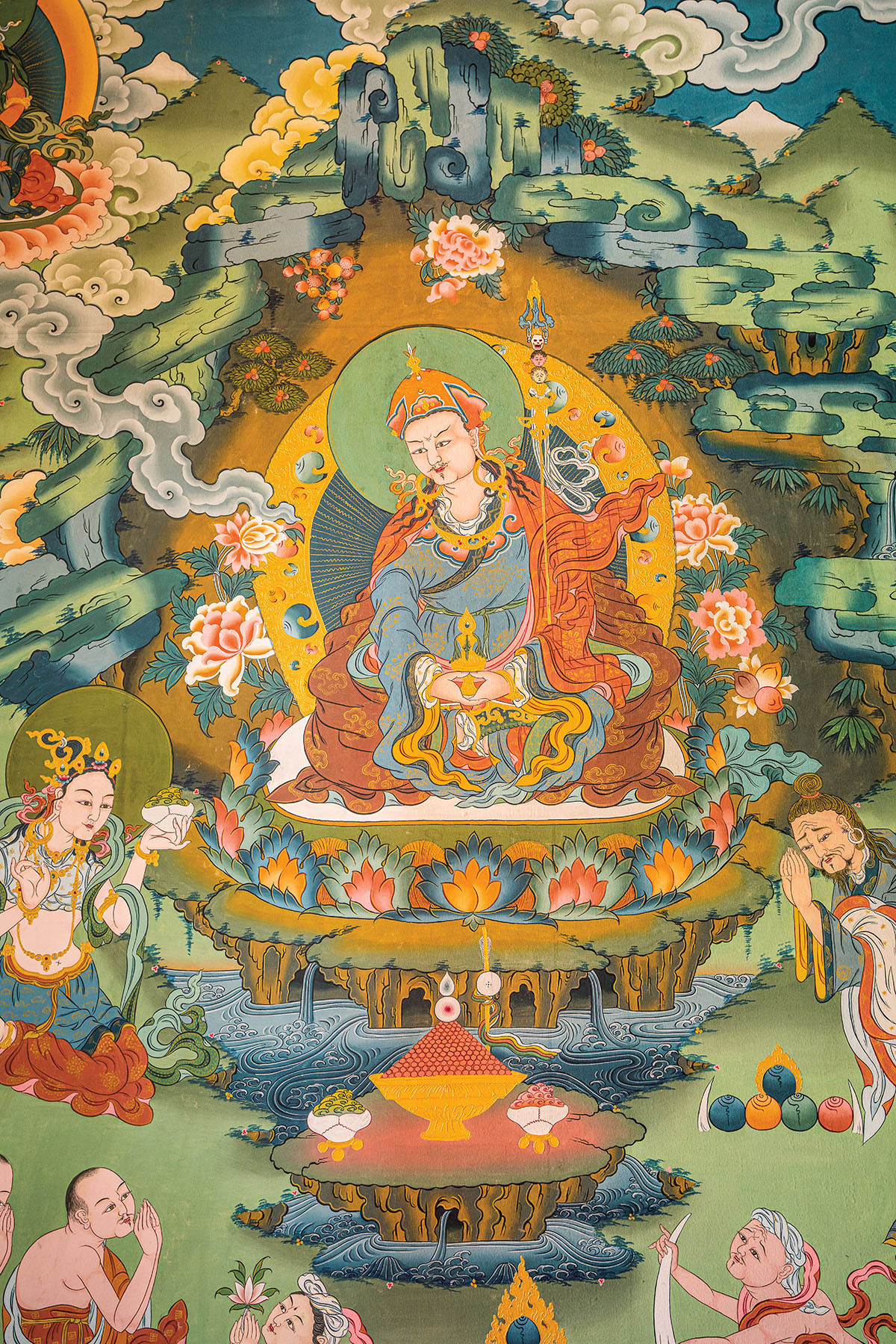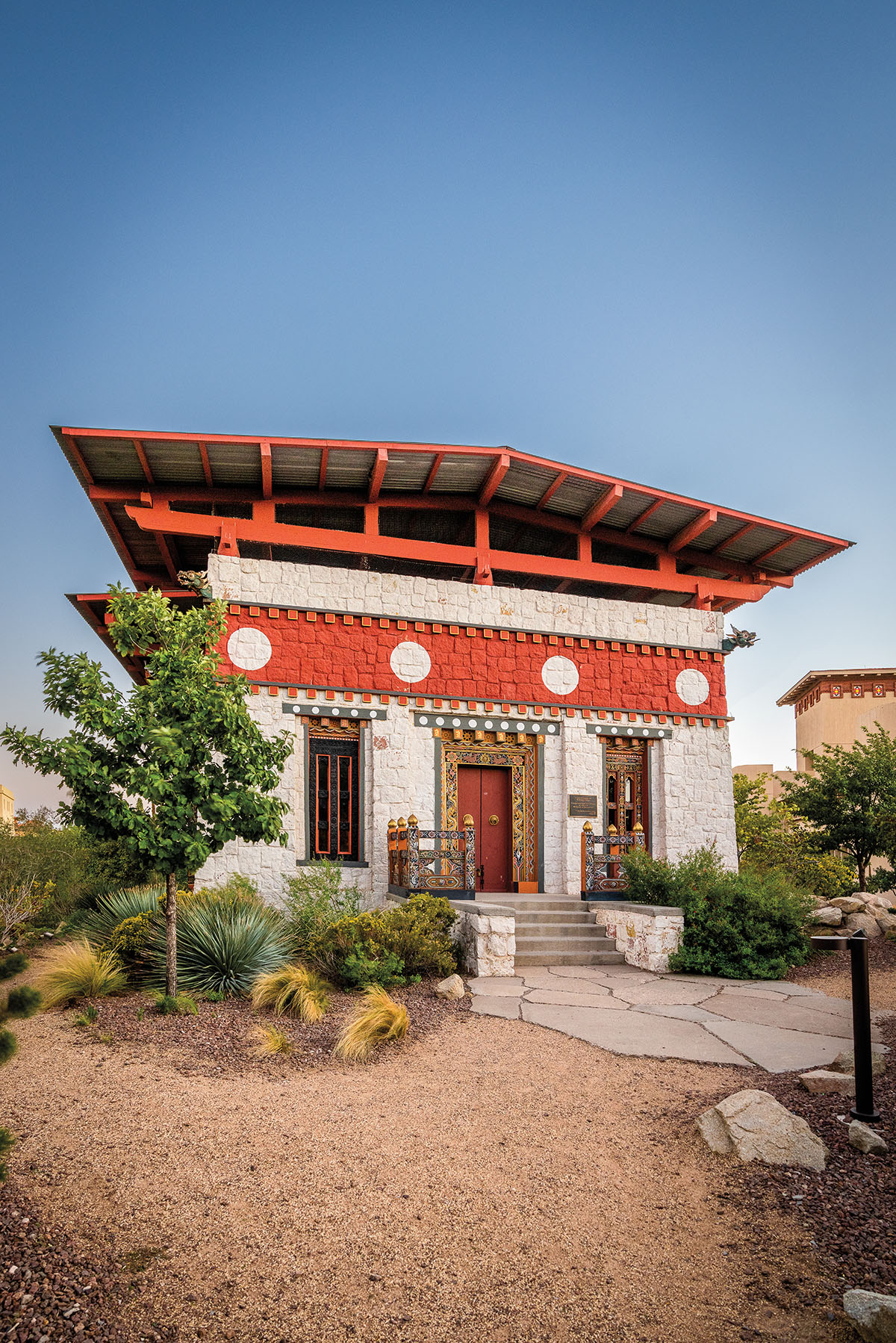 The Lhakhang
IN 1914, National Geographic published the first photos of the South Asian kingdom of Bhutan released in the U.S. The wife of the dean of what would become the University of Texas at El Paso became infatuated with the country's architecture, leading the school's construction to be built in traditional Bhutanese style. "I had never been on campus before, and I was blown away by how cool it looks," Wilson says. "The architecture is stunning." Throughout the years, the university and the remote Himalayan country's relationship has deepened. That's why, in 2008, the kingdom of Bhutan gifted the school with the "Lhakhang," a small building in the center of campus in the style of a Bhutanese Buddhist temple. Though "lhakhang" translates to "temple" in English, the structure is not a place of worship. Rather the Bhutanese consider lhakhangs to be a center for contemplative reflection.
500 W. University Ave., El Paso. 915-747-5565;
utep.edu/centennial-museum/lhakhang/index.html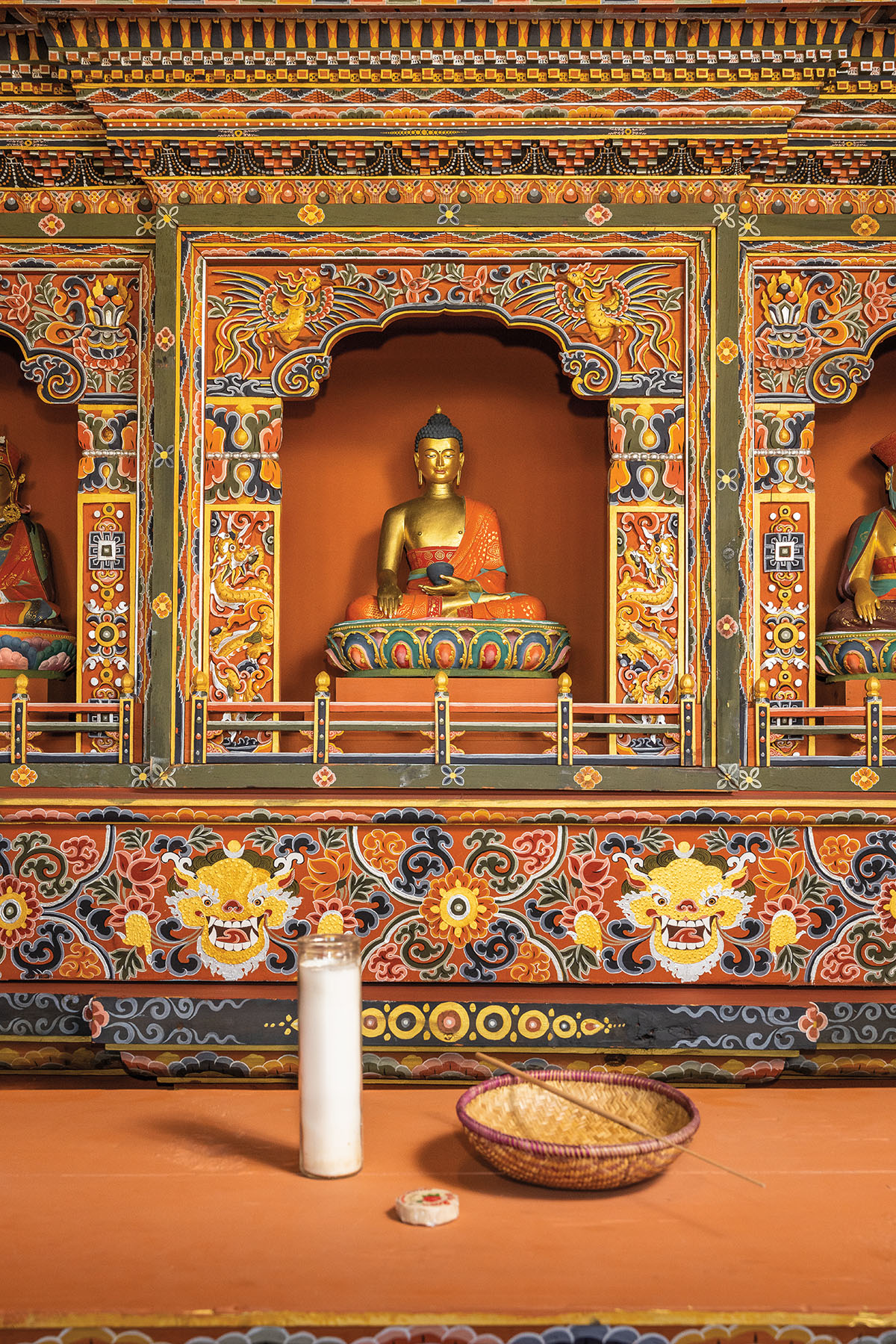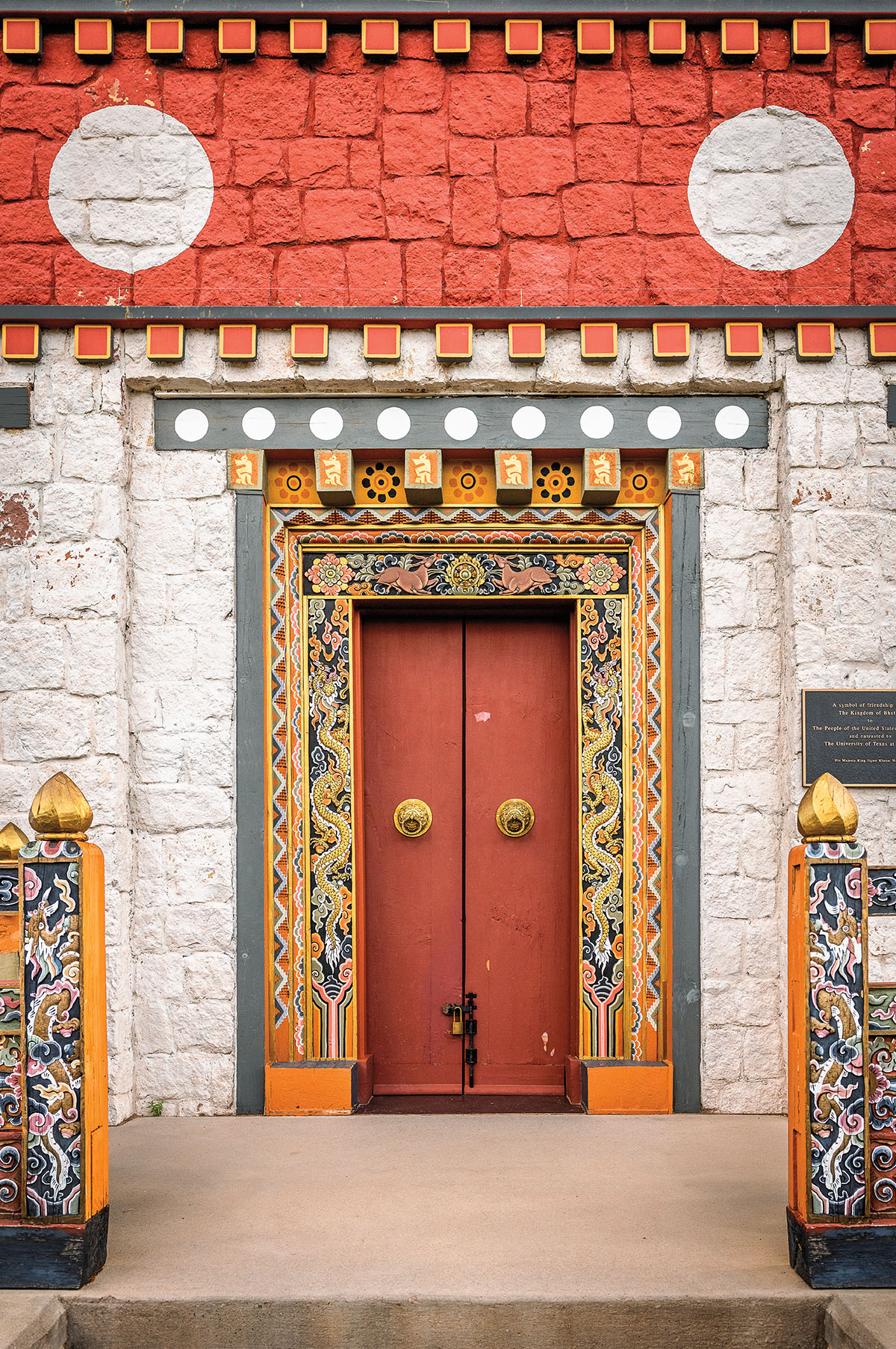 From the February 2023 issue