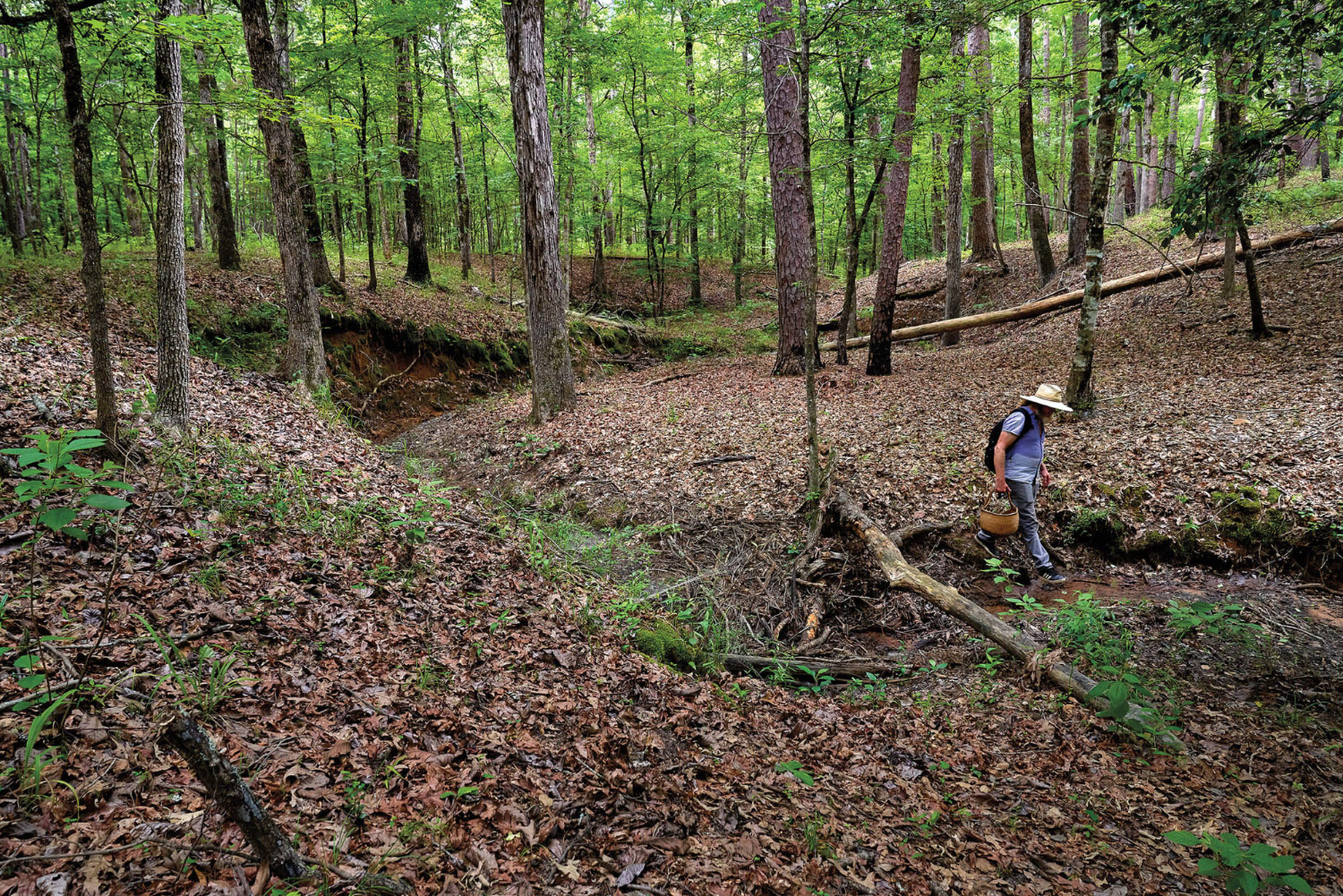 Deep in a remote East Texas forest, two outdoorsmen are on the hunt for golden chanterelles.
"I think there's a trail up ahead," says Russell Belue, unbothered by being a little bit lost in the woods. It's exactly the right state of mind to have on a quest for wild mushrooms.
Belue, a Mixon-based artist, gardener, and entrepreneur, has traveled 75 miles south to Davy Crockett National Forest with his old friend Mark Tietz, an ecological consultant and arborist who lives in Arp. With an appreciation for native flora and fauna and enthusiasm for exploring, Belue and Tietz take on roles as fungi-finding experts.
Like truffles and morels, chanterelles are highly sought after edible mushrooms. With a chewy texture and peppery, fruity flavor, they are just as delicious sautéed and served on toast as they are spiking a creamy pasta sauce. They are also very expensive, going for around $40 a pound at some high-end grocery stores.
Chanterelles are pricey because they are mycorrhizal, which means they grow in a symbiotic relationship with tree roots and, therefore, are nearly impossible to cultivate. As a result, chanterelle lovers in Texas have to be ready to shell out or—if they're lucky enough to find themselves in the right part of the state at the right time—forage some for themselves.
Chanterelles generally need moisture and a choice tree to propagate. They are most often found near hardwoods like oak, but sometimes they pop up near pine. Beyond that, it's a bit of a mystery, even to David P. Lewis, a Bleakwood-based researcher who has been studying Texas fungi for around 45 years. "Most of the mushroom is hidden in the ground or logs, and until you have the right conditions, they won't send up a fruiting body," he says.
From spring through early fall, there's a reasonable chance the right conditions will exist in East Texas, and it's no coincidence that Belue and Tietz chose Davy Crockett National Forest for their late-May hunt. There are plenty of hardwood trees, and rain and temperatures in the upper 80s make it an ideal time and location to look for Cantharellus lateritius, or the smooth chanterelle, which Lewis says is among the most common local mushrooms. "When it fruits in abundance, it's like gold nuggets on the ground as far as you can see," he says.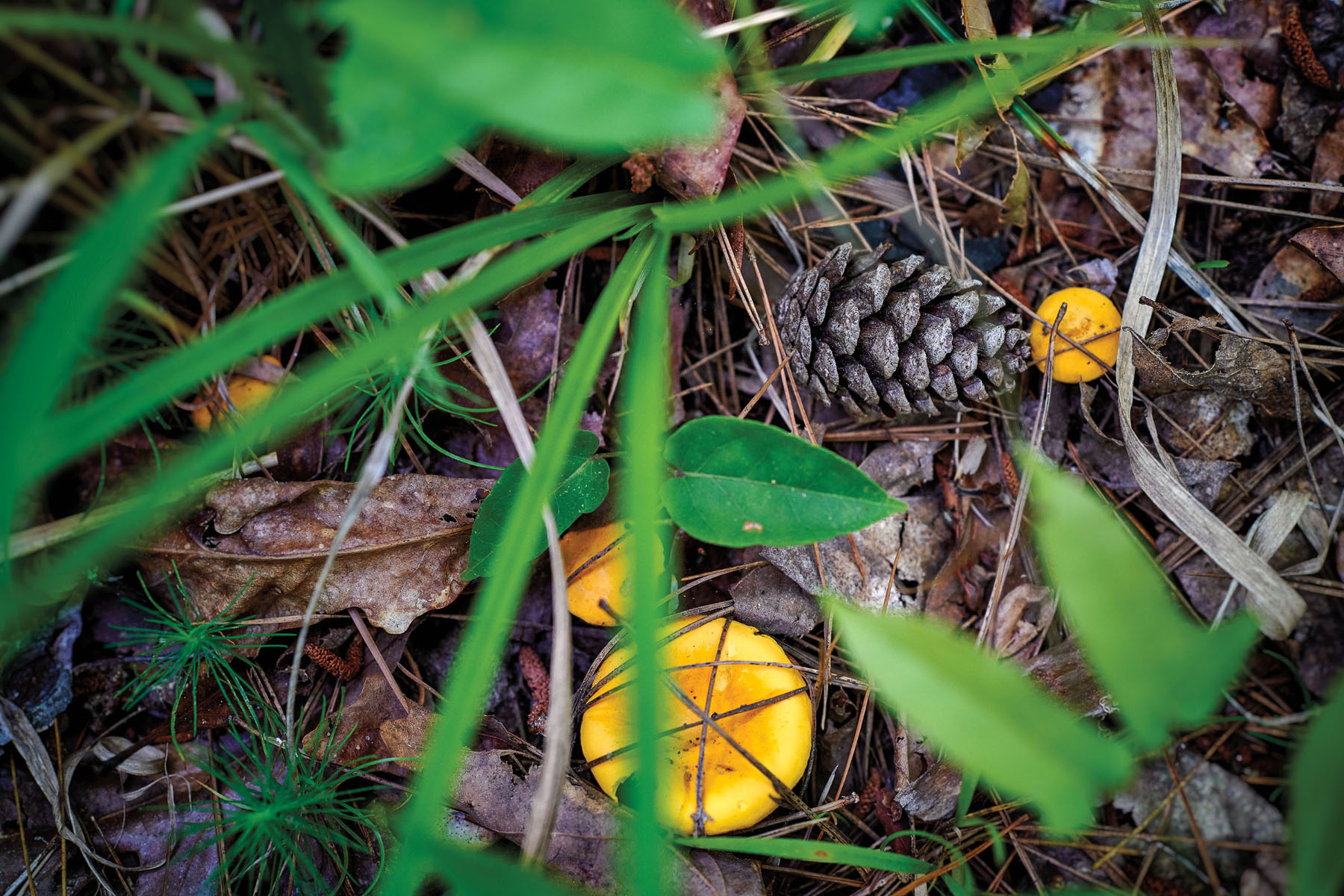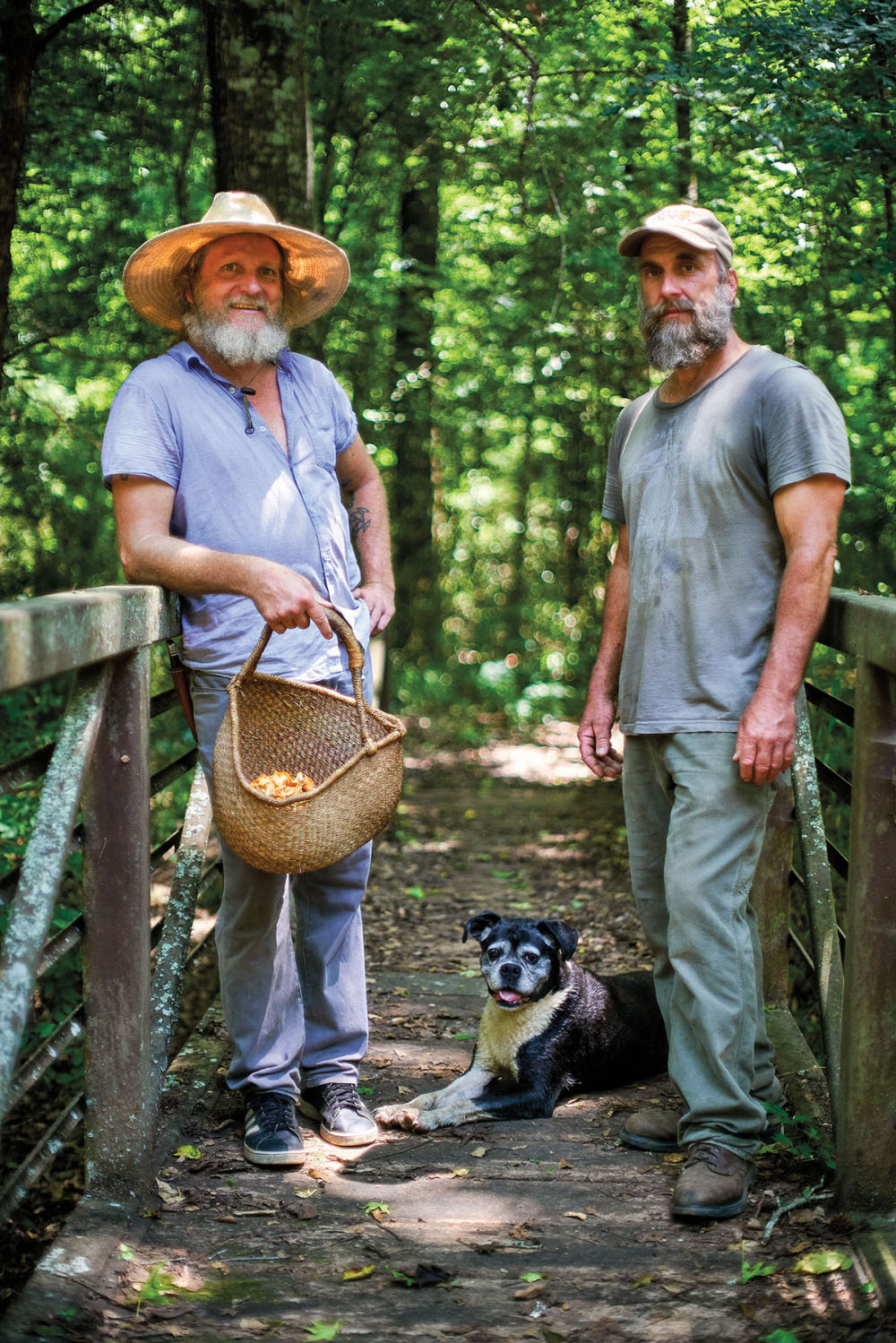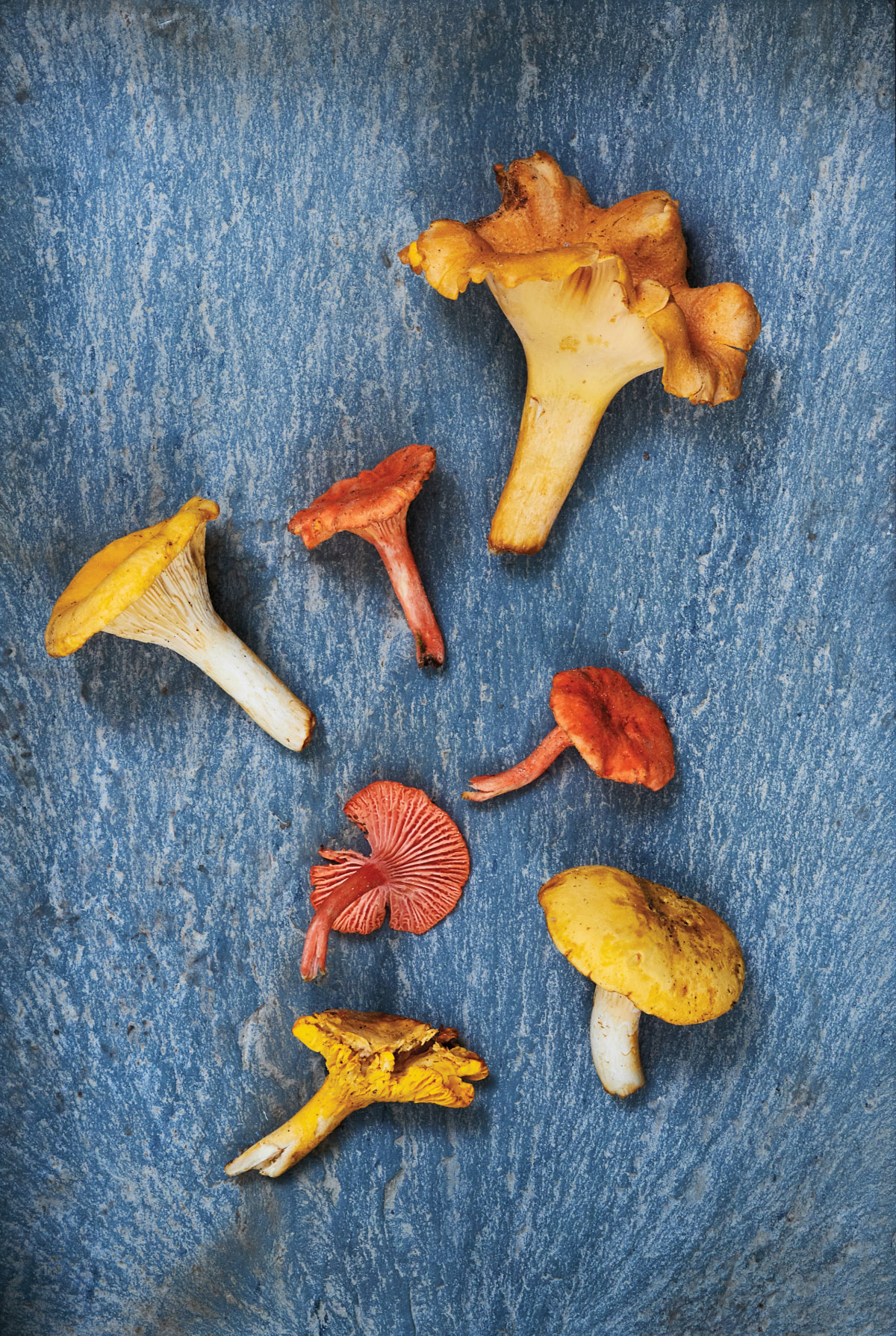 Upon reaching this location via meandering red dirt roads lined with purple coneflowers and sunny black-eyed Susans, Belue and Tietz set out from their truck with Belue's canine pal Georgia trotting alongside. They have high expectations for collecting enough mushrooms for a late-afternoon feast as they make their way to Walnut Creek, a tried-and-true location for finding a solid stash of chanterelles. "It's always good," Belue says. "The trees, soil moisture, soil temperature, topography, and shade are all factors that make finding mushrooms here probable."
Foraging for mushrooms is like a meditative Easter egg hunt. With a specific purpose but no clear route or destination, one has to be mindful enough to spot trumpet-shaped fungi peeking out from under dead leaves, and game enough to withstand hot, humid, and slightly buggy conditions.
Both Belue and Tietz enjoy the rambling process of the hunt, spotting other native plants like the Piney Woods lily and drummond phlox along the way. At one point, Tietz, who specializes in propagating the area's native plants and trees, whips out a trowel, digs up a coneflower, and nibbles on a bit of the tongue-tingling root.
This knowledgeable confidence exemplifies why every mushroom hunt should include someone who knows what they are doing. Between the two of them, Tietz and Belue have many years of experience studying and exploring the East Texas ecosystem, and are familiar with many of the 15 or more species of chanterelles found in the state. Today, they find three: the rosy-hued Cantherellus cinnabarinus; the smooth, wavy Cantherellus lateritius; and the more circular-capped Cantherellus tenuithrix. They also find other mushroom types, some of which look dangerously like chanterelles. "There are lookalikes, and you have to be careful," Tietz says, "but it's pretty simple once you know what a chanterelle looks like."
As the longtime president of the Gulf States Mycological Society, Lewis, a mushroom researcher, is often called upon to identify fungi for the state's growing number of enthusiasts. He also consults on the Galveston Poison Control Board. "You'd be surprised what people put in their mouths," he says. "Though deadly mushrooms are small in number, and you're more likely to find an edible mushroom than a poisonous one, the only rule is to know exactly what you're eating."
Nearly 6 miles and six hours after setting out, Tietz and Belue have collected enough golden chanterelles to feed a small army. Setting up camp near Hickory Creek in the Big Slough Wilderness area, they pop open cold drinks, break out a cast-iron skillet, sauté the tiny beauties with butter and fresh thyme, then ladle them onto crusty French bread. It's a five-star feast in the middle of the forest.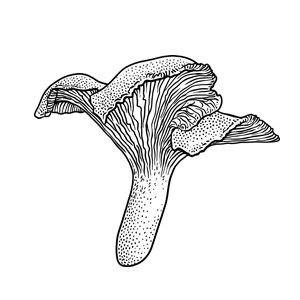 Resources for Mushroom Hunting
If you'd like to try mushroom hunting but need more education, there are a number of Texas-based groups and books that can help ensure you have a safe foraging experience.
Mark "Merriwether" Vorderbruggen, Texan author of The Idiot's Guide to Foraging, leads in-person "walkabouts" across the state. foragingtexas.com
Mushrooms of the Gulf Coast States: A Field Guide to Texas, Louisiana, Mississippi, Alabama, and Florida is co-authored by David P. Lewis, who has hero status among Texas mushroom enthusiasts. gsmyco.org
There are numerous local mushroom groups that connect online as well as in person. Many of them can be found on Facebook, including North Texas Mushroom Hunters, Texas Mushroom Identification, and Central Texas Mycological Society.
From the September 2020 issue