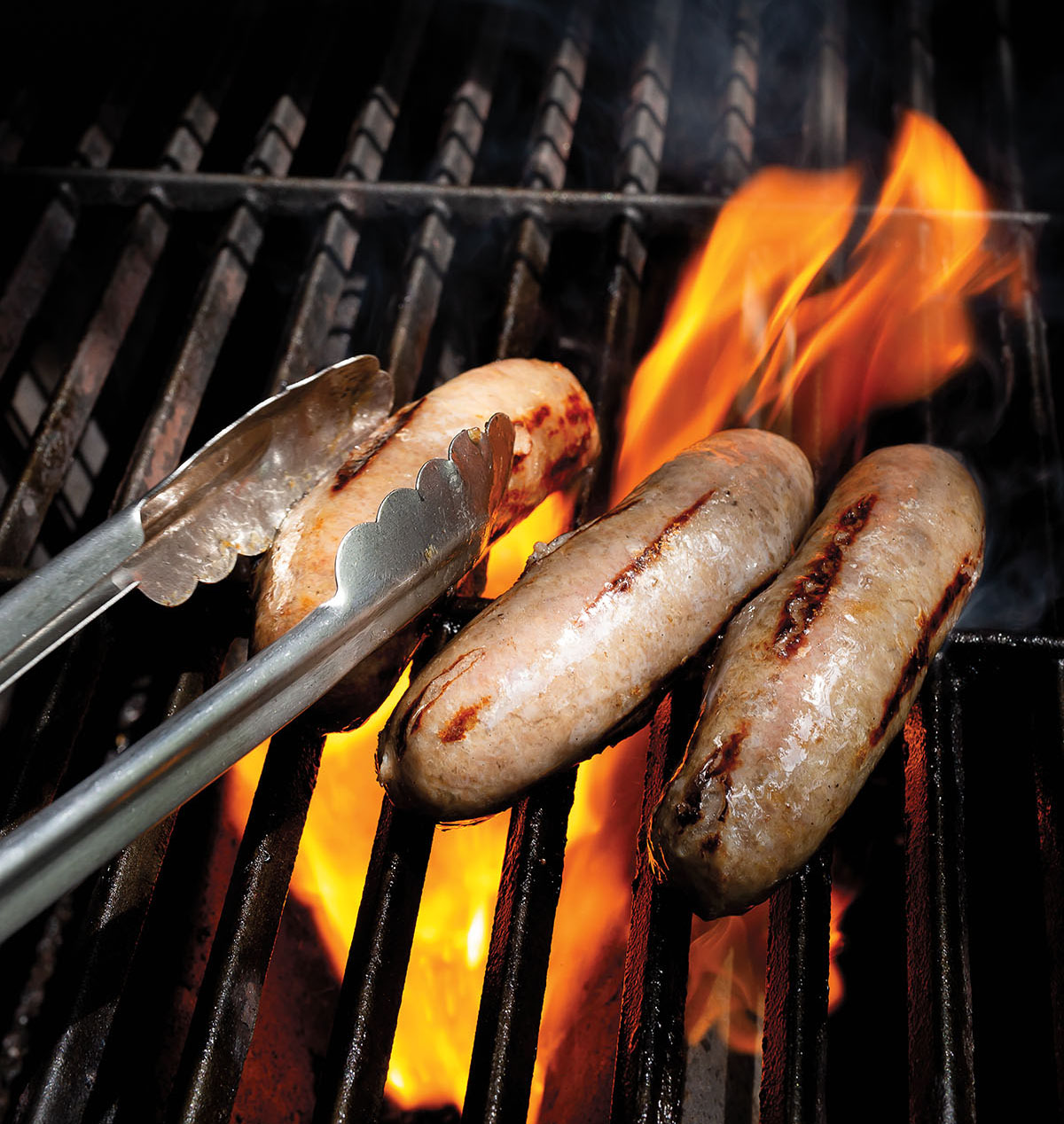 In December 1891, a Catholic priest moved from St. Louis, Missouri, to Texas for the drier climate. In three decades, Father Joseph Reisdorff established five towns across North Texas and the Panhandle—Windthorst, Rhineland, Nazareth, Umbarger, and Slaton. These were places for German-Catholic immigrants to call their own, where they could farm, live, and worship. Today, these communities gather annually and biannually to celebrate their German heritage and Catholic faith with sausage festivals that raise funds for local churches and towns.
While Reisdorff doesn't have a direct link to sausages or these events, it's undeniable that his influence—even nearly a century after his death—is still palpable in these five communities. "We're all connected by him," says Annelle Welch, a Rhineland native who helps run the local sausage festival.
Dining on hot links, sauerkraut, and sweets among these friendly small-town folks reveals a sincere appreciation for this little-known part of Texas history and the turn-of-the-century German-Catholic priest who relied on sheer will and a dream.
Windthorst Sausage Meal, Windthorst
Reisdorff's first stop in Texas was in Windthorst, about 30 miles south of Wichita Falls, where he founded St. Mary's Catholic Church. The town of about 400 is surrounded by rolling green pastures and tin-roof barns. The church can be spotted from miles away, perched atop the highest point in Archer County.
At the base of the church is a grotto and shrine that opened in 1950. During World War II, 64 servicemen from Windthorst sent portions of their pay home to finance the structure. Every man returned, and their names are displayed in the grotto, which serves as a testament to faith during hard times.
Windthorst has two sausage festivals put on by the Knights of Columbus, an international Catholic fraternal service association, on the first Sundays of December and March. "People around here mark their calendars with those dates," says Debbie Schroeder, a city secretary who was born and raised in Windthorst. The handmade pork sausage recipe was perfected by late Knights of Columbus member Oliver Koetter, and after he died, the torch was passed to his two sons. Parishioners also contribute ribs, sauerkraut, green beans, and salad.
"We're still very much a German-Catholic community," Schroeder says. "That's our heritage."
Rhineland Sausage and Fried Chicken Dinner, Rhineland
Reisdorff's next stop became Knox County, where he purchased 12,000 acres to be sold to German-Catholic farmers. He named the town after the Rhine Valley, his home in Germany. St. Joseph's Catholic Church remains the anchor of the community with its stained glass windows and ornate artwork. A sign on the highway reads, "A Cathedral in a Cotton Patch."
Today, Rhineland, about 80 miles southwest of Wichita Falls, only counts about 50 residents, but St. Joseph's parish serves about 150 families, most of whom live on farms or in nearby towns. Last year's sausage festivals attracted people from surrounding towns such as Munday, Knox City, Seymour, and Haskell, but also as far as Lubbock, Abilene, Wichita Falls, and Dallas-Fort Worth.
The fundraiser meals take place in October and March, with proceeds from the October event going to the Knights of Columbus and proceeds from the March event going toward the church. Guests can dine on handmade pork sausage, sauerkraut, green beans, mashed potatoes, salad, desserts, and of course, the famous fried chicken made by the Knights and community members. "We had some folks from Windthorst over and they said they came for the fried chicken," Rhineland native Janet Dillard says.
German Fest and Suds N Sounds, Nazareth
Reisdorff brought four farmers with him to the vast and windy plains of the Panhandle. Like he'd done in Windthorst and Rhineland, Reisdorff took out ads in Midwestern German-Catholic newspapers, encouraging settlers to move to Nazareth, where farmland was plentiful and affordable.
Matt Olvera has spent most of his life in Nazareth and runs MO Supply downtown. He's also one of the organizers of the annual German Sausage Festival and Suds N Sounds country music concert. The sausage festival started in 1972, and the concert was added in the late 1980s. "It's usually a different crowd for Suds N Sounds," Olvera says. "It's geared more toward the 25-to-35 crowd."
The sausage is usually made by Keeter's Meat Company in Tulia, using a special recipe that's been in place since the first festival in Nazareth. Residents of the town make the rest of the food, including the coveted German chocolate cake.
Most of the residents of Nazareth grew up there and understand what it takes to pull off the jam-packed day of events. "It's a lot of work and takes a community effort to get it all done," Olvera says.
German Sausage Festival, Umbarger
In 1908, after his stint in Nazareth, Reis­dorff moved 30 miles up the road to Umbarger. "He was a colonizer and didn't stay in Nazareth very long," says Darryl Birkenfeld, a former priest based in Naz­areth. "He liked biblical names and­ wanted to name Umbarger after Beth­lehem, but the postmaster thought other­wise."
Like Rhineland, the community never incorporated, but it has remained loyal to St. Mary's. The church was mostly finished in 1929, but its artwork was completed during World War II by a group of Italian prisoners of war detained in nearby Hereford. The paintings were restored in 2012, and are available to view during the sausage festival.
"The church is a big draw," says Harold Artho, the festival's publicity director for almost 30 years. "People love to see it." The festival prides itself on its beef and pork sausages, mashed potatoes, applesauce, fresh-baked bread, and sauerkraut, all crafted by church parishioners. "I'm pretty sure we're the only festival around here that still makes our own sauerkraut," Artho says. "We start peeling 3,500 pounds of cabbage in September."
St. Joseph's Sausage Festival and Oktoberfest, Slaton
After Umbarger, Reisdorff traveled to the developing railroad community of Slaton, where he continued to recruit German Catholics from the Midwest and German Lutherans from Central Texas. Reisdorff served as the first priest at St. Joseph Catholic Church in Slaton, but he stayed occupied as a businessman and was paid a commission on land sold in the area to Catholic families. Reisdorff remained the parish priest until 1917, when he went on sick leave. He lived in Slaton until his death in 1922 and is buried in Jefferson City, Missouri.
The Slaton Sausage Festival celebrated its 50th annual event last year. Organizers added Oktoberfest to the event five years ago with live music and other activities on Saturday to complement the sausage meal on Sunday. "We're trying to keep people around with local bands," says David Buxkemper, who's been volunteering at the festival for more than 30 years. Sunday is the main event, with smoked German sausage by Keeter's Meat Company; and grilled chicken, German potato salad, sauerkraut, green beans, bread, and homemade cakes by churchgoers. There's also a beer garden with a live brass band in the afternoon.
While these events are not highly publicized like Wurstfest in New Braunfels and the Boerne Berges Fest, the grassroots meals emphasize local sausage, good con­­versation, and a nod to German roots. "They are some of the last vestiges of German tradition out here," Birkenfeld says.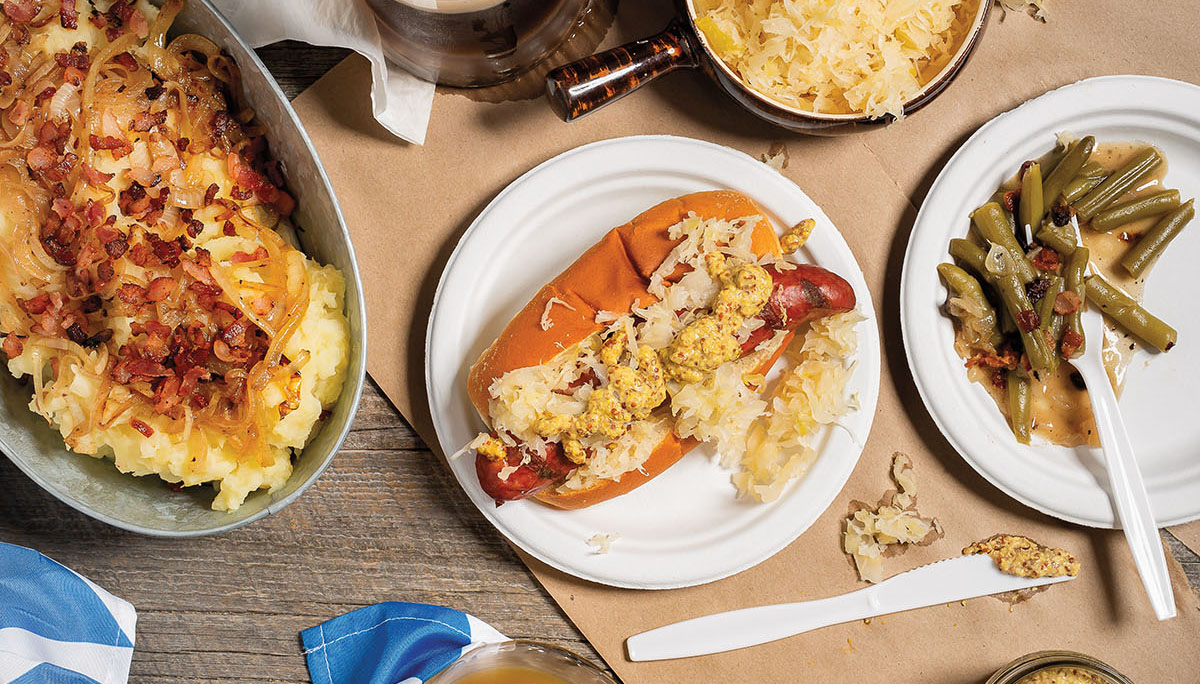 From the September 2020 issue