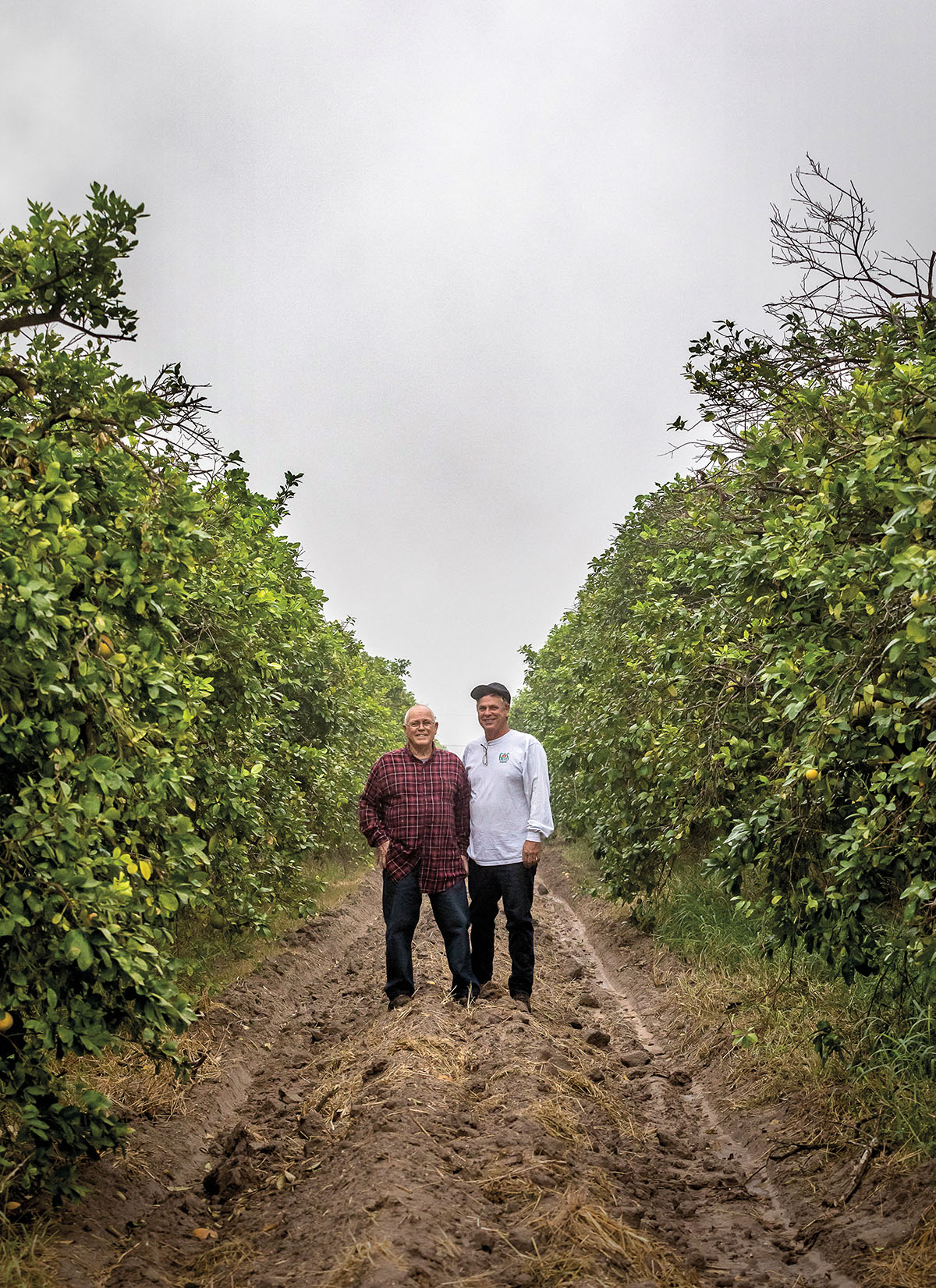 When working in his family's citrus groves, David Strohmeyer Jr. likes to take an occasional refreshment break. He squeezes a just-picked Persian lime into his water and chugs the bottle on the spot. "It will get you through the day," he says.
If you'd told him 20 years ago he'd be a farmer in the Rio Grande Valley, "I'd never have believed you," Strohmeyer says emphatically. "Never, ever." Before he began running G and S Groves in McAllen with his father, David Strohmeyer Sr., he worked in the tech industry in Austin.
G and S Groves' seasonal farm stand is open from late November through spring. Check website for details. 8221 N. Ware Road, McAllen. 512-246-0778; gandsgroves.com
In the 1930s, his grandfather George Strohmeyer purchased a 25-acre property with the idea of growing citrus, but a freeze thwarted his efforts and he switched to row crops. Strohmeyer Sr. took over the farm in the 1970s and eventually transitioned to organic citrus cultivation. At 80, he still works alongside his son. G and S Groves is one of only a few organic growers in the Rio Grande Valley, due to the prohibitive costs and intensive labor.
While California and Florida often steal the spotlight when it comes to citrus production, the Valley has achieved fame for its sweet, juicy Ruby Red and Rio Red grapefruits, which are in season December through March. The subtropical climate and sandy loam make for ideal citrus-growing conditions.
The Valley is also known for yielding exceptionally sweet navel oranges, which the Strohmeyers grow along with six other varieties including Valencias, Marrs (sweet with a thin rind), sour oranges, and mandarins. G and S cultivates Meyer lemons, a delightfully sweet, low-acid citron-mandarin hybrid beloved by bakers and pastry chefs. The farm also grows avocados and mangoes, which it sells at the seasonal farm stand alongside other produce.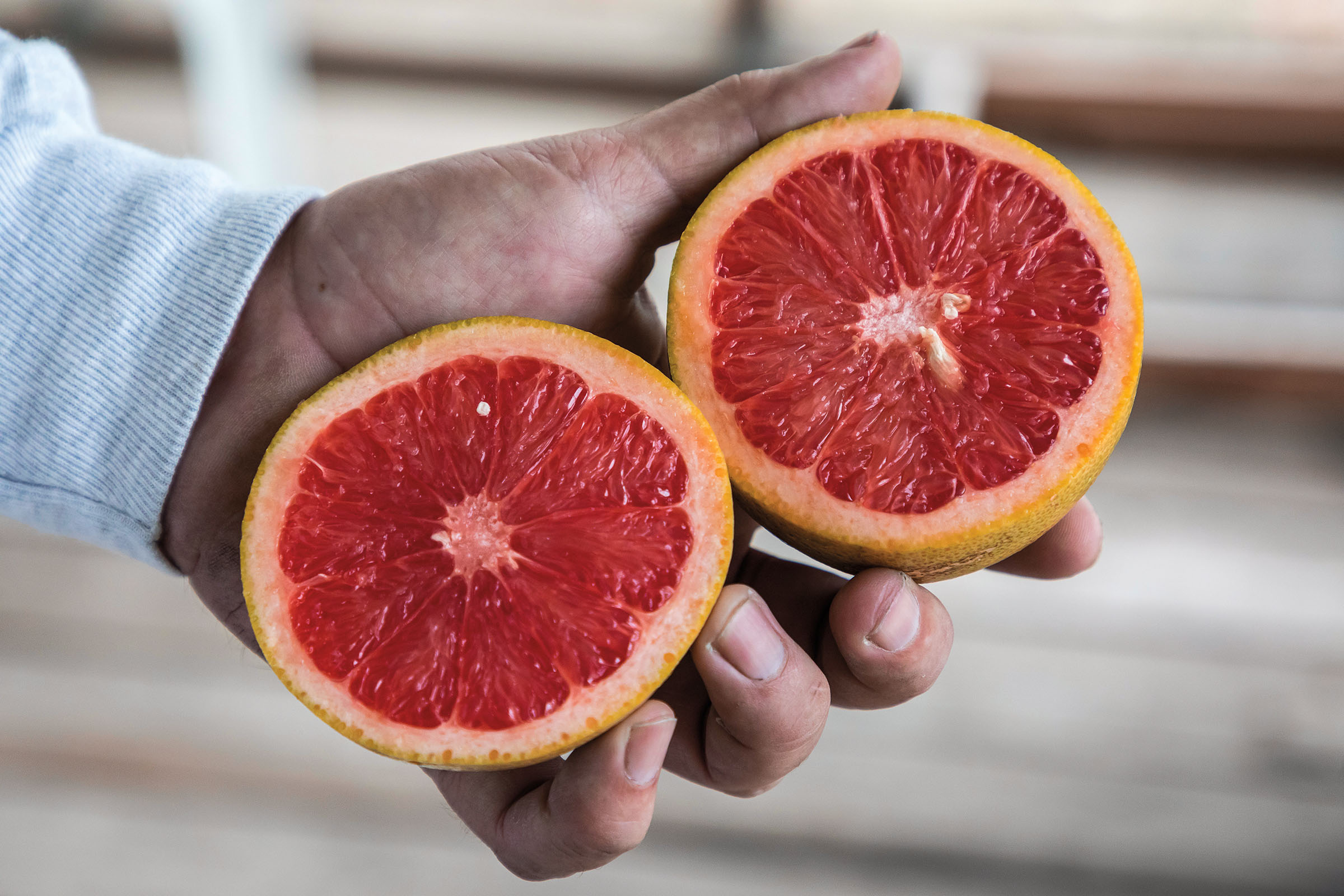 Grapefruit, however, is the farm's calling card. "The old-timers around here always ask for Ruby Reds," Strohmeyer says. "They're a deeper color than the Rios. They have a good level of acid, while Rios are sweeter with more of a blush hue." Both grapefruits are popular with some of the most lauded chefs, pastry chefs, breweries, and distilleries in Texas. Strohmeyer says it's always "fun to see what restaurants do" with his fruit, from salads and sorbets to sauces, cocktails, and preserves.
Pastry chef Alyce Shields of Austin's Dai Due uses G and S Groves' Rio Reds in grapefruit-honey marmalade. The
locavore restaurant sells the marmalade in its adjacent butcher shop, serves it with buttermilk biscuits, and uses it as a filling for custard kolaches and a decadent Basque cake. "I love the extra sweetness of the Rio Red," Shields says. "The bright, tart flavor and hint of bitterness are such a welcome treat on chillier days."
Rio Red Grapefruit-Honey Marmalade
This recipe comes from pastry chef Alyce Shields of locavore restaurant Dai Due in Austin. "It requires some extra effort with cooking the rind and the knife work," she says, "but it's worth it to have a taste of this fruit year-round." Yields 7 half-pint jars.
Ingredients:
• 4 medium Rio Red or Ruby Red grapefruits
• 5 cups granulated white sugar
• ¾ cup honey
• 2 teaspoons kosher salt
• Juice of two lemons
Directions:
Wash the fruit and remove the rind with a sharp vegetable peeler. Cut the peel into long, narrow strips. Slice the top and bottom of each grapefruit as close to the flesh as possible, then, following the curvature of the fruit with your knife, slice off the thick pith layer and discard.
Slice the fruit into ⅛-inch rounds, and cut each round into roughly 8 pieces, removing any residual pith and seeds as you go. Work over a bowl so you can save any accumulated juice.
In a heavy-bottomed pot, bring the rind to a boil with 4 cups of water. Lower the heat and let simmer for 30 minutes. Once the rind is tender, drain and discard excess water. This process will remove some bitterness from the rind.
Return the boiled rind to the pot, along with the grapefruit flesh, juice, sugar, honey, salt, and lemon juice. Bring to a boil, then let simmer for 45 minutes to 1 hour, stirring occasionally to prevent the bottom from scorching. The marmalade is finished when it reaches 221 F on a candy thermometer.
Ladle the hot marmalade into sterilized canning jars and process according to your canner's instructions. Properly sealed, the marmalade will keep for up to two years.
From the January 2021 issue