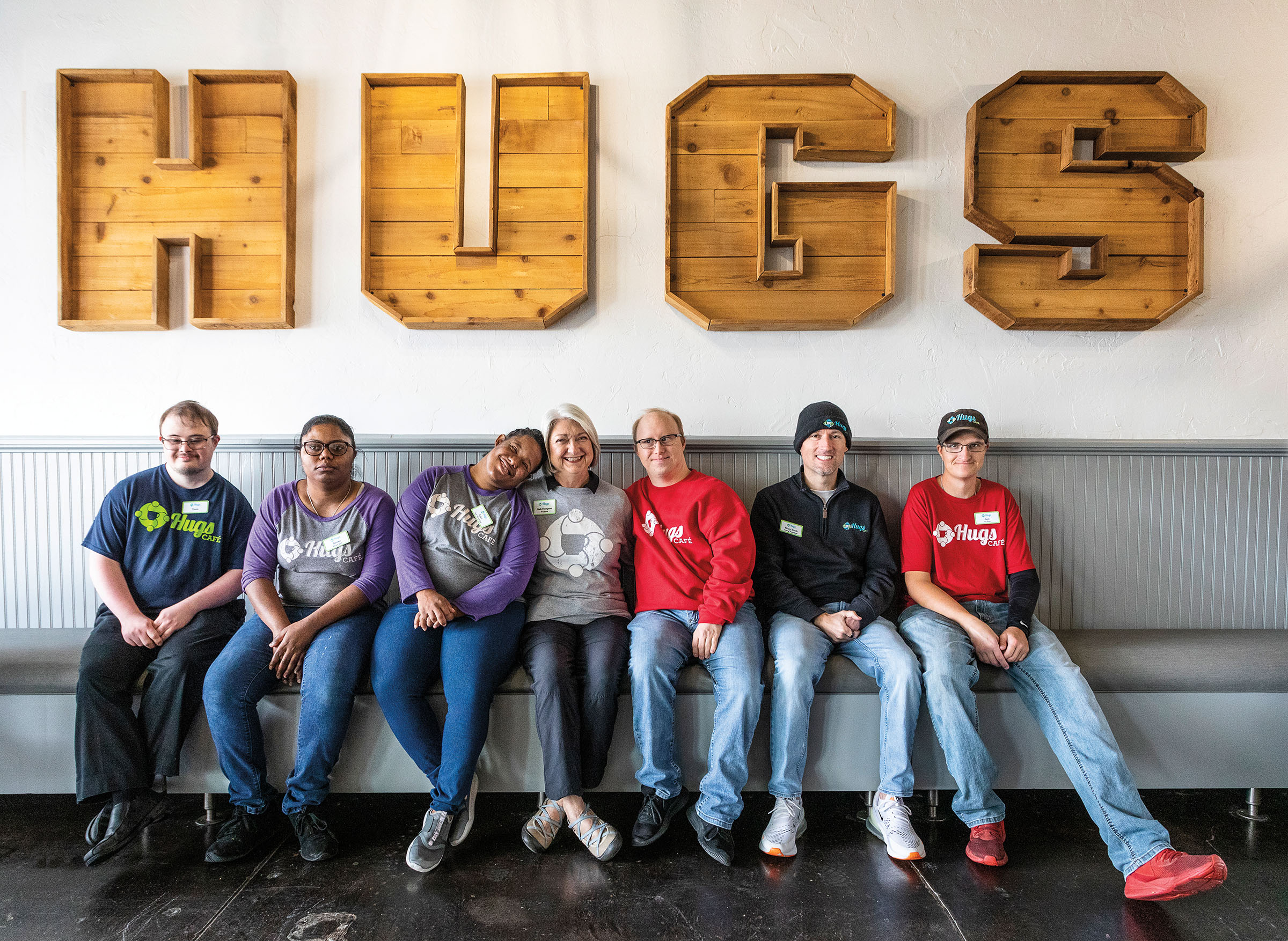 A tidy café with a blue-and-green-striped awning in downtown McKinney buzzes with customers on a Thursday afternoon. People on their lunch breaks stand in line mulling over their sandwich orders, while families laugh together at tables topped with soups and salads.
"Welcome to Hugs!" a greeter named Marty Cole shouts above the din. A bright smile spreads across her face as she hands each approaching customer a menu listing the daily specials, including sandwiches prepared with house-made jams and chutneys, and freshly baked cookies.
Hugs Café
224 E. Virginia St., McKinney.
Open Tue-Fri 11 a.m.-2 p.m.
and Sat 11 a.m.-3 p.m.
469-301-6900; hugscafe.org
To the employees of Hugs Café—over 80% of whom are adults with intellectual and developmental disabilities—this lunchtime rush is typical. They have served customers when the line once wrapped around the building for two hours. They've also been interviewed for NBC Nightly News with Lester Holt. The employees, or "teammates," as they are called, do their jobs unflappably.
"It just feels good to work inside this environment," Cole says. Before the pandemic, the greeters were known for giving their customers a parting hug. Unlike other service industry establishments, which have high turnover, the nonprofit restaurant has had nearly all the same employees it opened with six years ago.
Founder Ruth Thompson worked with adults with intellectual and developmental disabilities in a respite care and day program in Colorado. After moving to Texas in 2004, she sought a similar line of work and came up empty. She shifted to teaching cooking classes at McKinney's Market Street grocery store armed with only her background as a home cook. But she found ways to fuel her passion of working with the community by reaching out to recruit students with disabilities as participants.
One night, Thompson dreamed about a nonprofit café staffed by people with disabilities. She shared her dream with friends and soon found a building downtown and started collecting donations to make the café a reality. Hugs Café opened in 2015, and the companion greenhouse, which sells herbs and plants, opened in 2018.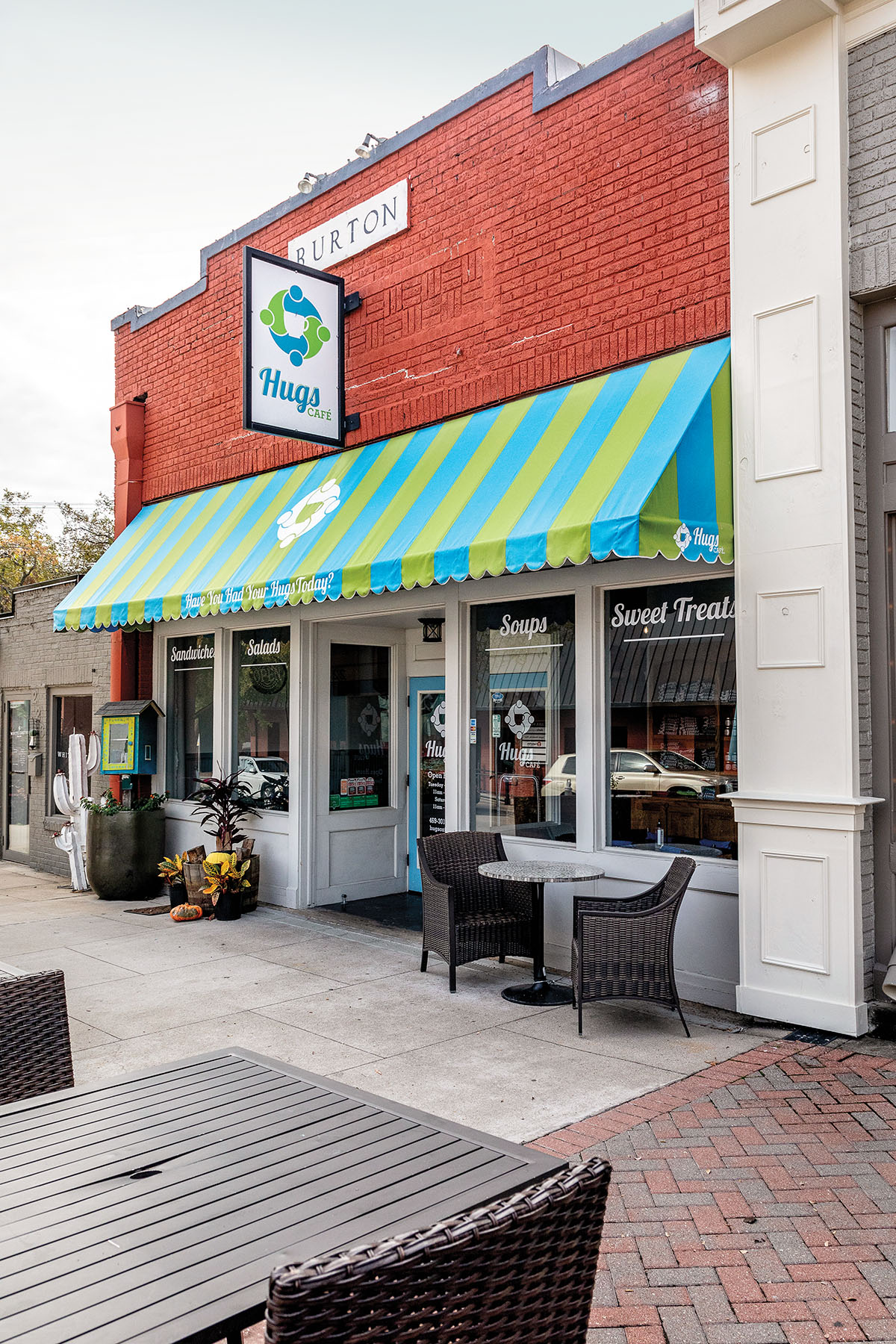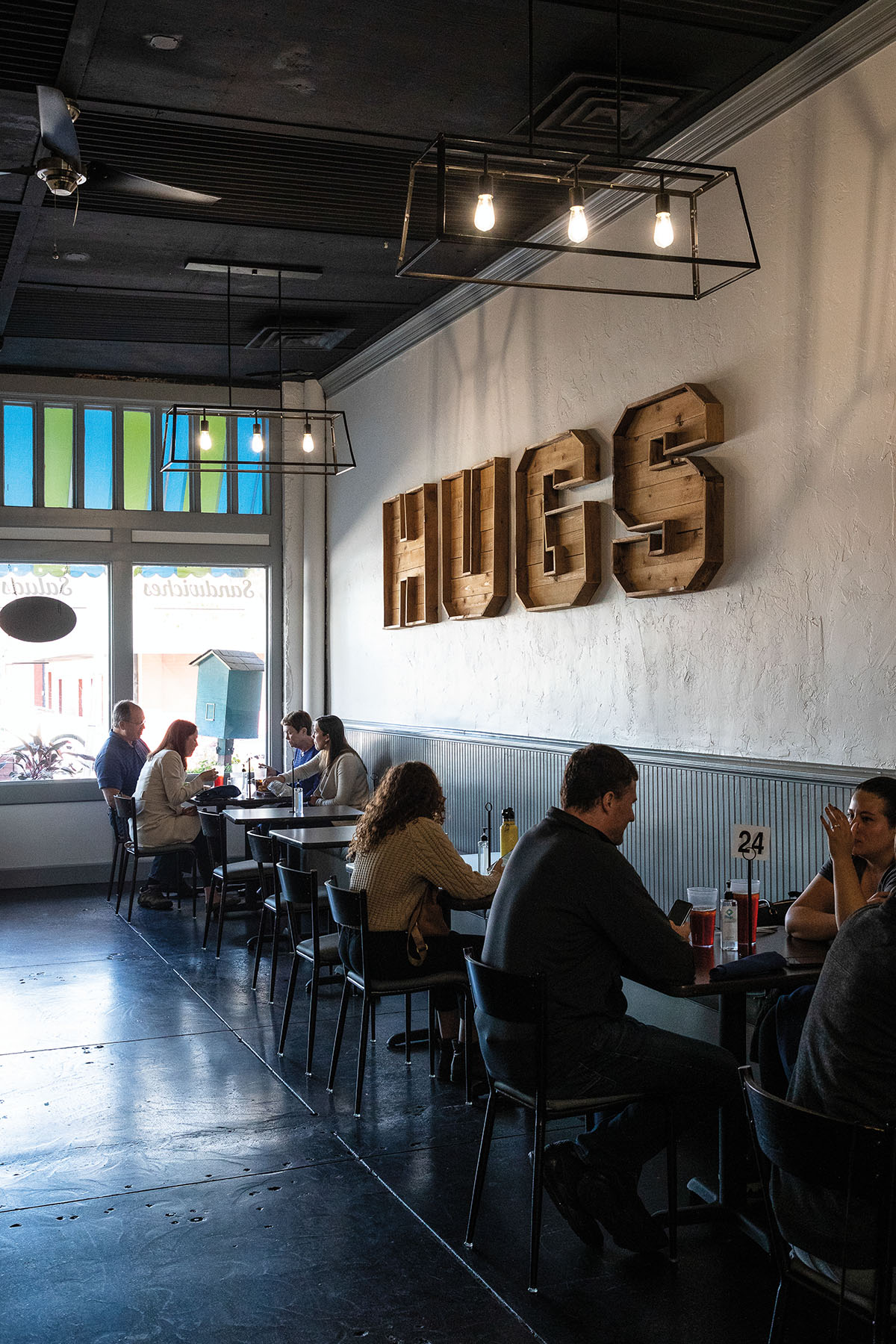 From soups to spreads, everything is house-made except the bread. Kathy Lamprecht—a teammate who has cerebral palsy, which constricts the muscles in her hands—calls herself the "bread queen" and toasts the bread for all the sandwiches.
Two customer-favorite sandwiches are the Peach Gobbler, filled with turkey, cheese, bacon, lettuce, and a sweet-and-spicy peach chutney; and the Monte Cristo, which combines smoked ham and Swiss cheese with cherry almond jam slathered on powdered-sugar-dusted sourdough bread. The wedding cake cookies have amassed a cult following: People order the soft almond cookies drizzled with frosting to serve at wedding receptions.
But for Thompson and her staff, the ultimate joy of the restaurant is bringing a sense of camaraderie and purpose to the community. People with intellectual and developmental disabilities often fall off the radar in terms of visibility after aging out of the education system. "The majority of Hugs Café's employees live at home and have a guardian," Thompson says. "The guardians were concerned that when their kids would finish school at 22, their outlook was going to be sitting at home with nothing to do."
In 2020, 13% of adults ages 16 to 64 with disabilities were unemployed compared to 8% of people without disabilities, according to the U.S. Bureau of Labor Statistics.
"I speak frequently at big corporations, and they talk about diversity—and then they don't talk about people with disabilities," Thompson says. "I ask them, 'How much does it cost you every time you lose and have to replace a person in your business?' It will take you longer to train someone with [a disability]. However, if you treat them with respect and kindness, you've got an employee for life."
Back in the kitchen, after the lunch rush, teammates are tidying up and cleaning and sanitizing plates and utensils in the dish pit. A list of prep work for tomorrow's shift has started accumulating.
Kalyn Bradley, an assistant kitchen lead, introduces herself with a rundown of her responsibilities. Then she shares a bit about her dreams. "My passion is I like to bake," she says. "I want to have my own business, Kay's Cherry on Top, and hire young adults with special needs because I have Down syndrome. I want to support others." That kind of confidence is something parents of other Hugs teammates see in their young adults, too.
"It's so important for kids to have a sense of purpose," says Lynn Zuercher, mom of 26-year-old teammate Dylan Zuercher. "Hugs has definitely helped define him. He just glows when he talks about it."
Often, parents of young children with intellectual and developmental disabilities dine at the restaurant, and it gives the whole family a sense of possibility and purpose to see that kind of representation.
"We just have such beautiful moments here," Thompson agrees. In 2022, she's broadening her mission by debuting Hugs Training Academy, a program for adults with intellectual and developmental disabilities who want to pursue a career in the culinary or hospitality fields. "The dream is big," she says, "let's just put it that way."
From the January 2022 issue