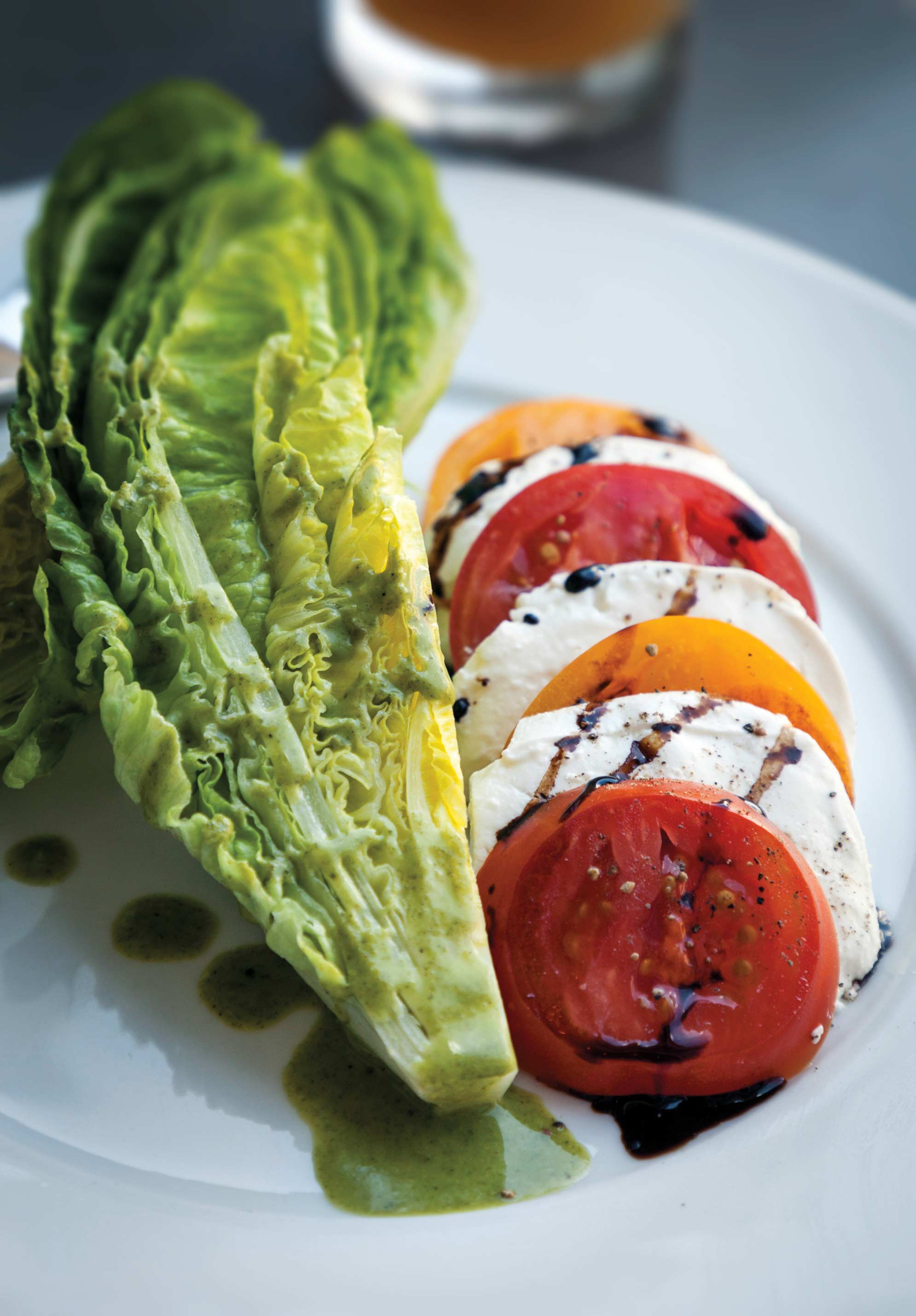 When chef Denise Shavandy walks into the Modern Art Museum of Fort Worth, she often wonders if she's dreaming. Before she found her way to cooking, Shavandy considered other career paths that might have landed her in a place like this. Fortuitously, her job as executive chef of Café Modern, the museum's restaurant, involves crafting beautiful food next to some of the most important art anywhere, inside a building created by one of the world's foremost design talents.
Café Modern

Modern Art Museum of Fort Worth
3200 Darnell St., Fort Worth
817-840-2157
themodern.org/cafe

---

The Buffet

The Kimbell Art Museum
3333 Camp Bowie Blvd., Fort Worth.
817-332-8451, ext. 277
kimbellart.org/visit/dining
"I was originally going into architecture, and I also considered an art degree," Shavandy says, reflecting on fate's direction. "So getting to work here is a big deal to me."
At Café Modern, guests who've spent hours wandering the galleries filled with works by Andy Warhol, Jackson Pollock, Mark Rothko, and Frank Stella will feel similarly lucky as they rest their feet while eating some of the most exquisite food in the city. Dining isn't exactly a thrilling prospect at most museums where boxed sandwiches and sad salads are the norm—that's why Café Modern, and its counterpart at the nearby Kimbell Art Museum, The Buffet, stand out. The passion of their respective chefs will make patrons rethink their previous conceptions of what a pit stop at the museum café is like. 
I prefer a table next to the window, where I can watch the ducks paddle on the sprawling pond. During a recent dinner, I settled into the evening with one of the bar's specialty cocktails: the purple-hued Hyacinth, an elixir blending vodka, gin, crème de violette, simple syrup, and wispy lemon shavings.
Shavandy uses the dinner plate as her canvas, combining textures and shapes and colors to fashion an edible art experience. I saw this firsthand as a plate of cool, ivory asparagus, with a green pool of fresh herb puree for dipping and smoked almonds for crunch, landed on my table. Next was a dish of tandoori-spiced chicken with roasted curried cauliflower and a raita (Indian yogurt sauce) that provided a chilling balance to the exotic spices. After that was a bowl of shredded beef brisket, redolent with smoky Chinese five-spice, tumbled with pickled vegetables, cucumber kimchi, and apricot hoisin sauce. At another meal, I reveled in two of her desserts: one a ricotta cheesecake sitting atop pomegranate syrup and framed by an artful smear of lemon curd and scattered with pomegranate seeds and toasted pistachios; the other a trio of chocolate truffles, one of which incorporated Turkish coffee, cardamom, and Madagascar vanilla.
Before joining Café Modern three years ago, Shavandy owned restaurants in Fort Worth and Waxahachie for a little more than a decade and spent a few years as a culinary instructor, too. She's drawn to Middle Eastern, Moroccan, and other cuisines from abroad, she says, because "those are the most intriguing mystical places, and their foods mirror that with an abundance of spices, sweet added to savory, and the vibrance of chile peppers and herbs." 
Upon making its debut at the museum in 2003, Café Modern was a Fort Worth pioneer in the movement to focus on local, seasonal, and sustainable foods. Shavandy remains the most energetic among local chefs committed to finding an abundance in cheeses, eggs, meats, olive oil, grains, and honey from around Texas. She completely overhauls the menu four times each year, changing along with the seasons. Every menu endures a rigorous review and approval process by a host of museum officials. One of her runaway hits was a banana split sundae with a phyllo-wrapped banana, brown butter ice cream, whipped cream, cocoa nibs, and a caramel sauce made with Dallas' Lakewood Brewing Co.'s Temptress Stout.
Shavandy says love for art and food intersected a couple of years ago when she met abstract expressionist painter Frank Stella, one of her favorite artists, whose work was featured in a retrospective at the Modern. "One of my most prized possessions is the book that our [retired] curator Michael Auping wrote about Stella, signed by Stella and Auping, which is next to my autographed Jacques Pepin's La Technique," she says.
Half a block away at the Kimbell Art Museum's charming restaurant The Buffet, chef Peter Kreidler works to strike the balance between classic and modern in his menu. The Buffet enjoys a loyal following built over the museum's 46-year history, mostly due to the beloved dishes by chef Shelby Schafer, who retired a year and a half ago after 35 years there. Kreidler's challenge includes keeping the dedicated, often older, patronage happy while attracting younger guests by introducing more contemporary food ideas. Many of Schafer's recipes, like chilled creamy cucumber-spinach soup, remain in place. Slowly, Kreidler—a graduate of the Culinary Institute of America and veteran of Craft in Los Angeles and the Michelin-starred Boulevard in San Francisco—plans to make his own mark.
"Some guests have been eating here for longer than I've been alive," says 34-year-old Kreidler. "I just want to change it up enough to keep people from getting bored but also to keep them coming back." 
From the dining area of The Buffet, guests can gaze into the courtyard where Aristide Maillol's bronze sculpture L'Air, a floating female nude, presides amidst flowering vines. It's just a preview of the gorgeous food to follow. During a Friday dinner, I started with grilled shrimp and pepper jack-cheddar grits, topped with charred tomato beurre blanc laced with balsamic vinegar. My husband's plate starred silken slices of pork tenderloin drizzled with a tart blackberry puree nestled between roasted Brussels sprouts and a lush pillow of mashed sweet potato. These washed down pleasantly with glasses of Spanish rosé. During the Friday dinner hour, the chef adds upscale dishes focusing on items like duck and lamb.
Like Shavandy, Kreidler marvels at his windfall, plying his craft in a bonafide landmark. "Every single time I walk in the building, I think, 'This is insane—how did I get [to] a place like this?' I love this job. I just want to keep on rolling." 
From the September 2018 issue