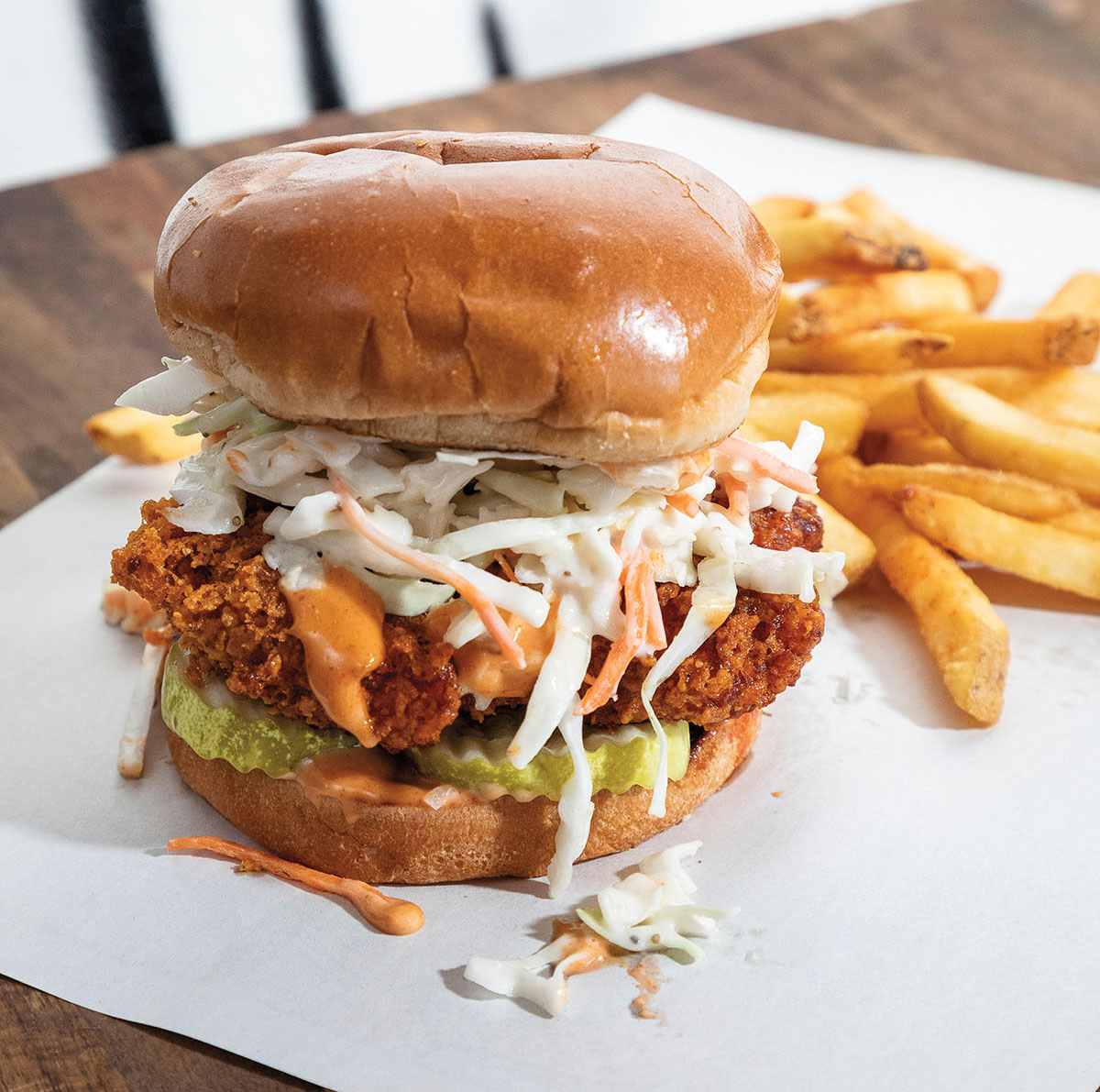 With a baby on the way and $3 left in his back account, Lucas Bradbury huddled in a food truck in San Antonio, tinkering with a secret recipe he planned to sell to customers in less than 24 hours. It was September of 2020, a year full of unexpected moves, and Bradbury was betting on his new creation: a deep-fried chicken sandwich with a slather of aioli and a dill pickle slice, accompanied by a side of creamy macaroni and cheese.
Project Pollo
303 San Pedro Ave.,
San Antonio.
Mon-Fri 11 a.m.-11 p.m.
Sat-Sun 10 a.m.-10 p.m.;
projectpollo.com
His secret? The chicken wasn't really chicken. Rather, it was a plant-based patty that would become the staple of his rapidly expanding restaurant chain Project Pollo.
Since then, Bradbury's Project Pollo has grown from that humble truck parked outside of Roadmap Brewing Co. in San Antonio to 21 brick-and-mortar locations across Texas, Colorado, Nevada, and Arizona— with audacious plans to open 100 total locations by 2025. All serve food using a proprietary soy protein made by TiNDLE Foods, a plant-based chicken company owned by Next Gen Foods of Singapore.
"This is a legacy to teach my son that no matter what he does, to go out there and do it 100%," Bradbury says, wearing a Pollo baseball cap while sitting in his headquarters at the historic 110 Broadway building in downtown San Antonio. It's a spacious suite spray-painted with graffiti chickens and irreverent tags like, "We don't give a cluck." The scent of deep-fried food wafts through the space from a nearby test kitchen as a group of Project Pollo employees engages in a team-building exercise led by Bradbury's wife, Morgan.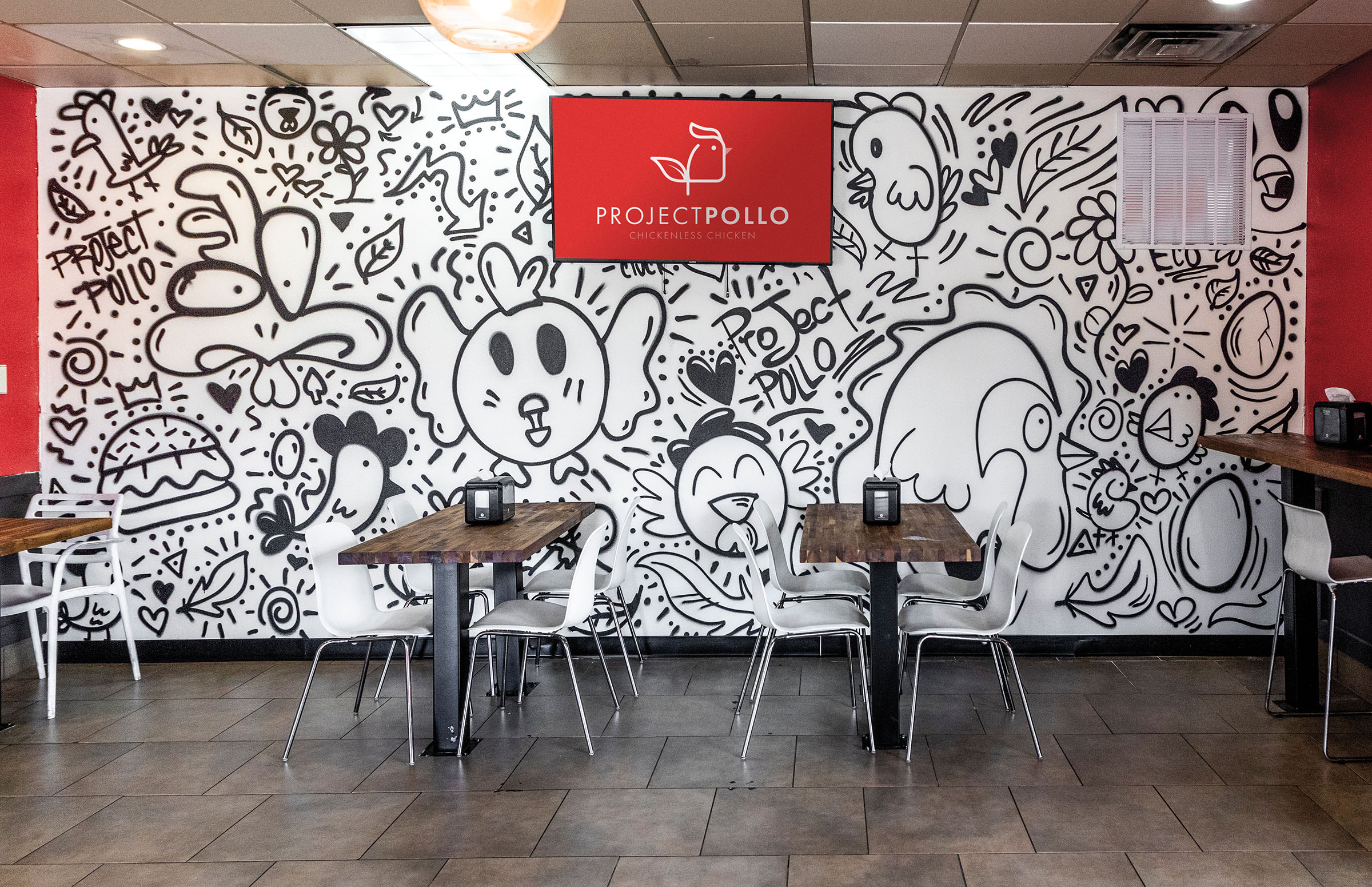 At first glance, it might seem unusual for an entrepreneur from meat-loving Texas to be one of the first to hatch a large-scale, plant-based, quick-service restaurant chain. He joins a few others like Veggie Grill and Native Foods, which both started in California, and Oregon-based Next Level Burger.
These days, more people are embracing plant-based diets. A 2022 survey from researchers at Oklahoma State University found that about 10% of Americans over the age of 18 identify as vegetarian or vegan. Bradbury's dream builds upon what's going on nationally, says Emily Williams Knight, president and CEO of the Texas Restaurant Association. "The consumer segment known as 'flexitarians' is driving the trend, with a growing number of Texans reducing their animal product intake without eliminating it entirely," she says, noting their motivations range from concern for the environment to health to animal welfare.
Though meat substitutes still cost more on average than real meat, Bradbury says increasing prices on everything from fertilizer to fuel will continue to impact meat prices and may make plant-based diets more appealing over time for economic reasons.
The quick-service space isn't new to Bradbury, nor is meat production. He grew up in Kansas, raising chickens and surrounded by farms. Before Project Pollo, he worked in management positions for major fast-food chains, such as Dunkin' Donuts and Pizza Hut, among others. Prior to moving to Texas, he was tapped to step into an executive role at Wing Stop before pivoting to his plant-based dream. In 2016, after settling in Texas and struggling with health issues he believes were related to his heavily barbecue-inclined diet, he turned to veganism.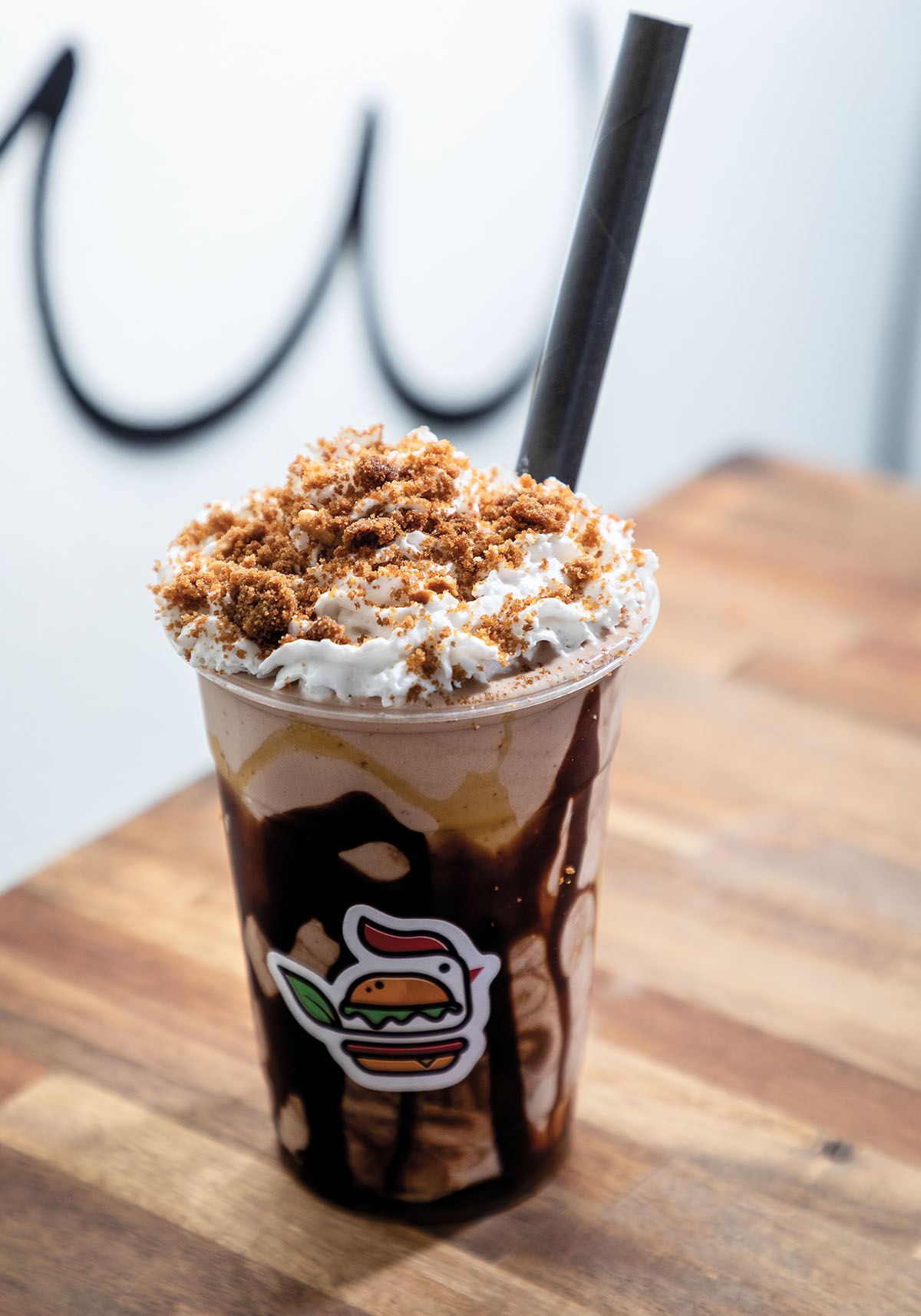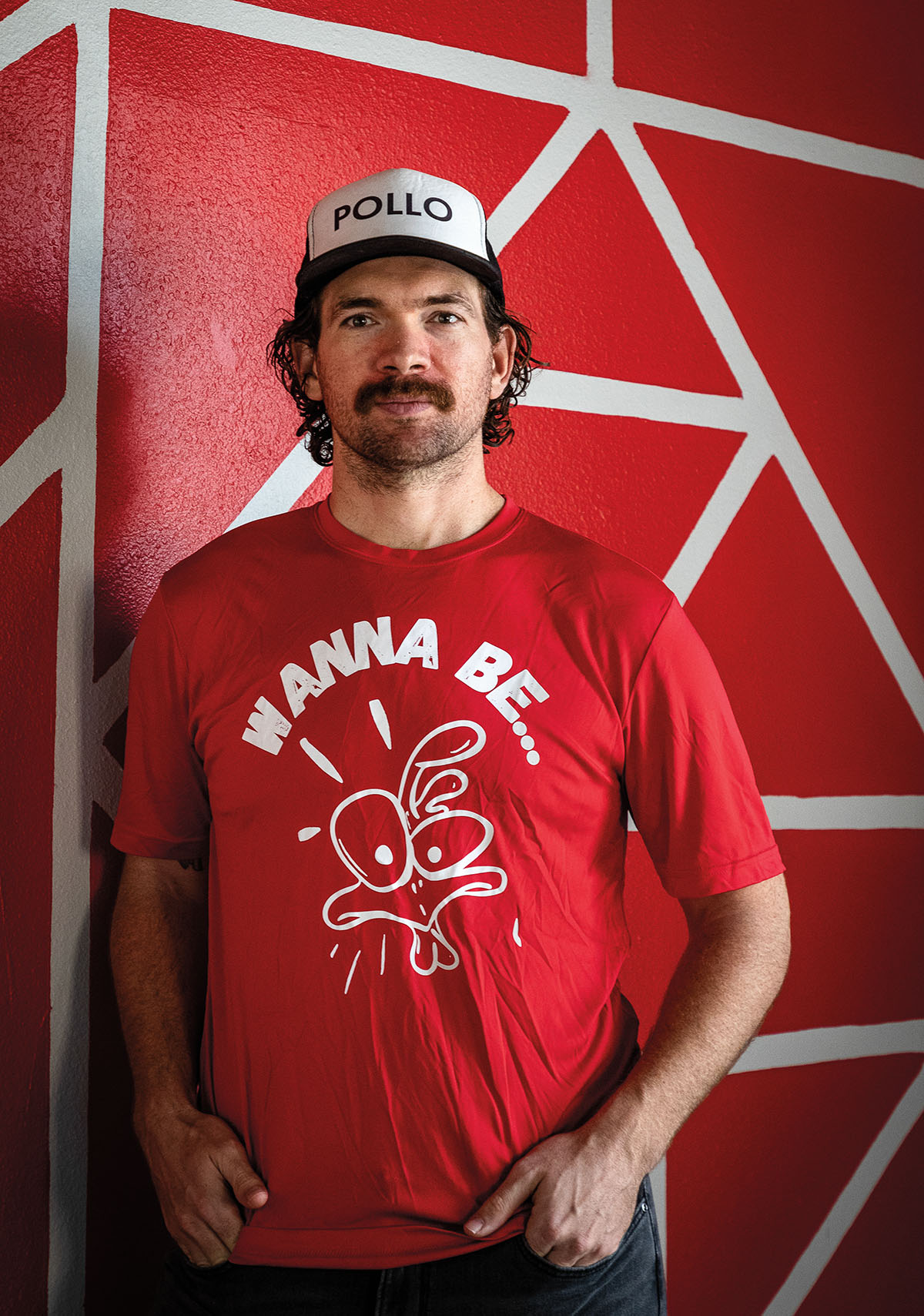 Upending meat consumption isn't the only way he's attempting to disrupt the market. Bradbury made a pitch on ABC's Shark Tank that aired on May's Season 13 finale, though his rapid expansion plans scared off the sharks and he left without a deal. He didn't even tell them the most unconventional aspect of his business in the brief TV pitch: his pay-what-you-can model. Boldly listed over a few key items on every menu, this offer means any customer can pay whatever money they have, no questions asked.
"We will never turn down someone at any of our locations. If you don't have any money, it doesn't matter," he says. "This is the way that I can give back on multiple levels—to the community in terms of being able to get the food that you like, and on a global level in terms of being able to tackle animal agriculture."
On my way out of town after interviewing Bradbury, I stop by the chain's San Pedro Avenue location. I order an Original Project, a fried faux-chicken patty topped with vegan aioli and dill pickles and a side of jacked mac—macaroni with a cashew-cheese creamy sauce with fake bacon and sliced jalapeño. There are also a few select burgers on the menu using Beyond Meat, as well as shakes made with oat milk.
Nothing on the menu screams "vegan," and that's by design. Bradbury says he's successfully fooled meat eaters and vegans alike—the latter have accused him of mistakenly serving meat. One Austin Yelp reviewer wrote, "It wasn't until halfway through my chicken sandwich that my friends told me it wasn't chicken."
Where's the Beef?
If you're looking for more plant-based options for your flexitarian, vegetarian, or vegan dining needs, here are a few restaurants around the state worth exploring.
Korny Vibes, Houston
This restaurant boasts "plant-based comfort food," including the Impossible burger, Nashville Hot Chik'n sandwich, and oat-milk-based shakes.
kornyvibeshtx.com
Citizen Eatery, Austin
The 100% meat-free menu uses products from JUST Egg, a company that makes egg substitutes from plants, vegan sausage and bratwurst, soy BBQ, and more.
citizeneatery.com
Lick It Up, El Paso and Austin
This restaurant, which started as an El Paso food truck, incorporates Mexican flavors into its 100% plant-based menu. Protein choices include mushroom chorizo, jackfruit carne asada or adobada, and seitan-based milanesa.
lickitupeats.com
Veggie Del Sol, Brownsville
From stuffed jalapeños to soy-based bistec tacos, Veggie Del Sol offers a large menu full of vegan Tex-Mex options. veggiedelsol.com
Though I think I can tell the difference between this sandwich and my go-to fast-food meat version, the savory flavor and slightly gristly texture of the chicken patty is a convincing alternative.
The restaurant's sleek branding pecks at the big chains: Posters inside proclaim "1 million chickens saved," and "Together we WILL change the world." There are no long lines of cars at the restaurant's drive-thru like at the other more established fast-food joints nearby, but perhaps with a little luck and a lot of hustle, the chickens will eventually come home to roost.
From the October 2022 issue