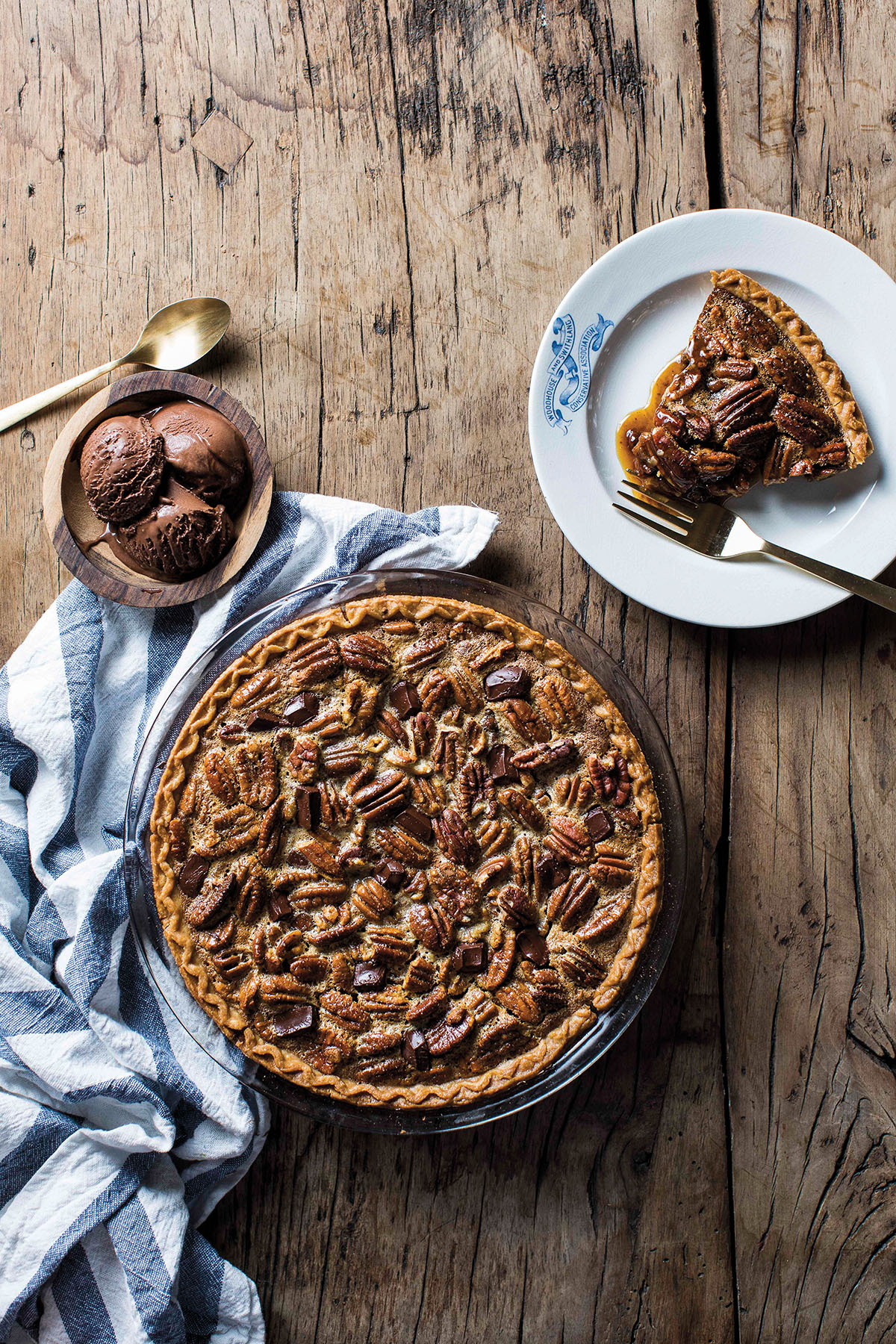 Steve McHugh, James Beard Award-nominated chef and owner of Cured in San Antonio, makes an effort to include a lot of Texas ingredients, including pecans, on his menu. This decadent pie features the addition of rye whiskey (McHugh uses Rittenhouse), which adds a hint of spice and complexity. The use of pecan oil in the sorbet produces a rich, satiny texture. Yields approximately 6 slices.
Pie Ingredients:
½ cup sugar
1 tablespoon cornstarch
1 cup light corn syrup
¼ cup cane syrup
1 tablespoon rye whiskey
2 large eggs
1 cup pecans, chopped
½ cup chocolate chips or chunks
1 pinch ground cinnamon
1 pinch freshly ground nutmeg
1 9-inch pie shell, homemade or store-bought
Not ready to cook right now? Enter your email to have this recipe sent to you:
By entering your email, you agree to receive email communications from Texas Highways Magazine as described on the newsletter page.
The recipe has been sent to .
Directions:
Preheat oven to 425 F. In a large mixing bowl, combine the sugar and cornstarch. Add the syrups, rye whiskey, and eggs. Whisk thoroughly.
Fold in pecans and chocolate. Season with a pinch of cinnamon and nutmeg. Pour the mixture into the pie shell and bake for 10 minutes on the center rack of the oven. Reduce the temperature to 375 F and bake for 35 more minutes. Remove and allow to cool at room temperature, preferably overnight.
Serve topped with a scoop of sorbet, if desired.
Sorbet Ingredients:
1 ½ cups glucose syrup
½ cup hot water
¾ cup cocoa powder
¼ cup pecan oil (available from swiftriverpecans.com)
Directions:
Combine all ingredients in a blender. Press through a fine strainer and process in an ice cream maker.
This recipe originally appeared in "In Praise of Pecans, Texas' Favorite Nut" from the October 2020 issue.