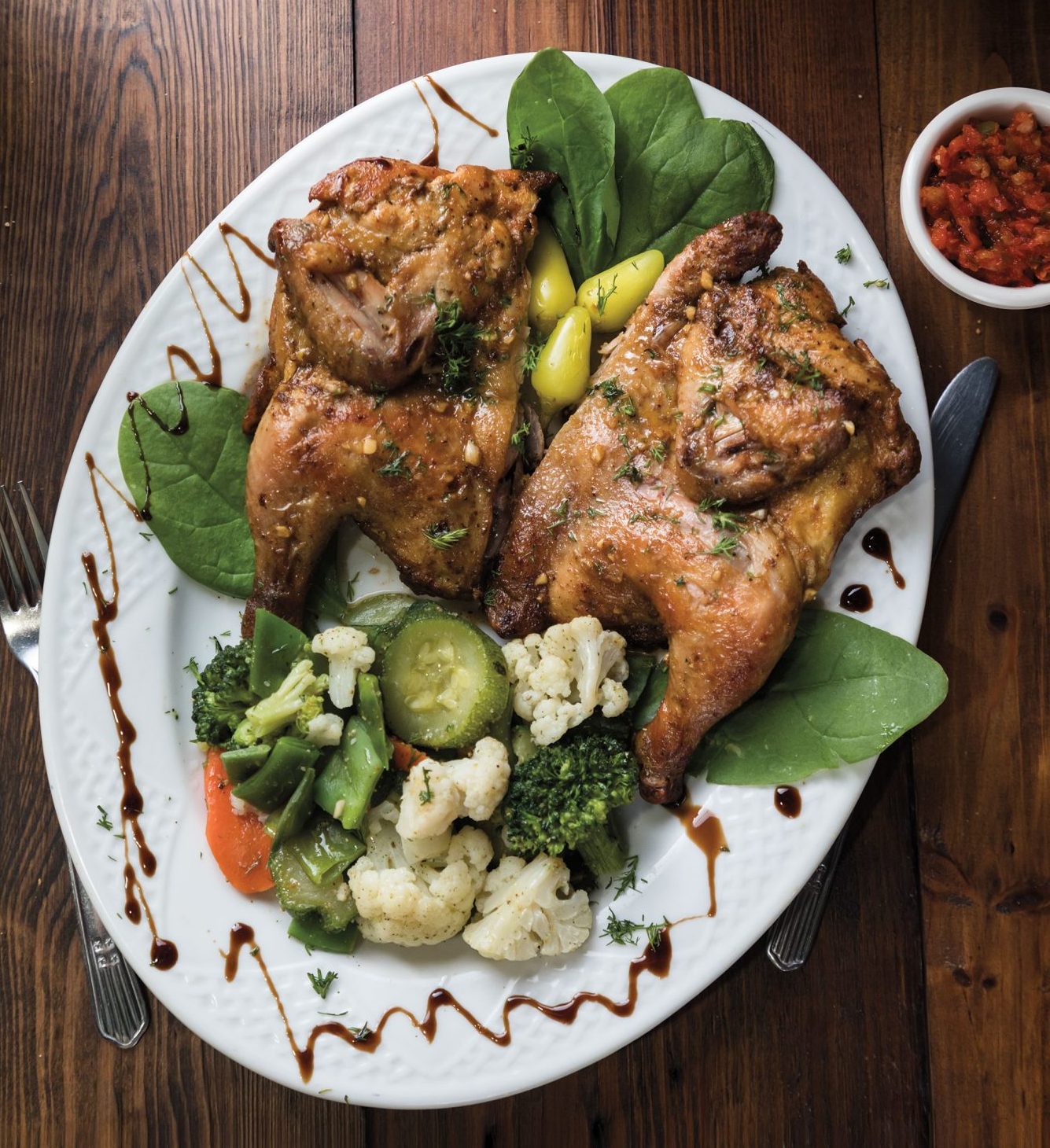 Communal public bathing has been a part of many cultures—from Turkish hammams to Roman baths—for centuries. While traditional bathhouses are much less widespread this days, there are still places where you can take part in the age-old tradition of not just getting clean but also being cleansed. At Russian Banya in the Dallas suburb of Carrollton, a Slavic feast follows intensive sauna sessions. The bathhouse and restaurant is the only one of its kind in Texas.
Inside, a row of snowy Russian birch trees hung with Khokhloma-patterned oven mitts opens up to the kitchen and dining room, where Chef Niyara Alieva stirs up fragrant dishes like dumplings, soup, and stuffed cabbage from her native Uzbekistan and neighboring countries
Although you can go to Russian Banya just to eat, a meal there is much more satisfying after putting your body through the rigorous routine that's been practiced at establishments like this one for thousands of years.
Regulars know to bring their own robes, towels, and flip-flops, but newcomers can easily rent these essentials at the front counter before making their way back to a lounge area reserved for bathers. The walls are muraled with provincial cabin scenes—a stark contrast to the vivid floral designs painted on the windows in a stained-glass effect.
"You're not going to find another spa in the state of Texas with a wood-burning stove because it's against fire code," host Maxim Kim explains. "But ours was grandfathered in 13 years ago when the code still allowed it. Gas and electricity dry out the air; they're not natural. Whereas with wood, the fire dies out, the coals keep the heat, and you don't get the smoke that fire generates."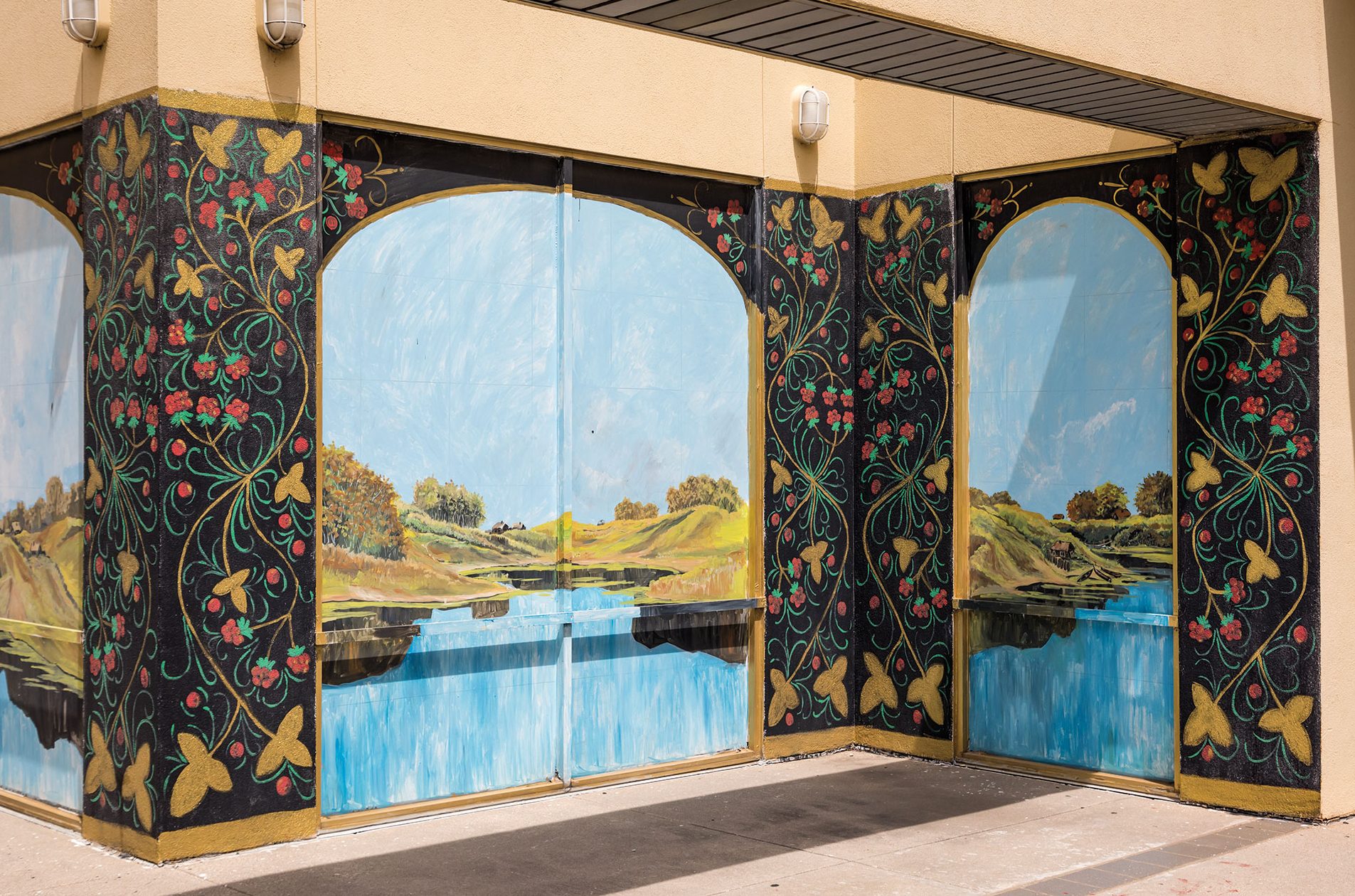 The wood-fueled sauna is heated to around 220 degrees with 85-percent humidity—hot enough that guests are advised to enter with a wooden slab to sit on for protection. An adjacent Turkish steam room moisturizes at 110 degrees with 100-percent humidity; and an electric-heated dry Finnish sauna, recommended for experiencing last, reaches 180 degrees with 10-percent humidity. Kim recommends five-to-15 minute sauna sessions alternated with cold plunges in the nearly 40-degree pool.
"Traditionally, in Russia, people have banyas inside their house, and they will just go outside and rub snow on themselves to cool down," Kim says. "We don't have snow or a cold river nearby, so the next best thing is a pool like this with filtration and a cooling system."
When sweating in the sauna is followed by a cold plunge, the heart rate increases, blood vessels constrict, and both adrenaline and endorphins surge. Common theories purport that the practice improves blood and lymphatic circulations, helps flush out waste faster, and boosts white blood cell count to fight unwanted substances.
"If you leave without getting in the pool, you haven't really experienced the Russian banya," co-owner Delsey Portillo says.
Portillo, a retired commercial pilot; her husband, JR, who runs the family trucking business; and their daughter, Noor, a recent UT-Austin graduate, were regulars at the banya before they found out last year it was for sale. They decided to take it on as partners, with Noor as the majority partner. The facilities had been owned by two different Russian families since 2006, and the local Russian community did not immediately embrace the new ownership.
"People were wondering why Russians weren't buying the banya," says Portillo, whose family made improvements to the facility before reopening. "But we have worked really hard to make it better, and now they know we really care for the tradition."
After several rounds of sweating and plunging, it's finally time to eat. Start off with khachapuri, a Georgian cheese-stuffed bread to dip in ajika, a bell pepper-based paste. Follow that with a trio of dumplings: potato-stuffed vareniki topped with fried onions and sour cream; minced-meat filled pelmeni in a rich broth; and peppery khinkali, a type of hand-pinched Slavic soup dumpling filled with savory juices. Chef Alieva's version of golubtsi, Russian stuffed cabbage, is stewed to perfection in a slightly sweet sauce of sour cream and tomato, and the straightforward borscht features tender chunks of beef.
"If you leave without getting in the pool, you haven't really experienced the Russian banya."
It is clear that Alieva, who's been the chef since the banya opened 13 years ago, mastered each of these carefully executed, homestyle dishes while cooking for her large extended family. The desserts, also made in house, include syrniki, a creamy and lightly sweet cheesecake, which is best eaten with a Turkish tea digestif.
You're likely to leave feeling like a new person after the delightfully polar experience of detoxing and indulging—it might even open your mind.
"Sometimes people work really hard to make money, but they don't appreciate life or enjoy the small things," Portillo says of the banya's philosophy. "There are a lot of opportunities in front of you, but you don't even know that they are there. If you have peace of mind and relax, then you can see what opportunities can bring you."
Russian Banya
2515 Rosemeade Parkway, Suite 401
Carrollton
Open Tue-Fri, Noon-10 p.m.
Sat-Sun, 10 a.m.-10 p.m.
214-483-5050
russianbanyaofdallas.com
From the September 2019 issue