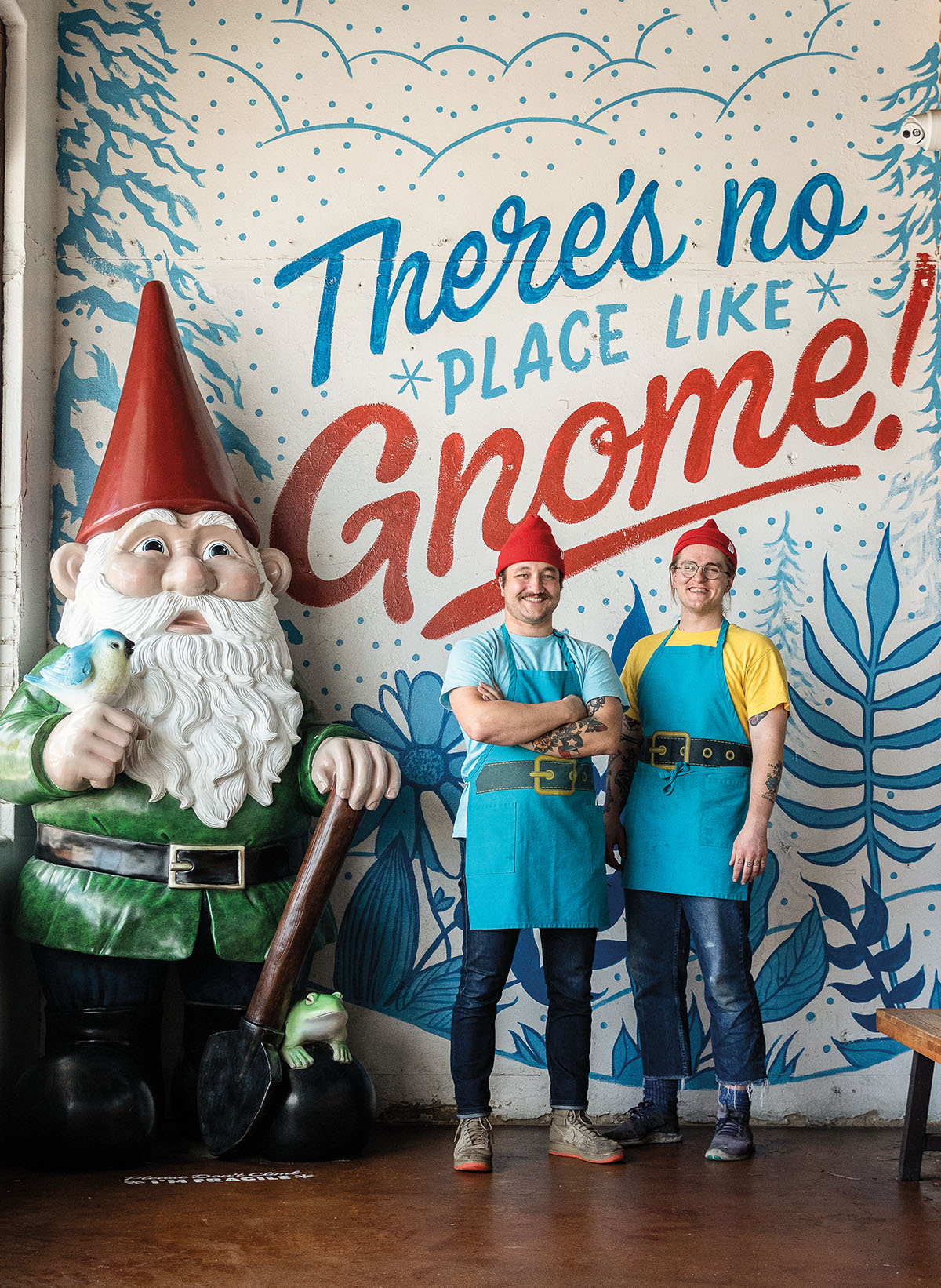 G
arden gnomes of all shapes, sizes, and dispositions line the grounds of an outdoor food court in Argyle and dangle from the ceiling of a shop in Denton. Some smile mischievously while others hold their gardening tools at the ready, but all serve the purpose of welcoming patrons to Gnome Cones.
Lifelong best friends Bret Hawkins and Alex Sparks founded Gnome Cones in 2017, when they began churning out their all-natural snow cones from a stand in the Fort Worth suburb of Argyle. The pair now owns two locations and a traveling van. Because the shop uses fresh fruit juice rather than artificial sweeteners in its syrups and no artificial dyes, Hawkins proposes the mythical woodland creatures would approve of Gnome Cones' methods.
"Gnomes are from the forest or the garden," he says. "If a gnome made a snow cone, it would probably be with real fruit."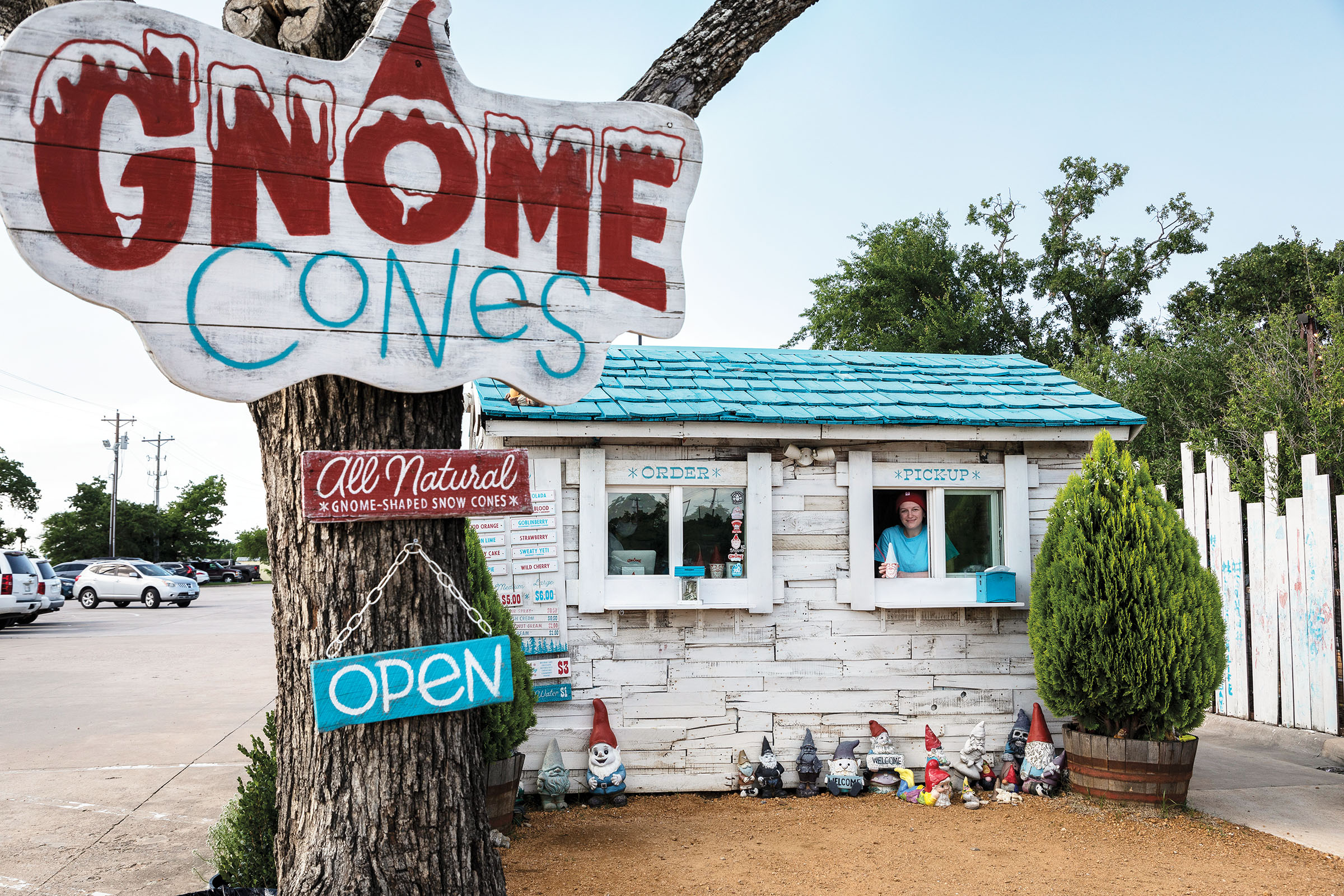 The Goblinberry cone, with hints of blackberry, cranberry, raspberry, and lemon, presents no overpowering sweetness or sticky residue usually associated with snow cones. Each cup is in the shape of a pointy gnome hat, nearly doubling the amount of snow that normally fits into a cup. Customers can add sour spray, fresh cream, coconut cream, or ice cream to any of the 11 flavors, which include Troll's Blood (cherry, strawberry, and coconut), Sweaty Yeti (coconut and vanilla), and blood orange.
The owners' affinity for gnomes stems from a running prank Sparks had with his college roommates in which they hid gnomes throughout their Biola University campus. Sparks told Hawkins about his mischievous acts, and they agreed that it would make for a fun branding idea. So Hawkins designed the cups and some merchandise while he was enrolled in the University of North Texas graphic design program, and the gimmick won the attention of a local investor who gave them enough money to purchase a stand. The Argyle location opened in 2017, and locals flocked to the walk-up counter far more quickly than the friends had anticipated.
"It was kind of weird because it had been a joke for so long in my life," Sparks says. "It's a product that I just made up, and now thousands of people have eaten them."
The downtown Denton storefront opened in 2019. While snow cone shops don't normally operate out of a brick-and-mortar building, the demand was so large in the college town that Gnome Cones needed the extra space for production. With the larger space came an ice cream menu and alcoholic Gnaughty Gnomes infused with a wine-based liqueur. Because it has indoor seating, the Denton location operates through the winter, selling hot chocolate and wassail, while the Argyle stand only operates March through October.
When the pandemic closures began in March 2020, during the beginning of snow cone season, Sparks and Hawkins worried they would have to close permanently. Just days later, they pivoted and launched a website where customers can order ice pops for delivery.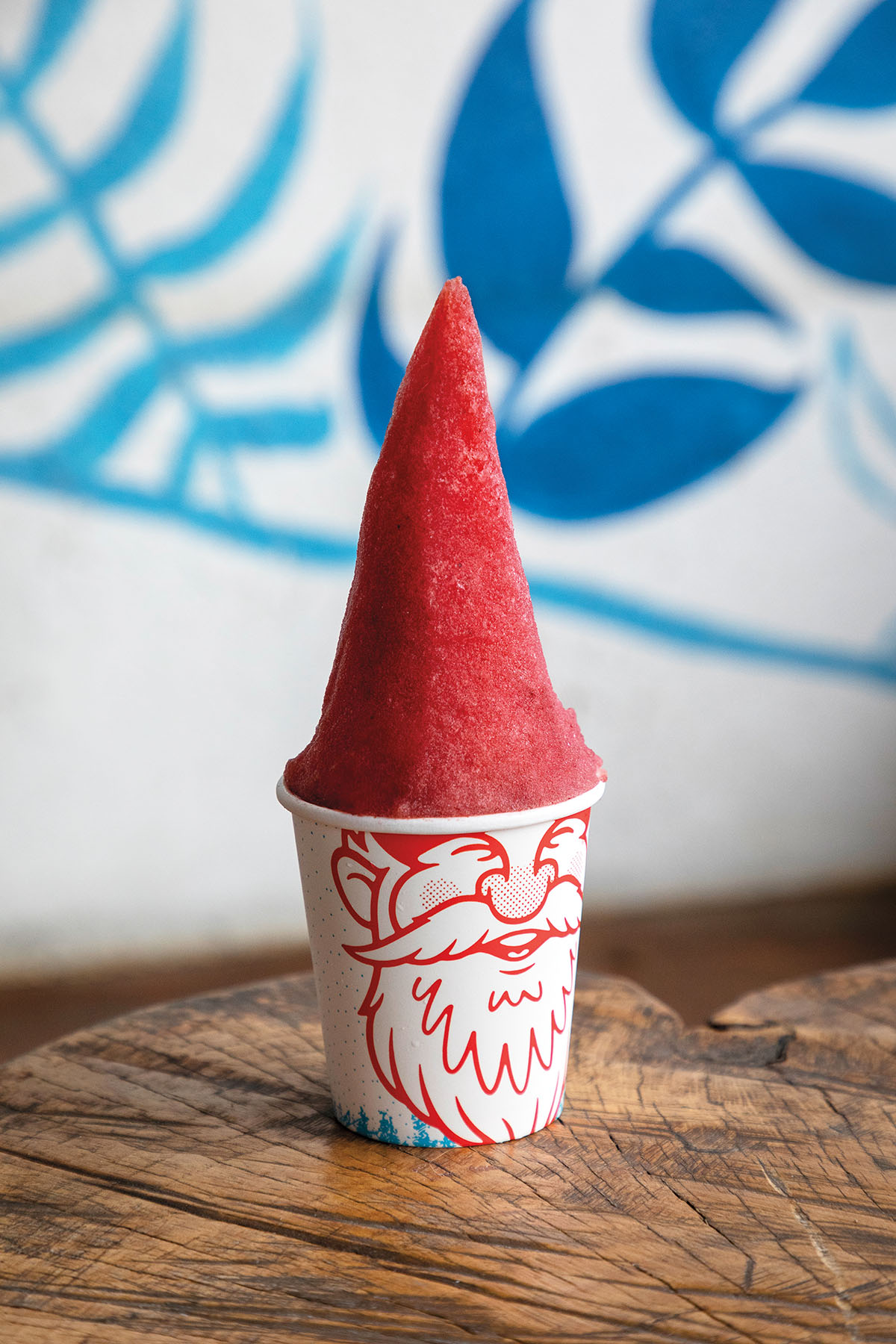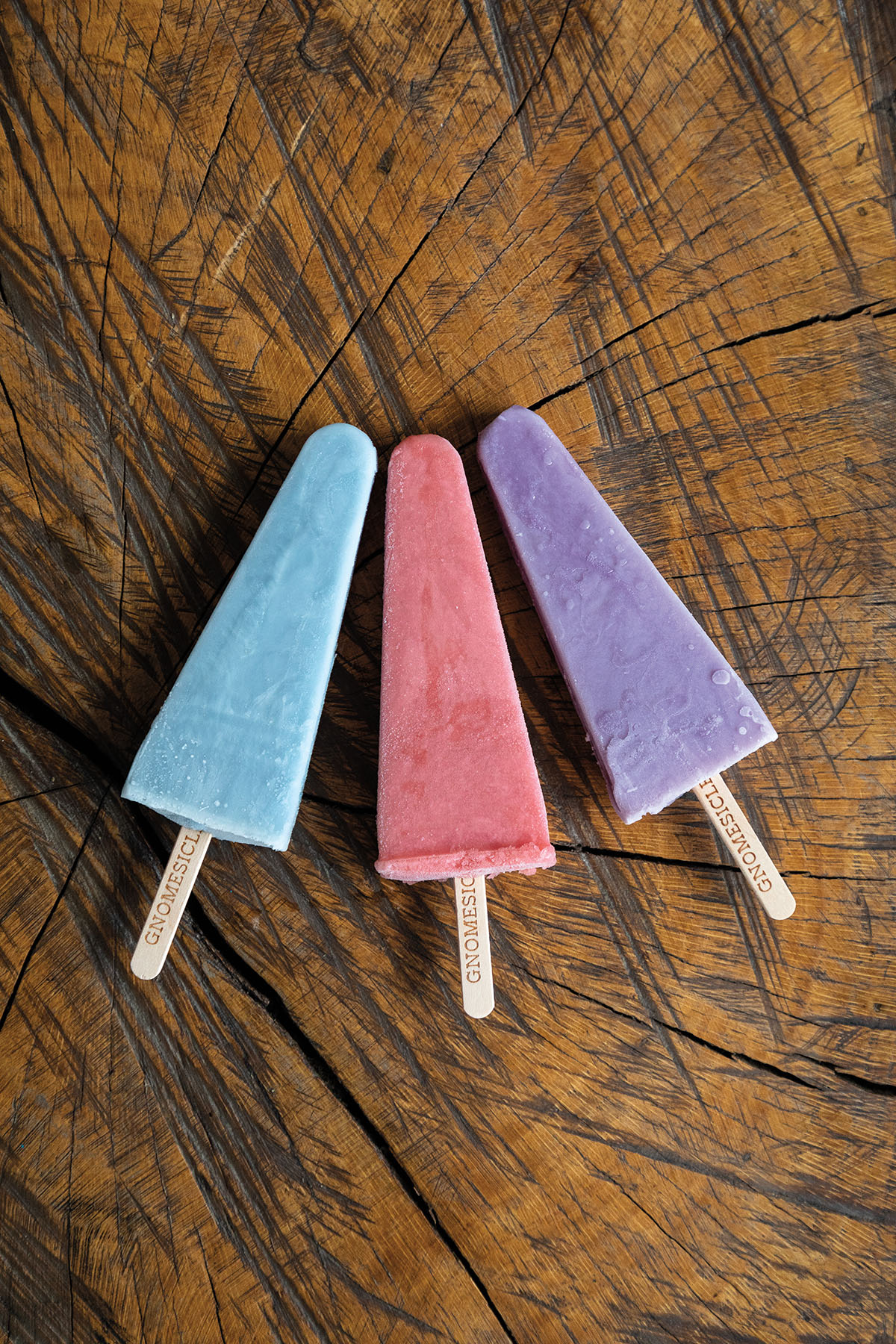 Being quick on their feet and willing to experiment also led them to purchase and remodel a van, turning it into the "Gnome-Mobile." Completed in September, the van can be booked for events and can occasionally be seen driving through Denton selling ice pops.
The ice pops, or "Gnomesicles," come in many of the same flavors as the cones, like wild cherry and piña colada. Some of the more extravagant ice pop options include peaches and cream and cheesecake, which comes with bits of graham cracker crust. All are served on a stick that reads, "There's No Place Like Gnome!"
Gnome puns—stemming from late nights of brainstorming with friends—abound in the merch section of the store, too, with stickers reading "Gnome Run" and tank tops saying "Gnomaste." Hawkins believes it takes a special kind of community to embrace the shop's eccentricity.
"It's a creative town," he says of Denton. "It's a place that appreciates something weird like Gnome Cones."
From the August 2021 issue