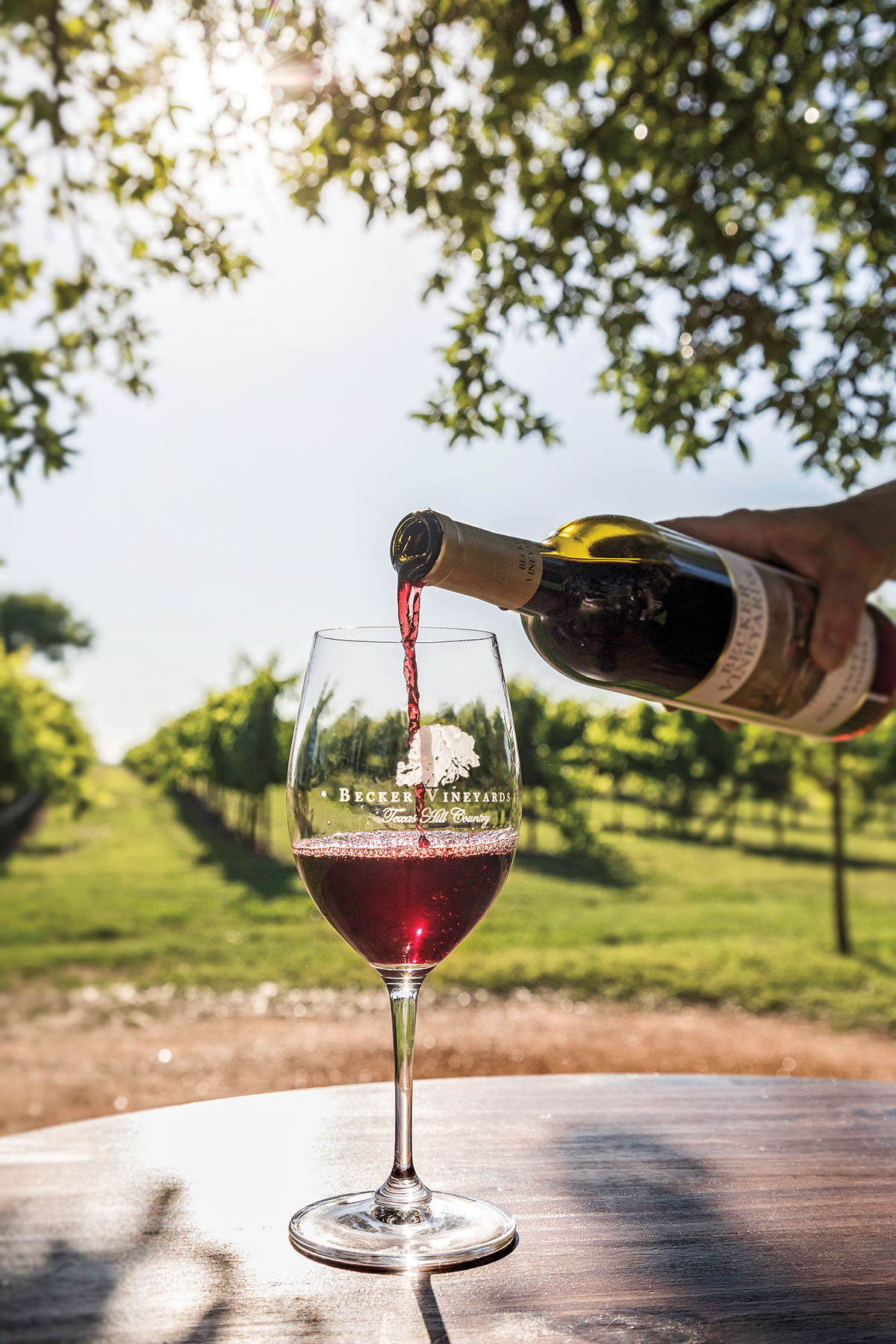 The farmland and clear skies in rural Bryan make for a serene and sunny late summer drive to Messina Hof Winery for its annual Harvest Festival. It's early morning, and my grandmother and I are ready to start picking grapes. Fifty or so people, grouped in families or couples, line up to receive their vine cutters before orientation begins. July though September, vineyards and wineries across Texas invite guests to experience the most fundamental parts of winemaking.
The day starts with the morning harvest, where the early-to-rise congregate at the vineyard, built in the 1970s by Paul and Merrill Bonarrigo. The current owners, the Bonarrigos' son Paul Mitchell Bonarrigo and his wife, Karen Bonarrigo, give an introduction to the history and process of winemaking before leading us in song—"Pick, pick, pick the grapes" to the tune of "Row, Row, Row Your Boat." Off we go to wander the rows of grapevines, looking for dark purple orbs to pluck off and taste.
"Wine, to us, is really about celebrating life and having a lot of fun," Paul Mitchell says. That mindset is evident during many events of the daylong Harvest Festival, including a talent show, demonstrations, and tastings, which sparkle with the informality of a close family gathering.
The Harvest Festival started in the '70s when a group of German students from Texas A&M University came to the vineyard one summer asking if they could help with the harvest. In their home country, according to Karen, it was customary for the whole village to participate in the harvest. The next year, they brought more of their friends. "It naturally evolved into this community-centric opportunity," Karen says. "From there, [Paul and Merrill] said, 'This is a great opportunity for us to be able to have other people participate and see it as well.'"
Around the same time, the winery added a restaurant and eventually the on-site Villa Bed & Breakfast. Harvest Festival events at Messina Hof include daylight and moonlit harvests as well as barbecues and murder mystery dinners.
"Hopefully the Harvest Festival makes a connection between what you see when you pass by a vineyard and what is in the glass and how it gets there," Karen says.
At Becker Vineyards, established in the Hill Country town of Fredericksburg in 1992, one highlight of its annual harvest events is a theatrical grape stomp. There's no need to purchase a wine-tasting ticket to witness the excitement of the "Lucy and the Italian Woman" Contest.
Taking inspiration from an iconic episode from the '50s sitcom I Love Lucy, costumed competitors lob crushed grapes at each other for the chance to win a gift basket and, of course, bragging rights. It's a food fight worthy of prime-time television.
Before and after the chaotic battle, anyone can walk up and test their footing in the barrel of grapes. White T-shirts are for sale, ready to be stained with dark purple footprints as a souvenir.
Nichole Bendele, the winery's tasting room coordinator, started the event in 1996 to celebrate the harvest and to signify the start of the wine season in Texas and across the Northern Hemisphere. Intense heat can shut down the fruit's natural ripening processes, and the cold can prevent growth, so vineyards in the state harvest in late summer and early autumn.
"Every farmer that puts in a crop, to be able to harvest it and utilize it—it's always very exciting," Bendele says. "As a farmer, you know you're going to get through the year. For us to know that we got through harvest, that's an indicator of how the rest of our process will go."
Participating in these events puts the hard agricultural work into perspective, I realize while biting into a small lenoir grape used in Messina Hof's dessert wines. The Bryan vineyard encompasses 20 acres, but it doesn't even scratch the surface when it comes to Messina Hof's total production. Each year, the business produces 130,000 gallons of wine, including 75 different varietals—33 of which are grown in the Texas High Plains. That takes approximately 1,200 tons of grapes, some of which we just picked.
We grab white T-shirts on our way indoors to watch the Big Kahuna talent contest. To enter, you have to find a bunch of grapes that looks like whatever your imagination says it looks like: a sea horse, for example, or the state of Florida. After performances from 10 or so contestants, an energetic child takes the crown for his spirited dance. Then we all take off our shoes and wait in line to step into one of the three bins.
The feeling of the soft fruit being crushed underfoot is exactly like what you would imagine it to be—sticky, oozy, highly giggle-inducing—but so much more enjoyable. I step out of the bucket onto the white T-shirt to memorialize the feeling in dark purple imprints.
With all the picking and stomping, it's easy to lose sight of the delicious end result. After settling in on Messina Hof's cozy patio at the end of the eventful day, a glass of its cabernet franc reminds me what it's all about.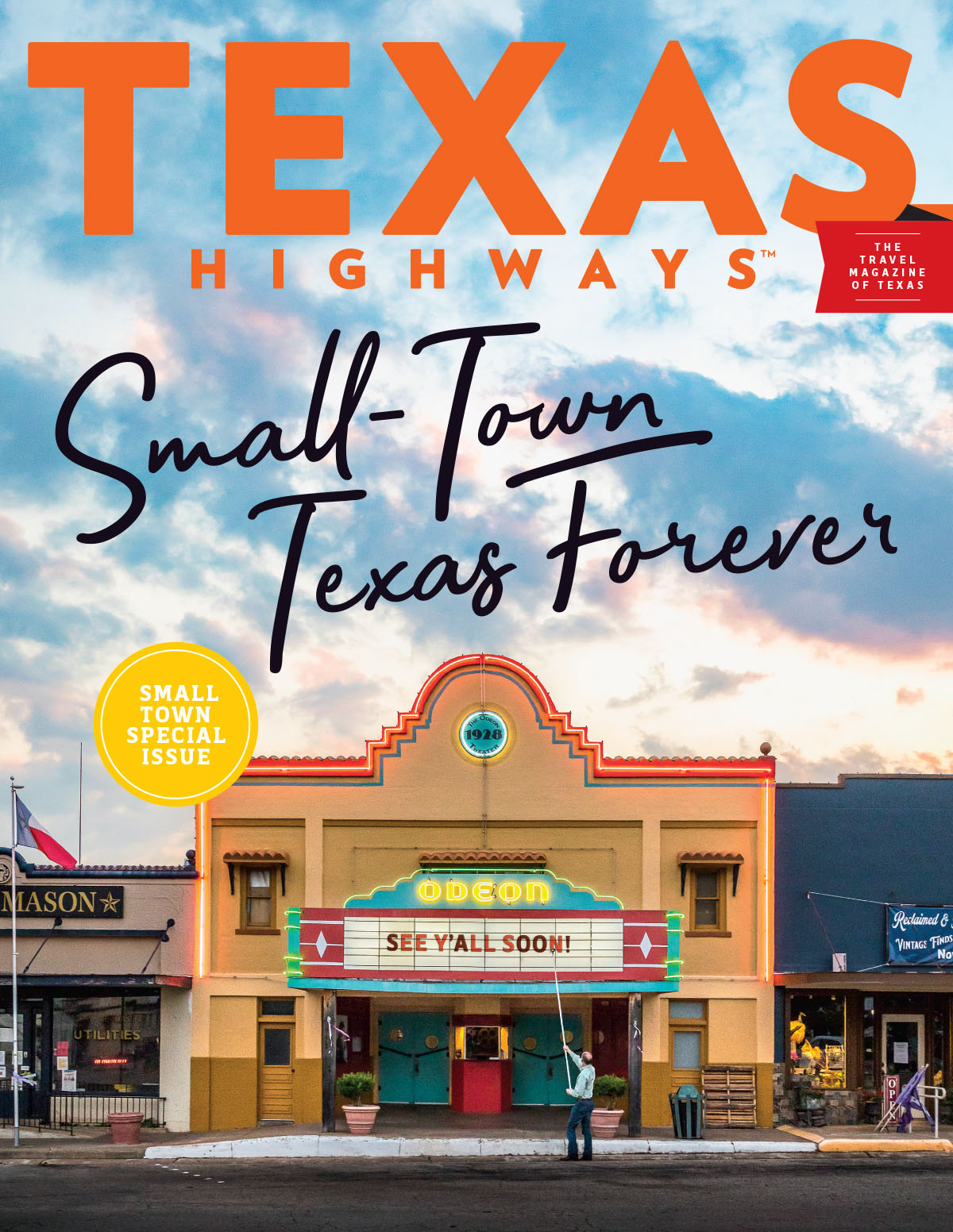 Subscribe to Texas Highways
Subscribers get stories like this before they are available online.
Subscribe today!
Harvest Events
Messina Hof Winery Harvest Festival takes place July 24-25, July 31-Aug. 1, Aug. 7-8, and Aug. 14-15. 4545 Old Reliance Road, Bryan. 979-778-9463; messinahof.com/harvest
Messina Hof also holds harvest events at its Hill Country location Aug. 21-22. 9996 US 290 E., Fredericksburg. 830-990-4653
Becker Vineyards has canceled its harvest events for this year. For updates and more information, call 830-644-2681 or visit beckervineyards.com
From the August 2020 issue