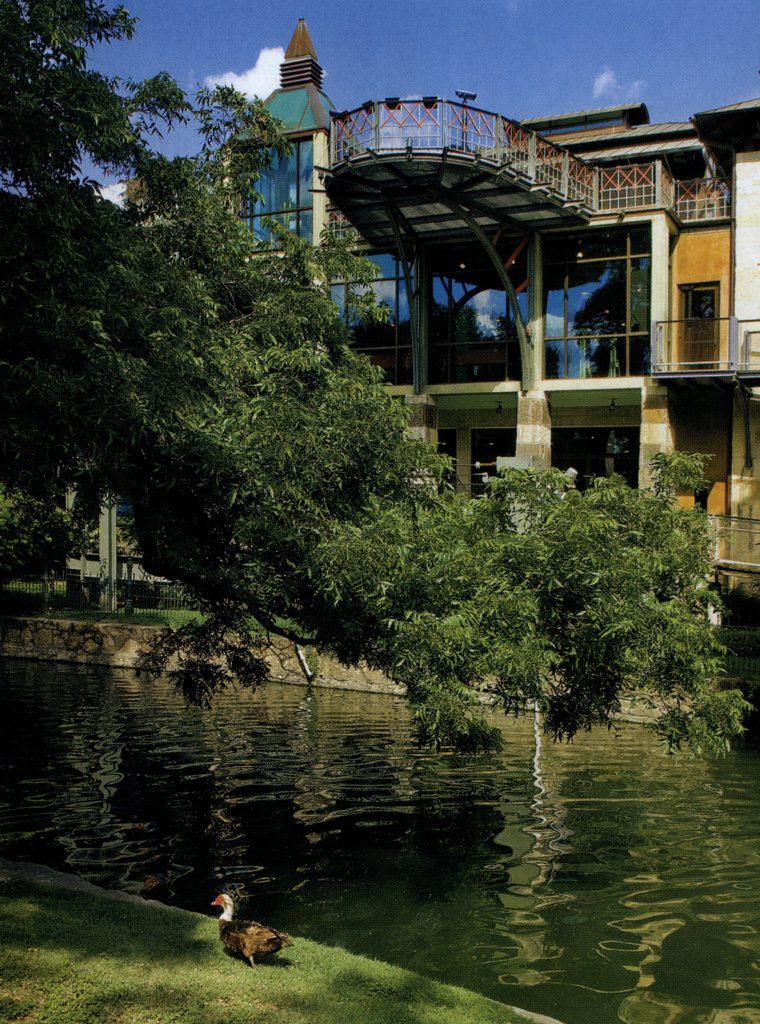 TALK ABOUT A RUCKUS! MY HUSBAND, JAMES, AND I HAVE BARELY
stepped inside the Lory Landing- a netted enclosure at the San Antonio Zoo when four dozen rainbow-hued, squawking lories alight around us. That's because James is holding a tiny cup of nectar, which we purchased at a concession stand earlier. As soon as he unsnaps the plastic lid, the mini parrots jockey for position. One crimson bird with blue streaks hops onto his hand, karate-kicks the others away, and then laps up the sugary liquid with his brush-like tongue. Fascinated, we watch until the container is empty and the lories fly off.
The zoo is just one of the attractions in Brackenridge Park, a 344-acre public space that lies a few miles north of downtown and nestles along the banks of the San Antonio River. Visitors will find lots to do here. Like ride a miniature train. Tour a botanical garden. Picnic by the river. Hike along almost three miles of scenic trails. Explore history, culture, and natural science at the Witte Museum. Even play a round at the park's golf course.
We're here for the day, so we're keeping our itinerary short: zoo, train, and garden. It's not our first trip here. Truth is, I've made visits to Brackenridge Park since I was a kid. As a young parent, I took my two children to see the animals and ride the train. I still enjoy visiting, especially since the lories moved into
the zoo a few years ago.
The park originated in 1899 with an initial donation of 99 acres of wooded land to the city by prominent businessman George Brackenridge. Some years later, he placed buffalo, elk, and deer, along with caged monkeys, lions, and bears, in a fenced area Some of the nation's first cageless exhibits were introduced at the San Antonio Zoo. on the park's south end. The menagerie was moved near its present site in 1914. Fifteen years later, zoo leaders opened some of the nation's first cageless exhibits, which incorporated the chiseled cliffs and terraces left from an abandoned limestone quarry. To-day, most animals live in surroundings that mirror their native homes as closely as possible. Conservation also plays a role here. Behind the scenes, zookeepers successful-ly breed whooping cranes, snow leopards, and many other endangered species.
On a cool October morning, James and I set out to explore the zoo's 35 acres ofopen-air habitats, walk-through exhibits, and indoor displays, which together house more than 3,500 animals. We start with Hippos swim with African cichlids in the Africa Live! exhibit at the San Antonio Zoo. the bears. At the first open-air habitat, we scan a huge limestone terrace and spot two black bears, wrestling and nuzzling noses. Alas, the grizzly habitat is empty; the grizzlies must be snoozing in a rock hidey-hole. Along our route, we see giraffes, elephants, lions, and other large animals in habitats that incorporate the same towering cliffs and stair-step terraces.
We spy a butterfly exhibit ahead, in a screened greenhouse nearly hidden behind lush stands of blooming lantana, turk's cap, and bougainvillea. After paying our dollar admission, we admire several iridescent blue beauties fluttering just inside. "They're blue morphos from the rainforests of South America;' says interpreter June Paden.
Following a brick walkway, we mosey through a tropical garden inhabited with more exotic butterflies. Some fly over-head, while others adorn vegetation. I see long-winged zebras sipping nectar from red pentas and purple Jamaican porterweed. Brown owl butterflies-named for large "owl eye" spots on their hind wings-cling to mesh walls. " I could stay here all day;' I say with a sigh.
But it's time to move on. Inside the Friedrich Aquarium building, we pause by one wall-encased tank to examine a massive alligator snapping turtle. Weighing more than 100 pounds, this beady-eyed, beaknosed, spiny-backed specimen represents North America's largest freshwater turtle.
Hunger pangs hit, so we stroll into the zoo's Riverview Restaurant and order burgers at the counter. The menu board also lists chicken nuggets, smoked turkey sandwiches, hot dogs, pizza, and other choices. Though shaded tables on an outdoor deck beckon, we decide it's too breezy and plunk down our trays at a table in the casual dining room. Our hearty lunch of two juicy burgers, a basket of crisp fries, and a soda sets us back only $14.
Next, we tour Africa Live!, a stunning exhibit designed to replicate an African river habitat. Through underwater windows, we observe hippos, Nile crocodiles, and schools of fish. The building's interior wallssculpted to resemble earth, fossils, and rocks-encase glass exhibits featuring pythons, green mambas, and cobras. A new addition to Africa Live!-just opened in March-leads visitors outdoors, where they can see acrobatic colobus monkeys, long-necked okapi, and a giant, "walk through;" faux termite mound.
To get to our next destination, we board the San Antonio Eagle, a miniature steam train that has chugged the 15-minute loop around the park since 1956. Most passengers have youngsters in tow. The ride takes us over two bridges and past thick woods. Down the line, we step off at the Japanese Tea Garden, a botanical masterpiece sculpted in 1918 from the same rock quarry as the zoo. In 1926, artist Kimi Eizo Jingu and his Japanese-American family moved to the garden and operated a tearoom. Sadly, officials evicted them during World War II and then renamed the site the Chinese Tea Garden, a name that still remains on a Japanese-style, faux-wood entrance gate created by concrete artist Dionicio Rodriguez. (The garden's original name was restored in 1984.) In 2007, extensive renovations restored the pond and waterfall. This summer, the newly restored Jingu House is scheduled to reopen, complete with a tearoom.
Standing beneath a huge, thatch-roofed pagoda, we peer down at a sunken koi pond, encircled with palms, banana trees, bougainvillea, and live oaks. We head down the stone steps for a closer look at the koi, glimmering orange, white, and black in the water. Along shaded walkways, we meander past lacy ferns, ornamental grasses, bright zinnias, and a plethora of exotic plants. An arched stone bridge guides us to a towering waterfall, another scenic overlook, and back to the pagoda. Instead of hopping back on the train, we follow a short trail that links to the zoo. Time to head home. But we'll be back. Because I can't wait to feed the lories again.
From the April 2010 issue