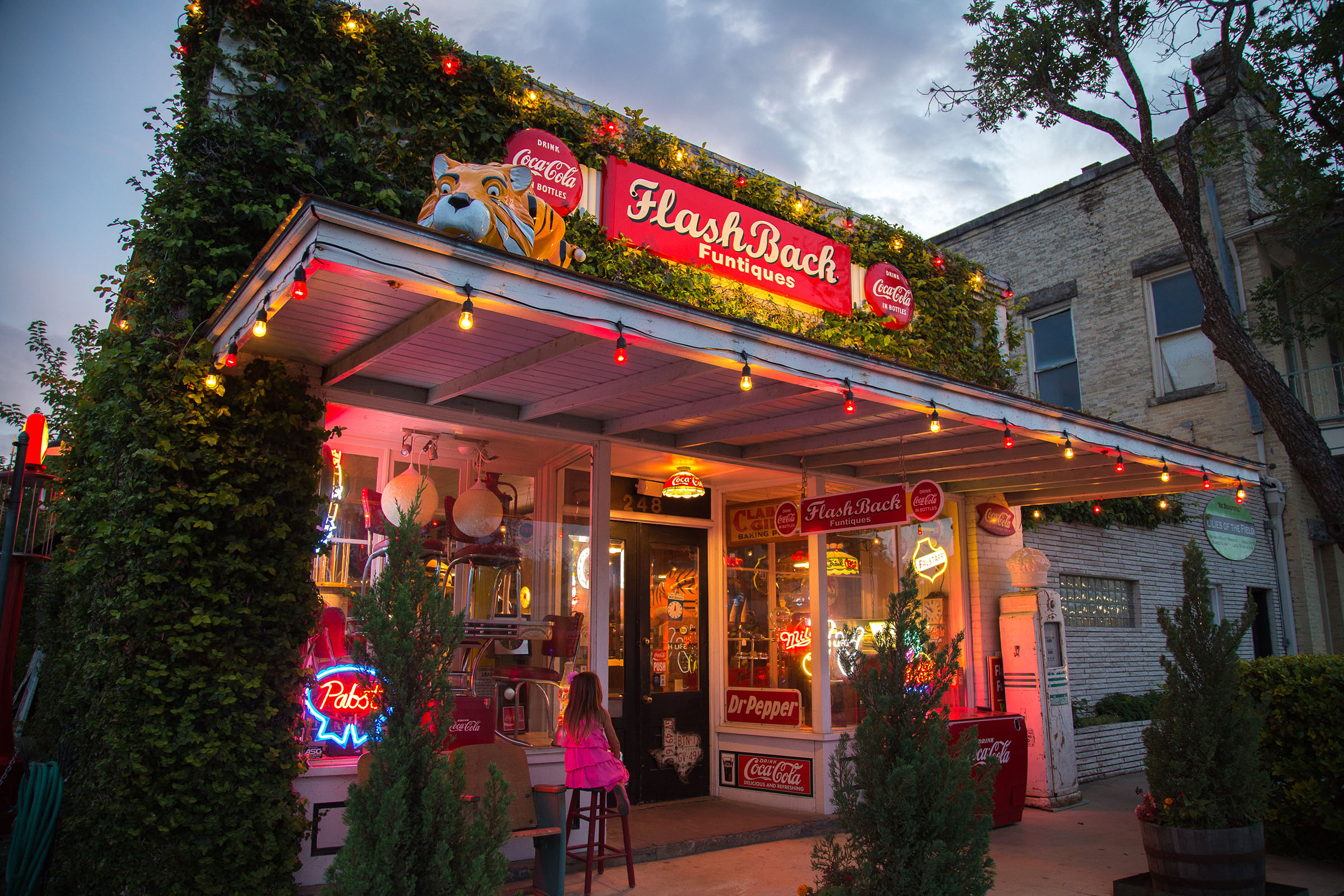 With the smell of freshly popped popcorn wafting from the door and buzzing neon lights hanging in the window, Flashback Funtiques draws in curious shoppers on Boerne's Main Street. The inside reveals flashy pinball machines, vintage metal signs, and Coke machines full of free bottled sodas. The store, owned by collector Billy Howard, is a nostalgic, eccentric homage to decades past.
Flashback Funtiques
248 S Main St, Boerne
713-805-8800
Howard, who started his passion for accumulating thrown-out treasures at age 11, very specifically refers to his wares "funtiques."
"I have nothing against an old cabinet or an old set of drawers of old china," Howard explains. "That's just not me. I sell fun."
Fun comes in the form of Pac-Man and Galaga arcade games, jukeboxes, fortune teller machines, and beer-brand clocks at the store, which has been open in the Hill Country town for nine years.
"I truly feel like I am coming to a big kid's toy store every day," Howard says. "It brings so much joy to people's faces when they walk in and are reminded of their father, who had this Coke machine at his gas station, or their uncle, who [went to] a honky tonk with a jukebox like that one."
It all began in seventh grade, when Howard passed a Stop-N-Go in his hometown of Houston. He'd gotten in the habit of dumpster diving there, but this particular afternoon he saw an ICEE clock sticking out of a trash bag. After asking for permission to take it, he walked the two blocks home with a huge smile and his very first "funtique." (According to Howard, that clock would be worth roughly $1,000 today.) 
Howard spent the rest of middle and high school year chasing the thrill of nabbing valuable objects like neon signs, gas pumps, and dashboard hula girls. "I was going to antique auctions, flea markets, antique shows, garage sales," Howard remarks with a laugh. "I did it all."
In 1993, Howard opened Flashback Funtiques on Westheimer Road in Houston. He decked out his first store with vintage barber chairs, jukeboxes, Big Boy statues, and a Sinclair Oil Corporation DINO statue.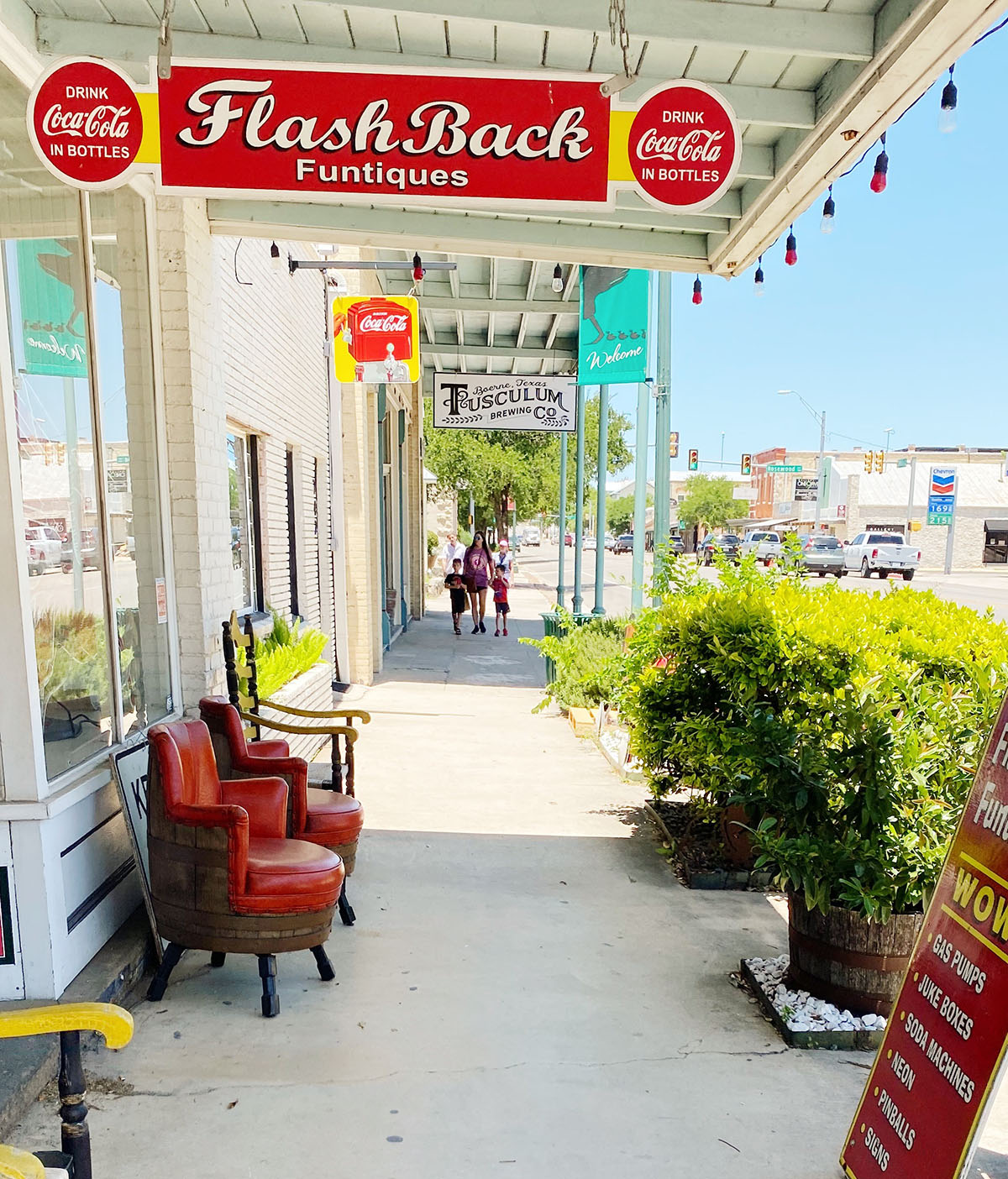 He operated the store in Houston for 21 years before his family relocated roughly 230 miles west to Boerne in 2012. Howard quickly began looking for a building and reopened Flashback Funtiques. "I opened [the store] in Boerne the month I moved," Howards says. "I had all this stuff so I did it right away."
Soon, Howard noticed that his business was thriving in the smaller town due to devoted, repeat customers and plenty of foot traffic on tourist-heavy Main Street.
In addition to the items he sells in the brick-and-mortar store, Howard also has a "punch list" of special pieces for discerning shoppers. 
"I help a lot of my clients build their collections," Howard explains. "They want one of every Coke machine, or they want one of every Pearl clock since we live so close to the Pearl Brewery [in San Antonio] and I help them get it."
When asked his favorite "funtique" he has collected over 40 years, Howard laughs: "That's like asking if I have a favorite child—NO!"