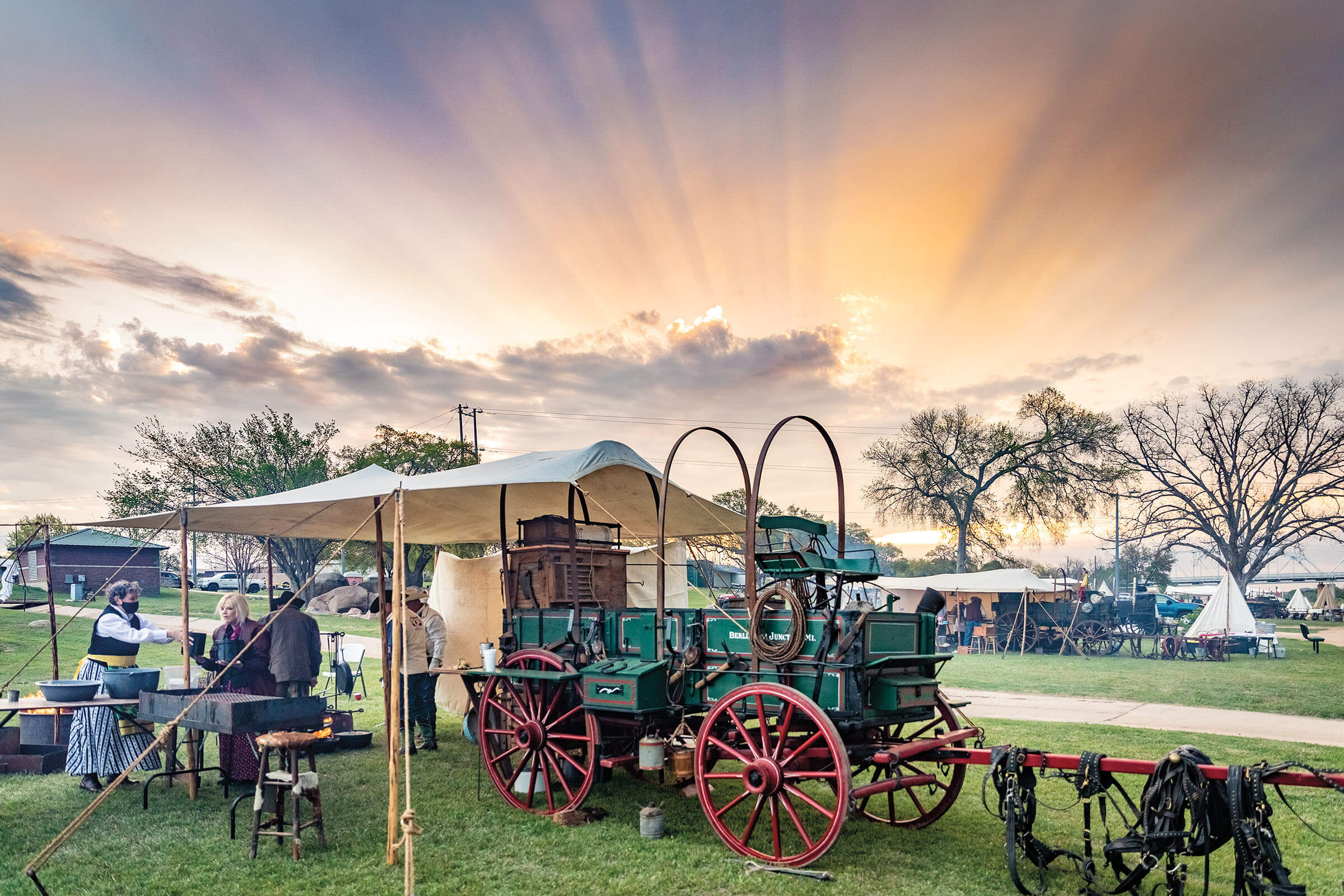 On the banks of the Llano River on an April day, I stroll among cooks in late-19th-century ranch attire. They tend to cast-iron skillets and Dutch ovens over crackling fires alongside their vintage chuckwagons. What looks like a living history exhibit at a museum is actually the Llano Chuckwagon Cook-off, an annual event that typically draws 1,000-plus attendees.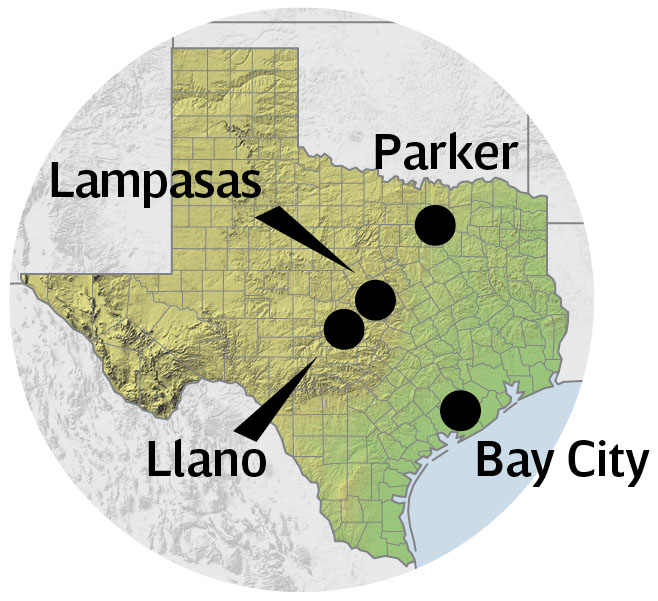 The competitors prepare feasts of meat, potatoes, gravy, bread, beans, and fruit cobbler the same way "cookies" did during cattle drives, which took place from the mid-1800s to the early 1900s. Cookies managed the chuckwagons—covered wagons created to store and transport food and cooking equipment—and in addition to being responsible for all meals, worked on other tasks such as cutting hair and mending clothes.
Their legacies live on in modern chuckwagon experiences, which range from public competitions like the Llano cookoff to bespoke catering services for private parties. Aside from the novelty of dining al fresco near a roaring campfire, these affairs provide an education on the history of cattle drives and entertaining cowboy lore to savor with family and friends.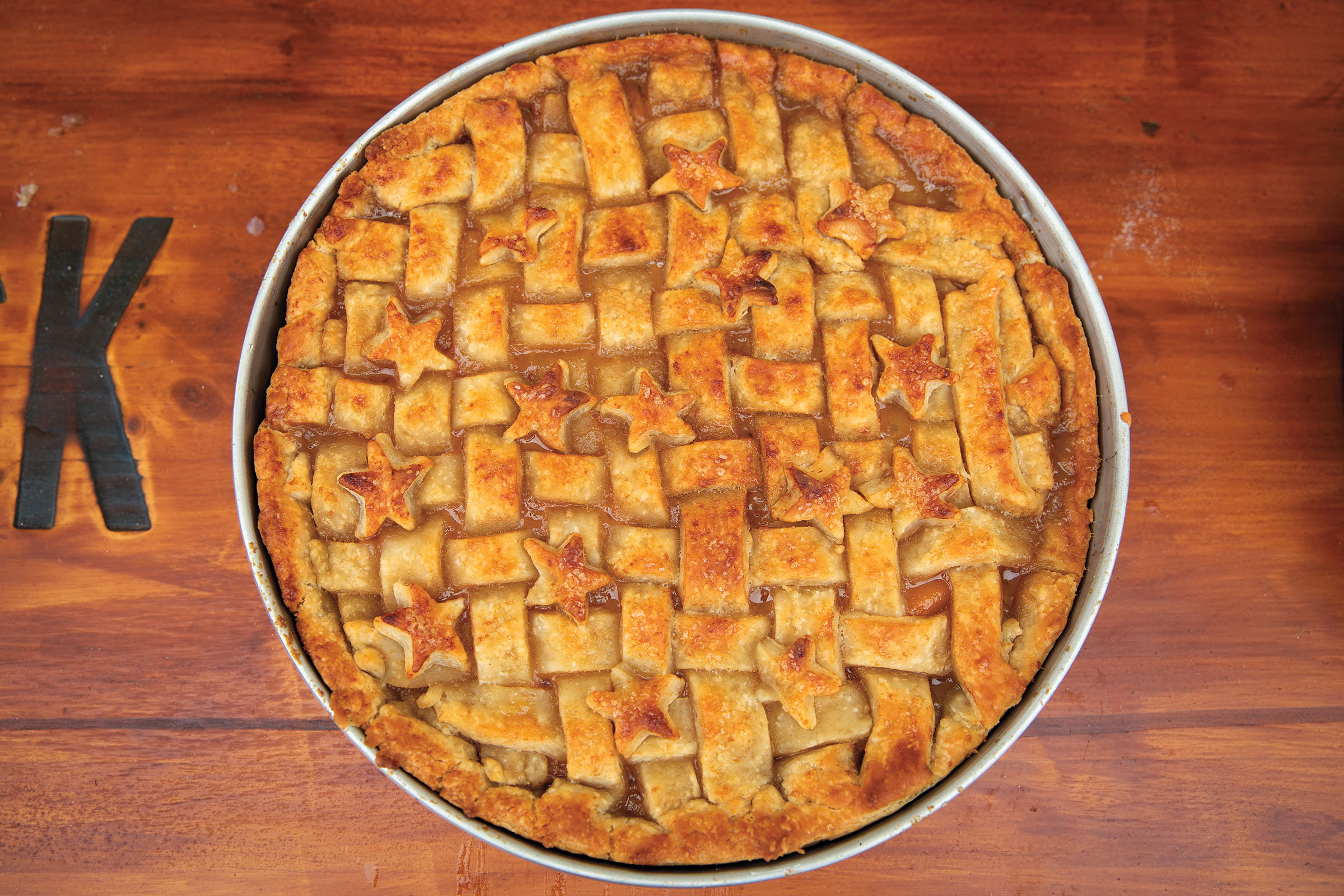 Llano Chuckwagon Cook-off
At this year's sold-out springtime event, 14 chuckwagons compete in an old-fashioned throwdown. The friendly banter between teams belies the seriousness with which these folks vie for honors. Chuckwagons are judged on authenticity on Friday, with each wagon displaying their vintage pots, tools, accessories, and clothing. Saturday morning, the campfires are lit, and each wagon prepares enough meat, beans, potatoes, bread, and dessert to feed 40 to 50 people, with judging in each category. When points are tallied, the year's overall winner is crowned.
The chuckwagons hail from towns across the state, including Glen Rose (Jewett Gap), Sinton (Ellis Cattle Company), Huntsville (3G Land and Cattle), Fort Davis (Moreland Wagon Shop), and points in between.
Every wagon has a tale to tell, and proud owners are happy to share theirs. Ellis Cattle Company's 1910 John Deere wagon has its original emblem. Owners Charles and Janice Ellis tell me John Deere once produced more than 30,000 such wagons.
When the moment of truth arrives at high noon on Saturday, I exchange my $20 meal ticket for a plate of Jewett Gap's grub: chicken-fried steak cooked to perfection, smoky campfire pinto beans, rustic mashed potatoes, buttery cornbread, and a scoop of Dutch-oven peach cobbler.
"I've been doing this for 40 years," says Jeff Laramore, a member of the Jewett Gap wagon. "Every cookoff is like a mini-vacation. It's so restorative to get back to the old ways."
I'm incredulous to learn that Jewett Gap didn't place among the winners, but judging by the enthusiasm with which the guests eat their respective wagons' dinners, first place and last place must be separated by no more than a mule's whisker.
First week of April. $20 for a meal ticket. 325-247-5354; llanochuckwagoncookoff.com
Spread Oaks Ranch
Down on the midcoast near Bay City, the 5,500-acre Spread Oaks Ranch offers chef-prepared chuckwagon cuisine at its lodge nestled in the midst of a 500-head Brangus cow-and-calf operation. Guests must book the entire ranch for $8,000, which includes full use of all amenities, including the infinity-edge pool, sporting clays range, stocked bass lake, luxe chuckwagon dinner, and accommodations for up to 10 guests.
Most of the feast's ingredients hail from the ranch itself, including pastured poultry, Brangus beef, and house-cured hams and sausages. Fresh-picked organic fruits and vegetables from Spread Oaks' garden and greenhouse, along with seasonal foraged fare such as dewberries, elderberries, muscadine grapes, and pecans, round out the menu.
"When folks first come around the bend and see the chuckwagon set up near a towering, ancient oak with our chef roasting meat and tending steaming cauldrons over open cook fires, they're in awe," Hospitality Director Kim Singleton says. "It's visually stunning and like nothing they've ever experienced—like traveling back to a simpler time."
$8,000 rate for up to 10 guests, all-inclusive during the ranch's "social season," from March through October. 281-615 9562; spreadoaksranch.com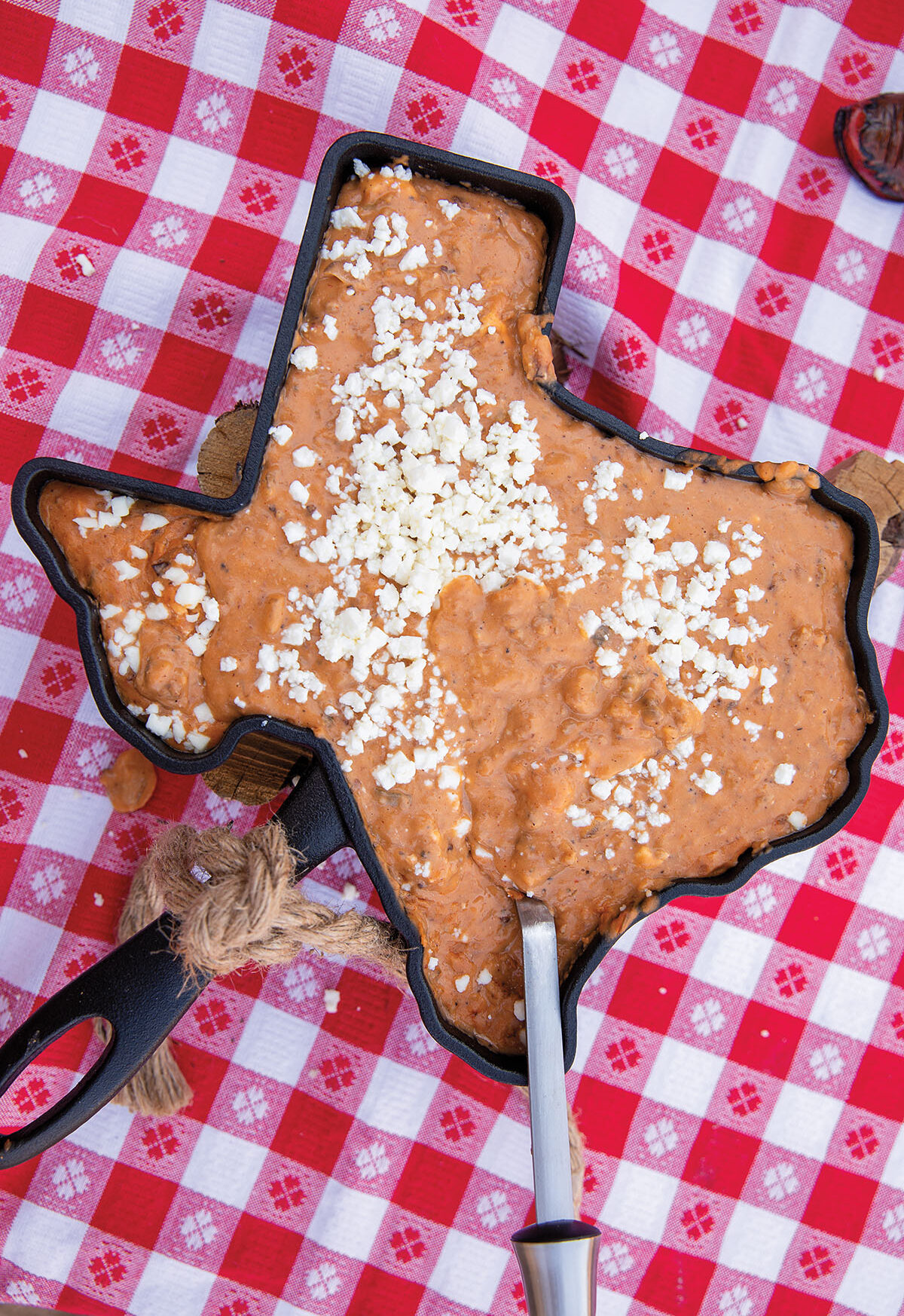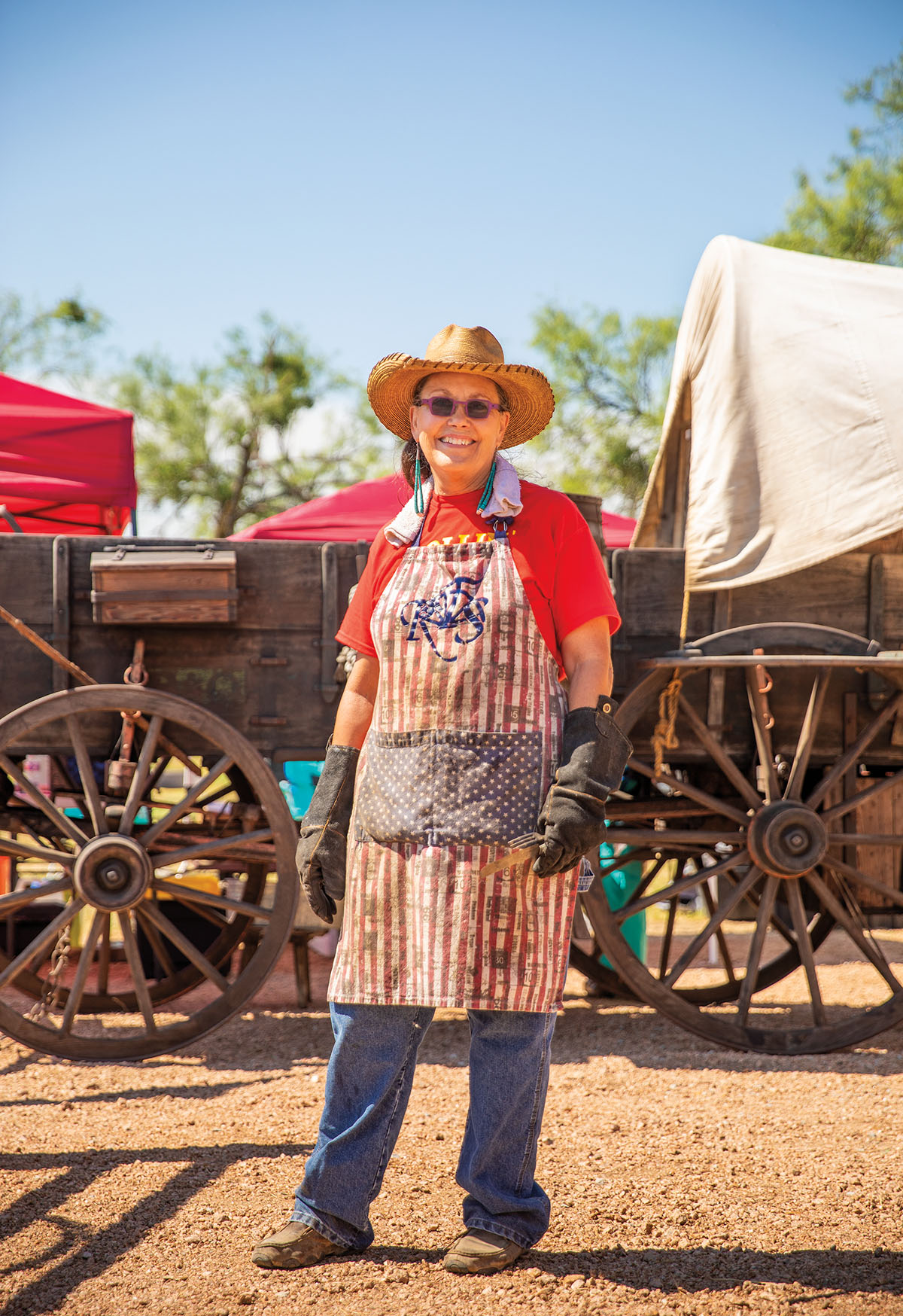 Southfork Ranch
For larger get-togethers, mosey up the trail to Southfork Ranch in Parker, the set of the long-running television series Dallas. A chuckwagon dinner for a minimum of 20 guests features a singing cowboy and a barbecue dinner with all the fixins. Choose brisket, chicken, or ribs to be served alongside traditional accompaniments of potato salad, coleslaw, beans, and fruit cobbler with whipped cream. You can upgrade the chuckwagon menu to feature fictional patriarch J.R. Ewing's favorite steak dinner and a s'mores dessert station. The Southfork cookout includes a complimentary tour of the Ewing mansion and museum.
Starts at $50 per person with a 20-person minimum. 972-442-7800 ext. 282; southforkranch.com
Rollin' Texas Style Chuckwagon
In 2008, chef Sandra Gammill-Julian fell in love with the chuckwagon concept. Over the next few years, she bought a nearly 130-year-old Mitchell chuckwagon; shuttered her Lampasas restaurant, Yumm Factory Café; and hit the road with her company, Rollin' Texas Style.
She hauls her chuckwagon throughout Texas and to neighboring states to cater a variety of private events, from weddings to family reunions. She offers a customizable menu for up to 100 guests that can include chicken-fried steak, bacon-wrapped pork loin, and bread pudding with whiskey sauce.
Gammill-Julian grew up just west of Lubbock, in Dora, New Mexico, and started cooking for the field hands on her parents' land as a young girl. Later, she rented commercial kitchens to cook for ranch hands before starting her own catering business in 1984. That led her to open the Yumm Factory Café in 2006 before going whole hog on chuckwagon cuisine in 2012.
"I'm in no way unique to preserving the old ways of cowboy cooking," Gammill-Julian says. "But I consider it such an honor to be able to do this, and at the same time, feed and nurture my passion for cooking."
Her specialties include appetizers such as the three-cheese skillet queso, with refried beans, cheese, grilled onions, jalapeños, sour cream, and queso fresco. Protein choices include hand-cut rib-eye and New York strip steak; barbecue brisket, sausage, and chicken; and grilled, baked, or Southern-fried chicken. In addition to her New Mexican chile-infused peach cobbler, Gammill-Julian's "black-and-blue" cobbler of blackberries and blueberries makes for a mighty fine grand finale.
512-525-3550; rtschuckwagon.com
From the September 2021 issue