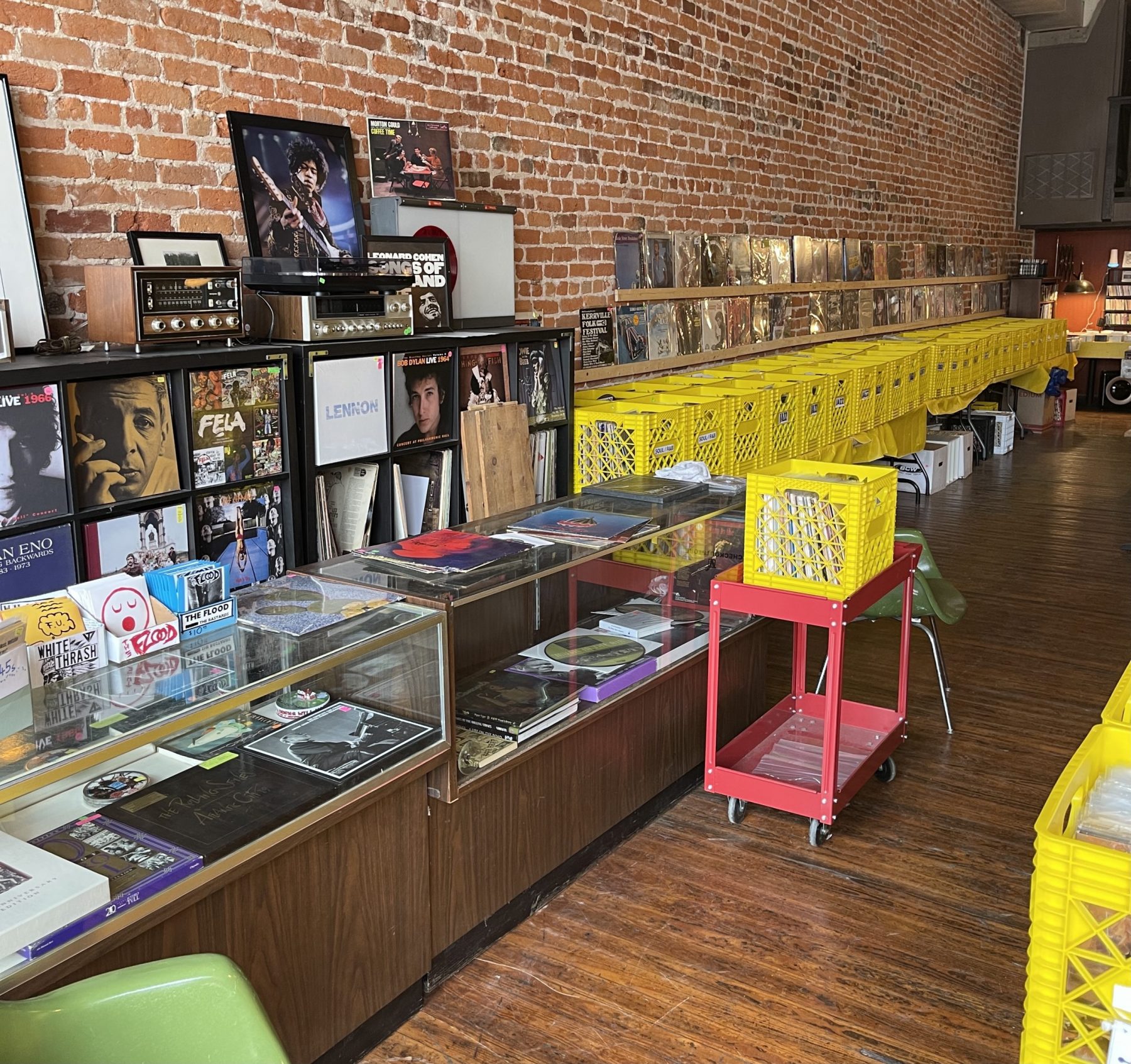 Kevin "Lippy" Mawby's beloved Bastrop record shop, Astro Record Store, exists closer to the ground than the name suggests. "The reason the store is called 'Astro' is that it's in the middle of Bastrop," Mawby explains. "If you take the 'B' and the 'p' off of Bastrop, you end up with Astro."
The London, England, native is also entirely accurate about the shop being in the middle of Bastrop, in a geographical sense. Over from its nearby Pine Street beginnings, where it "struggled through the beginning of COVID," the store now resides on the town's charming Main Street, alongside the Painted Porch Book Shop. There, the local community has bolstered its support of Astro—named Best Satellite Vinyl Emporium in 2019 by The Austin Chronicle—during the ongoing pandemic.
"The smaller shops that don't do a high volume of reissues and new releases—we can't do the curbside thing," Mawby says. "Without the bandwidth of bigger stores, I'm not selling 30 copies of the same new release. Those stores are only making $7 apiece, but they sell 30 copies. I can't afford to put that money in and wait."
Record stores in Austin such as Waterloo, Antone's, or End of an Ear have the benefit of greater foot traffic and the increased ability to invest in larger flows of new vinyl or popular reissues. These sales can supplement the stores' other offerings. Astro has to take a different approach.
"I say, 'I'm not selling records; I'm selling the experience of finding records,'" Mawby says. "Most of the people who walk out with a record don't walk in knowing what they're going to buy from this store. I moved into the Main Street location, but I had to close for six weeks. I reopened again two weeks into January. If I hadn't reopened when I did, I would've gone out of business."
Mawby says many of his customers patronize the shop because they no longer live in the big city, and "they want to live in a town with a record shop." They purchase records even if they do not own turntables. They just like the idea of it all. Astro is especially popular because it's a crate-diggers' paradise, with used jazz, rock, soul, and a range of curio selections.
On a recent Sunday afternoon, a Stranglers record blared as Mawby, nearing 60 years of age and wiry but fit, basked in living the life he wants, even though he had to take a couple cracks at it. The Englishman arrived in the United States in 1981, eventually landing in New Orleans and working in the city's vibrant music scene. "I was a roadie for some local punk rock bands, but then I got a job at a record store and liked it," he recalls.
He started at Record Ron's, then ended up at Sounds Familiar on Chartres Street until 1991. He and a partner decided to open a new store in 1992 called Magic Bus Records & CDs, housed in a converted 28-foot school bus located inside an old onion warehouse off Conti Street in the French Quarter. "It was a very seat-of-the-pants operation," he recalls with a chuckle, after admitting they pulled electricity from a nearby pizza shop.
Magic Bus eventually moved into a proper storefront on Toulouse Street in 2000, where it would remain until Hurricane Katrina. The immediate business assets and inventory remained intact through the storm and subsequent flooding; however, because the landlord lost most of her properties, she moved into Mawby's retail space. Crestfallen and compelled by a friend to move toward the Austin area, Mawby settled in Cedar Creek.
In 2010, he relocated to Bastrop for a job in education with Head Start—and a love interest. But his heart was in the record business. He missed the chase, the interactions, the community. "I wanted to retire as a record shop guy," he says. "So, I just took a leap of faith and opened the store."
Mawby's move onto the main drag came with an assist from The Obstacle Is the Way author and acclaimed marketer Ryan Holiday. He had purchased the Kleinert Building with the desire to keep the old charm but add some new twists. Mawby calls Holiday "a pretty straightforward cat."
"I just emailed him out of the blue, and I said, 'Hey man, any chance that I could move into the building?' He said, 'Yeah, I was thinking about that.' He goes, 'You need to be on Main Street.'" Mawby's new spot is the building's anchor, a cavernous space with towering, timeworn ceilings and faded artifacts on the walls.
Later that Sunday, Bastrop residents Susanna and Rob Thornton came into the shop with their children during their "Sunday morning stroll." The couple, like the community at large, continues to support Astro in return for its cultural contribution. "We went to the other location, but once COVID hit, visiting was over for us," Susanna says. "We're getting back out, trying to support local."
Waxing Poetic
As we begin to ease out of the pandemic doldrums, small record shops aim to come back strong. For Central Texas' independent shops, it's all about the experience at their brick-and-mortar locations—the smells, the touching of recorded history. The stores' unique character, and bubbling excitement of live, real-time discovery, make these music havens worth seeing up close, in person.
112 E. Market St., Lockhart. Owned and operated by musicians Kana Harris and Cody Kimbel, the store deals in indie, Americana, blues, and alt-R&B/hip-hop.
400 W. Hwy 290, Drippings Springs. This store goes hard and heavy with a vast used collection; however, it also boasts an incredible selection of rock (prog, psych, art), jazz, and various experimental genres.
1208 N. Interstate 35, Suite 200, Round Rock. This is the only vinyl hub in the north Austin/Round Rock region, with a strong spread of used rock and soul offerings, plus a lot of Texas hip-hop.