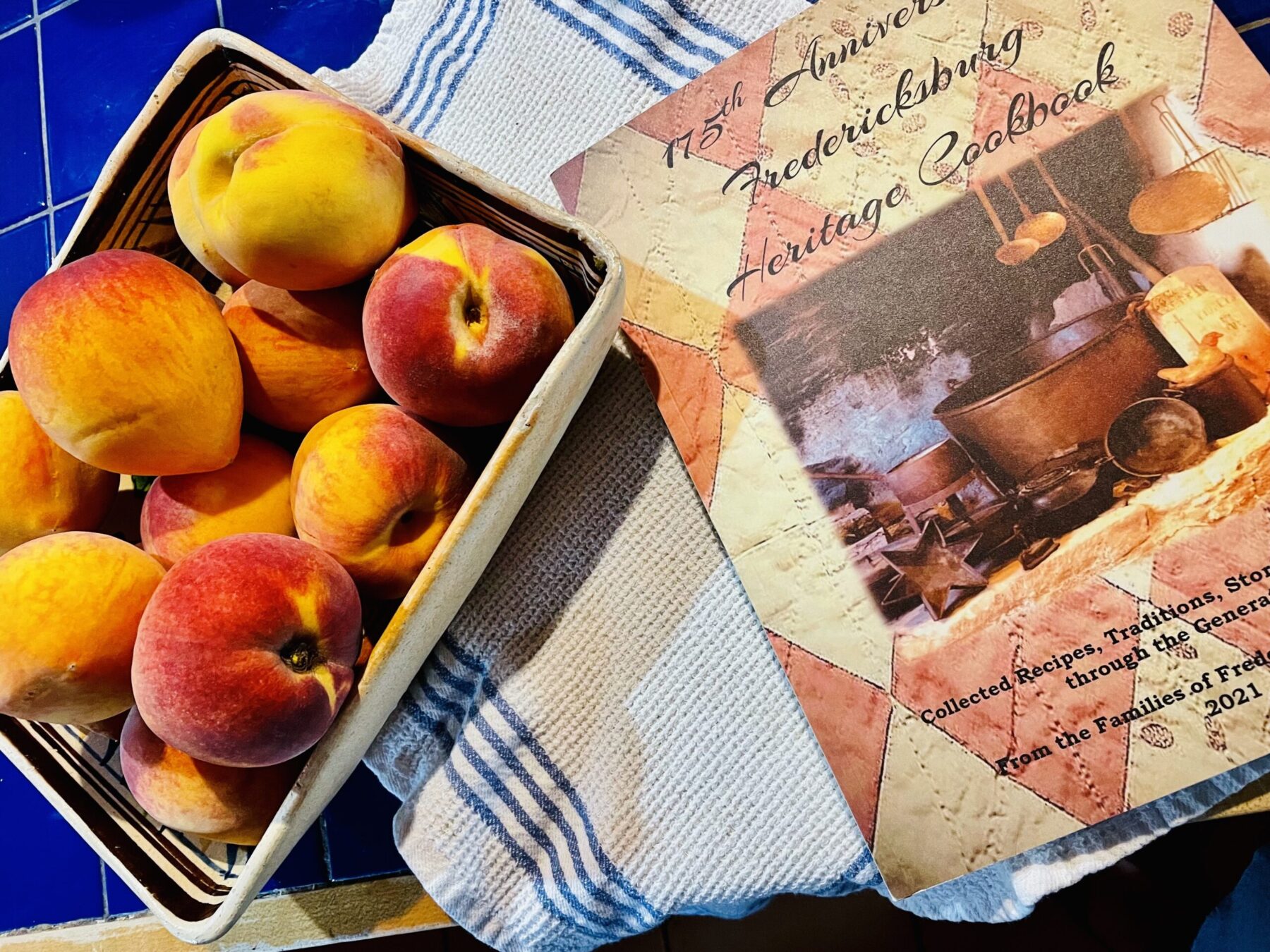 Upon opening a box of fresh Gillespie County peaches shipped to me from Burg's Corner in Stonewall, two things happened: First, the whiff of just-ripening peaches inspired an instant nostalgic reverie of things that make me love summer in Texas; and second, I knew it was time to put a new cookbook from Fredericksburg to work.
Released in May, The 175th Anniversary Fredericksburg Heritage Cookbook celebrates this landmark year in the Hill Country town's history. Dozens upon dozens of local families and individuals contributed recipes handed down through generations, and a team of 15 Gillespie Country Historical Society volunteers compiled the works—including numerous family stories, anecdotes, and nuggets of history—to round out a 200-page book.
Naturally, a hefty portion of the recipes originated in the Old World, traveling here a couple of centuries ago from Germany. Expected offerings include things like beef rouladen, bratwurst, and apfelkuchen (apple cake). But then there are the truly old-fashioned items we see less often today, such as baked squirrel with drop dumplings. Popular Texas classics like fried okra, bread pudding with bourbon sauce, and gumbo make appearances, too.
The 175th Anniversary Fredericksburg Heritage Cookbook is a $28.95 soft-cover edition, sold along with other anniversary souvenirs at the Pioneer Museum in Fredericksburg and online.
Determined to use every last one of my 15 peaches, I selected two of the cookbook's recipes to make. For Sunday brunch, I whipped out my trusty cast-iron skillet to make pfannekuchen, or German pancake, for Sunday brunch. I simply added a little ground cinnamon, nutmeg, and ginger to amp up flavor and then topped the creation with sliced fresh peaches. I also made peach ice cream, incorporating both pureed and chopped peaches along with basil and ginger. We hope the omas (grandmothers) of Fredericksburg's past and present would approve.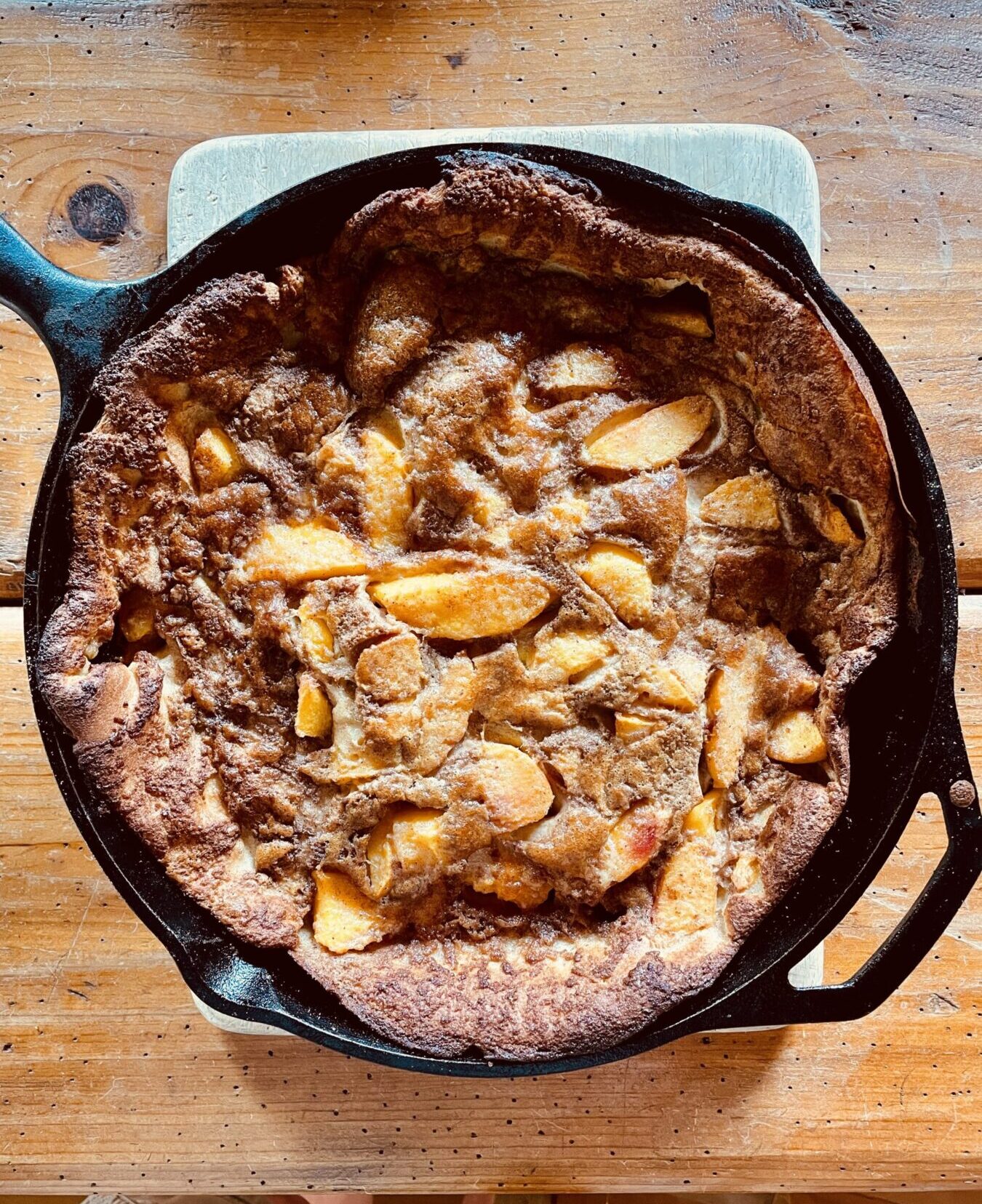 Pfannekuchen (German Pancake)
(Recipe submitted by Oma Meta Grona)
Note: ingredients adjusted to make one instead of multiple pancakes
Serves 2 to 4
Ingredients:
• 3 eggs
• ½ cup whole milk
• 4 tablespoons melted butter, divided use
• 1 tablespoon granulated sugar
• Pinch of salt
• ½ cup all-purpose flour
• 1 teaspoon ground cinnamon
• ½ teaspoon ground nutmeg
• ½ teaspoon ground ginger
• 5 medium-ripe peaches, peeled, pitted, sliced
Directions:
Heat oven to 450 degrees F. In a bowl, whisk together eggs, milk, and half the melted butter until frothy. Add sugar and salt, stirring well to combine. Add flour and spices, stirring well until incorporated, making sure there are no lumps but also taking care not to over mix. Brush an 8- or-9-inch cast-iron skillet with remaining melted butter. Pour batter into skillet and bake for 10 minutes. Pull skillet from oven, arrange peach slices on top and return to oven for another 5 minutes or until pancake edges are nicely browned and center is both puffy and set. Allow to sit for 5 minutes before slicing. Top with whipped cream or yogurt.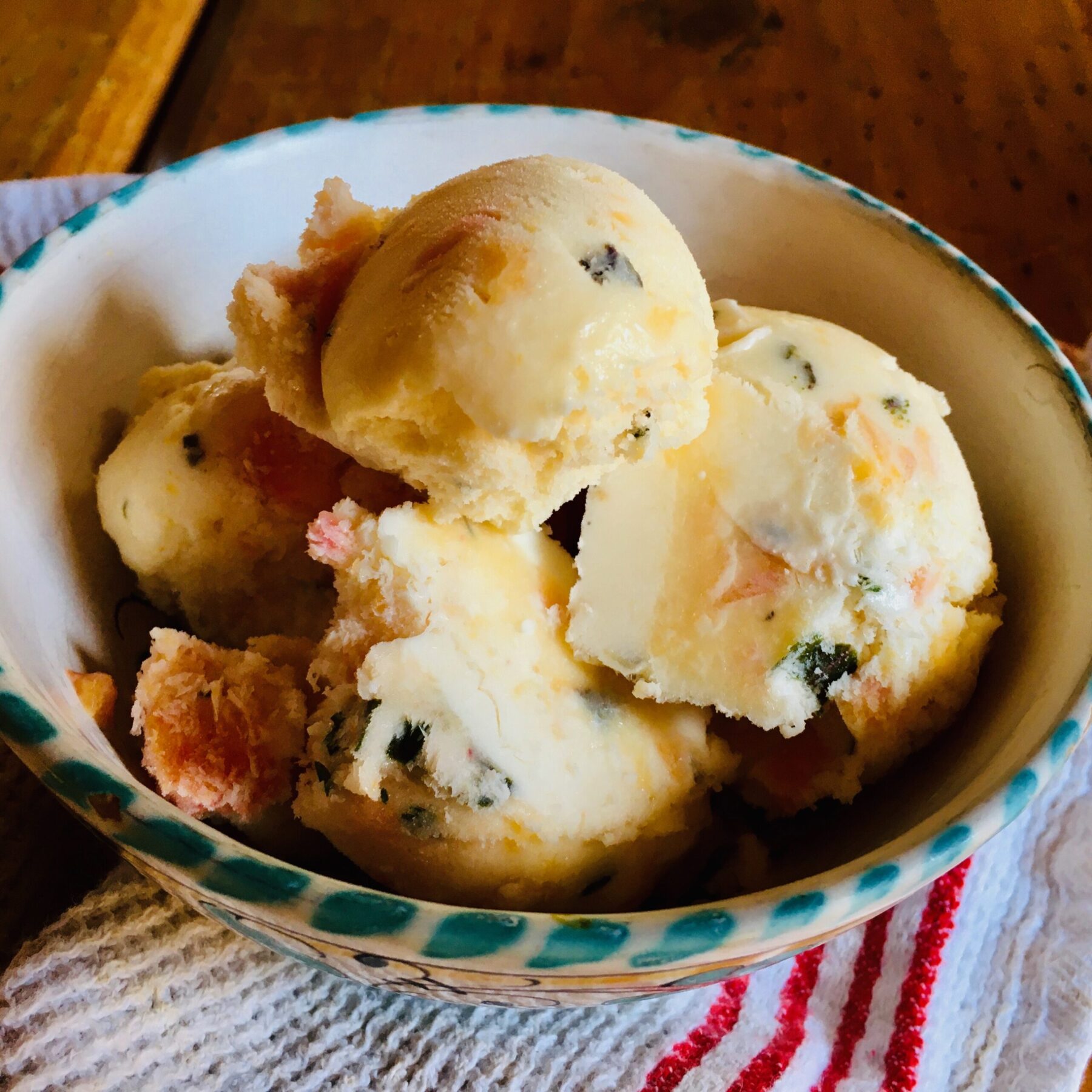 Homemade Ice Cream
(Submitted by Rhonda Lochte Eckert)
Note: Recipe is for a 4-quart ice-cream maker
Makes 12 to 14 servings
Ingredients:
• 4 eggs, beaten well
• 1 cup granulated sugar
• 1 (14-ounce) can sweetened condensed milk
• 1 pint whipping cream
• 1 tablespoon pure vanilla extract
• 1 tablespoon ground ginger
• 8 ripe peaches, seeded, peeled, and chopped; divided use
• 3-4 tablespoons chopped sweet basil, divided use
• 4 cups whole milk
Directions:
In a mixing bowl, beat eggs until light (you can use a whisk, but an electric mixer is preferred). Add sugar and beat until thickened slightly. Add sweetened condensed milk, cream, vanilla, and ginger and mix another 2 to 3 minutes. In a blender, puree half the peaches with half the basil until smooth. (Reserve remaining chopped peaches and basil.) Add pureed peach mixture to egg-milk mixture, stirring to combine. Transfer the mixture to the cylinder of your ice cream maker. Pour the whole milk into the mixture—fill just to the designated mark on the cylinder—and stir once. Follow the instructions for your automatic ice cream maker. When ice cream reaches soft-serve texture, let it sit for about 15 to 30 minutes to cure. Transfer to dish or dishes that you'll be using to store the ice cream in the freezer. At this point, add the remaining chopped peaches and basil, stirring well to combine. Cover and freeze until set, usually a few hours or overnight.