The recent shuttering of 99-year-old Dooley's in Fredericksburg is a reminder that the classic five-and-dime era is long gone. But the memories of local and chain five-and-dimes like Newberry's, Woolworth's, and McCrory's live on. Everything from inexpensive household goods to fresh produce, toys, treats, and even lunch counters could be found inside five-and-dimes throughout Texas. They were simpler stores in simpler times.
But the legacy of one particular bygone chain is still noticeable in Texas cities. Kress buildings across the state have taken on new identities in many cityscapes today. Founder and avid art collector Samuel H. Kress intended for his stores to be public art and even put together a staff of architects to help give his stores a unique look from other competing chains. The company became widely known for its art deco buildings, with Texas home to many notable designs that still stand.
"Art deco came to Texas a little bit late; it took hold on the East and West coasts and also the Midwest before it moved inland," says David Bush, executive director for Preservation Houston and co-author of the Texas Deco book series. "As seen with Kress storefronts across the state, the art deco influence in Texas came from people trying to project this image of being modern, mainly to compete with big cities elsewhere."
Today, it's estimated that Kress operated in at least 22 cities across Texas, with three locations now listed on the National Register of Historic Places. "If you see a Woolworth store today without its signage, there's nothing that would identify it as a Woolworth building," Bush adds. "But if you look at a Kress store today, you can still tell it was a Kress building."
Whether preserved, repurposed, or vacant, these are some of the most notable Kress buildings that remain in the Lone Star State.
Kress Fort Worth
604 Main St.
(Added to National Register of Historic Places in 2007)

Living inside a Kress sounds like a dream to the many wide-eyed children who used to rush inside the store and beg their mothers for spare change to buy a pack of trading cards or a soda at the fountain. At this North Texas location, there may not be rows of candy anymore, but people are now living inside it. Fort Worth's five-story Kress currently holds 24 loft units downtown. The art deco tower operated as a Kress from 1936 through 1960 and was designed after the flagship store in New York City. It was one of the only construction projects in Fort Worth privately funded during the Great Depression and one of the city's first buildings with a central air-conditioning system.
Between its time as a Kress and condominium complex, it once housed a bank, a museum, women's clothing stores, and even a bar fittingly named the "Kress Club" in the late 1980s.
Kress Houston
705 Main St.
(Added to National Register of Historic Places in 2002)

Built in 1913, the eight-story Kress has been converted into the 109-unit St. Germain Lofts located in downtown Houston. With a facade made almost entirely of terra cotta (the only one in Houston, according to the building's 2000 landmark designation report by the Houston ​​Archaeological and Historical Commission), it stood as one of the largest Kress retailers in the nation. Three-and-a-half floors were dedicated to the five-and-dime, while upper floors housed Kress offices and other businesses.
Though one of few Kress stores in Texas that is not of art deco design, it still retains the character of an early 1900s high-rise. However, all features, including signage pointing to its past as a Kress, were removed during a renovation in 1983.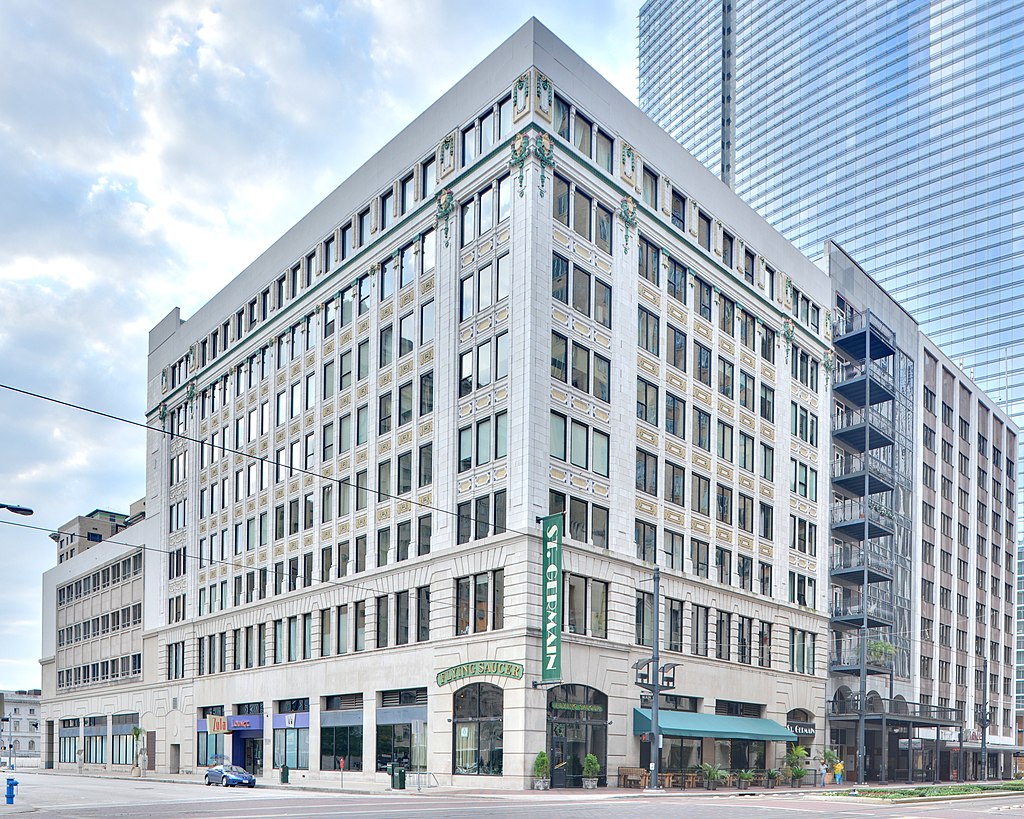 Kress El Paso
110 E. Mills Ave.
The 84-year-old, three-story Art Deco building in El Paso is undergoing a two-year, $18.4 million restoration, thanks to billionaire and CEO of Franklin Mountain Investments Paul Foster. The project will turn the former five-and-dime into El Paso's first food hall. Instead of being filled with national franchises, the space will be occupied by up-and-coming local food and retail vendors. The 15,000-square-foot basement is set to be converted into a spa and salon connected to the adjacent Plaza Hotel, also recently renovated by Foster, through an underground tunnel. 
The original Kress store opened its doors in 1907 but had to be rebuilt twice in its original location after massive fires in 1916 and 1924. Finally, the store moved to its current location at the corner of Mills and Oregon streets in 1937, where it soon led the nation in sales and eventually closed 43 years later. 
Arguably the most visually appealing art deco Kress in Texas, many of its original fixtures that have remained in and on the building through the years will be restored including its golden Kress signs, soda fountain, Mayan-inspired embellishments, cream-colored exterior, and iconic bell tower that fuses Anglo, Indian, Spanish, and Mexican architectural influences.
Kress Lubbock
1109 Broadway
(Added to National Register of Historic Places in 1992)

Part of Downtown Lubbock's revitalization initiative, the 90-year-old Kress functioned as a five-and-dime from 1932 to 1975 and is now home to Burklee Hill Vineyards. The Spanish-revival building with Art Deco flair concluded renovations two years ago and transformed into commercial space with Burklee Hill as its first tenant on the first floor. Most period features have been retained inside and out, such as tiles on top of the front entrance still emblazoned with "S.H Kress & Co. 5-10-25 Cent Store" in capital letters previously hidden when the building was a Goodwill.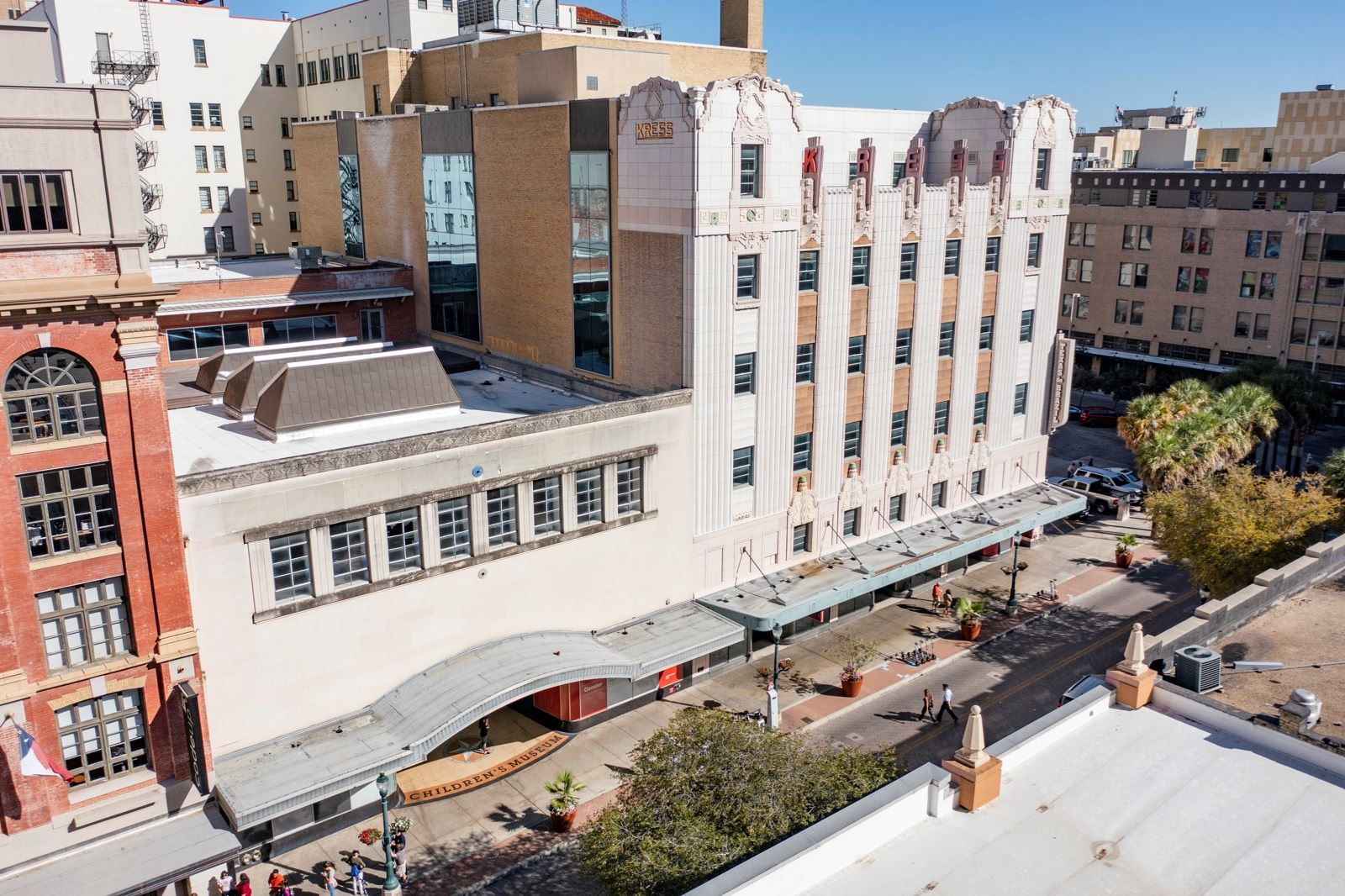 Kress San Antonio
311-315 Houston St.
Just two blocks away from the Alamo is a lesser-known San Antonio landmark that offers insight into the past of one of the city's oldest and most famous streets. The 1938 Kress on Houston Street was one of two Kress stores in San Antonio during the mid-20th century, and it has been recently renovated and combined with the next-door, five-story Grant building to offer over 100,000 square feet of retail space that is still largely vacant. 
Along with the nearby Woolworth, the San Antonio Kress made national headlines nearly 60 years ago as one of seven downtown lunch counters to peacefully desegregate in February 1960. While the Woolworth is slated to become part of the Alamo visitor center and museum, Trinity University has plans to turn the Kress basement—the same floor of the desegregated counter—into a new African-American Civil Rights Institute.