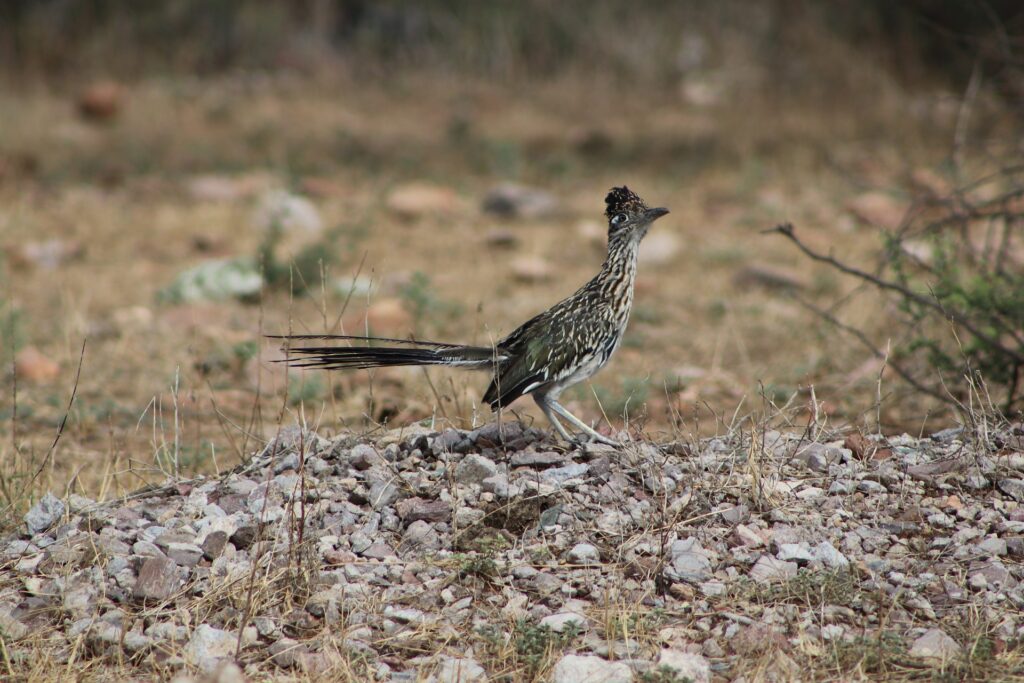 Before last Saturday's thumping at the hands of the North Texas Mean Green, the University of Texas at San Antonio was having a fairy-tale season. Although the Roadrunners will not finish the season undefeated, they have already set a record for number of wins (11) for the 10-year-old program, among many other superlatives. With the Conference USA championship game coming up tonight at 6 p.m. and a bowl game to be determined after that, there's a chance that coach Jeff Traylor's Roadrunners could close out the season with two more victories. No wonder businessowners in San Antonio are "lighting the City Orange" this week.
But this is not an article about football. This is an article about the roadrunner, one of the most beloved birds in Texas, and its possible implications for winning football games.
In December 1977, when UTSA officially adopted the roadrunner as the mascot for its still nonexistent sports teams, it became the first NCAA Division I school to do so. By a student body vote of 894-747 in a runoff election, the Roadrunners beat out armadillos—then very much a vogue critter through a Lone Star Beer ad campaign featuring giant 'dillos swilling longnecks.
Sporting the navy blue and orange school colors, Rowdy the mascot made his debut as the pep band played the Looney Tunes theme. But, after adding basketball and other sports over a period of decades, UTSA didn't take to the gridiron until 2011.
Still, it puzzles me: Why did it take so long for a team to adopt the roadrunner? It has all of the attributes we revere in our sports teams and yet so little respect.
When you filter out mammals, occupations, weather phenomena, and other common categories of team names and zero in on the bird subfamily, you find a vanishingly small number, even among the high school ranks in the bird's native Southwest. You'd think Roadrunners would be as common around here as Hawks, Eagles, or Falcons, but instead schools have long opted for those cliched alternatives.
There are two partial exceptions in the Texas high school ranks: Austin's Westlake and Aubrey ISD in North Texas. Both field teams named after the chaparral, an alternative name for the roadrunner. El paisano, meaning "compatriot" or even "homie," is a Spanish name for the bird. Some attribute this to the roadrunner's occasional habit of falling along just in front of or alongside desert hikers and horseback riders, walking with them seemingly as a companion for long distances. (Folklorist J. Frank Dobie was partial to the word for the bird he loved so, adopting it as his personal symbol and naming his ranch after it.)
Like other winged predators, the roadrunner is a bird of prey, albeit a mostly terrestrial one. With the exception of pretty birds like cardinals, seedeaters like quails, thrushes, larks, swallows, and warblers don't get much play. And vultures, those carrion-eating harbingers of doom, get none. You'd think some school, somewhere, would have the bravado and sense of humor to claim the grackle, but that day is not upon us yet.
No, we like our birds to be meat-eaters, and these white-bellied, brown-streaked, blue-legged, yellow-eyed ground cuckoos are basically feathered velociraptors, albeit one with the ability, if not much of an inclination, to fly. Technically, the term for their dining habits is "opportunistic omnivores," meaning they eat whatever, whenever they can. If it so happens that all they can scare up is a prickly pear feast, they can make do with going vegan for a bit. But they'd much rather be chomping on beetles, caterpillars, grasshoppers, and crickets before moving up the food chain to lizards, small rodents, fledglings, and eggs of other birds (and some of their own), and all manner of the creepiest of crawlies: snakes, scorpions, and spiders.
Which brings up yet another point in the roadrunner's favor: They are astoundingly brave, fierce, and ferocious. Along with kingsnakes, they rank among the rattlesnake's only predators. Unlike the kingsnake, they do not have the advantage of immunity to rattlesnake venom. What they do have is quickness and guile, circling around and around a coiled rattlesnake until they can get a grip of the rattler's body in their beaks, smash its head on the ground until the snake is dead, then gulp it whole. Or as much of it as they can—roadrunners have been observed wandering around with a little bit of rattler sticking out of their beaks while the rest of the body is being digested.
As if that were not enough, they are the only predator for the tarantula hawk wasp, which preys on tarantulas, a hairy spider with an enormous curved stinger that conveys some of the world's most painful venom. The roadrunner doesn't care. It's powerful beak makes short work of the tarantula hawk wasp, giant stinger and all.
What else do we like in our sports teams? Athletic ability, of course, and it's right there in the name roadrunner. They've been clocked at speeds up to 20 mph on the ground, and while that is only half as fast as their alleged nemesis, the coyote, there has never been a single documented instance of a coyote catching and eating a roadrunner.
(Speaking of the Roadrunner vs. Wile E. Coyote, the bird is also the symbol of the Texas Folklore Society, which makes sense, as scholars have collected tons of Native American tales about them, and subsequent Spanish, Mexican, and Texan storytellers have burnished the myth. You could argue that the cartoon was based on folklore.)
If that's not enough of an array of convincing reasons that more sports teams should take the name of the roadrunner or chaparral, here's another: The name works as far as winning games goes.
At the same time the almost-undefeated UTSA Roadrunners will be lining up against the Western Kentucky Hilltoppers for the conference champion, the Aubrey Chaparrals (12-1) will be teeing off a rematch with their district rivals, the Celina Bobcats (11-1), for the chance to avenge the lone blemish on their records and advance to the state semifinals.
Meanwhile, the Westlake Chapparals are yet again closing in on another state championship. If you have even the faintest interest in Texas high school football, you know this is entirely expected at this point. This team has lost one lone game in the last three seasons—and that by one point to archrival Lake Travis.
With the Westlake Chaparral's record of 13-0 this season, that brings the combined total of our three roadrunner/chaparral teams to 36-2. What are the odds that three teams named after the same bird would win a combined 95 percent of their games? It can't be pure luck. It must be something else: Meep Meep Magic.
A previous version of this story had UTSA as the first school of higher education to name the roadrunner as its mascot. Readers pointed out that two other Texas schools, Lubbock Christian University and Angelina College of Lufkin, compete athletically as the Chaparrals (LCU) or Roadrunners (Angelina). The latter school has used the roadrunner as its mascot since 1968. However, neither of those schools competes in football or at the NCAA Division I level.