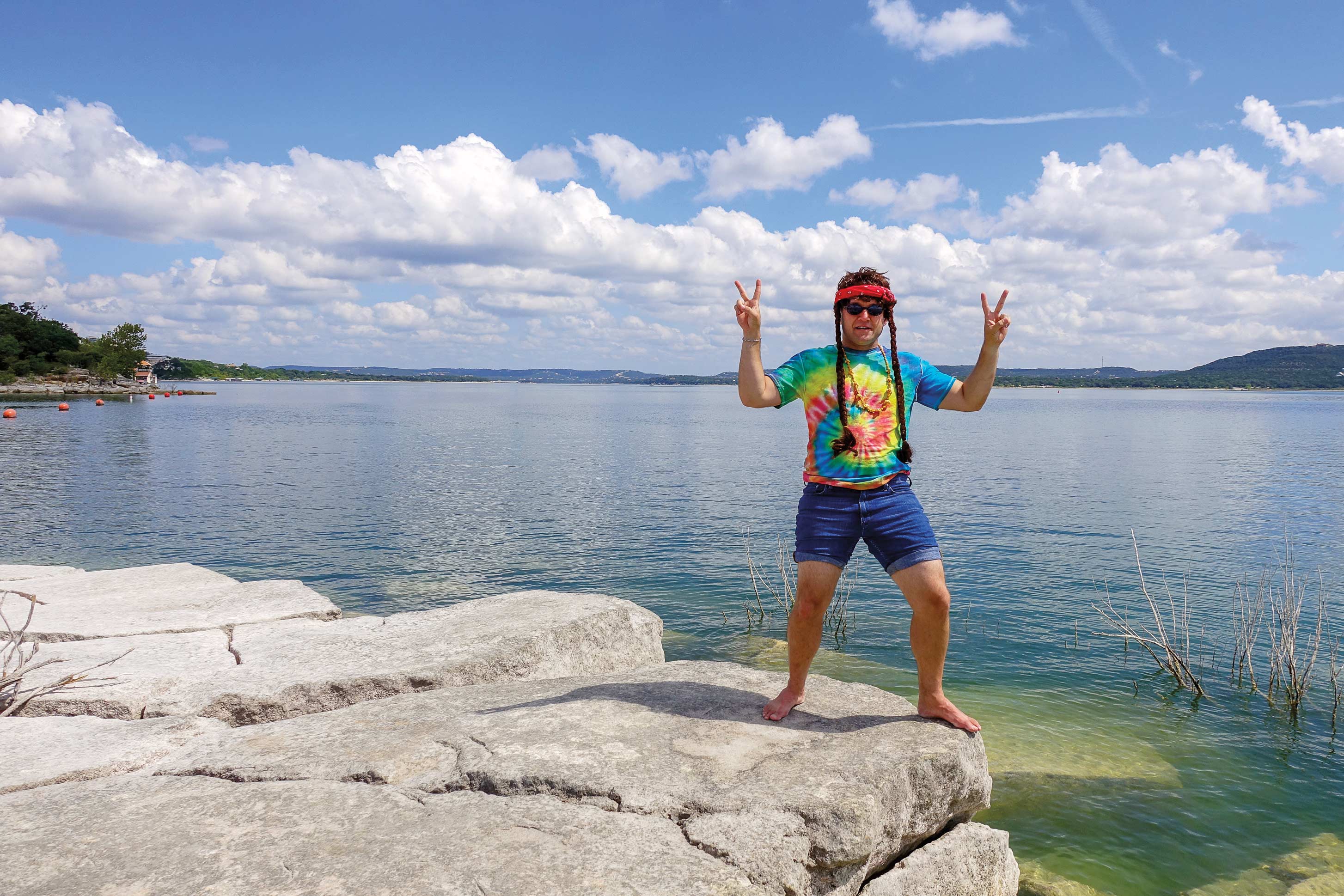 Texas summers are so hot, the only choice a daytripper has is to head straight to the nearest body of water and stay submerged for as long as possible. On just that sort of sweltering day, I took a drive to visit one of the Hill Country's most popular lakes, Lake Travis, just 20 miles outside of Austin. I found plenty of ways to get wet, and a whole lot more.
Lake Travis Chamber of Commerce

512-263-5833
laketravischamber.com
9 a.m.
I started off driving past the mighty concrete wall that keeps the lake at bay—Mansfield Dam. Completed in 1942, it's the tallest dam in Texas at 270 feet and is considered one of the most scenic in America due to its sheer face that fronts the roadway. Mansfield Dam Park, a county park featuring a playground, picnic tables, and access to Lake Travis, was a great place to appreciate the magnitude of the dam. Since I was already in my swimsuit, I jumped in for a morning dip.
10 a.m.
Folks have long believed that surfing only happens on the coast, but I learned otherwise when I headed out with Lone Star Wake Rentals to "hang 10" in fresh water. Wakesurfing relies on a specialized boat to create a consistent wake that's big enough to surf. After a few tries (and some good coaching), I was standing on my board and cruising behind the boat without a rope. It was awesome until another boat passed us, creating a wake vortex that sent me face-planting into the water. Strangely enough, it was the most refreshing crash I've ever had.
1 p.m.
The Texas sun can make a tripper hot, but also hungry. I was in need of a big lunch and found a burger up to the task at The League Kitchen and Tavern, located in the town of Lakeway. This Prohibition-themed eatery serves up chef-inspired comfort food like meatloaf bites and chicken-fried rib-eyes. I opted for the "Society Burger," made with fresh-ground beef, and added cheese and a fried egg on top. I don't think it did anything to help my bathing-suit body, but it sure was delicious.
Chet Garner is the host of The Daytripper® travel show on PBS.
To view the Lake Travis episode visit thedaytripper.com.
2:30 p.m.
The day wasn't getting any cooler, and I was ready to head back to the water. Rather than don my birthday suit at Hippie Hollow (Texas' only public clothing-optional beach), I opted to wear my swim trunks at Bob Wentz Park, an excellent, laid-back swimming beach just down the road from Hippie Hollow. With the sun high in the sky, I took a dip in the water and a short nap on my towel and spent the rest of my time watching boaters and skiers race by on the water. 
4 p.m.
I'd seen the lake from water level, but now it was time to take it in from sky level at Lake Travis Zipline Adventures. After a safety check and short boat ride, I was zipping through the air on five exhilarating lines above the hills and over the water. The best ride was definitely the last; it was a half-mile long with speeds topping out at 65 miles an hour, making it the longest and fastest zip line in Texas. 
7 p.m.
Few lakefront institutions are as iconic as The Oasis on Lake Travis. What used to be a simple cliff-side Tex-Mex restaurant in the middle of nowhere is now adjacent to an entire complex of food, drink, and entertainment. At this hour, it was packed with patrons arriving in time to catch what might be the best sunset view in the state. They don't call the restaurant the "Sunset Capital of Texas" for nothing. I ducked into Oasis Texas Brewing Company, found a table overlooking the water, and dug into my "Rye of the Tiger" barbecue sandwich (on rye bread, of course) accompanied by a light, crisp Luchesa Lager.
As the sun eased behind the distant cliffs, I kicked back, beer in hand, and reflected on my wet and wild day. Whether on land, in the air, or under the water, this Texas lake can easily stand up to the Texas sun and makes for one Texas-size adventure! So whether you follow my footsteps or forge your own path, I hope to see you on the road. 
From the August 2018 issue