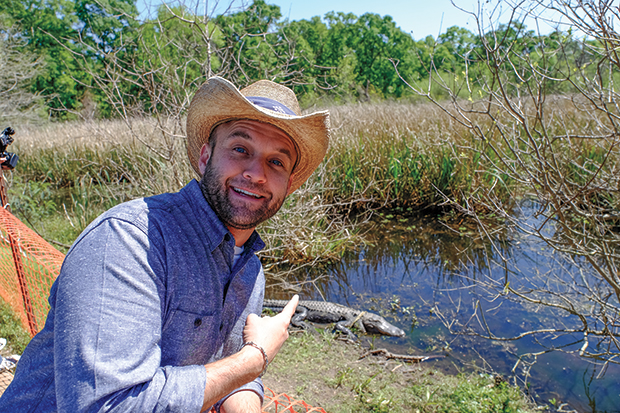 On the far southwest side of Houston is a city on the Brazos River that's much smaller than its big-city neighbor but predates it by more than a decade. Originally settled in the 1820s by members of Stephen F. Austin's Old 300 and initially dubbed Fort Bend, the city of Richmond was incorporated in May of 1837. With-standing the test of time, the small town abounds with history, eateries, and adventure.
Contact the city of Richmond at 281/342-5456.

Chet Garner is the host of The Daytripper® travel show on PBS.
9 a.m. To start the day, I headed to Joseph's Coffee and Cigars for a dose of history mixed with caffeine. This family-owned shop has been serving Richmond for over 100 years as everything from a candy shop to a furniture store. Today, it specializes in craft coffee, hand-rolled cigars, and antique English rifles. I felt so fancy in my British sporting jacket sipping my mocha latte that I almost convinced myself to buy a $10,000 gun. Good times, ol' chap!
10 a.m. At the Fort Bend Museum, I learned how Richmond's history reflects significant milestones in Texas' history. From being part of Austin's "Old 300" story to helping establish the Texas Republic to forming our rich ranching heritage, there's much for history nuts like myself to dig into. Out back, I even found the tombstone of re-nowned Texan Deaf Smith, who delivered William B. Travis' famous "Victory or Death" letter from the Alamo.
12:30 p.m. Feeling like a lunch of Texas proportions, I headed to The Swinging Door for good ol' Texas 'cue. Locals packed each of the checkered tables and after trying a bite of moist brisket accompanied by fresh green beans, I knew instantly why this place has been hoppin' since the '70s. I was ready for a Texas-size siesta after my hefty meal, but pushed on.
2 p.m. Next I took my history lesson outside to the George Ranch Historical Park and spent the afternoon touring four houses separated by 100 years but connected through the iconic George family. Each home offered a distinctive experience and living-history demonstration. I learned how to tan leather in an 1830s log cabin, how to forge metal like a blacksmith at a Victorian mansion, and how to rope cattle in a 1930s corral. If scientists ever figure out time travel, I'll now be able to survive in Texas no matter the time period.
4 p.m. As I drove deeper into the countryside, the landscape changed to grassy swamps as I entered Brazos Bend State Park. I hit the trail and soon found myself alone. That is, except for a nine-foot gator hiking the trail ahead of me. I looked around and spotted six more alligators hiding in the reeds. I was surrounded, which is the reason folks love to visit this park. Winding through ponds and marshes, Brazos Bend gives visitors a chance to see alligators in their natural habitat and free of fences. Some are even kind enough to pose for photos—from a distance of course. I even discovered a momma gator tending to 17 of her gator pups (aka "hatchlings"). On a distant hill, I spotted a large telescope dome and made a note to return later. But first, dinner.
6:30 p.m. Back in town, I headed to Larry's Original Mexican Restaurant and greeted a colossal plate of nachos and generations-old Tex-Mex recipes. Larry's signature cheese enchiladas oozed with goodness mixing perfectly with the chili gravy. I easily polished off my plate and probably ate a dozen tortillas sopping up the leftover sauce.
8 p.m. As the sun set, I headed back to Brazos Bend to the George Observatory. I felt dwarfed underneath the massive telescope and soon felt completely miniscule as I gazed up at the distant galaxies. Everything truly is bigger in Texas—including the night sky.
From traveling through time to hanging with gators and soaring through space, it doesn't matter how much money you have in your pocket. If you're tripping Richmond, you're already rich with life. So whether you follow my footsteps or forge your own path, I hope to see you on the road.
From the May 2017 issue