Wildflower Drives
Add some color to your spring road trip with these 12 scenic routes
By Melissa Gaskill
Illustrations by Shaw Nielsen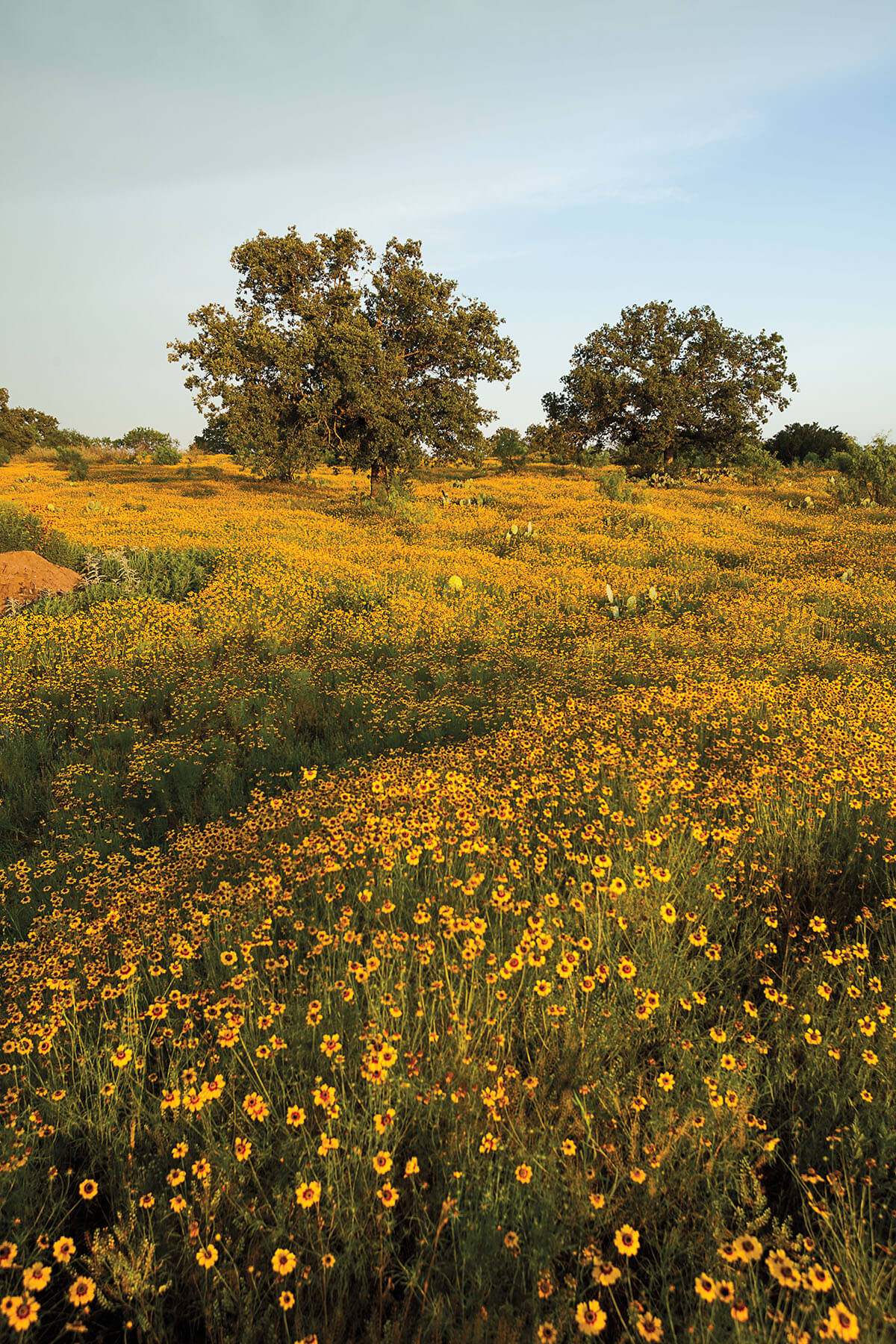 A Texas travel bucket list can cover a lot of ground,
literally and figuratively. But one thing appears on them all: spring wildflower drives.
As winter gives way to spring, wildflowers grace thousands of miles of Texas roadside, thanks in large part to government seeding programs and judicious mowing schedules that allow the flowers to reseed.
Highways navigate hillsides of bluebonnets on the coastal plains and in the Hill Country; bright cactus blooms in West Texas; fields of flame-like flowers blanketing South Texas prairies; and delicate palettes among the pine forests of East Texas.
Here we've compiled 12 wildflower drives covering diverse areas of the state, each with its own collection of beautiful blooms, along with recommendations for tasty restaurants and interesting diversions when you need a break from driving. Don't forget to stop and smell the flowers.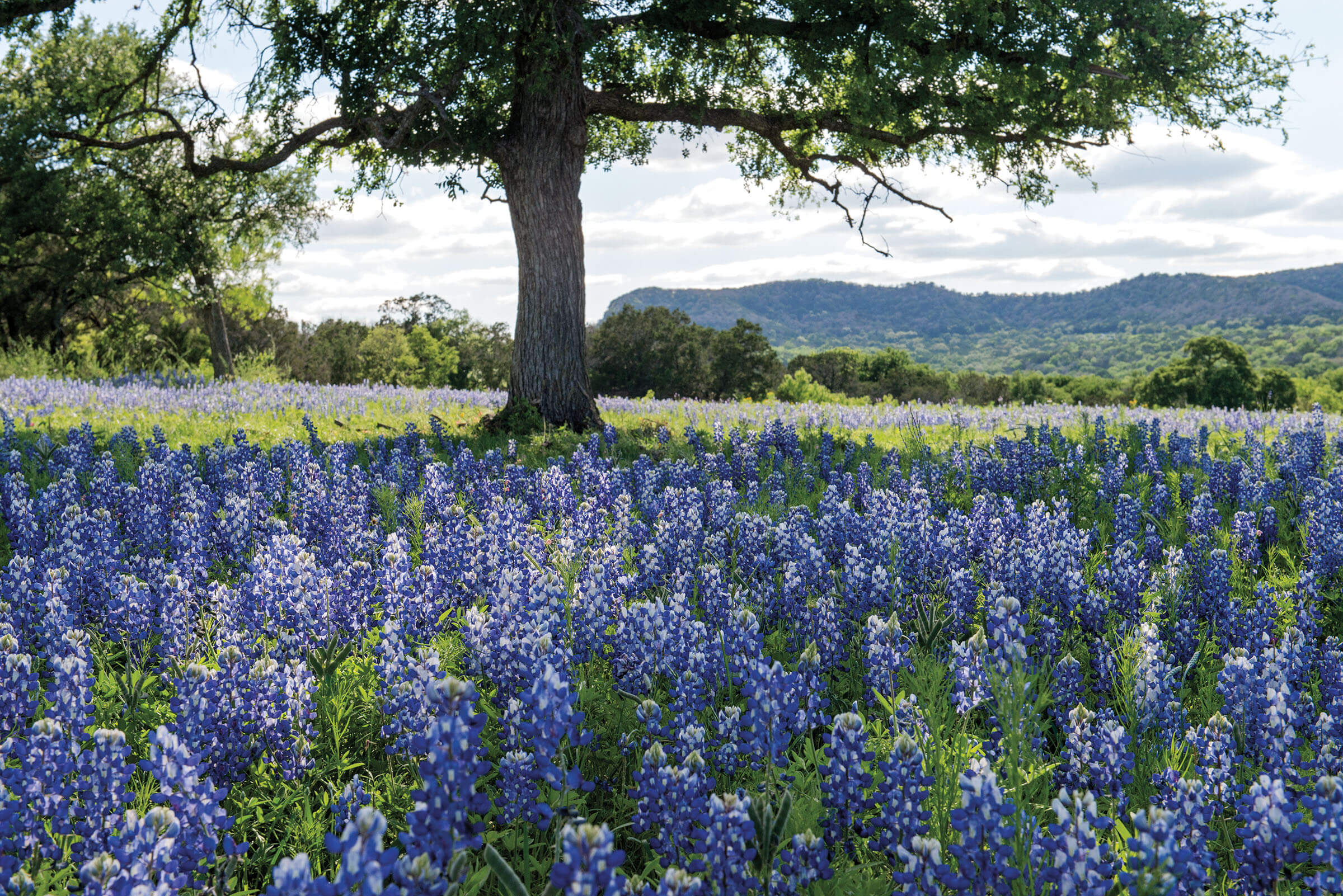 Highland Lakes
Llano, Burnet, Marble Falls area
The Colorado River wends through a chain of reservoirs and lakes known as the Highland Lakes in the Hill Country. The Texas bluebonnet, Lupinus texensis, one of six species officially named the state flower, thrives in its sandy soil over limestone.
Area roads known for bounteous bluebonnets and other wildflowers include State Highway 29 from Burnet to Llano, Ranch Road 2341 to Canyon of the Eagles Nature Park, and Park Road 4, which passes Longhorn Cavern and Inks Lake State Park. At Inks Lake, hiking trails pass through beebrush, goldeneye phlox, and Hudson flax.
Wildflowers grace State Highway 16 between Llano and Cherokee, and Baby Head Cemetery about 9 miles north of Llano makes a peaceful stop for photos, as do the area's other old cemeteries.
Prairie verbena, prickly poppy, and Texas thistles reward drivers who cruise Ranch Road 152 between Llano and Castell, and State Highway 16 south from Llano to the Enchanted Rock State Natural Area turnoff on Ranch Road 965.
In Llano, try Badu 1891 restaurant, set in a historic building, for brunch, lunch, and dinner featuring local seasonal ingredients in chicken-fried antelope, venison meatloaf, biscuit sliders, and other dishes, along with live music.
Texas Hill Country Wildflower Trail: lakesandhills.com/bluebonnettrail.htm;
Badu 1891: 325-247-1891, badu1891.com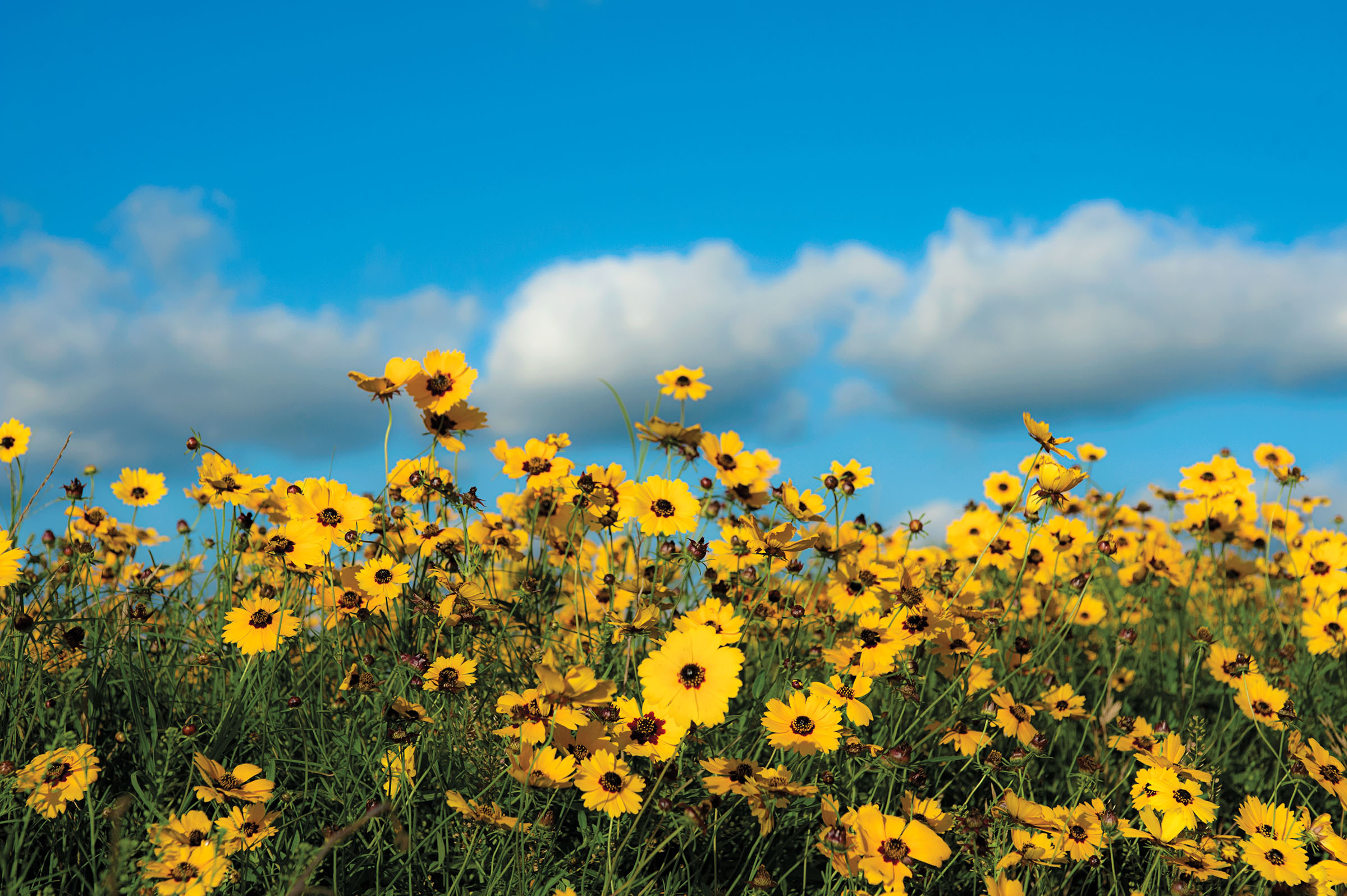 Washington County
Blackland Prairie beauty
Washington County, famous for bluebonnets, lies on the edge of the Blackland Prairie, a grassland dominated by diverse perennial and annual grasses growing in some of the richest soil in the world.
Vast swaths of the iconic blue flowers blanket roadsides throughout the county. Those reliably lined with them include State Highway 105, Farm-to-Market 50 to Independence, FM 390 to Old Baylor Park, and FM 1155's dog-legs between Chappell Hill Historic District and Washington-on-the-Brazos State Historic Site. There, where Texians signed the Texas Declaration of Independence, walking trails wander through fields of flowers.
Other wildflowers frequently spotted in these parts include Indian paintbrush, blue-eyed grass, and blanket flower.
In Brenham, '50s style diner Southern Flyer looks onto the local airport runway, also visited by wildflower blooms in spring. Rumor has it pilots fly from hundreds of miles away for the Southern Flyer's milkshakes (made with locally crafted Blue Bell ice cream, of course).
Brenham/Washington County: 979-337-7580, visitbrenhamtexas.com;
Southern Flyer: 979-836-5462, southernflyer.com;
Washington-on-the-Brazos State Historic Site: 936-878-2214, tpwd.texas.gov/state-parks/washington-on-the-brazos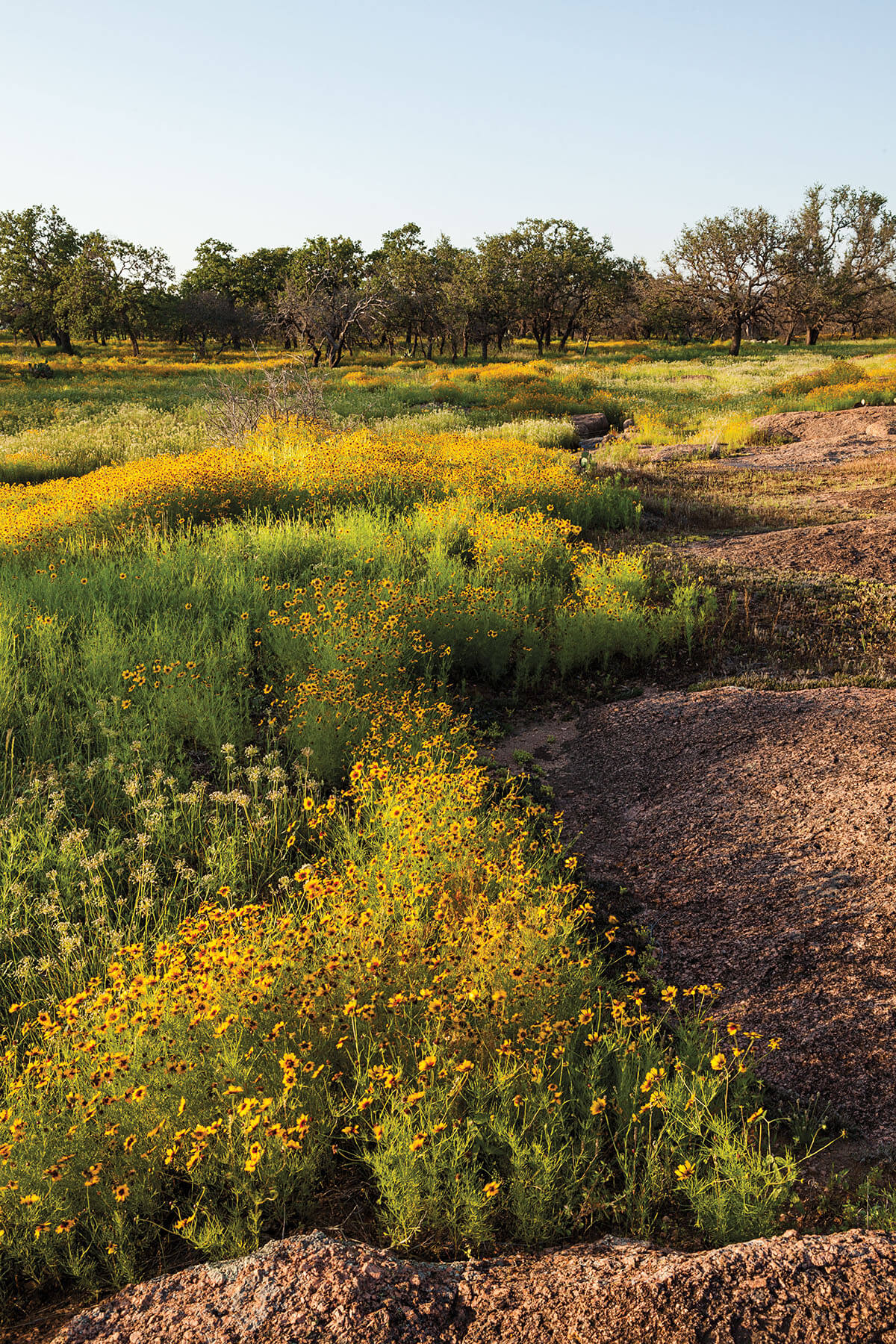 The Hill Country
Fredericksburg, Enchanted Rock, Johnson City area
Landscapes in the heart of the Texas Hill Country vary from rolling hills to rocky canyons, grasslands, woodlands, and savanna, each sporting a vibrant palette of wildflowers.
Lyndon B. Johnson State Park and Historic Site, between Fredericksburg and Johnson City, boasts more than 400 species, including bluebonnets, evening primrose, and scarlet sage.
The Willow City Loop—a famous route for wildflowers—includes stretches of US 281, US 290, and Ranch Roads 1323, 1631, 2721, and 1320. The Fredericksburg Trolley's vintage-style vehicles offer a novel option for wildflower scouting, or if you're looking for a more adventurous outing, book a guided bicycle ride with Texas Bike Tours.
Flowers also abound along State Highway 16 north from Fredericksburg, and on RR 965 to Enchanted Rock. While the eponymous giant granite dome takes main billing there, a variety of wildflowers also appear, including prickly pear and widow's tears. Nearly 11 miles of hiking trails offer chances for up-close and personal sightings.
Texas State Parks: tpwd.texas.gov/state-parks;
Texas Bike Tours: 512-371-3762, texasbiketours.com;
Fredericksburg Trolley: 830-998-8986, fbgtours.com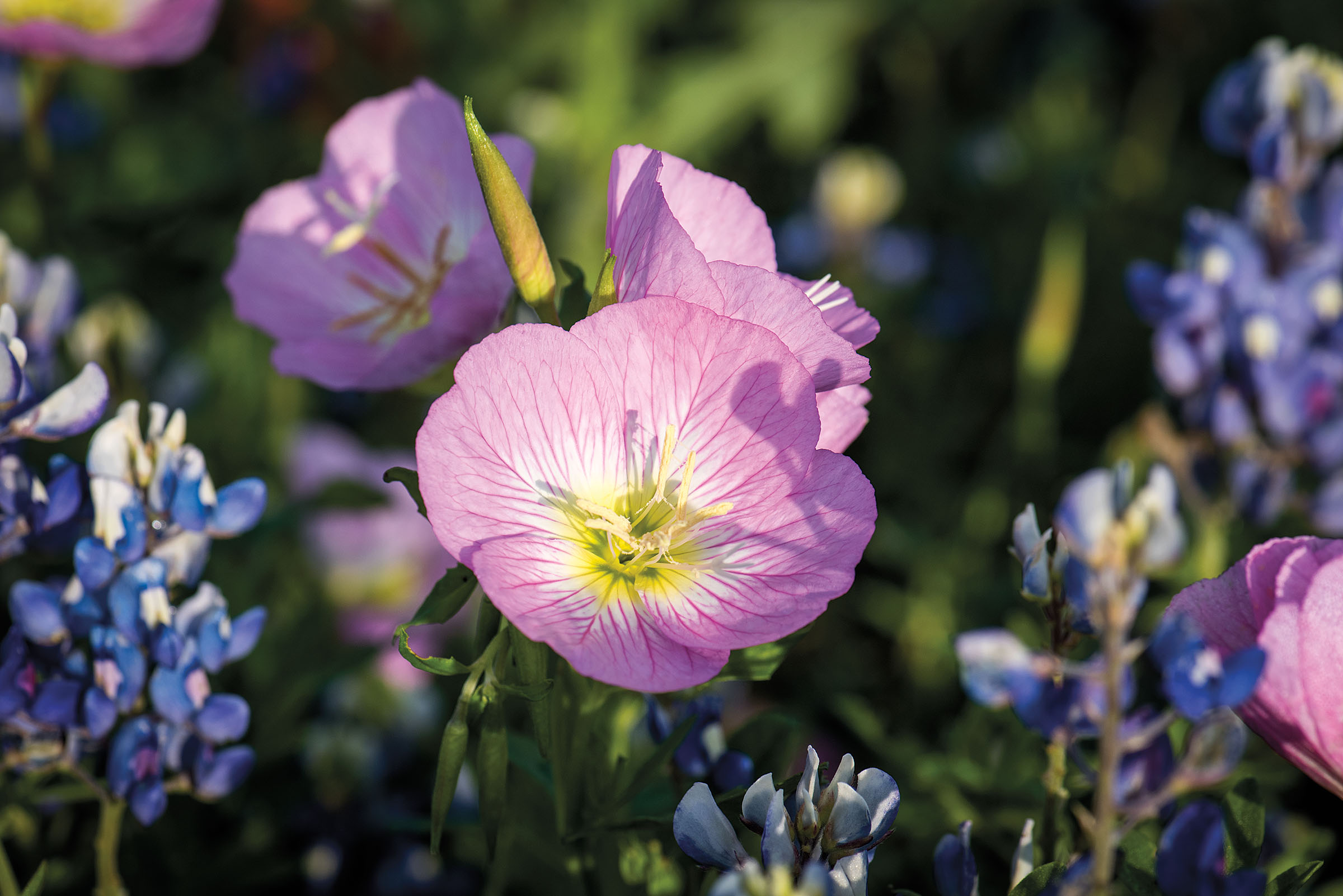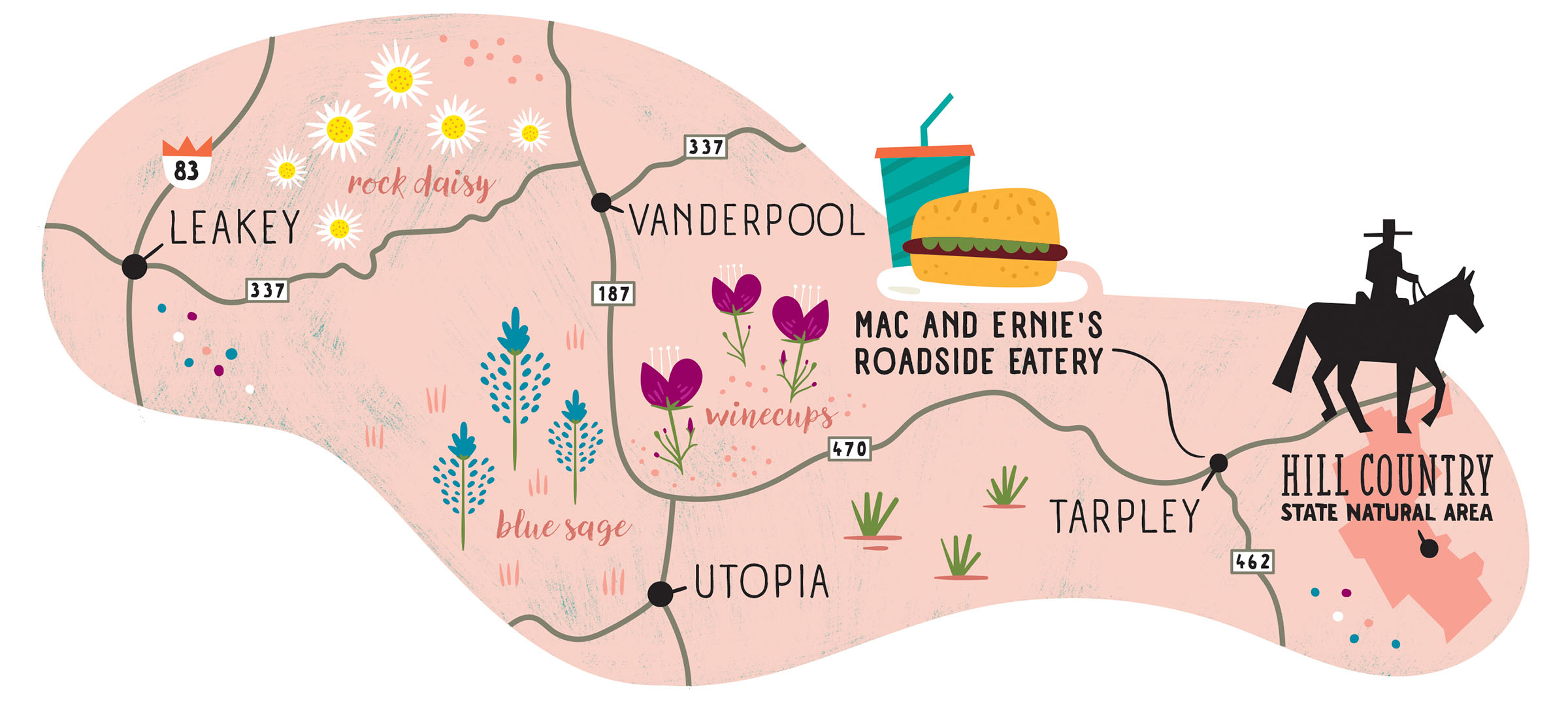 Western Hill Country
Leakey, Bandera, Utopia area
The western edge of the Edwards Plateau contains the far reaches of the Hill Country, with higher elevations, rugged scenery, and unique combinations of flora.
Scenic Ranch Road 337 between Leakey and Vanderpool passes rocky hillsides sporting mountain laurel, mealy blue sage, and rocky daisy. Larkspur, Lindheimer daisy, and featherleaf desertpeony also bloom in this area.
Roadside flowers on RR 337 heading east along the Medina River include perfumeballs, agarita, and winecup. Water-loving flowers blooming on river and creek banks include the cardinal flower and chatterbox orchid.
Indian blanket, daisies, prairie spiderwort, and many other flowers cover Hill Country State Natural Area. On RR 470 west of Bandera, blooms include prairie verbena, scrambled eggs, and Texas skeleton plant. Many of these same spring wildflowers bloom along the winding roads around Utopia.
Friday through Sunday, Mac and Ernie's Roadside Eatery in Tarpley serves an eclectic selection of Texas standards and innovative dishes such as ancho chile honey-basted quail.
Hill Country State Natural Area: 830-796-4413, tpwd.texas.gov/state-parks/hill-country;
Bandera County Convention & Visitors Bureau: 803-796-3045; banderacowboycapital.com;
Mac and Ernie's: 830-562-3727, macandernies.com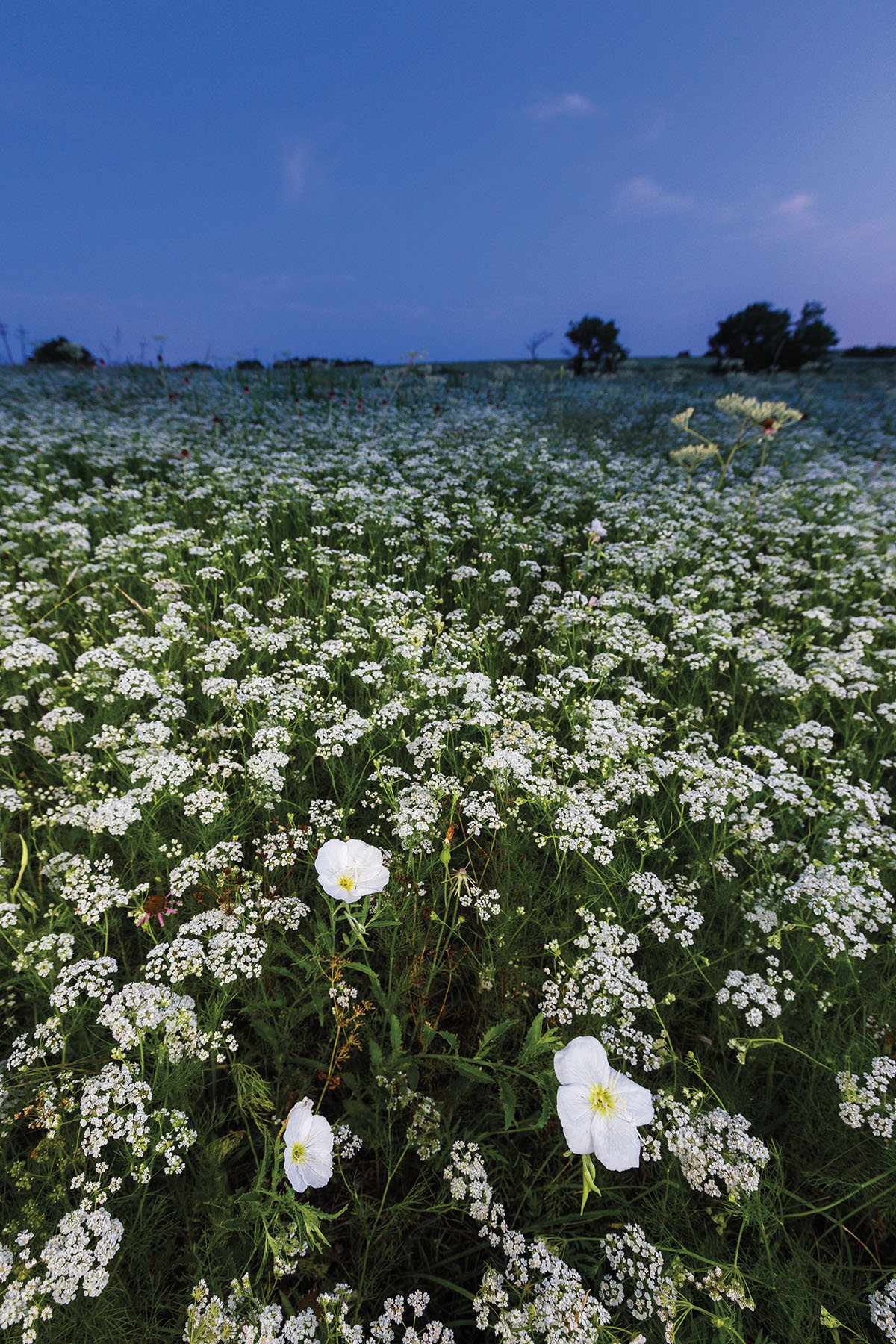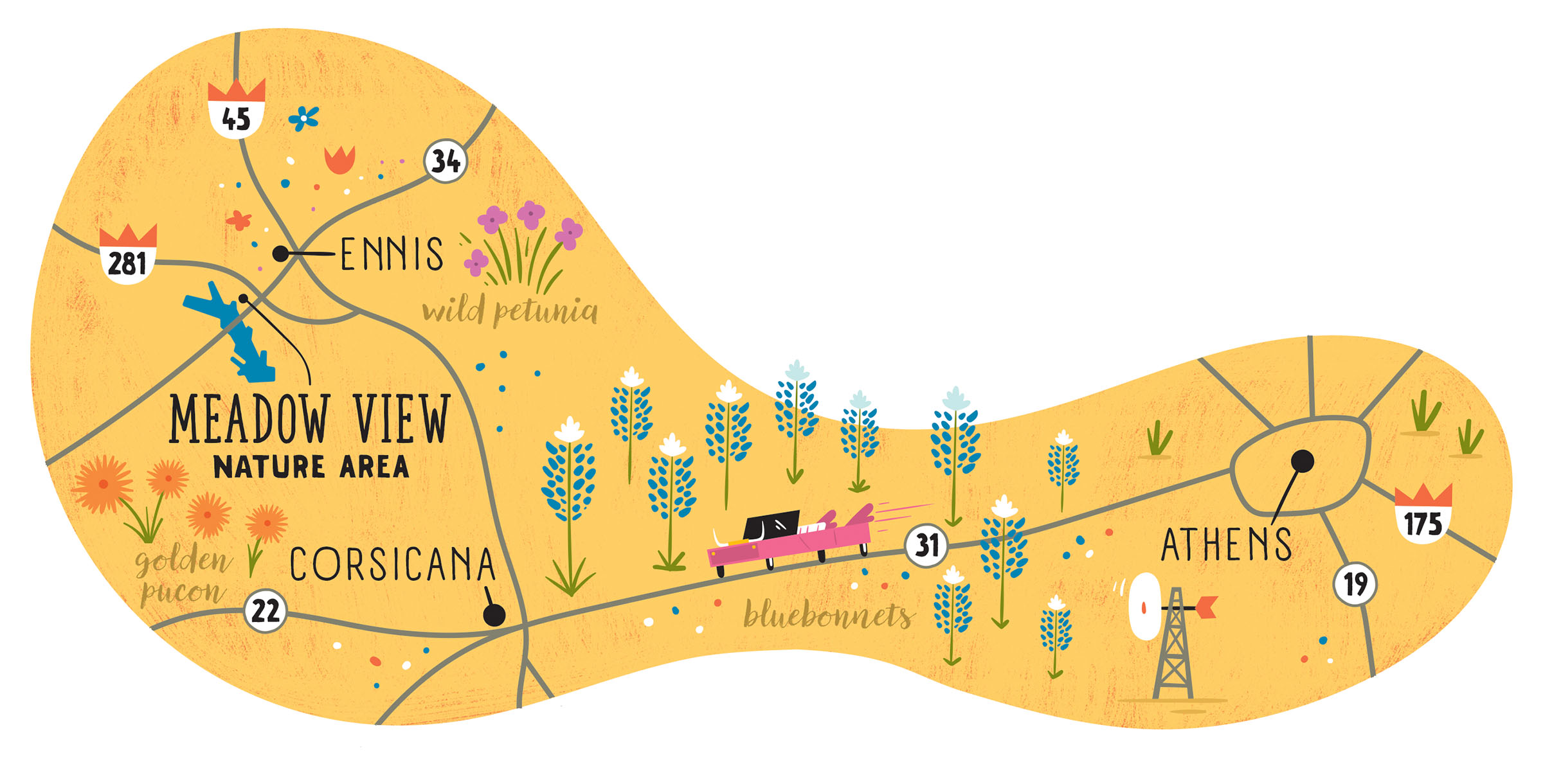 Blackland Prairie
Ennis, Athens area
This area lies in the heart of the Blackland Prairie, a band of rich grassland arcing from the Red River to San Antonio. Its wildflowers include wild petunia, golden puccoon, and rose vervain.
Find blooms in the Meadow View Nature Area (only open in April), near US 287 in Ennis, and on State Highway 31 from Corsicana to Athens. Other usual suspects include wild indigo, coneflowers, and pink evening primrose, commonly called buttercups.
Throughout April, the Ennis Garden Club monitors 40 miles of marked bluebonnet trails on area roads, deemed the "Official Texas Bluebonnet Trail" by the Texas Legislature in 1997. The flowers typically peak during the second or third week of the month, around the time of the annual Ennis Bluebonnet Trails Festival.
The Ennis Visitor Center provides maps of the wildflower trails, or you can call or download an app of bluebonnet trails.
Stick around until dark for double features every night at Ennis' Galaxy Drive-In Theatre.
Ennis Visitor Center, 204 W. Knox St. Ennis;
Bluebonnet Trails: 972-878-4748, bluebonnettrail.org;
Galaxy Drive-In Theatre: 972-875-5505, galaxydriveintheatre.com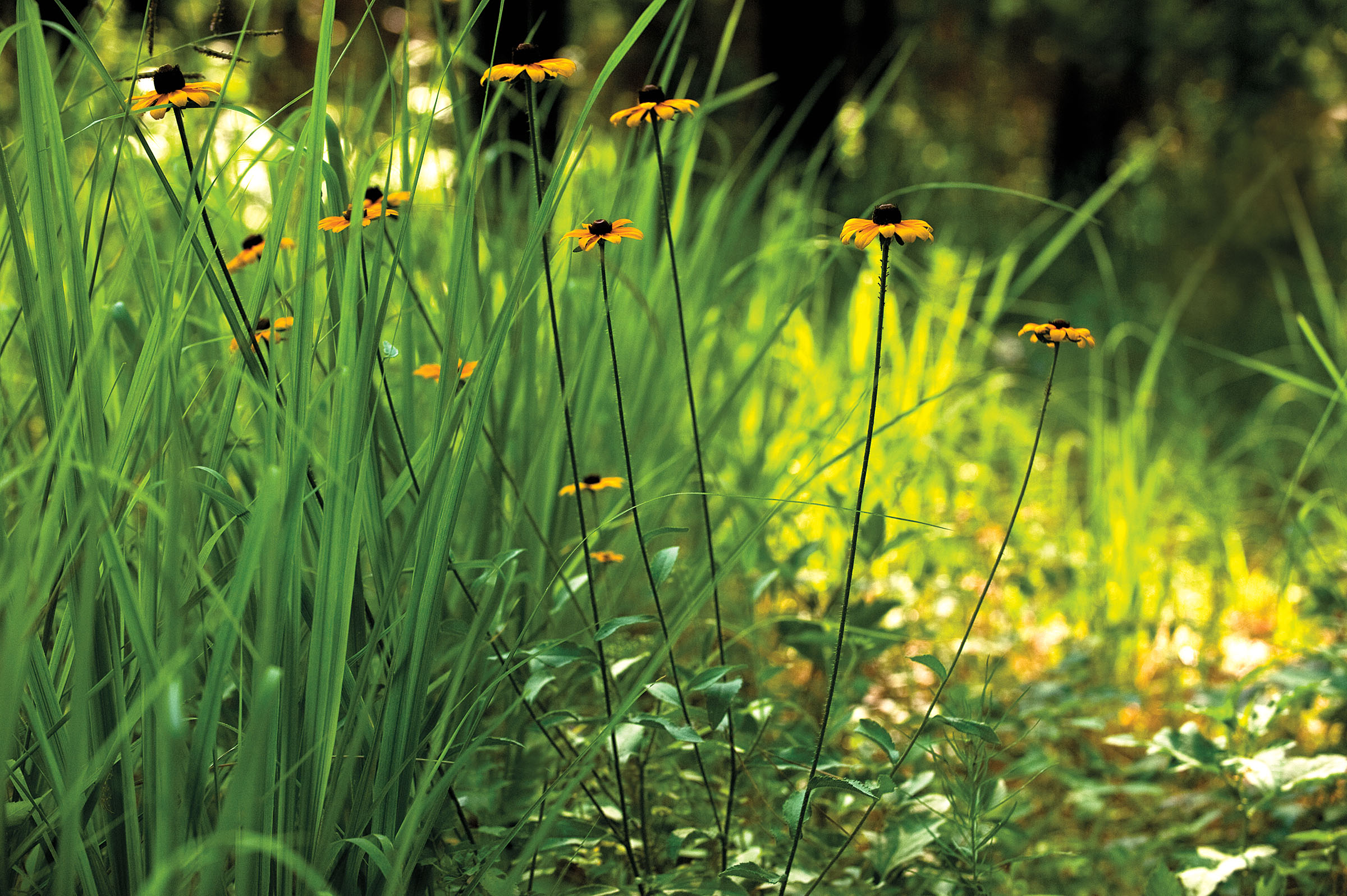 East Texas
Nacogdoches, Caddo Lake area
While known for its towering pines and hardwood forests, East Texas also contains bottomlands and pockets of diverse ecosystems with unusual assemblages of wildflowers.
Stephen F. Austin State University's 42-acre Pineywoods Native Plant Center houses a variety of rare and endangered native plants such as Neches River rosemallow and Texas trailing phlox, and it cultivates blooms in its Lady Bird Johnson Wildflower Demonstration Garden.
Flowers typically blanket the sides of FM 227, and the drive on State Highway 21 between Alto and Nacogdoches catches dogwoods, redbuds, and yellow jessamine.
US 59 between Atlanta and Linden often sports colorful spiderwort, phlox, and milkweed, and FM 2198 near Uncertain is a good place to see downy phlox, bluebonnets, and Mexican hat.
Paddlers on the water in Caddo Lake State Park may spot bladderwort, fragrant water lily and, in summer, American lotus.
Hungry? Try Auntie Pasta's in Nacogdoches, which is famous for its 10-layer lasagna and other traditional Italian dishes and desserts.
Nacogdoches Convention and Visitors Bureau: 936-564-7351, visitnacogdoches.org;
Caddo Lake State Park: 903-679-3351, tpwd.texas.gov/state-parks/caddo-lake;
Auntie Pasta's: 936-569-2171, auntiepastas.com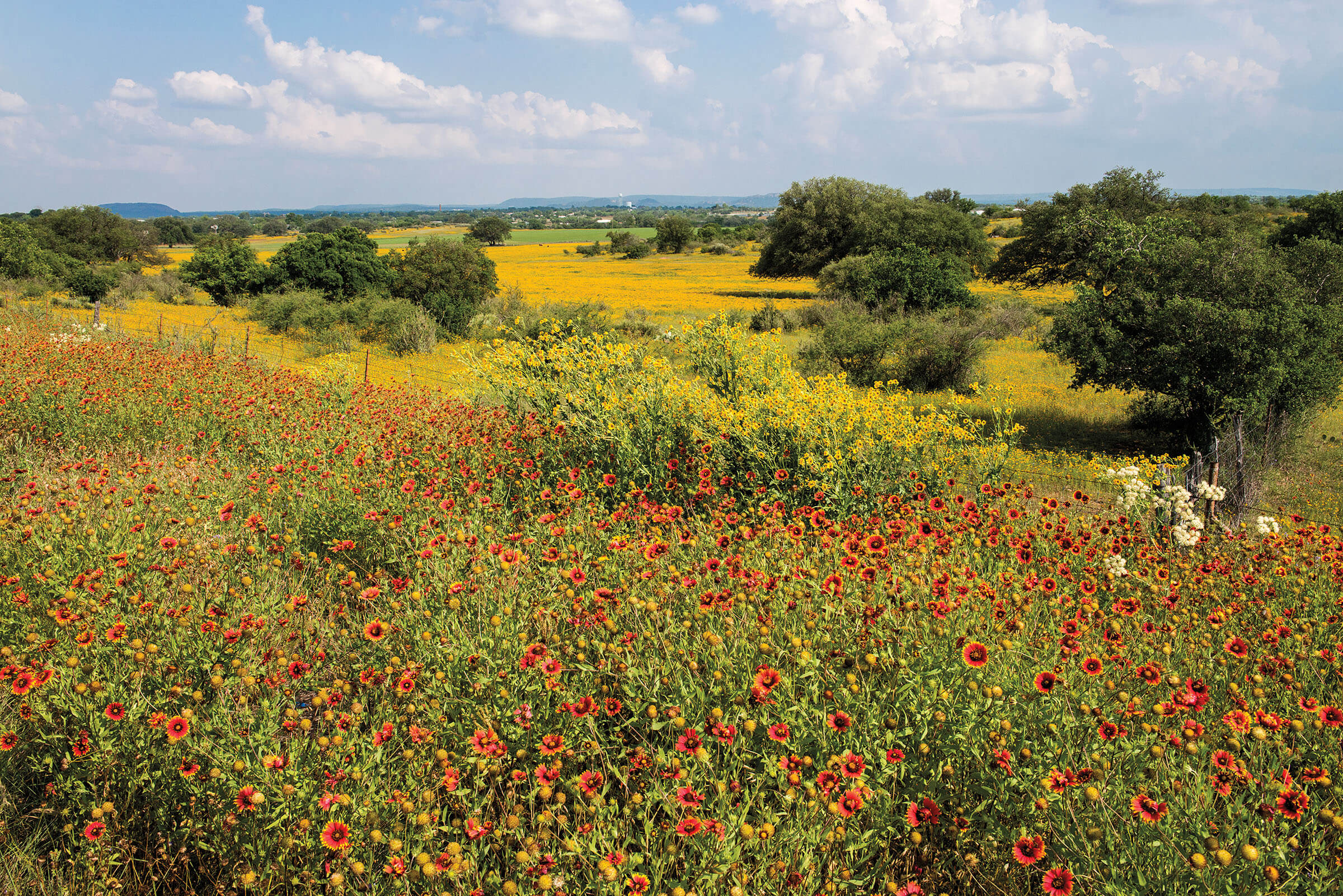 North-Central Texas
Stephenville, Hico, Comanche area
North-Central Texas contains a mix of savanna, woodlands, and prairie, known collectively as the Western Cross Timbers. US 377 from Comanche through Stephenville to Granbury rolls across pastures where horses graze amid bluebonnets, Indian paintbrush, and other wildflowers.
In Dinosaur Valley State Park, check out antelope-horns and delicate Texas skeleton plant. The park also contains world-class dinosaur tracks fossilized in the bed of the Paluxy River.
State Highway 16 between San Saba and Comanche reliably has stunning displays, and Round Top Hill—the first big hill west of Comanche on US 377—is the locals' go-to place for spotting wildflowers, including bluebonnets, winecup, and Indian paintbrush. Visitors to Brennan Vineyards in Comanche can see these flowers from the winery's tasting patio and vineyards.
For a sweet treat to accompany the pretty views, try the Koffee Kup Family Restaurant in Hico, known for its fresh-baked pies, chicken-fried steak, tacos, and specialty burgers.
Dinosaur Valley State Park: 254-897-4588, tpwd.texas.gov/state-parks/dinosaur-valley;
Comanche Chamber of Commerce and Agriculture: 325-356-3233, comanchechamber.org;
Brennan Vineyards: 325-356-9100, brennanvineyards.com;
Koffee Kup: 254-796-4839, koffeekupfamilyrestaurant.com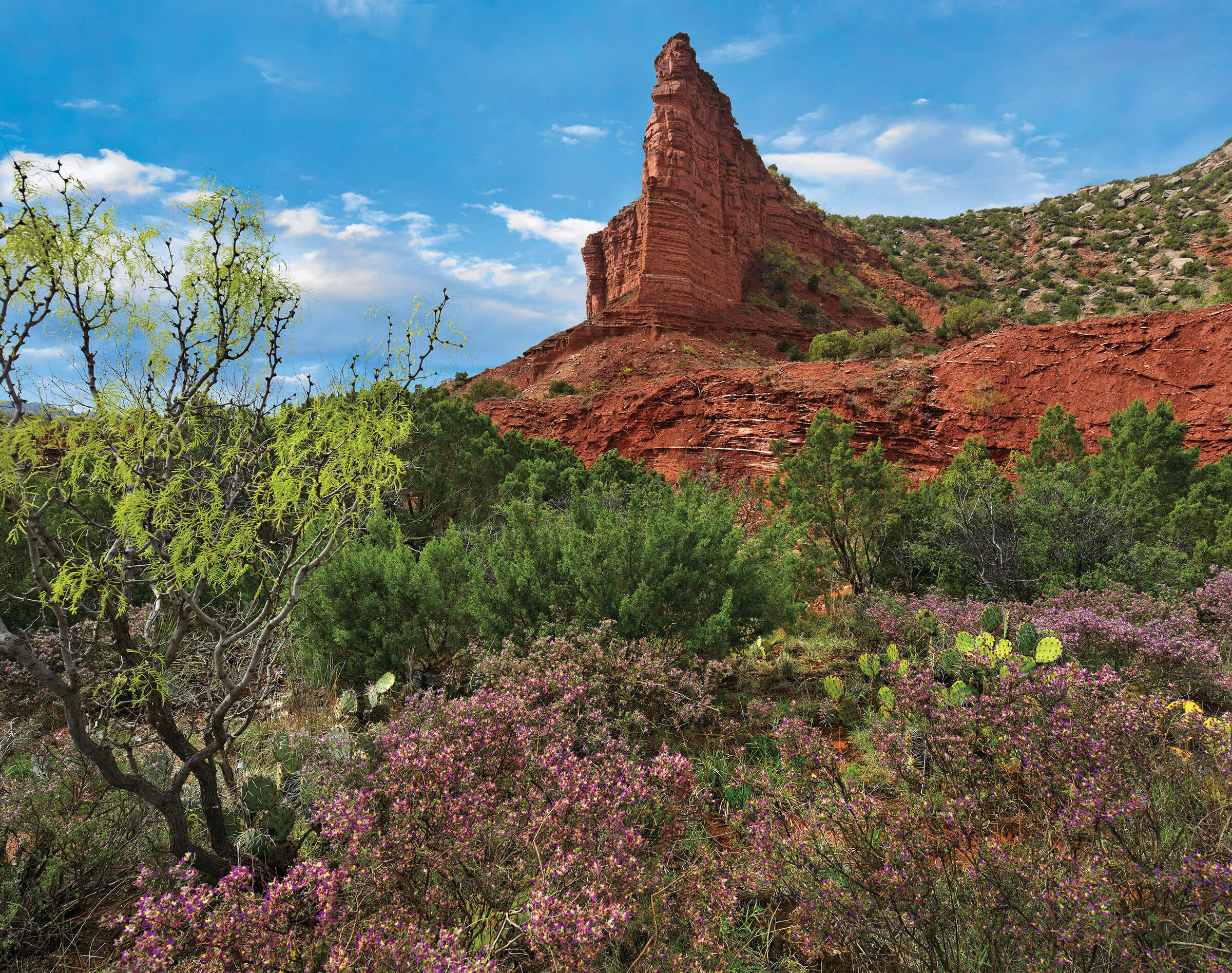 Panhandle
Amarillo, Lake Meredith, Palo Duro Canyon, Caprock Canyons area
A mostly level plateau at the southern tip of the Great Plains, the Texas Panhandle Plains range in elevation from about 2,000 to 4,500 feet. Spanish explorers dubbed this area the Llano Estacado, Spanish for "staked plains."
Home to the second-largest canyon in the country, Palo Duro Canyon State Park also contains paperflower, blackfoot daisy, and sand sage. See these blooms via 50 miles of hiking and biking trails.
Streams carved the rugged gashes in the Caprock Escarpment that give Caprock Canyons State Park its name—and its beauty. A 700-acre prairie near the park headquarters is home to lemon horsemint, and white and rose prickly poppy. The Texas State Bison Herd, descendants of animals saved by ranchers Charles and Mary Ann Goodnight in 1878, also roams here.
Tahoka, chocolate, and Engelmann daisies bloom at Lake Meredith National Recreation Area in a series of breaks cut by the Canadian River through the High Plains. When conditions are right, the park's Plum Creek area bursts into yellow with prairie zinnias and varieties of greenthread.
Alibates Flint Quarries National Monument is a mesa dotted with quarries used by indigenous peoples for 13,000 years. Its winding, hilly road offers displays of sunflowers, tansy-mustard, and prairie clover.
Amarillo Convention and Visitor Council: 800-692-1338, visitamarillotx.com;
Palo Duro Canyon State Park: 806-488-2227, tpwd.texas.gov/state-parks/palo-duro-canyon;
Caprock Canyons State Park: 806-455-1492, tpwd.texas.gov/state-parks/caprock-canyons;
Lake Meredith National Recreation Area: 806/857-3151, nps.gov/lamr;
Alibates Flint Quarries National Monument: 806-857-6680, nps.gov/alfl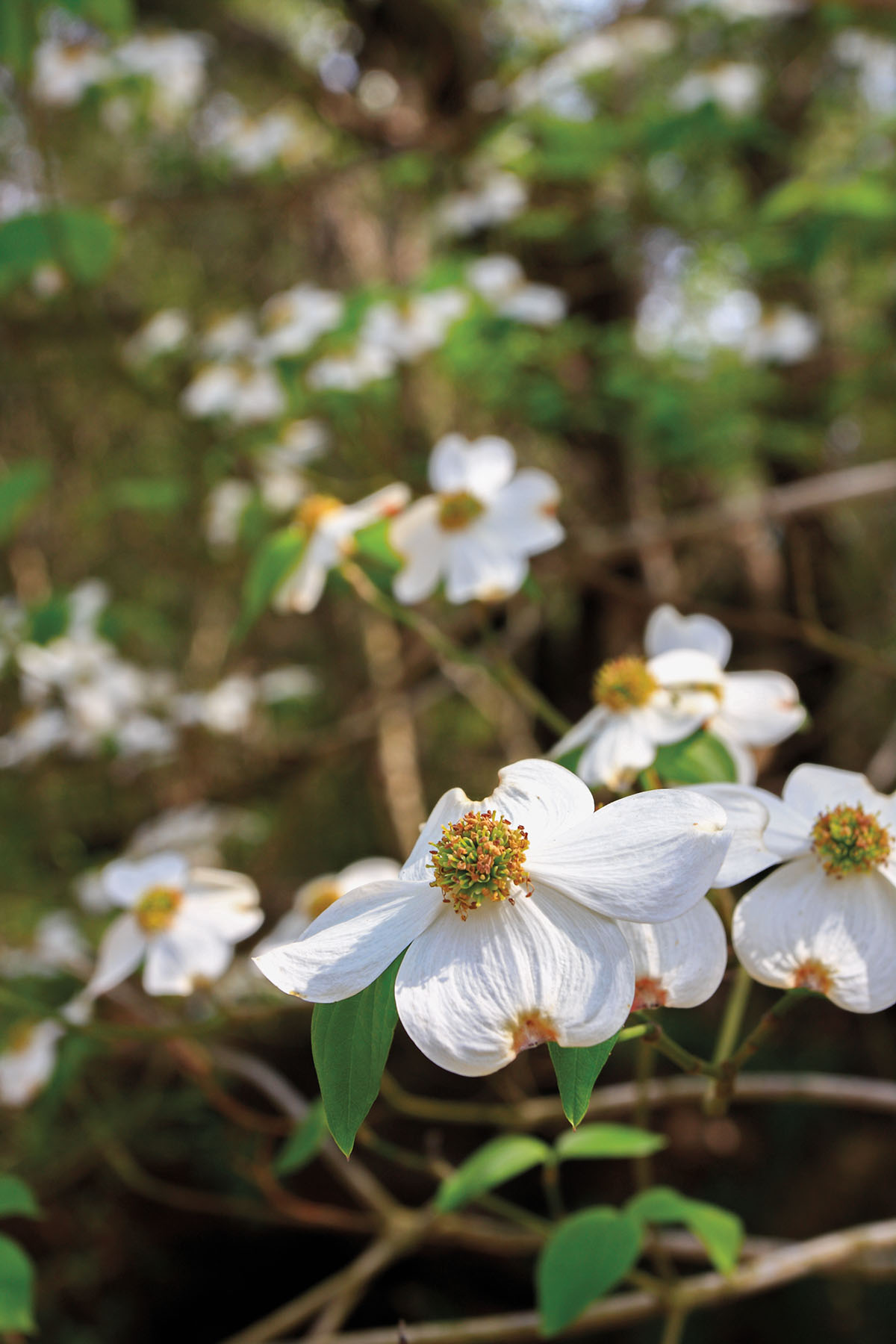 South Texas Coastal Plain
Cuero, Goliad, Victoria, Refugio area
These coastal plains of grasslands and brush provided the backdrop for many significant events in early Texas history. Today, remnant historic sites create a stage for profusions of wildflowers.
Golden blooms of Huisache daisies blanket the roadside along US 183 just past the San Antonio River in front of historic Presidio la Bahia, constructed in 1749 and restored to its 1836 state as a Mexican military compound. Phlox, coreopsis, and rose prickly poppy bloom here as well.
Unpaved Cheapside Road off US 87 south at Westhoff dazzles with flowers on both sides, and 87 to Cuero passes fields of rattlesnake flower, lazy daisy, and wild onion.
The Cuero Visitors Center provides a driving guide to the many wildflower-bedecked routes around town. Along US 183 from Cuero to Goliad, hawthorn trees, Texas sensitive pea, and showy evening primrose bloom.
Nearby Goliad State Park, home to a reconstructed circa-1749 Spanish mission, contains a wildflower meadow of bluebonnets, Indian paintbrush, and horsemint.
Overnight guests can have Presidio la Bahia to themselves by booking The Quarters, former lodging for Mexican officers and Catholic priests.
Cuero Visitors Center, 210 E. Main St.;
Cuero Chamber of Commerce Agriculture & Visitor's Center: 361-275-2112, cuero.org;
Goliad Chamber of Commerce: 361-645-3563, goliadcc.org;
Goliad State Park: 361-645-3405, tpwd.texas.gov/state-parks/goliad;
Presidio La Bahia: 361-645-3752, presidiolabahia.org/the-quarters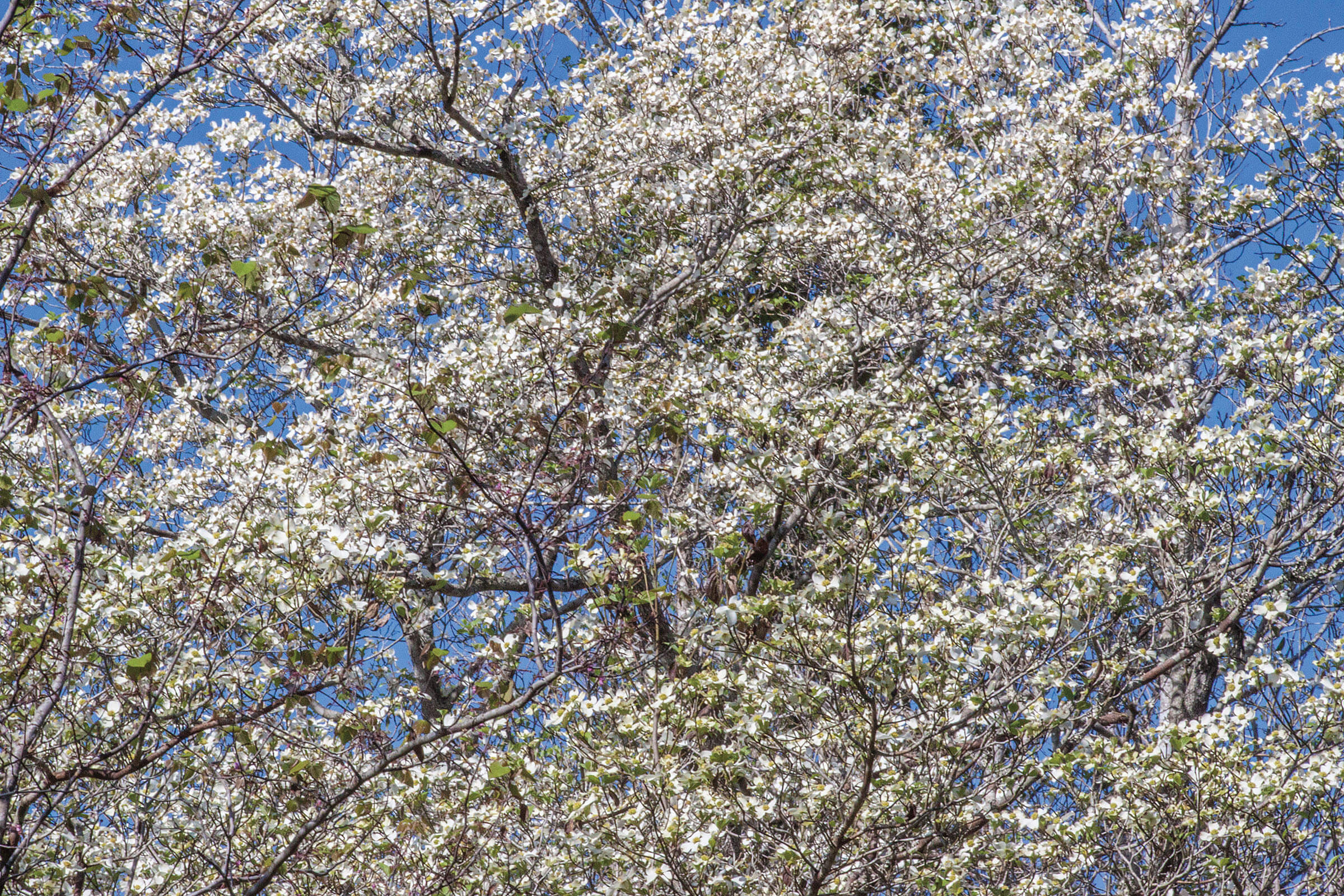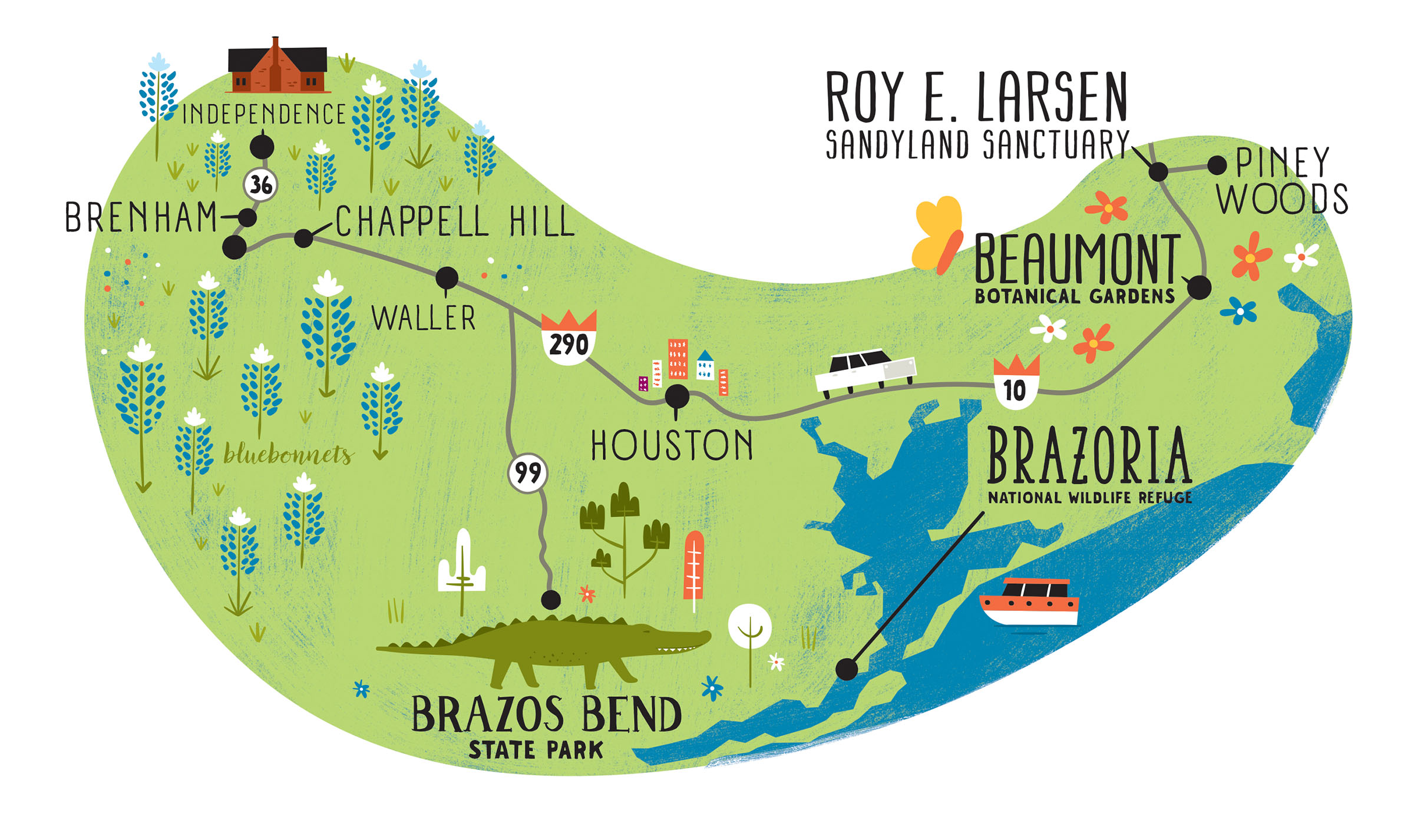 Upper Coast
Brazos Bend, Beaumont, Brazoria, Sandyland area
Landscapes along the Upper Gulf Coast vary from flat tallgrass prairie to rolling Piney Woods terrain, all of them welcoming to wildflowers.
A self-driving tour of Brazoria National Wildlife Refuge passes coreopsis, prairie nymph, and rain lilies. Its Discovery Center has a walking path for a close look at the delicate blooms of blanket flowers.
Brazos Bend State Park's astonishing variety of spring wildflowers include yellow star-grass, showy blue-star, and many more. Spider lilies and iris bloom in wet areas of the park.
The Nature Conservancy's Roy E. Larsen Sandyland Sanctuary contains more than 340 wildflower species, including Texas trailing phlox, wild azalea, and fringe tree (aka old man's beard). Visitors can explore via 6 miles of trails or rent canoes and kayaks from local vendors on Village Creek.
In nearby Beaumont, Rao's Bakery produces signature cakes, pastries, and other goodies to satisfy the sweetest tooth, along with hot and frozen beverages and paninis for lunch
and dinner.
Brazos Bend State Park: 979-553-5101, tpwd.texas.gov/state-parks/brazosbend;
Brazoria National Wildlife Refuge: 979-964-4011, fws.gov/refuge/Brazoria;
Roy E. Larsen Sandyland Sanctuary: 409-658-2888, nature.org/en-us/get-involved/how-to-help/places-we-protect/roy-e-larsen-sandyland-sanctuary;
Rao's Bakery: 409-832-4342, raosbakery.com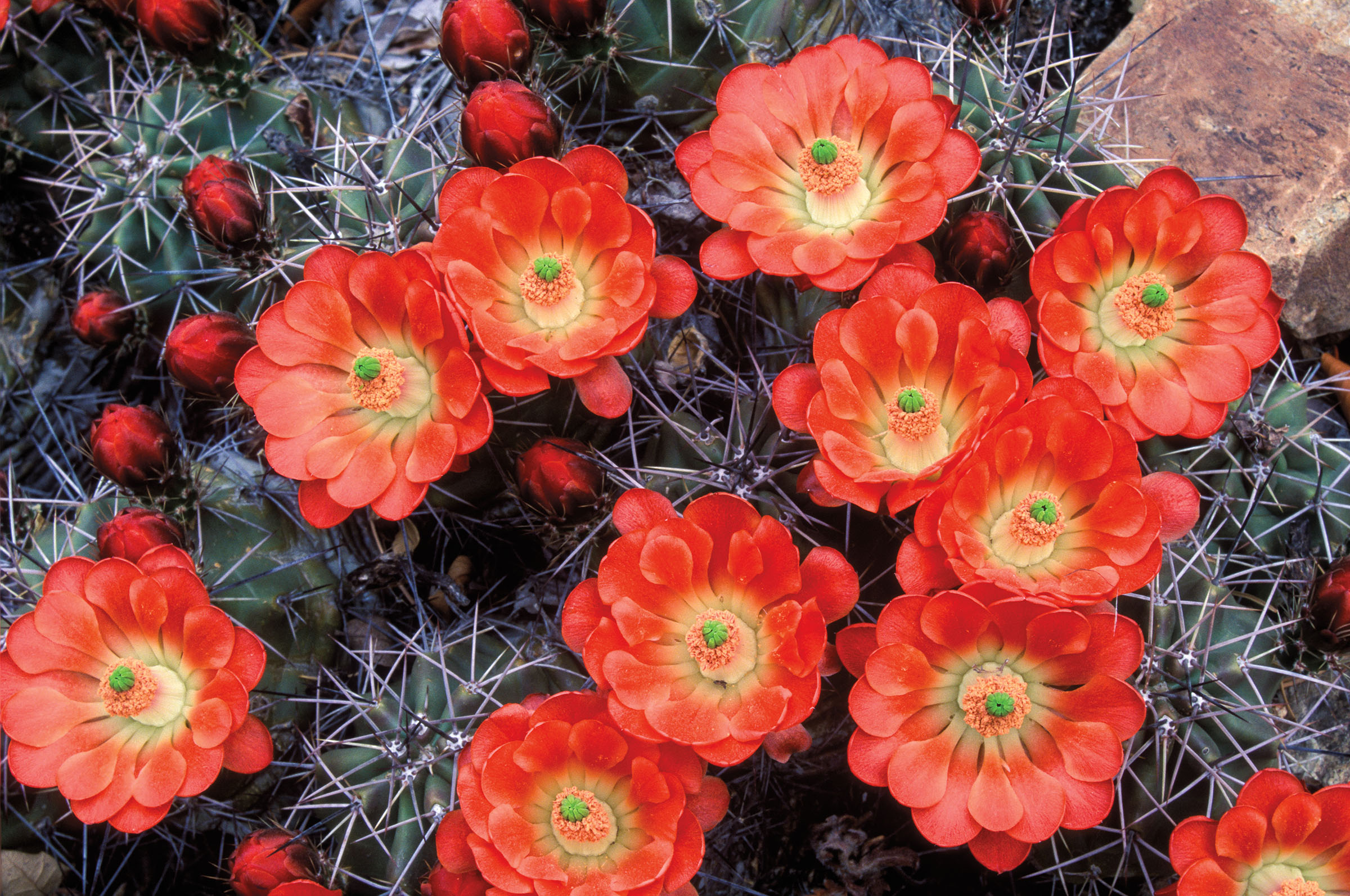 Big Bend and Davis Mountains
Big Bend National Park, Fort Davis, Marfa, Alpine areas
This southern edge of the vast Trans-Pecos region includes Big Bend National Park, home to iconic Big Bend bluebonnets, which bloom from late winter to early spring and typically grow taller than their cross-state cousins. Wildflowers in the national park scatter along the park road west from Panther Junction, with showy cactus flowers dominating mid- to late-spring.
The 50 miles of FM 170 west of the park sport Big Bend bluebonnets, sand bells, and yellow desert marigolds. Good viewing spots include the Hoodoos Trailhead and Contrabando multiuse trail, both within Big Bend Ranch State Park, and The Teepee picnic area on FM 170.
A 75-mile scenic loop from Fort Davis takes in Davis Mountains State Park and its scarlet bouvardia, silverleaf nightshade, and Apache plume. Also on this loop, The Nature Conservancy's Davis Mountains Preserve is home to rare plants such as the Livermore sandwort, many-flowered unicorn plant, and fringed paintbrush. Blooms along State Highway 118 from Fort Davis to Alpine include bladderpod, purple sand verbena, and mountain laurel.
Terlingua's Starlight Theatre, the former movie house for the historic mining company that developed the town, puts prickly pear blooms to good use in its Prickly Pear'ita, a riff on a classic margarita using juice from the cactus fruit.
Fort Davis Chamber of Commerce: 432-426-3015, fortdavis.com;
Big Bend National Park: 432-477-2251, nps.gov/bibe;
Davis Mountains State Park: 432-426-3337, tpwd.state.tx.us/state-parks/davis-mountains;
Davis Mountains Preserve: 432-426-2390, nature.org;
Big Bend Ranch State Park: 432-358-4444, tpwd.texas.gov/state-parks/big-bend-ranch;
Starlight Theatre: 432-371-3400, thestarlighttheatre.com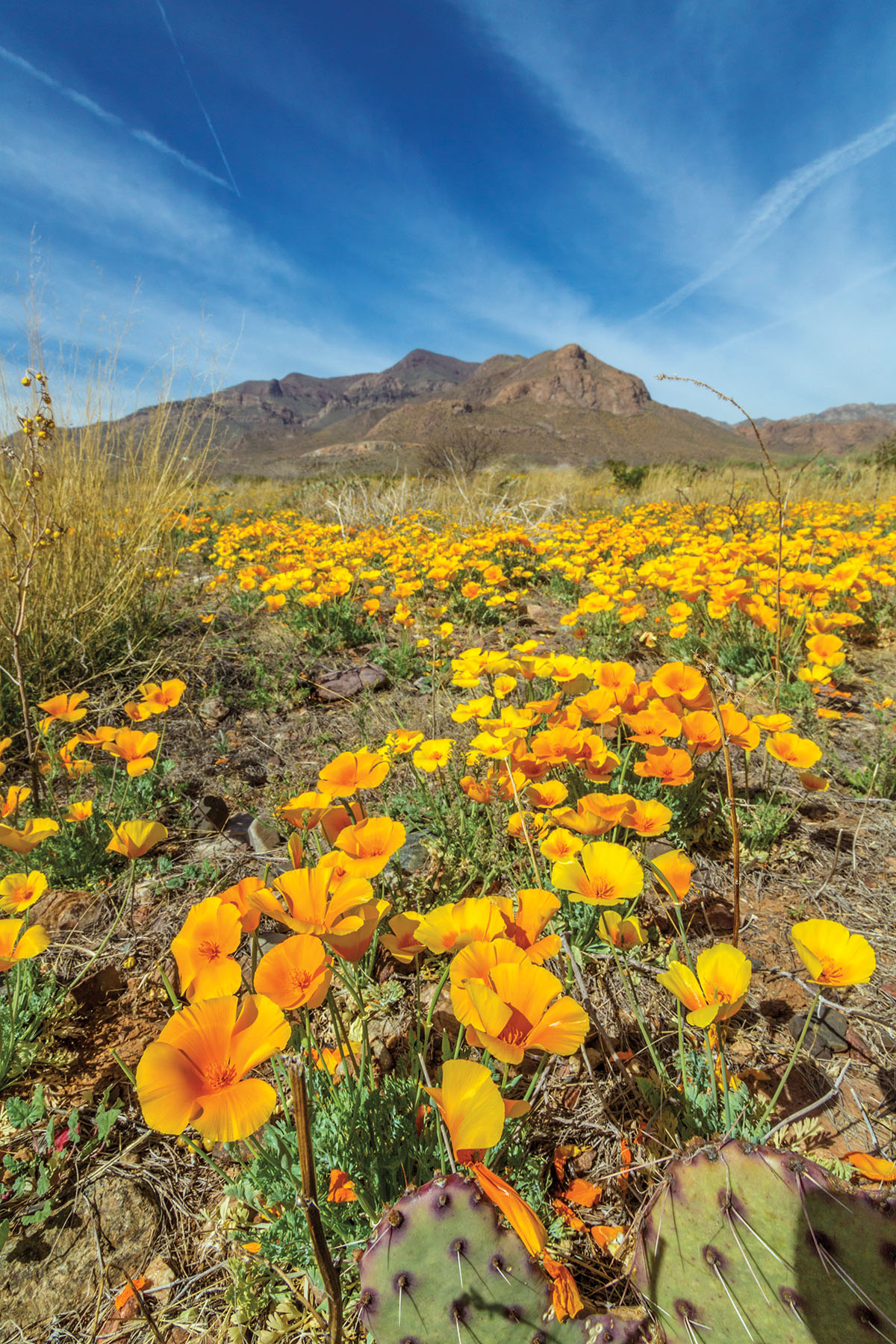 Far West
Franklin Mountains, El Paso, Guadalupe Mountains area
The most complex of all Texas ecoregions, the Trans-Pecos occupies the part of the state generally west of the Pecos River. Its diverse habitats and vegetation vary from Chihuahuan Desert valleys and plateaus to wooded mountain slopes.
At the state's western tip, Franklin Mountains State Park contains blooming ocotillo, yucca, and many types of cactus, including Southwestern barrel cactus and Chihuahuan fishhook cactus. Visitors can look for them on more than 100 miles of trails or driving the Transmountain Drive (Loop 375) across the spine of the park.
Vast fields of golden Mexican poppies surround the El Paso Museum of Archaeology, which hosts an annual festival in late March to celebrate these natives, which have grown here for centuries.
Guadalupe Mountains National Park, the world's largest exposed ancient barrier reef from the Permian period, boasts the four highest peaks in Texas. Today, its dry conditions and elevation favor cacti and succulents such as claret cups, chollas, and ocotillo. Texas madrone, Mexican buckeye, and honey mesquite trees produce fragrant blooms as well. Rain can create brief but glorious profusions of wildflowers.
Franklin Mountains State Park: 915-566-6441, tpwd.texas.gov/state-parks/franklin-mountains;
El Paso Museum of Archaeology: 915-755-4332, archaeology.elpasotexas.gov;
Guadalupe Mountains National Park: 915-828-3251, nps.gov/gumo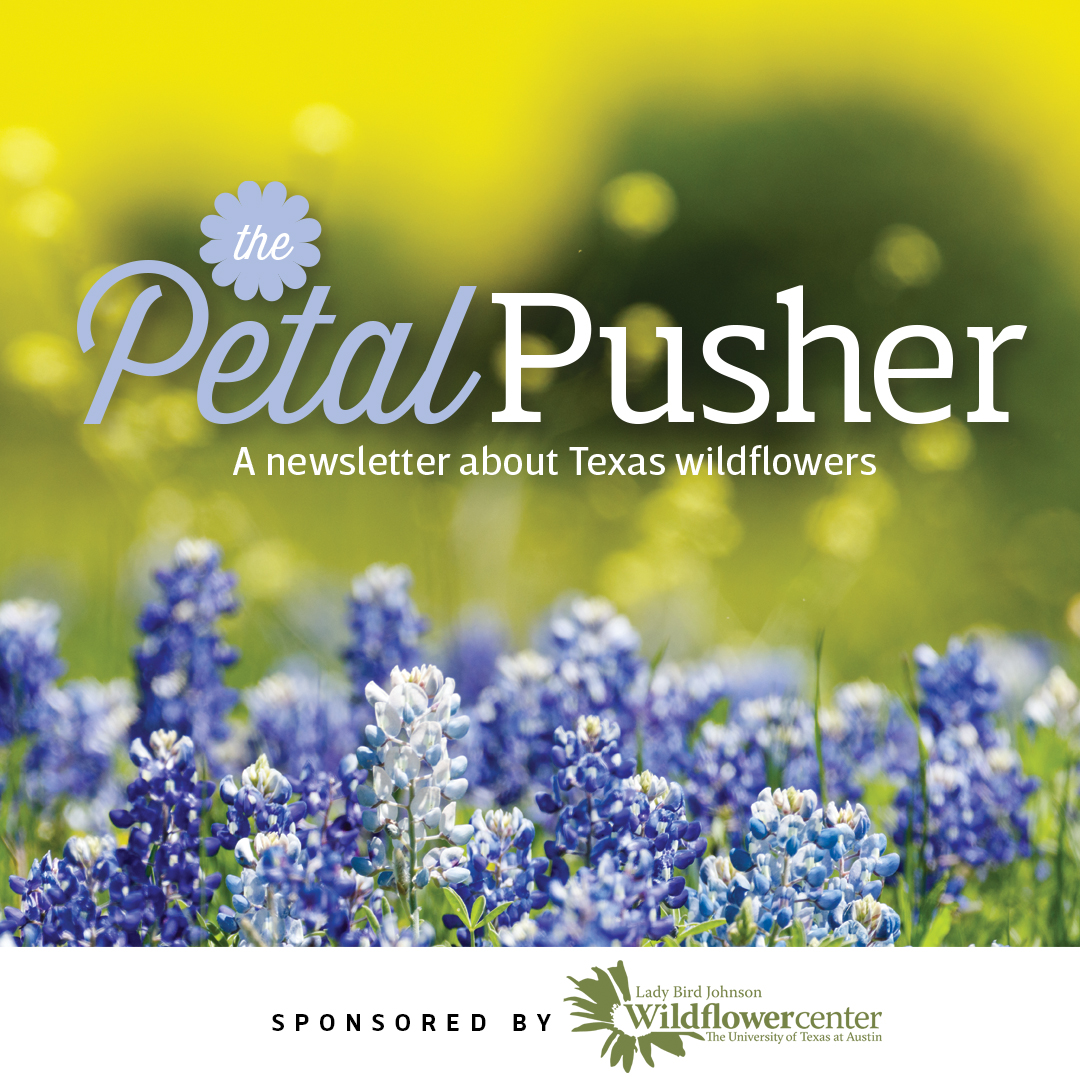 Sign up for our new wildflower newsletter
Sign up for our new email series all about the wildflowers of Texas! You will receive 8 emails (about one per week) about Texas' most abundant blooms, where to find them, and how they became so famous.