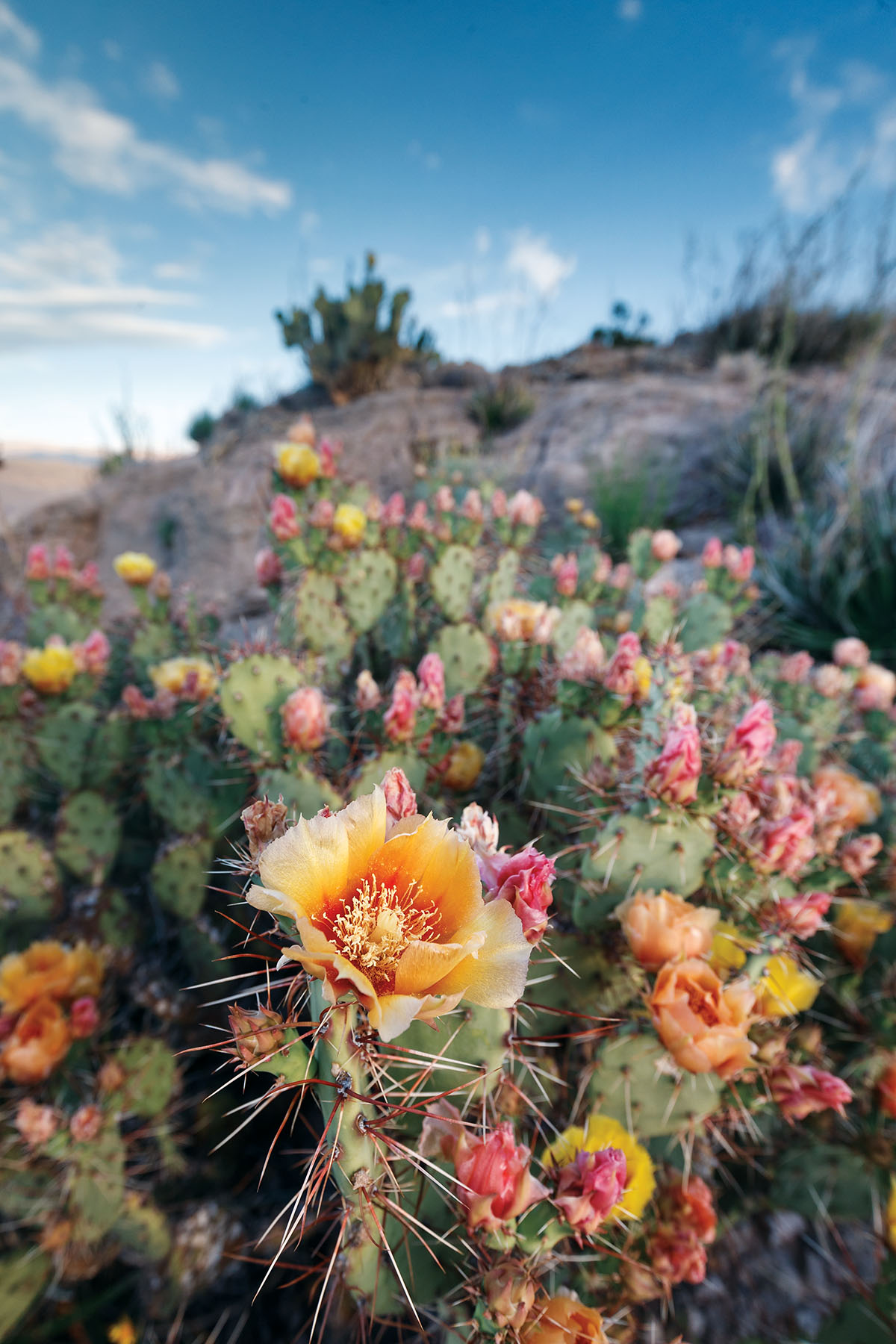 With their brilliant blossoms and rambling, spine-covered pads, prickly pear cactus are as striking as they are hearty—and enduring. A native of the American Southwest and Sonoran Desert in Mexico, the plant's sweet, magenta-colored fruit (tuna) and broad, flat pads (nopales) have provided essential nourishment to the inhabitants of these regions for thousands of years. The Texas Legislature designated the prickly pear cactus the state plant in 1995 to honor its importance in Lone Star history.
As rural drives in most regions of Texas will reveal, prickly pears continue to flourish here. Each spring their red, orange, and yellow flowers paint the rugged landscape. Then, from July to September, the thick-skinned fruit ripens to a deep reddish purple.
During droughts, prickly pear offers last-resort sustenance for cattle and goats. Some say the coyote uses its bushy tail to brush spines from the fruit before eating it. If you want to prepare the fruit yourself, first remove the fuzzy glochids that cover them. Then, peel the fruit, briefly simmer in hot water, puree in a food processor or blender, and strain through a sieve to remove the seeds.
But if you prefer an easier solution, both the sweet fruit and fresh and pickled pads are available spine-free at local markets and online.
You're also likely to find them at your favorite watering holes and restaurants, where locally minded chefs and mixologists rely on the bright-pink juice to add a vibrant zip to cocktails, condiments, sauces, and desserts.
Prickly Pear Mustard
Steve McHugh, Chef/Owner, Cured, San Antonio
"When making mustards, I like to counteract the heat of the mustard seeds with something sweeter, so prickly pears are perfect," McHugh says. "This mustard is easily paired with a roasted loin of pork or even grilled lamb chops. I absolutely
love the color of the mustard once it is cooked, and it adds a
nice bright element to the plate."
2 cups dry white wine
1 cup prickly pear juice
2 shallots, finely chopped
2 tablespoons brown mustard seeds
4 white peppercorns
1 cup Dijon mustard
1 teaspoon mustard powder
Combine the white wine, prickly pear juice, shallots, mustard seeds, and peppercorns in a pot and bring to a boil. Turn the heat down to low and allow mixture to simmer until two cups of liquid remain. Place the mixture into a blender and add the Dijon and mustard powder, and puree until smooth; refrigerate for up to two months.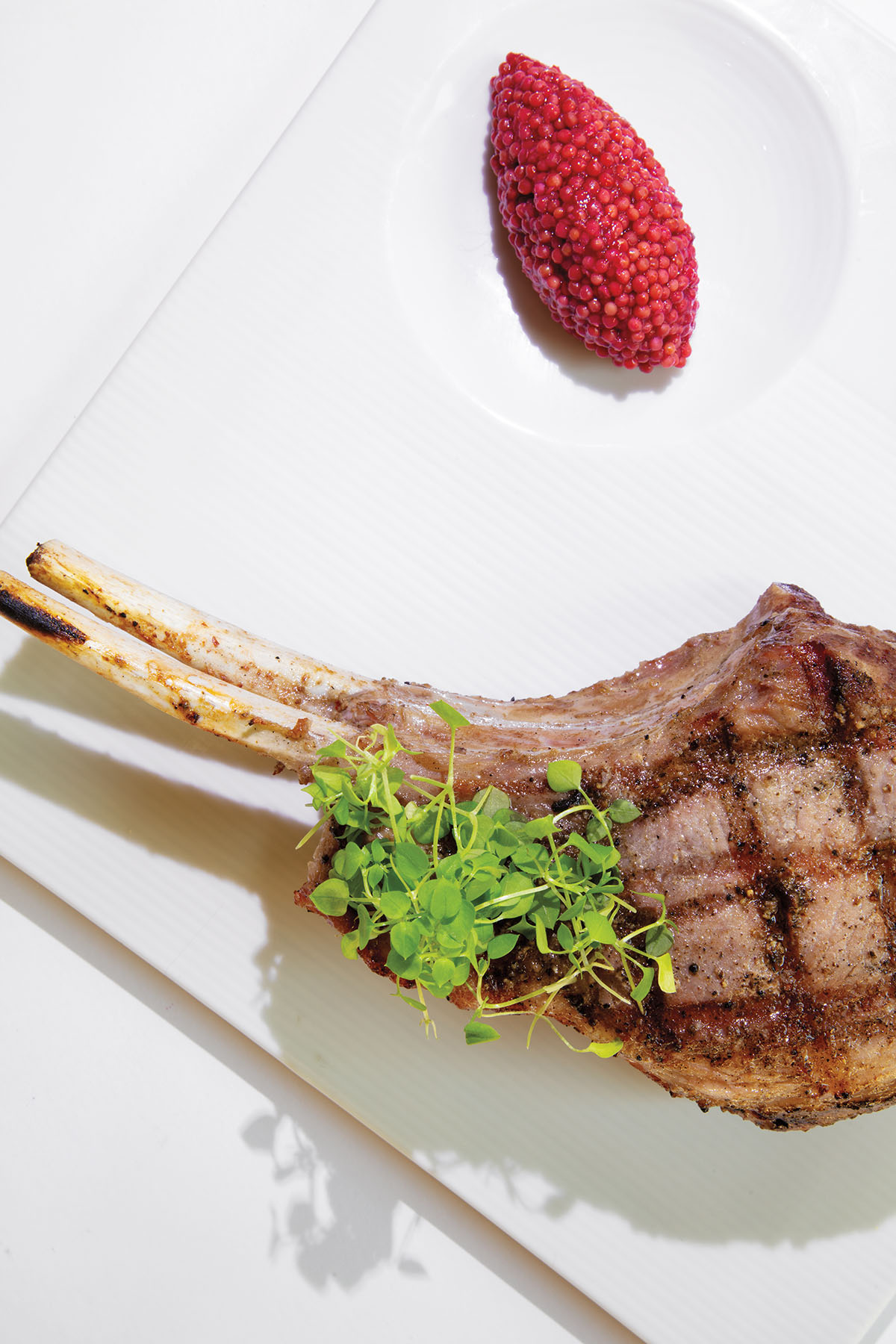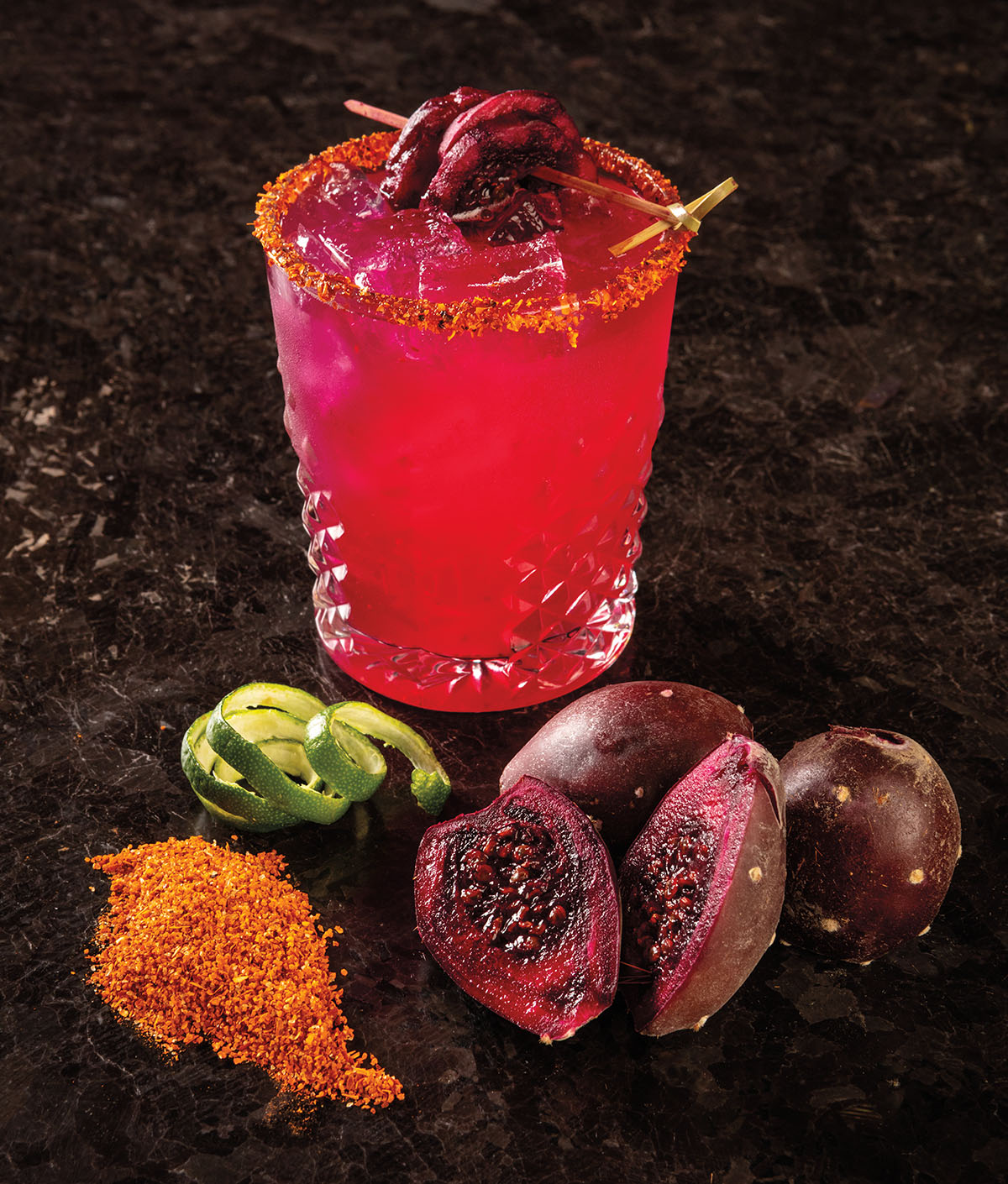 Electric Mezcal
Circa 1963 at Hotel Indigo, El Paso
Named for its vibrant pink color, the signature cocktail at Circa 1963, a retro-style cocktail lounge in El Paso, combines smoky mezcal with the sweetness of local agave syrup and a combination of lime and prickly pear juices.
Tajin chile salt, for rimming glass
1 ounce mezcal
1 ounce elderflower liqueur
1 ounce agave nectar syrup
1 ounce fresh prickly pear juice
½ ounce lime juice
Lime wedge, for garnish
Moisten an Old-Fashioned glass, coat the rim with the Tajin salt, and add ice. Combine the remaining ingredients in a shaker with a scoop of ice. Shake vigorously, strain the mixture into the glass, garnish with a lime wedge, and serve.
Prickly Pear White Chocolate Truffles
Stephanie Norcio, Pastry chef at Hotel Emma, San Antonio
"The fruity yet sometimes slightly tangy prickly pear balances well with neutral white chocolate," Norcio explains. "I added a coating of toasted coconut to bring just a little extra crunchy texture that I'm sure will keep you coming back to this recipe." When it comes to using fresh fruit, Norcio suggests seeking out prickly pears that have a reddish-orange or purple skin. "Those are the sweetest and have the most colorful flesh," she says.
White chocolate ganache:
6 ounces prickly pear puree
¼ cup corn syrup
½ teaspoon salt
10 ounces white chocolate chips
2 ounces unsalted butter
2 tablespoons coconut-flavored rum
To finish:
6 ounces white chocolate chips
1 ½ cups unsweetened coconut flakes
Make the ganache: In a medium pot, combine the prickly pear puree, corn syrup, and salt, and bring to a boil over medium heat. Place the white chocolate chips, butter, and rum in a heatproof bowl and set aside. Pour the hot mixture over the chocolate and set aside undisturbed for one minute. Using a spatula, stir in small circles until the mixture is thoroughly combined. Cover the ganache with plastic wrap and refrigerate until firm.
To finish the truffles, remove the hardened ganache from the fridge and use a small ice cream scoop or spoon to scoop out even-size portions. Roll the ganache into mini balls. Melt the remaining amount of white chocolate and roll one ball at a time in the white chocolate. Before the chocolate sets, roll it in coconut flakes. Once they've set, refrigerate the truffles for up to two weeks.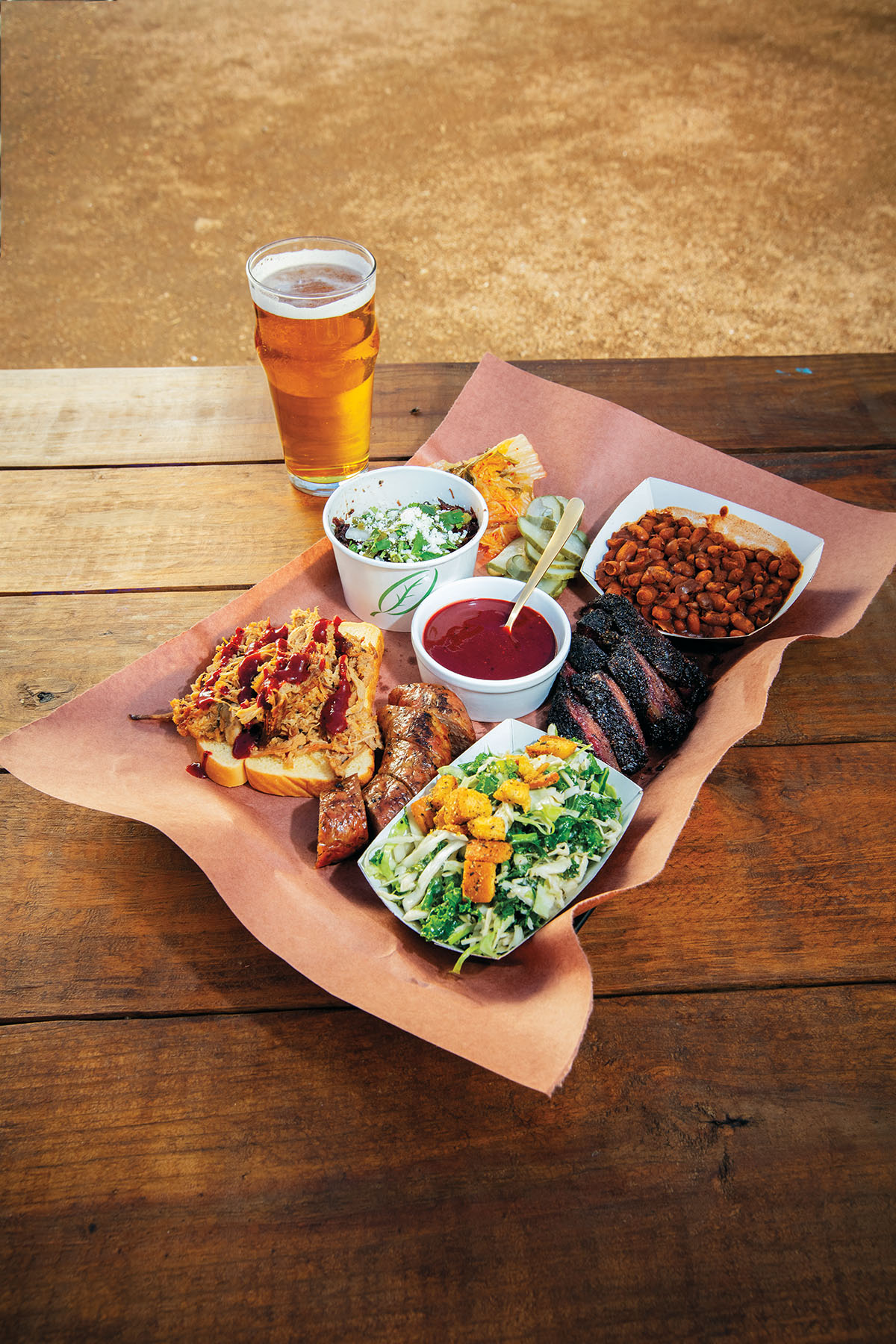 Prickly Pear Barbecue Sauce
Evan LeRoy, Chef, Pitmaster, and Co-owner of LeRoy and Lewis Barbecue, Austin
"Prickly pears are a great way to add color, sweetness, and locality to almost anything we cook in Texas," LeRoy says. "Sauces, drinks, and almost any fresh preparation can benefit from them."
1 cup prickly pear juice or puree
1 cup ketchup
1 cup yellow mustard
1 cup light brown sugar
½ cup Worcestershire sauce
½ cup apple cider vinegar
2 tablespoons coarse-ground black pepper
1 tablespoon ancho chile powder
1 teaspoon paprika
1 teaspoon cayenne
1 teaspoon granulated garlic
1 teaspoon ground cumin
1 teaspoon salt
Combine all ingredients in a saucepan and bring to a simmer for about 10 minutes, until slightly thickened. Cool, and then brush the sauce over grilled chicken, smoked ribs, or stir a small amount into a bloody mary.
Not ready to cook right now? Enter your email to have this recipe sent to you:
By entering your email, you agree to receive email communications from Texas Highways Magazine as described on the newsletter page.
The recipe has been sent to .
Prickly Pear Sorbet
Bobby Matos, executive chef of State of Grace and La Lucha, Houston
At Bobby Matos' Houston restaurant State of Grace, this bright, fresh sorbet is used to top raw oysters on the half shell. "The ice works great with not only flavoring the oysters, but also keeping them super cold," he says. While that's certainly an adventurous way to eat the sweet treat, it can also be served as a dessert. Due to the delicate nature of the recipe, a kitchen scale might be required to get the measurements just right.
60 ounces prickly pear puree
220 grams glucose
80 grams trimoline (inverted sugar syrup)
480 grams sugar
1,020 grams water
4 Thai chiles
Combine water, sugar, glucose, and trimoline over high heat and bring to a simmer to ensure the sugars dissolve. Add Thai chiles and steep until the syrup is cool, then remove the chiles. Mix the syrup with the prickly pear puree and freeze in an ice cream machine until it reaches a sorbet-like consistency.