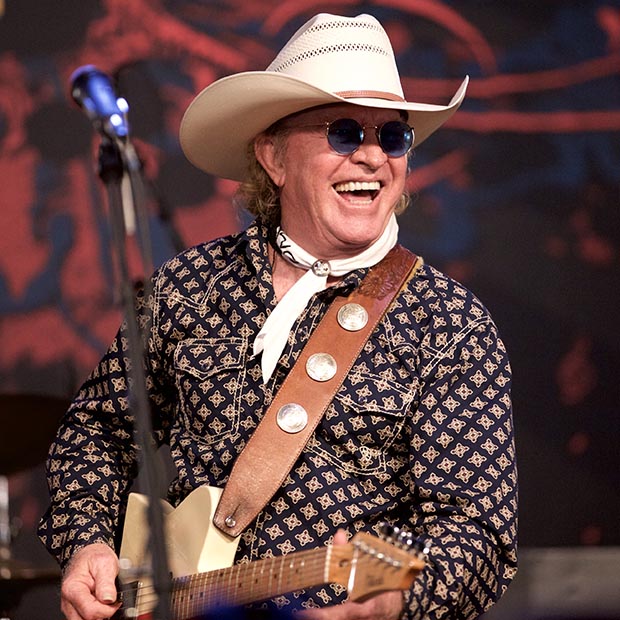 Before leading The Lost Gonzo Band, having his songs recorded by Roseanne Cash and Willie Nelson, and being recognized as the de-facto father of the progressive country scene in Austin, Gary P. Nunn was just a boy picking cotton and baling hay on an Oklahoma farm.
The renowned musician and singer-songwriter shines light on his youth (both in Oklahoma and Brownfield, Texas) and more in his new autobiography, At Home with the Armadillo (Greenleaf Book Group). (The title comes from a lyric in his famous song "London Homesick Blues," which served as the theme song for Austin City Limits.) More than just a historical account of the sparks that put the Austin music scene on the map, Nunn recounts tense band relationships, casting aside convention by producing his records independently, and the struggles of making a career in music.
We spoke with the Marble Falls-based Nunn about the current Texas music scene, his advice for young musicians, and his favorite Lone Star State travel destinations.
Nunn has a full slate of shows coming up and will be appearing at BookPeople in Austin on Jan. 25 to read from and sign his book. Check his Facebook page for updates on other appearances.
TH: How did the idea of writing an autobiography come to you?
Nunn: Well, I had been meaning to write a book for a long, long time and just couldn't ever bring myself to find the right time, the right place to get started. I brought a fellow on to help me with my promotions and management and things like that. He just encouraged me and said, "You really need to write a book." He said, "It will just enhance your credibility, open up doors for you into places that you might not ordinarily be able to go."
That's all the little nudge it took. And as soon as he did that, I just sat down and stayed after it. I guess it was about six month because I'm working a full schedule all the time and have a lot of other things going on, but I was able to just knock it out. I really enjoyed the process and thought I did a halfway decent job with it.
In the book, you imply that you're writing it stream of consciousness, as the memories come to you. Can you talk more about your writing process?
It came to me very easily. Once I got started, it just came, and I was just trying to remember the high points, basically, and the turning points in my life, the things that influenced me, and the things that pointed me in one direction or the other. It was amazing how all those things came back to me.
What's your favorite anecdote that didn't make it into the final cut of the book?
My original intention, when I first contemplated writing the book, was to write sort of a primer for the music business, and just put in tidbits of information and maybe a little advice for younger people who may be coming along about the nature of the music business and the things involved, and the things you have to do in order to survive. But it didn't seem to fit into the narrative of my life. It was kind of a side thing, and the editors elected to delete that.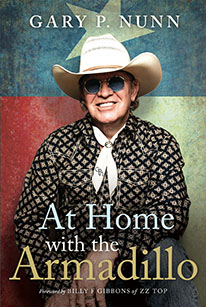 What similarities and difference did you find between book writing and songwriting?
The writing of a book is a much more liberating experience. You're not so confined with the constraints of having to paint a picture in three or three-and-a-half minutes and make it almost like a book…try to open up those picture windows, hopefully that the audience will grasp onto and relate to. I find that songwriting is a much more difficult experience because it's so concise. You have much more freedom to expound on subjects [in book writing] that you don't have the opportunity to in songwriting.
Being active in the early days of this big Texas music movement, what's your view of the music scene in Texas now, especially in Austin where you were based for that time?

It's just amazing. It's incredible. I'm the first that I know of who actually made his own record and produced it and distributed it, and did all the publishing work and all that. Now with the involvement of the internet and Facebook and all the ways of disseminating information, these kids have taken our inspiration and said we can do that too.
It's just grown and these kids have taken the bull by the horns, and the whole industry has evolved. Of course, the musicians have developed into songwriters and performers, but on the other hand you have the other aspects of the music business, like management, and devoted booking agents, and PR people. All the other aspects of the music business that have grown into an industry themselves
I always try to encourage songwriters and different people, and try to help them, and give them advice about how they could do it their own way, and still flourish, and still be independent. Independence and freedom is the most important thing, to not be chained, or bound by restrictions, to be in charge of your own business. That's what we're looking for, and, boy, it's grown to incredible dimensions. Some of these kids are just knocking down millions of dollars a year, and traveling all over, and being incredibly creative and successful.
What do you hope young musicians will take away from your book?
I write a line in the book, "Pick a place you want to go, and then figure out a way to get there." That just [means] have a goal in mind and then focus until you get closer and closer to go. Each step is just a baby step in the long, long journey. Life just goes by so quickly. Everything you do is hopefully a little building block to building a nice home someday.
You talk in the book a couple of times about how you nearly quit music, but then someone was asking you to do a gig at the right moment. What do you think it takes to have a career sustain as long as yours has?
It's just focus, commitment, and discipline. All those things create success in anybody's life, no matter what their career is. Just the basic building blocks of being constantly creative.
Where is your favorite place to travel to in Texas?
Gosh, I like always like to go to Terlingua, always like to go to the coast. I like to go places like Lukenbach and Gruene Hall, and the rivers. I grew on the Great South Plains, and it's always sort of nostalgic and inspirational to go back to that.
What's your favorite Texas venue to perform in?
I'd have to say the places that I've been playing for so many years—places like the Broken Spoke, and Luckenbach Dance Hall, and Gruene Hall. Places like that have historical value and have a history of country music throughout the years. It's just being able to carry on that tradition that has been so ongoing, and it seems to be such a part of Texas culture: the get-togethers of families, the dancing, the visiting, the courting, and the sparking that all goes on when people get together in a community atmosphere.
From the February 2018 issue