Honky-Tonk Heroines
The Texas Women of Outlaw Country break the rules their own way
Illustrations by Jackie Parsons
At renowned Arlyn Studios in Austin, two Texas artists got together in the spring of 2021 to record an array of standards, including Lone Star staples like "Waltz Across Texas" and "Always on My Mind." One was young and tatted, the other older and dressed in black. At the end of each session, they toasted with margaritas the elder had prepared. What made it a rarity from the hundreds if not thousands of other country sessions that have happened there since the studio opened in 1984 is that both artists were women. One was Lubbock singer-songwriter and fiddler Amanda Shires, and the other was Abbott's favorite daughter, pianist Bobbie Nelson—or Sister Bobbie as her little brother, Willie Nelson, called her.
Almost 50 years earlier, Bobbie was in Nashville at the advent of outlaw country, sipping whiskey alongside Waylon and Willie and the boys as she formed the backbone of her brother's band. For the most part, the boys got the glory with the recording of their genre-bending albums Honky Tonk Heroes and Shotgun Willie. Their music and attitude were credited with bringing a new Western wildness and independence to Nashville's hidebound Music Row. The musicians' reputations spurred Lone Star pride, inspiring generations of Texas country artists and fans to say "Nuck Fashville."
But the women were there, too. Female artists like Bobbie, Jessi Colter, Sammi Smith, and Emmylou Harris played before and during the '70s outlaw heyday of the boys. And women continue to be an integral part of the scene today. They do the same boundary-pushing work for a fraction of the credit and challenge country music's status quo simply by playing in the first place.
Outlaw country started as a movement. In the early '70s, Willie decided he'd had enough of Nashville. He'd been recording there for over a decade with only modest success, which he blamed on the traditional kinds of arrangements and marketing Nashville used for his records. Willie's Texan compatriots Waylon Jennings and Kris Kristofferson felt similarly constricted by Music Row and its intensely business-minded music production. So, they grew their hair long and either moved to or started spending a lot more time in Austin—a path also carved out by Guy Clark, Townes Van Zandt, and others—where they could sing about what they wanted and include any influences they chose, from rock to jazz, in their eclectic sounds. This cemented Texas and its capital as the heart of unfiltered country music and the boys as uncompromising outsiders.
A generation of women country artists from Texas has taken up the mantle of that toughness and tenacity, both from trailblazers like Bobbie and the iconic outlaw artists whose names are etched in every roadside honky-tonk and wannabe-hip dive bar in this state. And like their forebears, they've reshaped Nashville in their own image.
"When I think of outlaws, I can't help but think of Bobbie Nelson," Shires says. She grew up in Lubbock seeing Bobbie play piano alongside Willie and the band. Shires credits the experience not just with inspiring her but "making me feel like I can do what I'm doing" as an instrumentalist, sidewoman, and bandleader. In the nearly 20 years since her career began, Shires has released seven solo studio albums, including the critically acclaimed Down Fell the Doves and My Piece of Land. She also won a Grammy for her work in the 400 Unit, the band fronted by her husband, Jason Isbell.
Bobbie played with Willie for decades before her passing in 2022. "The truth, though, is that I was never the prodigy," Willie wrote in their joint memoir, Me and Sister Bobbie. "Bobbie was the prodigy." Bobbie's collaboration with Shires produced an album this past June titled Loving You, which, tragically, became a posthumous tribute to an artist whose impact has been overlooked.
"Because of people like her, we're able to be moms in the business, too," Shires says, alluding to the time Bobbie temporarily lost custody of her sons in part because being a musician was not seen as a respectable occupation, especially for a woman. "It was just one thing after another," Shires adds. "How was she able to still walk in this world?"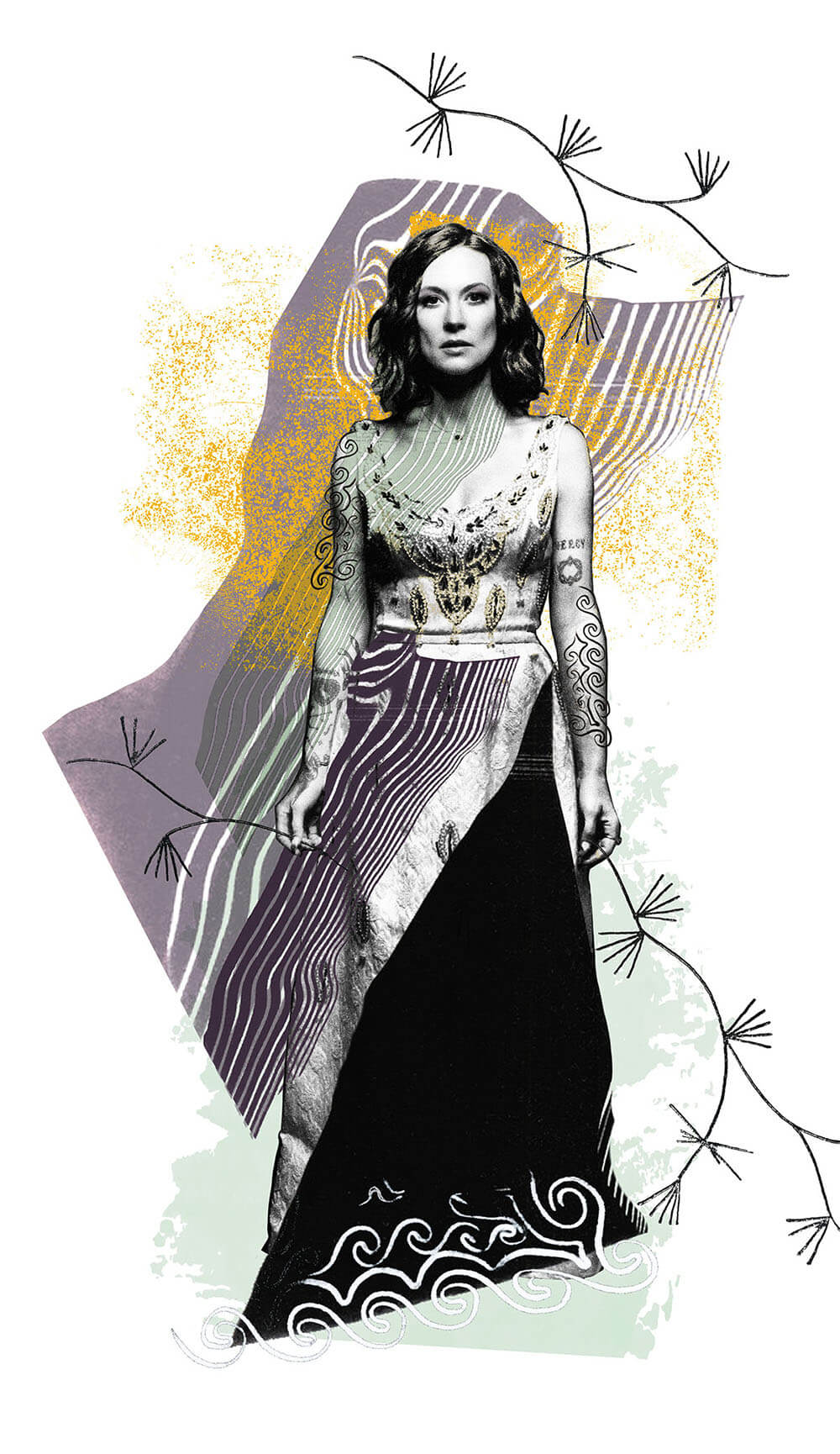 "People didn't really consider the term 'outlaw' for women. But it doesn't feel gendered. You're outside of the law." - Amanda Shires
Twenty years ago, Natalie Maines of The Chicks, then the Dixie Chicks, infamously introduced the group's song "Travelin' Soldier" at a London concert with a disparaging comment about President George W. Bush and the U.S.' involvement in the Iraq war. It's hard to get more outlaw than that, but The Chicks had already pushed boundaries with their music—a radio-ready style of country with roots deep in Texas "red dirt" that would earn them era-defining success with Grammy-winning albums Wide Open Spaces, Fly, Home, and Taking the Long Way.
The Chicks ignited a new generation of female Texas outlaws who buck the system in ways even more daring and risky than the men who preceded them. Miranda Lambert, Kacey Musgraves, Mickey Guyton, and Maren Morris are a few of the acts who have, like Shires, made it in Nashville and beyond without losing their outsider cred and helped set the stage for other female Texas country artists like Summer Dean, Sunny Sweeney, and Valerie Ponzio to thrive.
"If you define an outlaw as someone who's just trying to be honest with themselves and making their own path, that's what a lot of these women are doing," says Dean, a Fort Worth singer-songwriter who's proven her honky-tonk bona fides over two critically acclaimed albums.
Most of these women have cosigns from outlaw royalty, but that isn't the only thing tying them to what's become a Texas tradition. Their singular sounds; their willingness to speak their minds onstage and off; the personal, honest, rich topics they sing about; and the devil-may-care independence with which they approach their music making bind them to each other and their home state.
"People didn't really consider the term 'outlaw' for women," Shires says. "But it doesn't feel gendered. You're outside of the law."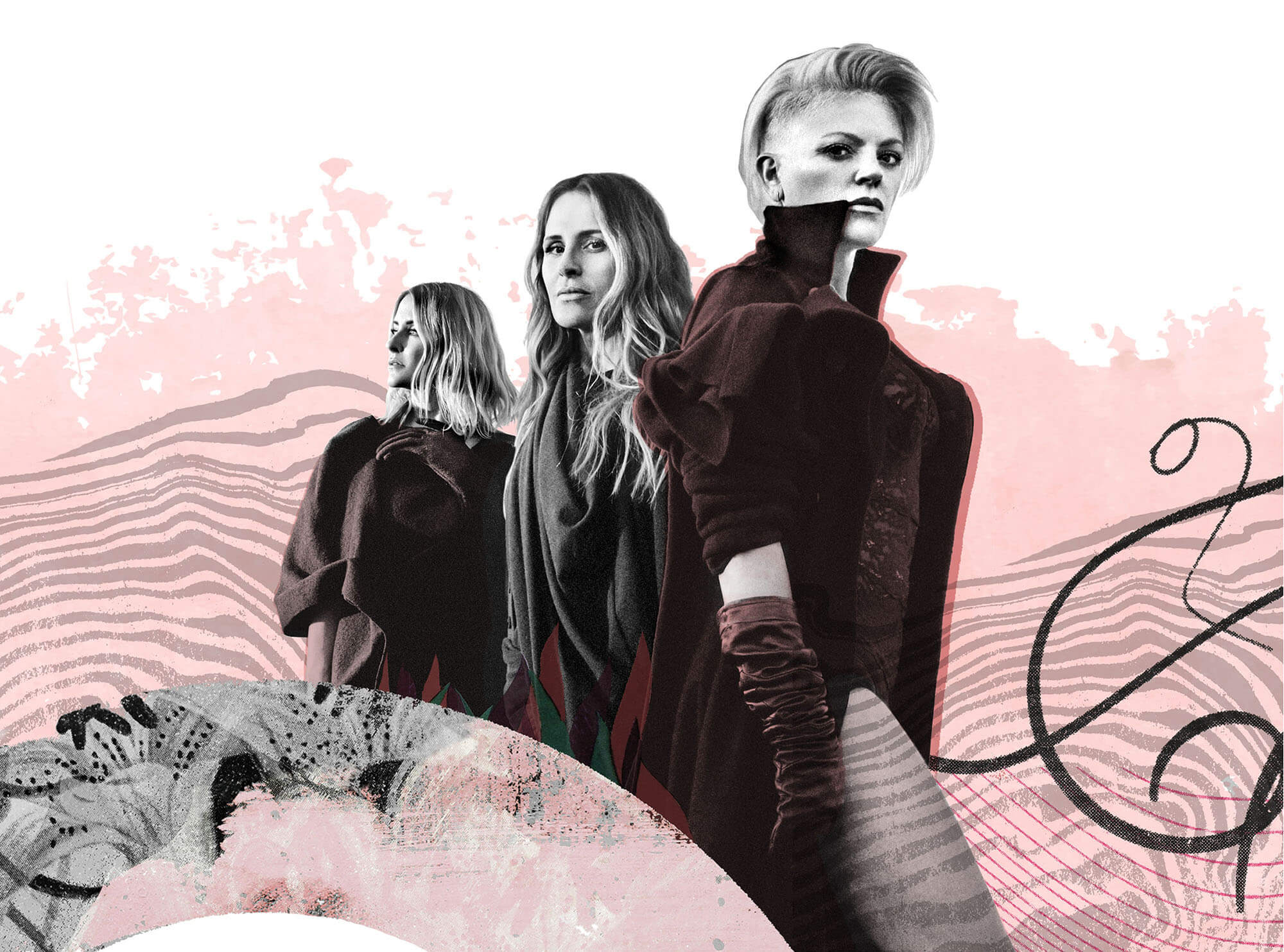 "Emily and Martie were playing the banjo and fiddle like maniacs, and Natalie's take-no-prisoners attitude—I knew they were cutting edge." - Lloyd Maines
One of Shires' early mentors was late singer-songwriter Billy Joe Shaver, a very literally outside-the-law outlaw who lived in Waco and once shot a man in the face at a bar in Lorena. The late Shaver, who died in 2020, was a pivotal figure in outlaw country and part of his buddy Willie's Nashville exodus. He wrote several classic songs, including the majority of Honky Tonk Heroes for Jennings. How did a 20-year-old Shires come to play fiddle with this icon?
"Well, I didn't ask him," Shires explains. A couple Pearl Lights deep in the audience at one of his shows, Shires spotted a fiddle onstage. "I just got up there and started playing," she says. "I think he thought that was pretty ballsy, and he started having me back."
Shires credits Shaver with encouraging her as a songwriter. Later, as a member of his band, she placed some of her CDs out on the merch table without asking him. They were early collections of fiddle tunes and songs she wrote so she wouldn't have to pay royalties. "Oh, so you're a songwriter," Shaver said when he saw them. "No, I'm not!" she responded. Shaver insisted on listening to the CD in his car to vet it for future merch table placement. He drove 90 mph in his Buick Sedan with guns in his boots and Shires in the passenger seat, as she recalls it. "I wasn't afraid for my life," she says, "but I was definitely afraid of getting fired."
Shires has probably spent the most time in the old-school outlaw trenches of any of her Nashvillian peers. Many of them, though, also had crucial breaks alongside legends—breaks that speak not only to their talent, but to the tightknit pride of the Texas country scene.
While in her teens, Musgraves, a singer-songwriter from Golden who would go on to win Grammys for her albums Same Trailer Different Park and Golden Hour, opened for Ray Wylie Hubbard. The Texas country legend is known for writing songs like "Up Against the Wall, Redneck Mother," which famously appeared on Jerry Jeff Walker's ¡Viva Terlingua! album. Hubbard was playing a solo acoustic gig at a small venue in East Texas. "After I do my sound check, this young girl comes up to me and says she's my opening act," Hubbard says. "She's a little nervous—hasn't done a lot of performing. I say I always like to say a smart-ass remark to get the audience smiling, so go out there and tell them, 'It's nice that Ray Wylie is closing my show.' She does, the audience laughs, she kills."
Morris, an Arlington vocal prodigy turned pop country superstar, has similar credentials behind her Music Row success. At around 13 years old, she opened for Gary P. Nunn, a member of the Lost Gonzo Band and writer of the Austin anthem "London Homesick Blues." The show was at Dallas' Poor David's Pub. "I took note of her at that time—just from hearing her sing, she was focused," Nunn says of listening to Morris on the radio. "You recognize the 'want-to.'" Nunn immediately booked the young singer for a chili cook-off festival he was hosting. Morris would go on to earn Grammy nominations for her albums Hero and Humble Quest.
The Chicks also have deep Texan outlaw cred. Their run to stardom was aided by the addition of lead singer Maines, a Lubbock native who has outsider music in her blood. Her father, Lloyd, is a beloved pedal steel player and producer who is a cornerstone of Texas country and Americana music. Lloyd played on all The Chicks' major label albums, as well as the local hits they released before his daughter joined the traditional bluegrass group formed by Dallas-based sisters Martie Maguire and Emily Strayer.
"Emily and Martie were already playing the banjo and fiddle like maniacs, just absolutely as good as it gets," Lloyd says. "When I heard that, I knew they were cutting edge."
"If I can help prevent [Discrimination] from happening to future people of color—and not just Black people, not just gay people, anybody who's marginalized—I'll do it." - Mickey Guyton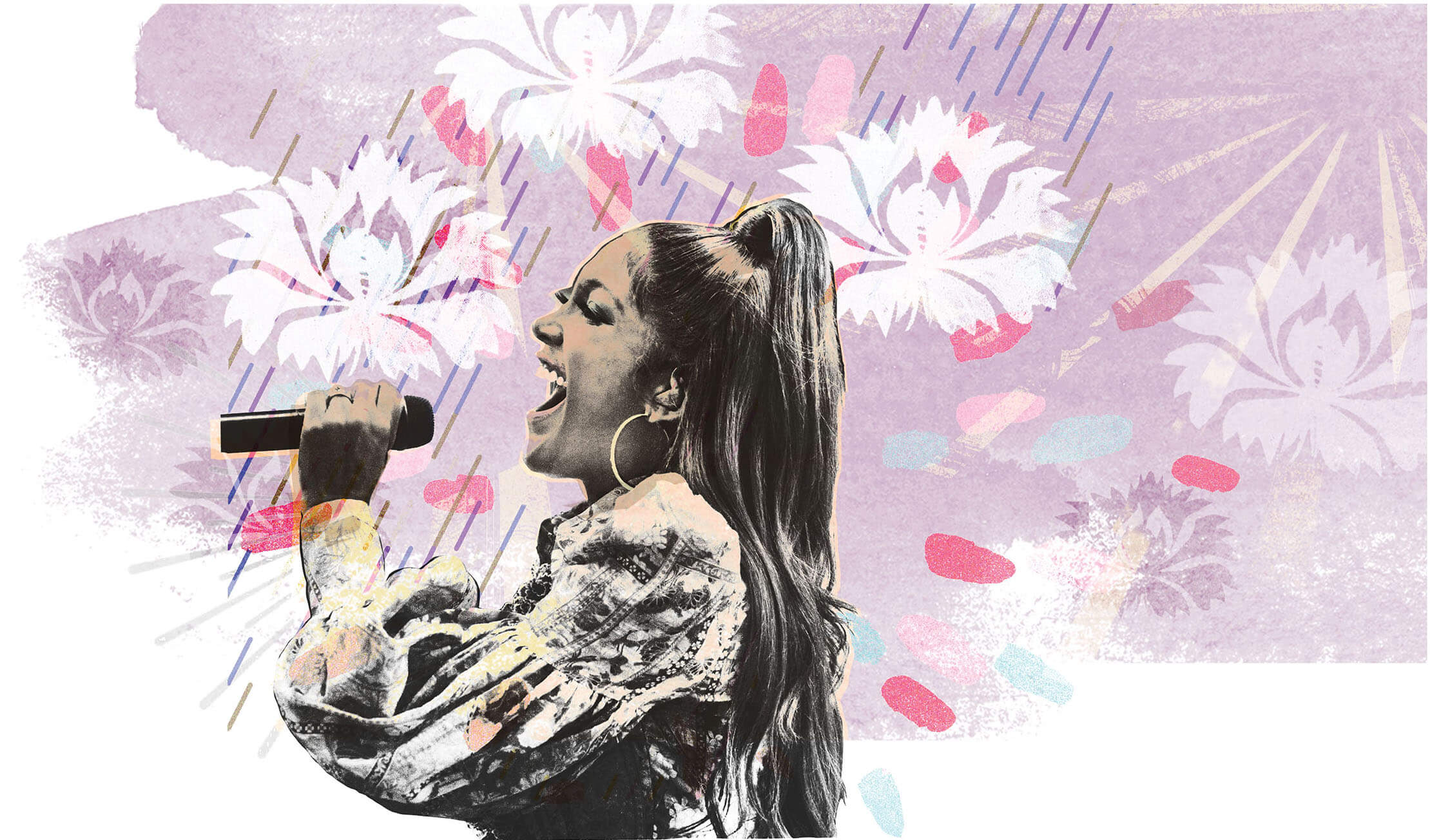 Not long after The Chicks broke out of Dallas onto the national stage in 1997, a young Lambert started pounding the Texas highways alongside her father, Rick, hoping to get her music heard outside her tiny East Texas hometown of Lindale. A demo memorably packaged in a red envelope got her one big break in Dallas opening for Roger Creager, a pillar of the Texas red dirt scene. And then, when Lambert was 19 years old, came the big one: an opening slot for Willie at the Gypsy Tea Room in Dallas' Deep Ellum.
"It was obvious to me fairly quick that she really had something special," says Scott Beggs, a longtime Deep Ellum talent buyer who booked her for the show. "She knocked them dead."
After coming in third on the reality show Nashville Star, Lambert signed with Sony to record her 2005 debut album—the earthy, undeniably Texan Kerosene. "I'm a serious singer-songwriter, and I'm gonna wear torn-up jeans," Lambert told label execs, according to her father. She was on the offensive against any authority who might try to turn her into another glossy pop star. At a talk during the 2023 Fort Worth Music Festival, Rick recalled what his daughter once told him: "That's who I am and where I came from, and if you try to make me into anything different, I'll just turn around and go back to Texas and make a living."
Lambert has since released six platinum albums and won every country music award imaginable, including Grammys for her albums Platinum and Wildcard. She was able to call the shots in part because of the precedent set by The Chicks when they took Nashville by storm. Maguire and Strayer's talent as instrumentalists and harmonizers, combined with what Lloyd called Natalie's "take-no-prisoners" attitude, made labels come calling almost instantly. But the shift had their peers calling them sellouts. That reaction is almost inevitable for any Texas act—especially women, who are perennially deemed too much of something or not enough of something else.
"If you're from Texas, they want you to bash Nashville, and if you're from Nashville, they want you to bash Texas," says Sweeney, a Longview native who had a deal early in her career with the Nashville label Big Machine for her debut album, Heartbreaker's Hall of Fame. "When I got a record deal, there was a bunch of stuff online like, 'She sold out.' And I was like, 'Shut up, you would do the same thing.'"
Accusations that The Chicks had compromised with Nashville were easily repudiated by their sound, in which traditional country instruments and heartstring-tugging harmonies are deployed to virtuosic pop-country effect. They had to fight for their sound from the beginning. "We've got a lot of great songs, but we're not going to be able to have much fiddle at all, and no banjo. We want you all to sing," Lloyd recounts a producer telling The Chicks after they were signed by the Nashville label Monument Records. "Natalie stood up and said, 'You gotta be kidding. The banjo and fiddle are our sound.'" The producer folded, and given how successful their sound was, a banjo revival on Music Row followed.
"There's a way you're supposed to play the game and a way you're supposed to act to be packageable and sellable," Shires says. "If you're an outlaw, you're not following the criteria of what you should and shouldn't say. The Chicks are outlaws."
The Texas women of outlaw country have expanded not just how a templated Nashville country song could sound, but what kinds of topics it could take on—what kinds of voices it could center. This has enabled a broader group of female artists to tell their stories, regardless of what they sound like, what they sing about, and where they're from. Some of that tenacity comes from the hurdles the artists faced before they ever left home.
"In Texas, you have a scene that always favors men—relegating women to the bottom lines of festivals or 'ladies' nights' in clubs and dance halls," says Marissa R. Moss, author of Her Country: How the Women of Country Music Became the Success They Were Never Supposed to Be, which centers on Musgraves, Morris, and Guyton. "So, not only are women raised in such an idiosyncratic Texas songwriting tradition, they also know the stakes due to their gender from the second they first pick up a guitar."
This generation of outlaws was born to push not just for an abstract freedom but also for specific rights and liberties that are as endangered as ever. They've embraced the risks involved and the resistance they've met, while finding listeners who are ready to hear what they feel compelled to sing.
"I've got some songs coming on my next album that tackle pretty adult woman content—not triple X, but real woman things," says Dean, laughing.
Dean is writing her own against-the-grain Texas country narrative, quitting her job as an elementary school teacher to sing about, among other things, what it means to be a single woman living alone. I don't wear a ring or a long white veil / the grade on my report card as a woman is a fail, she sings on "Lonely Girl's Lament" off her latest album, The Biggest Life. It was produced by Texas country stalwart Bruce Robison—he wrote "Travelin' Soldier" for The Chicks—at his Lockhart studio The Bunker.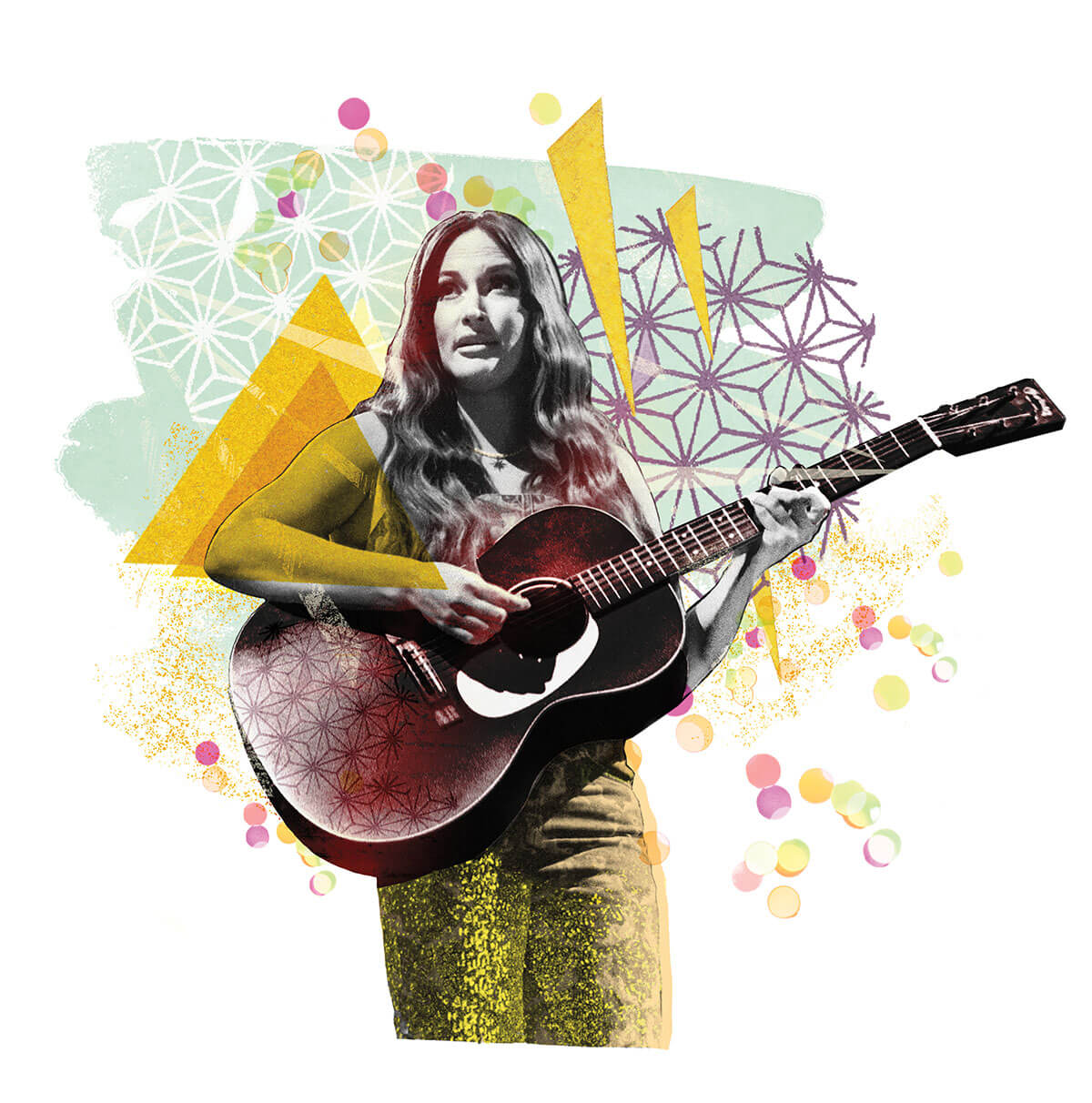 "One of the biggest compliments I've ever gotten, was a gay country fan saying, 'You know what, you have made me feel like I'm finally invited to a party that I've never been invited to.'" - Kacey Musgraves
"I think of it as empowering, but it's not like, 'Let's all rise up,'" Dean adds. "It's empowering in that we can see ourselves in each other. One of the biggest blessings is the women that come up to me after shows and talk about how they can relate to my perspective with tears in their eyes."
A wider songwriting mandate has translated into topics that have previously been taboo, especially within country music. Musgraves' 2013 single "Follow Your Arrow" was a controversial pick to send to country radio because of its line Kiss lots of boys / or kiss lots of girls if that's something you're into. But she did it anyway and has since doubled down on inclusion of her LGBTQ audience. "One of the biggest compliments, hands down, that I've ever gotten in my career, was a gay country fan saying, 'You know what, you have made me feel like I'm finally invited to a party that I've never been invited to,'" Musgraves told People shortly before receiving GLAAD's Vanguard Award in 2022. "That killed me in the best way possible."
In 2020, The Chicks and Morris each used footage of Black Lives Matter protests in music videos they released that year as an expression of solidarity. And Morris has publicly embraced the fight for transgender and abortion rights, using her platform to amplify different causes and performing at benefit shows to call out her bigoted Nashville peers. She even appeared on the cover of Billboard alongside four drag queens. This past summer, Morris toured with The Chicks, who have fought to return to the spotlight after being cast out for their political remarks two decades ago. Meanwhile, Shires released a duet about abortion, "The Problem," with Isbell in 2020. "I do feel like an outlaw," she says.
Guyton, an Arlington native, has pushed country music's boundaries without necessarily wanting to. As a Black woman, she is doubly an outsider on Music Row. And yet, she has fought to make music within the genre, supporting BLM protesters and releasing her single "Black Like Me" from the Grammy-nominated album Remember Her Name to draw attention to racism within country music.
"I'll take the blows," she told Billboard not long after releasing the song in June 2020. "If I can help prevent that from happening to future people of color—and not just Black people, not just gay people, anybody who's marginalized—if I can take the blow to make it not as hard for them, I'll do it." With "Black Like Me," Guyton became the first Black woman nominated for the Grammys' Best Country Solo Performance. "Outlaw country also looks like this," she tweeted about the Billboard story.
Country music's prejudice can extend to almost anyone who doesn't appear to be white. "I was definitely hesitant to come into the genre, it being very, very clear that I'm Latin, and that fact would not be hidden," says Ponzio, a singer-songwriter from El Paso who lives in Nashville, and whose latest EP, Frontera, is a border mix of country, Tejano, and traditional Latin styles. "I needed that outlaw spirit to continue on my journey because there were some obstacles." Ponzio is one of the many minority country artists still trying to penetrate the genre's lily-white gates.
"That's who I am and where I came from, and if you try to make me into anything different, I'll just turn around and go back to Texas and make a living." - Miranda Lambert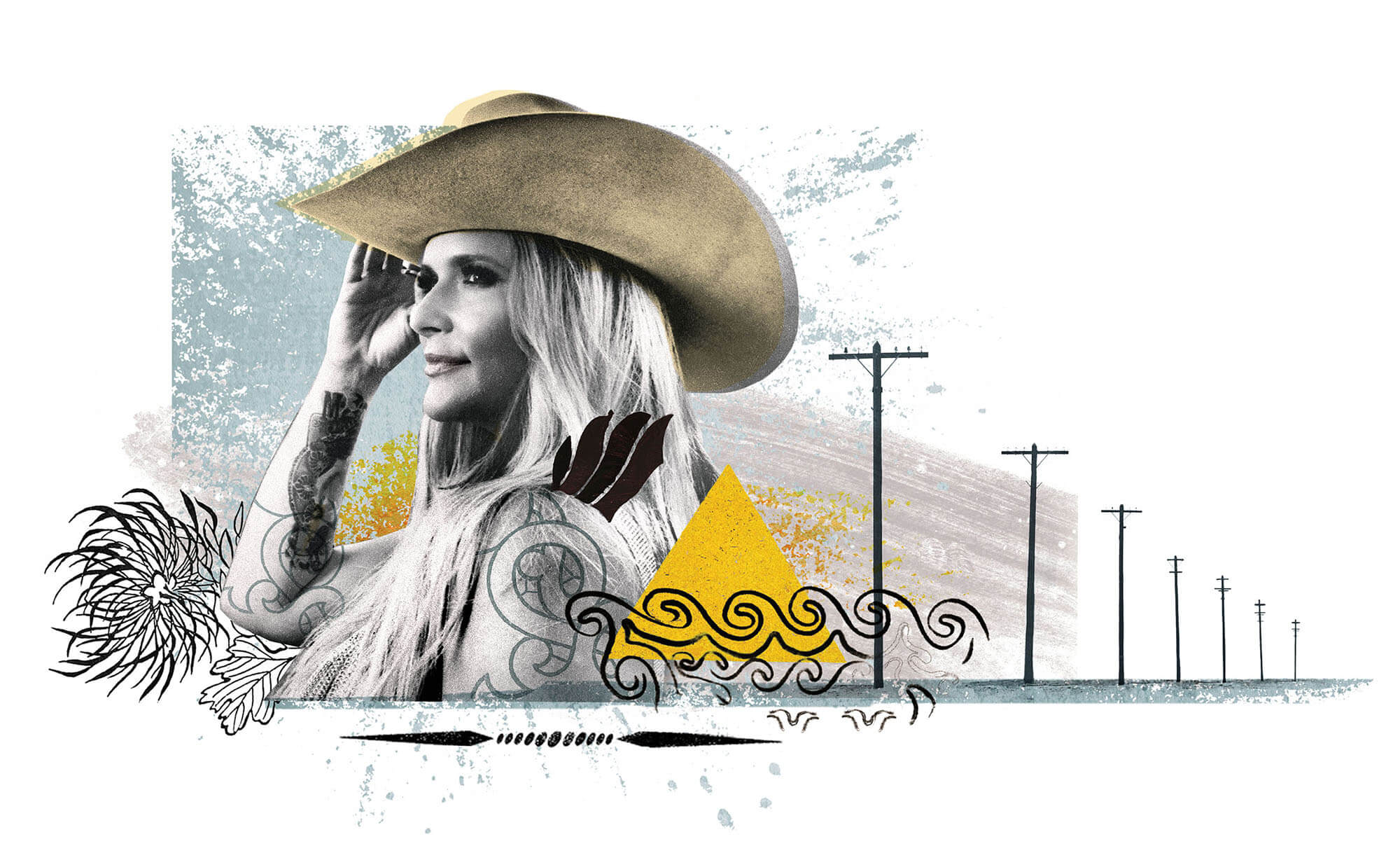 At the core of these women's rebellion is simply doing the thing: playing music in a world that would rather they not. They're confronted with inequalities that seem long past their sell-by dates, yet they continue telling their stories and fighting for space for other marginalized people to tell theirs, too.
"It's more provocative to be a woman, and it's still harder to be heard," Shires says. "Labels will sign more than one woman these days, but we're still not equal." In 2017, Shires formed the Highwomen supergroup with Morris, Americana star Brandi Carlile, and heavyweight Nashville songwriter Natalie Hemby after listening to country radio and calling in to tell the DJ that of the past 18 songs they played, only two were by women.
"If you already feel like you don't belong, then it's easy to buck the system," Shires says. "Because you already feel like you don't belong to it. But I actually don't feel like that anymore. I feel like I do belong, and that my purpose is to say the things I believe in. At first it can seem isolating, but then all the people who feel the same way start showing up."
These women's doggedness connects them, as does their home state—a place where outsider status is still a badge of honor. They're forever duty bound to the rich musical tradition that raised them.
"Being a Texan has helped me a lot," Shires says. "In this state, if we need to make a dent in something to make our living, we will. We go out, and we work, and we fix things."
Outlaw Essentials
By Michael Corcoran
Before women became the torchbearers of outlaw country, these Texas male artists bucked Nashville's Music Row and gave birth to a musical movement
From the September 2023 issue