Horse Before the Cart
Traveling Texas wasn't always so easy
By John Lumpkin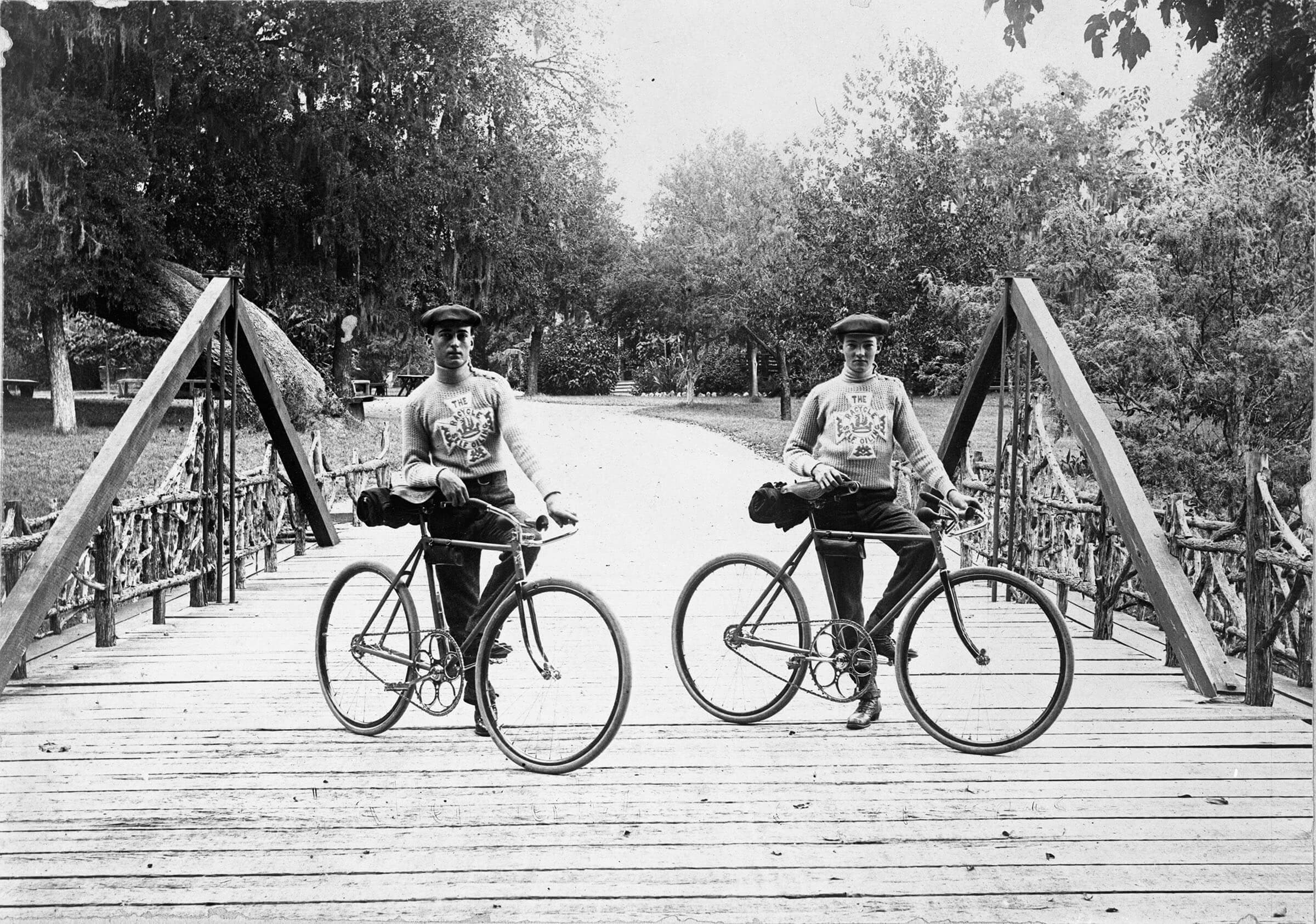 Álvar Núñez Cabeza de Vaca, one of Texas' earliest explorers and the state's first historian, had only his feet to transport him hundreds of miles through South Texas from 1528 to 1535 after his Spanish expedition was shipwrecked. Horses from his homeland wouldn't be introduced until the next decade, and walking continued to be an essential mode of transportation in Texas for the next three centuries.
"Most immigrants had to walk to where they were going," says Hugh Hemphill, a historian at the Texas Transportation Museum in San Antonio. "The trails they used were formed by migrating herds of animals long before humans came on the scene. In due course, Indigenous people used the trails, often nomadically. Settlers with wagons made them wider. And people with cars paid taxes on gasoline so they could be paved."
This evolution of Texas travel from walking to our current car culture took place over thousands of years, but the trend of utilizing machinery for efficiency has been a part of the process from the beginning.
After settlers arrived with horses, Native Americans devised horse-drawn travois—­animal-powered sledges used to carry goods—and explorers rode a succession of horse-, mule-, or ox-driven conveyances. These included carts, wagons, carriages, and stagecoaches, our first land-based mass transit. In the 1800s, railroads changed the equation for long-­distance travel, and bicycles briefly flourished in Texas cities as the 20th century approached, supplanting foot or horse travel for short distances.
The first automobiles in Texas appeared in 1899, although they were curiosities until Henry Ford invented the Model T in 1908 for the nation's emerging middle class. Now, more than 22 million cars, trucks, and buses travel our intricate highway system—more than one vehicle per every adult Texan.
Cruise Control

A brief history of getting from Point A to Point B.
1542
The first herd of imported Spanish horses arrives in Texas.
1837
Houston and the port of Harrisburg on Buffalo Bayou are connected by Texas' first horse-drawn stagecoach line, a year after the Battle of ­San Jacinto.
1869
The San Antonio Express-News reports a local resident built the city's first known bicycle, most likely a wooden-wheel variety nicknamed the "bone-shaker."
1891
Dallas' first electric streetcar begins operation, 20 years after the city's first horse-drawn public tram appeared.
1907
Entrepreneur W.B. Chenowith establishes Texas' first intercity bus line, which connected the West Texas towns of Colorado City and Snyder­ and carried passengers on a six-­cylinder "motor-driven stagecoach."
1918
The last year of operation of an intercity horse-driven stage line in Texas, which connected the towns of Llano, Mason, Fredericksburg, and Brady.
1899
Year Texas' first gasoline-­powered car was shipped to Terrell and driven to Dallas
98.7 million
Ridership of Texas bus companies at its peak in 1949
$3,000
Cost, in today's dollars, to ride from San Antonio to El Paso via stagecoach line in the 1850s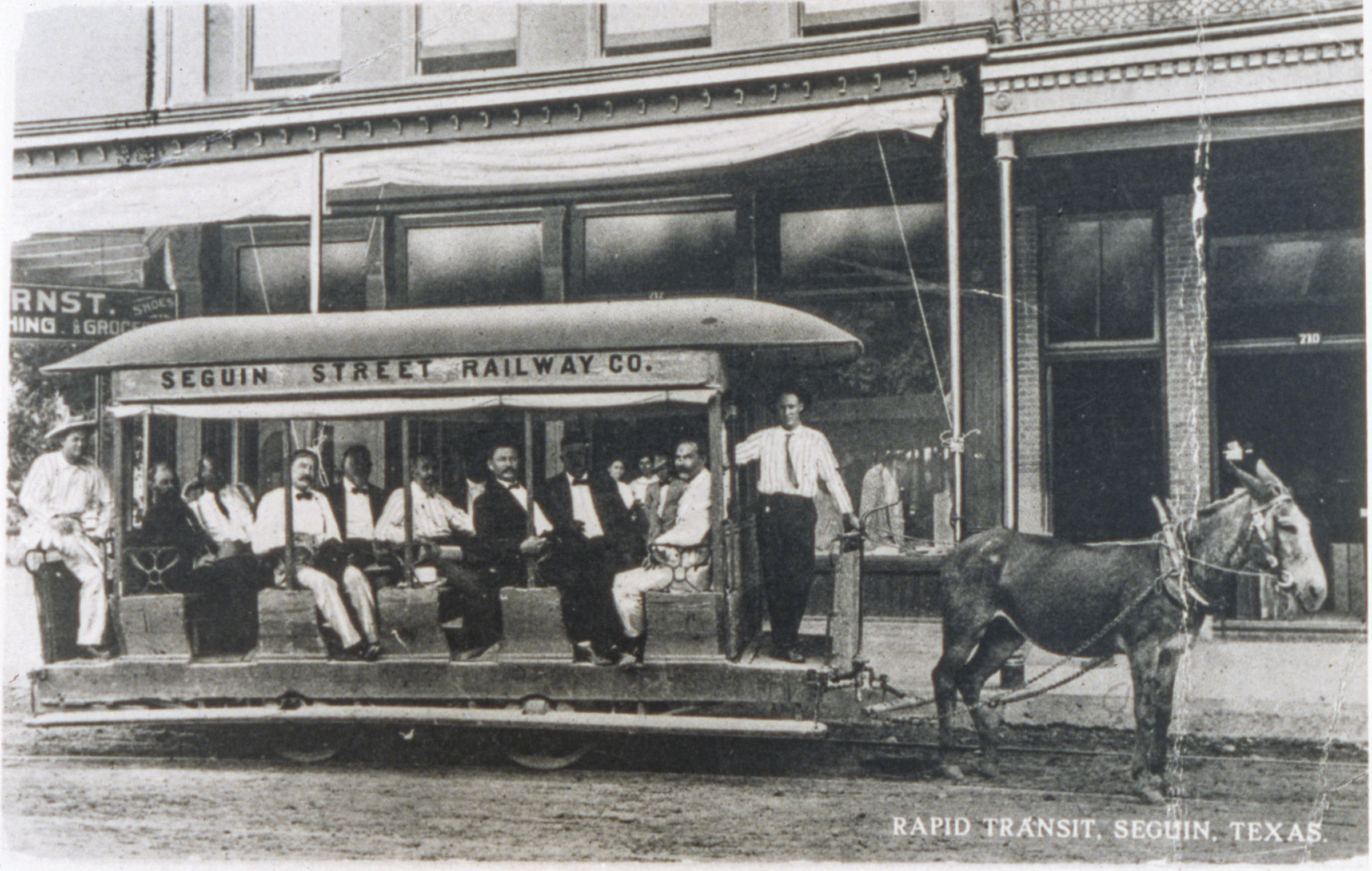 Travel Stops

Pull over at these museums and attractions that showcase Texas' transportation history.
Learn about the Indigenous Texan horse culture and the cowboy era at Panhandle-Plains Historical Museum in Canyon. Other exhibits include early wagons­ and automobiles.
Tour the Texas Transportation Museum in San Antonio. Exhibits include Model Ts, Model As, vintage trucks, horse-drawn carriages, and an 1890s velocipede, a hand-and-foot-driven contraption that fit on railroad tracks.
Turn into the Texas Department of Transportation's westbound rest stop at Mile Marker 360 on Interstate 20 near Ranger, which features a Model T and a replica of an early 1920s gas station.
Ride the M-Line Trolley from downtown Dallas to restaurants and shopping along McKinney Ave. in Uptown. Vintage rolling stock includes "Rosie," built in 1909 and recently restored. The trolley service claims Rosie is the oldest operating streetcar in the nation.
Visit car museums in ­Clifton, De Leon, Hillsboro, Nocona, and Weatherford, a motorcycle museum in Vanderpool, and even an RV museum in Amarillo, with RVs dating to the 1930s.
Pick it Up

"Mammas, don't let your babies grow up to be cowboys.
Don't let 'em pick guitars or drive them old trucks."
So Willie Nelson and Waylon Jennings implored in their classic 1978 duet. Mamma or her progeny must not have been paying attention: There are now at least 4.2 million pickups in Texas out of 22 million registered vehicles overall, making pickups an obvious favorite for Texans on the road.
Henry Ford built the first pickup in 1917, and factory-made versions were available starting in 1925. Priced at $281, they had steel beds 4½ feet long and 40 inches wide. The 2021 Ford F-450 sports an "8-foot box" with front and rear seats in a luxury-­appointed cab, costing close to $100,000 fully loaded. Extravagance and town driving aside, the legacy of Texas pickups resides in oil fields, pastures, fence lines, and construction sites.
"Deep down, Texans like to think of themselves as cowboys, as living on the frontier by their own wits," says Hemphill, the Texas Transportation Museum historian. "The pickup speaks to this rural heritage. You might just be commuting to your office or buying some scented candles from Bed Bath & Beyond, but deep down you feel a connection to the old days."
From the May 2021 issue