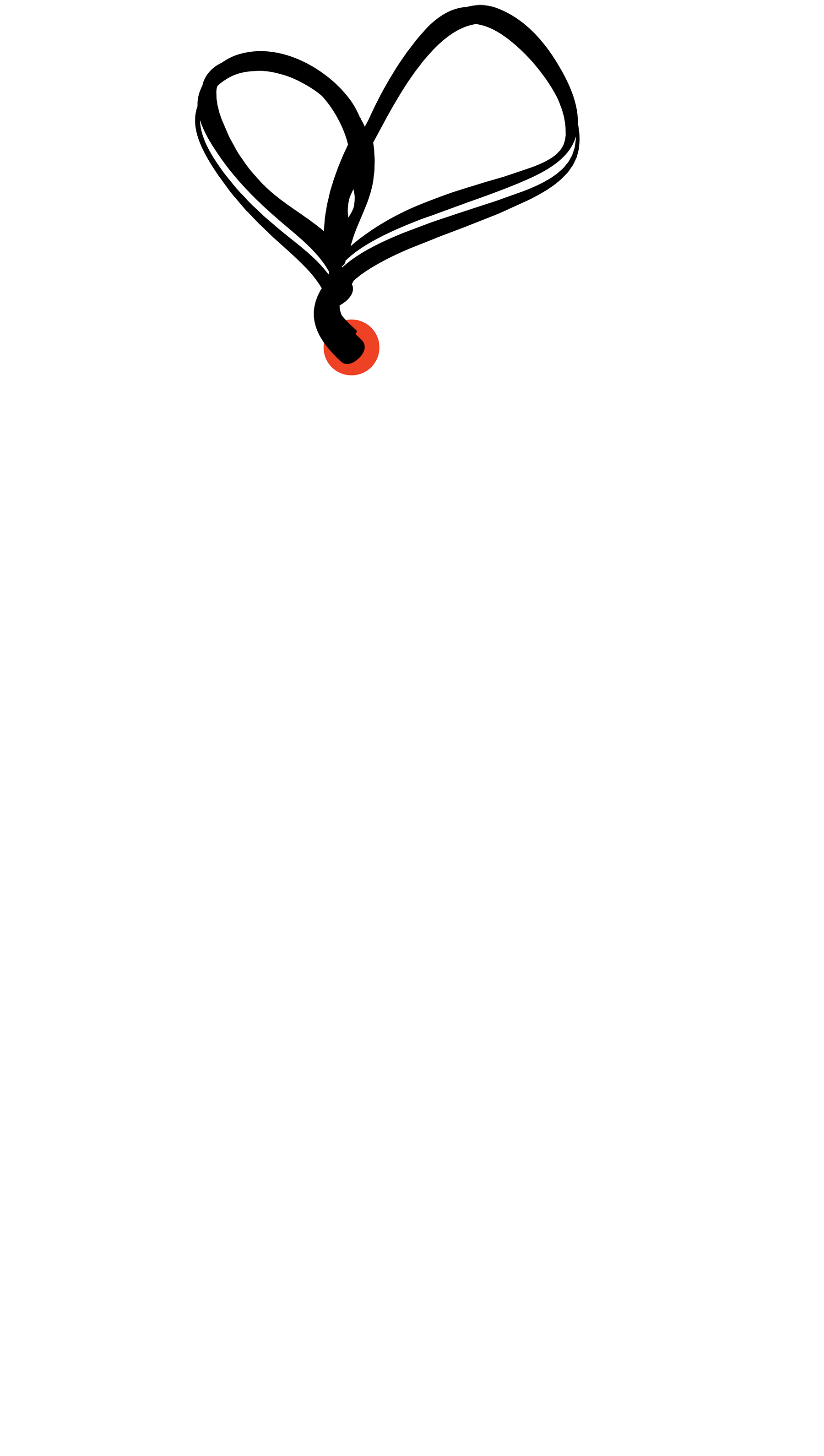 Pancho Claus Is Coming to Town
For 40 years, one Houston man has put his own Latino spin on a classic Christmas character
Inside the
convention center at NRG Stadium in Houston, roughly 2,000 rambunctious elementary school children pump their tiny fists into the air as they chant a name. Onstage, a woman dressed in a tinsel sweater leads them over the mic in their rhythmic frenzy. Anticipation hangs in the air as a garage door inside the hall creeps open. Sunlight blasts through the entry, revealing the silhouette of a man in a 1972 Cadillac El Dorado. The children have summoned a local legend: Pancho Claus.
Self-described as Santa Claus' Mexican cousin from the South Pole, Pancho Claus lacks his relative's trademark fluffy white hair and big belly. Instead, Pancho Claus is all about style. Dressed in a red and black zoot suit, sunglasses, and a fedora, he stands proud in his red, white, and green convertible. His cohort of men, also dressed like 1940s jazz musicians, navigates the car slowly through the hall as he waves at the sea of tiny fans.
It's 11 a.m. on a Saturday in December 2022. I'm at an annual Christmas program hosted by Navidad en el Barrio, a nonprofit that provides food, entertainment, and gifts to disadvantaged kids from the Houston Independent School District. Pancho Claus starts chucking assorted stuffed animals into the crowd. As his car continues to do laps around the room, children—and even a few adults—clamber over each other to get their hands on a toy. Had I not known any better, I'd have guessed Rudolph himself had flown through the gate.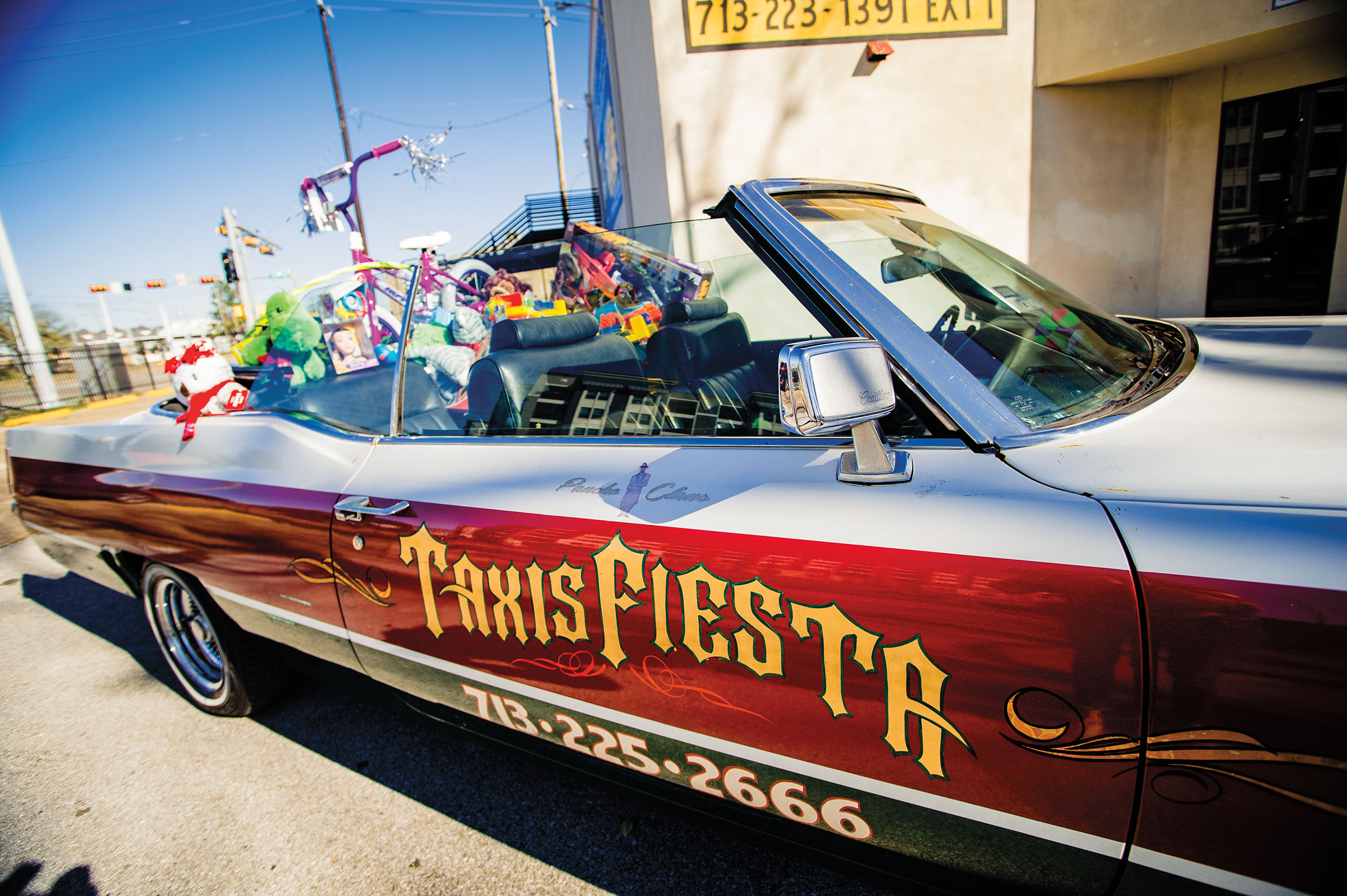 The man of the hour is Richard Reyes, a 72-year-old Houstonian who's played the part of Pancho Claus for the last 42 years. He's a featured guest at the day's event, which also includes appearances from a local high school marching band, dancers in sparkly outfits, and a traditional Santa Claus on a motorcycle. But there's no denying Reyes is the main attraction. He hops on stage, grabs a mic, and breaks into a full set list, singing classic Christmas songs.
"It's incredible," says Nate Cano, one of Reyes' backup dancers whose 8-year-old son joined them onstage. A born-and-raised Houstonian from the Second Ward, Cano has been break dancing with Reyes since he was a teenager. He's one of thousands who received toys every year from Pancho Claus. "I don't know how he stays young," Cano marvels. "Sometimes we'll tell him to take it easy, but he just goes for it."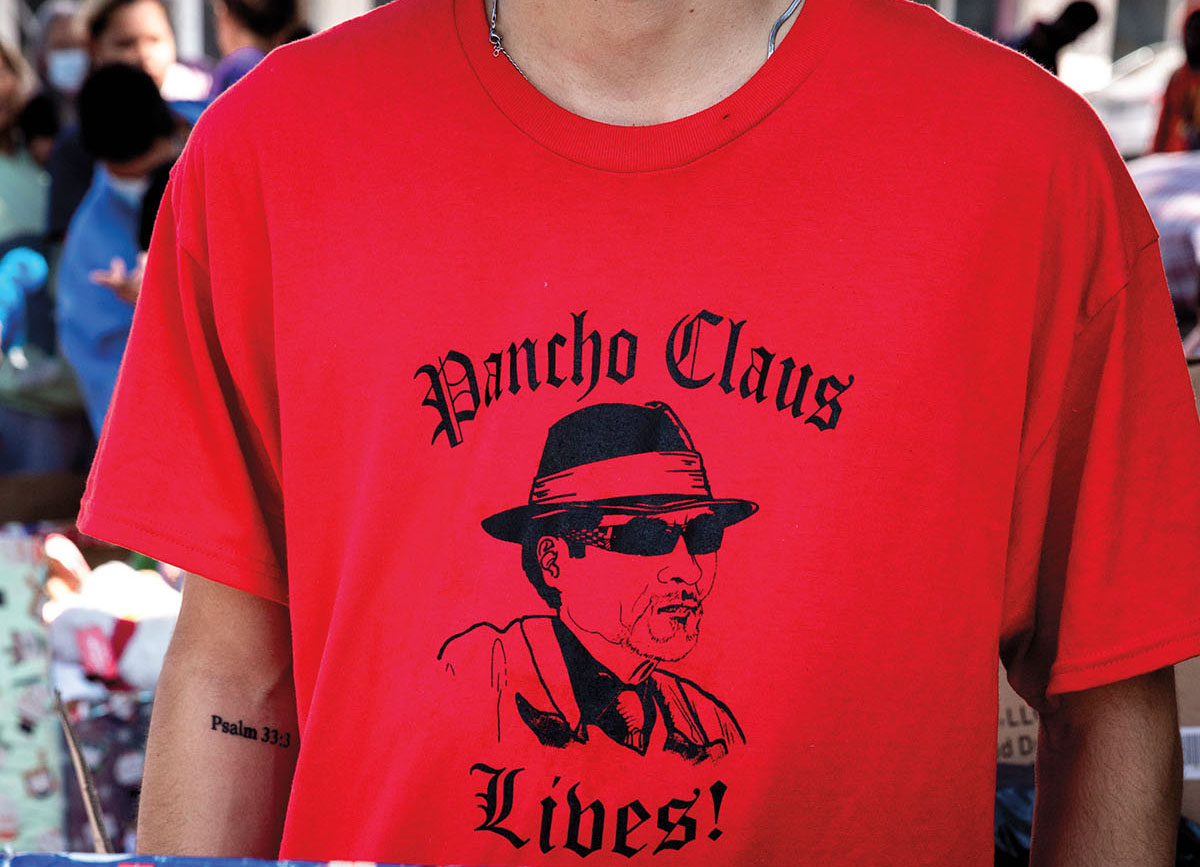 The character of Pancho Claus started long before Reyes donned his retro garb. Different iterations of the Latino Santa have existed around the state since the 1970s in cities like Lubbock, San Antonio, and Seguin. Sometimes Pancho Claus is dressed in a serape and sombrero; in the past, he's ridden a donkey. No matter how he appears, his calling to bring joy to his community remains constant.
Decades into his tenure playing the character, Reyes is arguably the most well-known Pancho Claus. He is a hero to generations of Houston children who grew up in low-income neighborhoods, mayor Sylvester Turner has named a day in his honor, and his nonprofit, Pancho Claus Arts, raises thousands of dollars every year to distribute toys to children.
Reyes' main event takes place Christmas Day when he drives through the city's East End, a predominantly Latino area. Families wake early and gather on the street, waiting to see Reyes and his friends approach in a parade of low-riders filled with hundreds of toys. For generations of Houstonians, Pancho Claus is a family tradition.
"I can just imagine how I'd feel if I didn't have anything for my grandson on Christmas day," Reyes says. "We've got the parade, our performances, our band, TV appearances—­but the main thing I really get a kick out of is handing a kid their toy."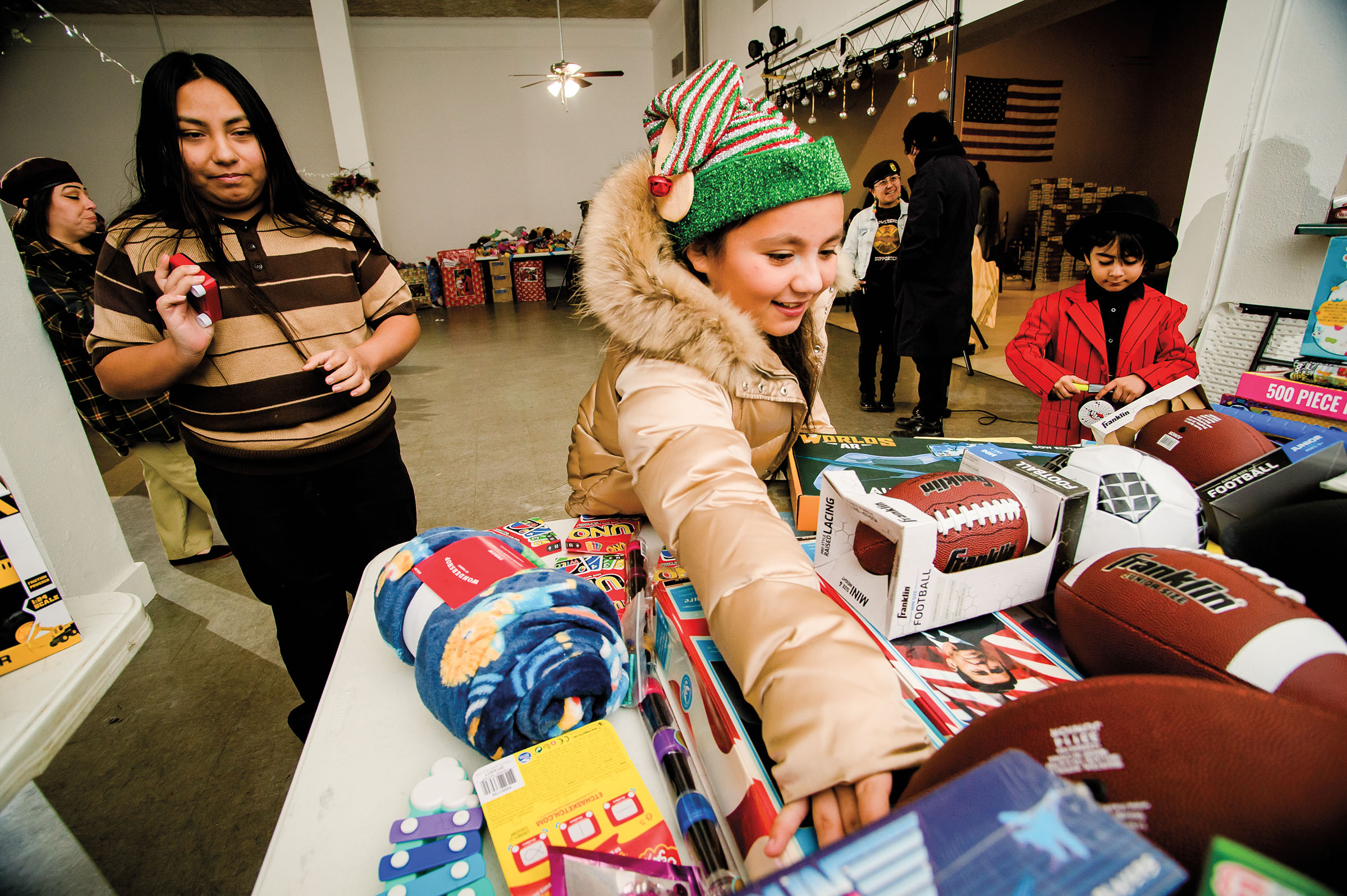 In the early 1940s, Eduardo "Lalo" Guerrero, a musician from Tucson, Arizona, began gaining popularity for singing songs of primarily Mexican origin. Over time, he wrote his songs in English, Spanish, and pachuco, a dialect of 1940s Southwestern Chicano youth. Considered the father of Chicano music, Guerrero's songs tackled cultural subjects of his time, including war, labor rights, and discrimination.
But he was also known for his parodies. He recorded songs like "Elvis Perez," "There's No Tortillas," and "Pancho Claus"—an original rendition of the poem 'Twas the Night Before Christmas. Recorded in 1956, Guerrero wrote the song from the perspective of a Latino child. The lyrics mention tamales, donkeys, and, of course, Pancho Claus: "I heard him sing, / 'I am Santa's cousin, from south of the border. / My name's Pancho Claus, and I brought what you ordered.' / And I heard him exclaim as he drove past the porches, / 'Merry Christmas to all and to all buenas noches.'"
Some scholars believe the character's rise in popularity is tied to the Chicano Movement of Guerrero's era, a time in which Mexican Americans fought for equality, labor reform, and education. In a 2013 article by the Associated Press, retired University of Houston Mexican American studies professor Lorenzo Cano said Pancho Claus was conceived by Mexican Americans looking to "build a place and a space for themselves." Similar to the role Black Santas play in Black communities, Pancho Claus has always been about representation.
"I think it's really important to have someone who looks and sounds like you to look up to," says Daniel Urbina Sanchez, a lead archival associate at Texas Tech University's Southwest Collection/Special Collections Library in Lubbock. "When I first came to Tech as a student in the '70s, I didn't see anyone who looked like me. It's important that kids feel welcome."
In 2021, Sanchez organized an exhibit at Tech showcasing Lubbock's own Pancho Clos (spelled differently to avoid confusion with Santa Claus). The tradition began in 1971 when three friends—Agustín T. Medina Sr., Jesse Reyes, and Bidal Aguero—took inspiration from Guerrero's parody and presented the idea to the Lubbock American GI Forum, a congressionally chartered Hispanic veterans and civil rights organization. The city would throw an annual party at Rogers Park the Sunday before Christmas and hand out gifts to local children.
For nearly 30 years, Lubbock's Pancho Clos was played by a man named Julian Perez, who wore a long salt-and-pepper beard, an oversized sombrero, and a colorful poncho. Though Perez died in 2018, Aguero's daughter Zenaida Aguero-Reyes keeps the tradition alive by organizing the annual Christmas toy drive. Volunteers now trade off assuming the role of Pancho Clos.
Like Guerrero's song, Reyes' depiction of Pancho Claus also began with a twist on 'Twas the Night Before Christmas. In 1981, Reyes joined Talento Bilingue de Houston, a bilingual English-Spanish theater in the Second Ward that he would go on to lead as executive director for nearly 25 years and that would become a platform for his rendition of the Christmas classic. "I was trying to find something about my culture," Reyes says.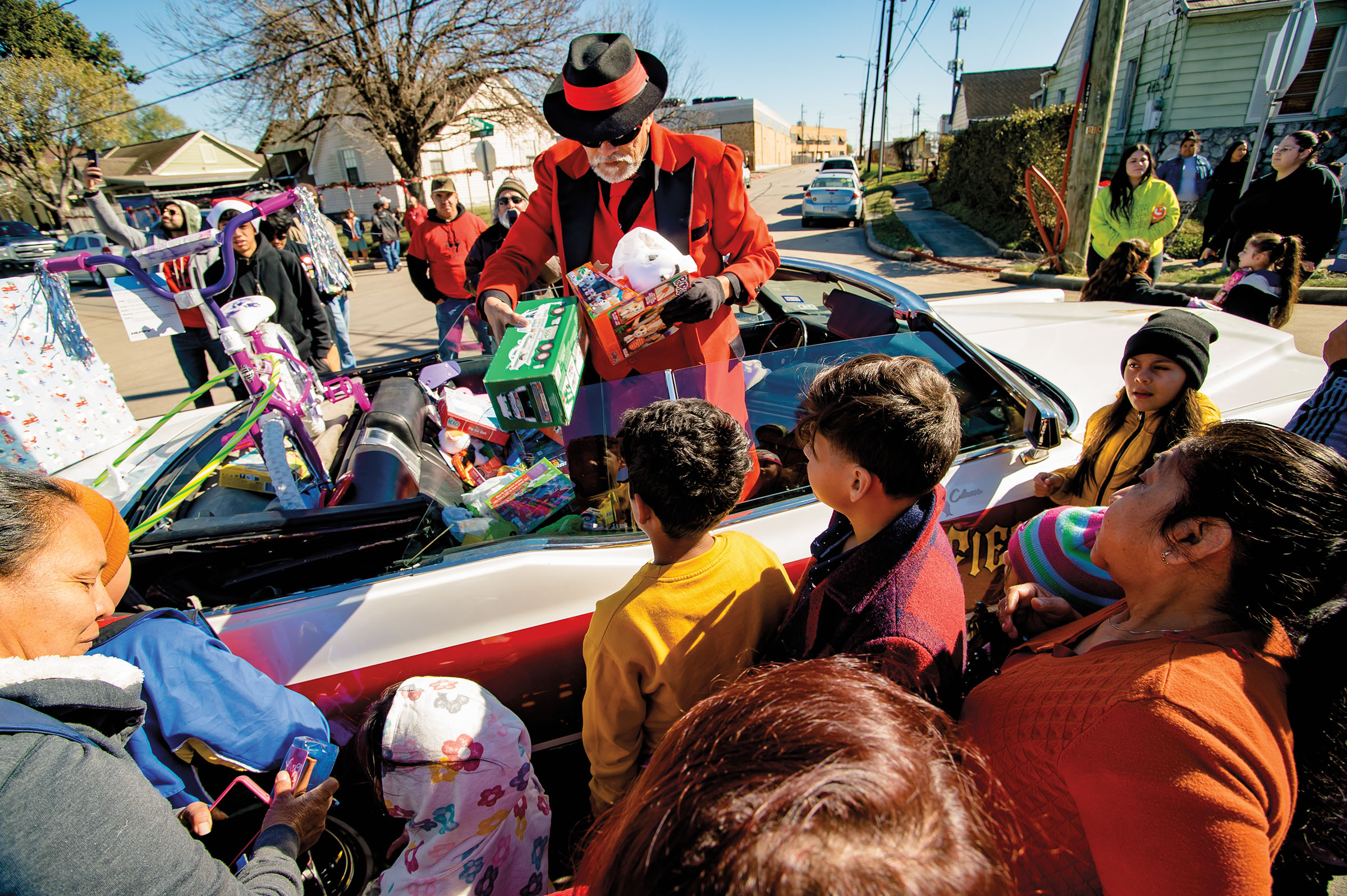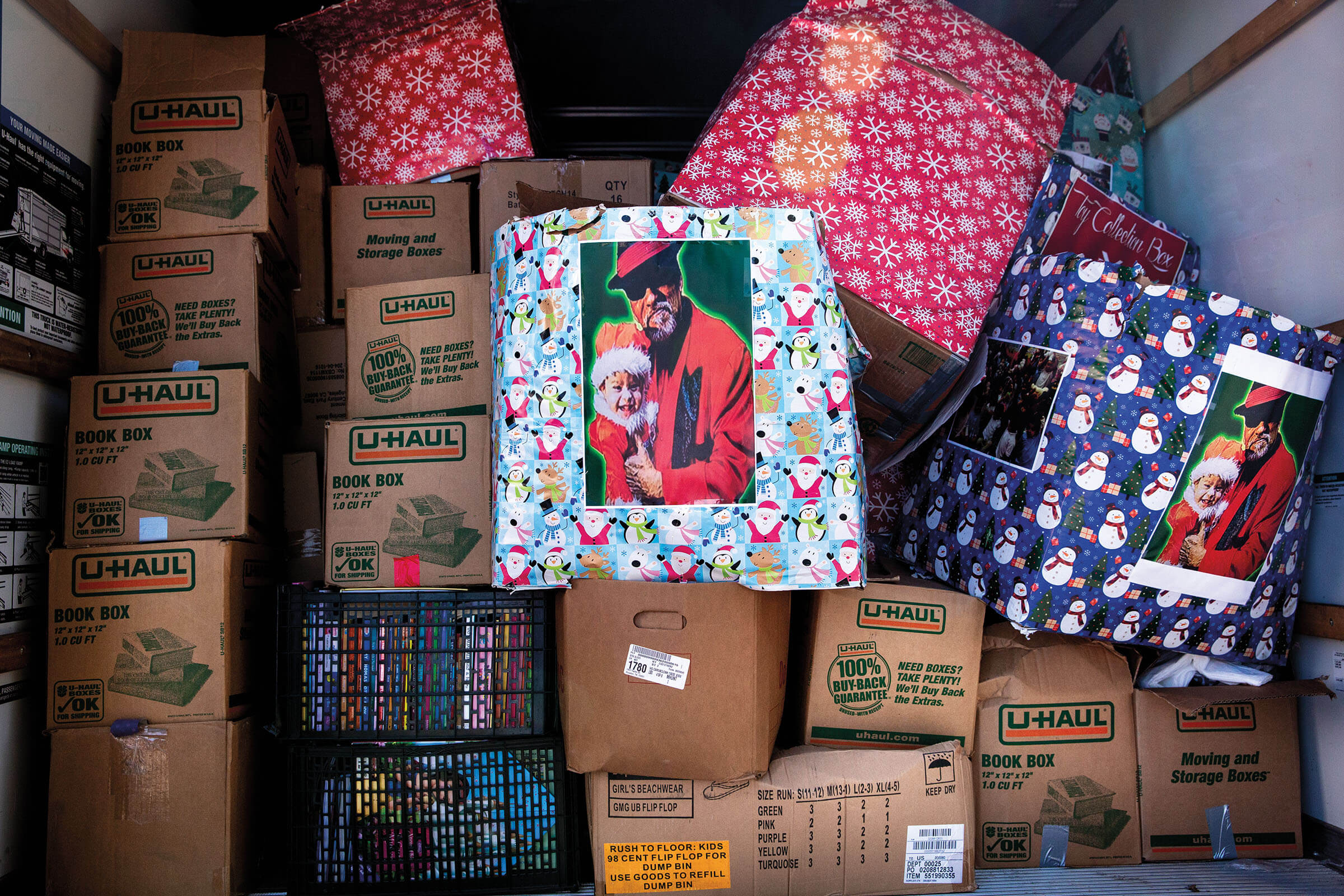 Born in 1951, Reyes grew up in an area of Houston with only a few Latino kids in each classroom. As a child, his mother had been punished by teachers for speaking Spanish, so she didn't encourage Reyes to speak the language. Reyes says his teachers couldn't pronounce his birth name, Eleazar, so they changed his name to the more Anglo-sounding "Ellis." It took him years to process. "I was in kindergarten. I didn't know any better," he says. "But I lacked a lot of my culture, from my name to my language."
When Reyes joined Talento Bilingue de Houston, the group was planning its holiday season lineup and asked him to write a play about Pancho Claus. He wrote his own lyrics to 'Twas the Night Before Christmas, though his version of Pancho Claus drew from the 1981 film Zoot Suit and the low-riders that were popular at the time. From there, he wrote about a little boy who wants a bike for Christmas and becomes Pancho Claus' sidekick. For a few years, the group performed the play at community centers and events around town. As the group grew more popular, they were offered the chance to perform at larger venues like the Astrodome. But a funny thing happened.
'Tis the Season
How to invoke the spirit of Pancho Claus
Volunteer
Volunteers assist with a toy drive, assemble donation boxes, and sort and disperse toys in Houston or the Rio Grande Valley. Visit panchoclaus.com­ or contact Richard Reyes at 713-208-0606.
Decorate Collection Boxes, Houston
Join Pancho Claus on his birthday to help assemble and decorate boxes that will be used to collect toys around the city. There will be food, entertainment, and prizes.
Nov. 5, 12-5 p.m.
Latino Learning Center, 3522 Polk St., Houston
Donate
Donate toys to Pancho Claus Arts at Houston's Latino Learning Center or at donation boxes located around Houston and McAllen. For a list of box sites, go to panchoclaus.com. Monetary donations are also accepted online.
See
Annual Christmas Day Toy Cruise, Houston
Join Pancho Claus and his team as they toss hundreds of toys to children from inside their low-riders in the Second Ward of Houston. The parade kicks off at the Latino Learning Center,
3522 Polk St., at 11 a.m.
Rio Grande Valley Toy Giveaway, McAllen
Pancho Claus returns to McAllen for the second time to hand out toys to families seeking help at Catholic Charities of the Rio Grande Valley,
111 S. 15th St.
Date and time: TBD
"My community started thinking that I really was Pancho Claus," he says. "I was getting letters, phone calls, people coming up to me and telling me about different situations in the community where families really needed help."
Reyes and his friends purchased a few gifts and gave them to families they knew were in need. They helped around five families that first year. Today, Reyes gives away thousands of toys. Based out of the city's Latino Learning Center, Reyes' Pancho Claus Arts is powered by volunteers who help organize toys purchased by the nonprofit and donated by community members. In addition to Reyes' annual toy drive through the streets, families bring their children to the center to receive gifts directly. During some of the organization's most prosperous years, it's raised up to $100,000.
"He's been a hero to so many of us," says Cano, who remembers his brother receiving a bike from Pancho Claus one year. "My family wasn't necessarily the poorest in our neighborhood, but Pancho Claus was something we could really look forward to. I owe a lot to Richard."
A few weeks after El Navidad en el Barrio, I meet Reyes 350 miles south of Houston in McAllen. Since assuming the role of Pancho Claus, Reyes has never taken his act outside of Houston. But in 2022, he says he felt an urgency to bring Pancho Claus to the Rio Grande Valley, where roughly 95% of residents are Latino and a third of the population lives beneath the federal poverty line. It's also where his roots are. Both of Reyes' parents grew up in the Valley in Mercedes. His mom was a migrant worker who eventually settled in Houston.
We gather downtown in front of the Catholic Charities Humanitarian Respite Center, which offers care and relocation services to asylum-seeking migrants released by Immigration and Customs Enforcement officials at the bus terminal across the street. Reyes decided the families he most wanted to help this year were people who had no home to go to. I hear multiple languages spoken around me as people from inside the center pour out and line up with their babies and toddlers in tow.
Reyes dons his iconic zoot suit, but he's missing his usual cohort. Though he originally hoped to host a parade during his trip, there's very little production to his performance this Tuesday morning. It's just him, a U-Haul filled with a few thousand toys, and a small crew of volunteers, including his friend Ricardo Martinez, a local high school English teacher who helped organize the event.
"This is something in my life that I really value, charitable work, specifically to the people who are my people," Martinez says. "It's awesome that Richard wants to be this character who's going to help kids who need it—and that he's then able to fulfill that need."
In the weeks leading up to the giveaway, Reyes had received funding through a partnership with Academy Sports + Outdoors, which was founded in San Antonio and is headquartered in Katy. The company sponsored Reyes' trips south, including a previous visit where he hosted a donation collection at Cine El Rey, a historic theater in downtown McAllen. Dozens of people came to donate and decorate collection boxes to place around the RGV. "A lot of people had heard of him before," Martinez says. "They were really excited to help us."
Reyes jokes that he's kept this bit up for the last 40 years because he likes attention. "I'm a big ham," he laughs. "I want to be onstage."
In addition to playing this character for the better part of his life, he's taught and mentored youth. His involvement with Talento Bilingue de Houston was born of tragedy. In the early 1980s, his teenage half-sister Irma Lopez was killed in a drive-by shooting while babysitting her next-door neighbor. Since then, he's made it his life's work to guide at-risk youth, working on gang prevention and in detention centers.
That cause was the crux of what Talento Bilingue focused on. Reyes became the executive director of the organization in 1983. About 10 years later, Talento received a million-­dollar grant from Houston's Economic Development Office as an "inner-city, gang prevention cultural art facility." With the funding, the center built its current 300-seat theater and facility in the East End. At the time, it was the country's largest Latino cultural arts facility. Stars like Edward James Olmos, George Lopez, and Carlos Santana contributed workshops and performances. The center's youth theater performed in places like New York City and Washington, D.C. Pancho Claus is just one facet of Reyes' legacy in Houston.
"I liked to tell them we weren't teaching the arts, we were teaching them life skills," says Reyes, who retired from Talento in 2019. "I'm proud of the ones who learned to give back."
'Twas the Night Before Christmas
By Pancho Claus/Richard Reyes
Released in 2014
It was the night before Christmas,
and all through the casa
Not a creature was stirring.
Hey vato, que pasa?
The stockings, they're hanging
by the window with care
Waiting for Pancho Claus. Hey,
little dudes, he'll be here.
Los chavalitos they're snoozing
And dream of things like an Xbox,
an iPod, and Versace jeans.
Ama y Apa, ya están en la cama
Mom in her nightgown, ah tú sabes
Dad don't wear pajamas
When out in the barrio, I hear ruidazo
I turn to my carnalito, he says chale
I ain't getting out of this bed
So I went to the window. I flew in a flash, tripped on my shoes, and fell with a crash
Se de volada, got up, peeked out to the night
But it was kind of hard to see 'cause
we got this broken streetlight
When what to my wondering eye
should appear but eight low-rider cars
all jacked down in the rear
Then out steps this dude, his drapes so fine
and tailor-made, and I knew it was Pancho Claus by his smoky black shades
Pero así de los carros came his low rider friends
When he whistled and shouted and called them by name
Manuel, Jose, Rene, y tu Sara,
Ricardo, Maria, Bruno Mars, Lady Gaga
So to the top of the porch, they went to check out the lock
But it was double bolted so they decided to knock
And Pancho Claus said, "Vato locos, que tienen en la cabeza?
Don't you know if they hear us, they might come and arrest us?"
So to the top of the roof, the low riders they flew with a bag full of toys and Pancho Claus, too
And then in a twinkling, I heard them say on the roof,
"Hey man, there's no chimney up here, what will we do?"
And Pancho Claus said, "Hang loose, bro. I'll go downstairs and break in the bathroom window"
And as I pulled in my head and I was turning around
He came into the bathroom without making a sound
He was dressed in red and black from his head to his foot
Wearing one of them todo de aquella zoot suits
On his back, a sack full of toys I did see
And he went to the front room and put them under my tree
Pero despertó mi ama y grito, "Oi, quien es?"
Y se susto Pancho Claus and he ran outside fast
Then he got in his car, called his friends with a snap,
and they cruised down the road going
Ba-dap, ba-dap, ba-dap
Then he rolls down the window and I heard him yell to the night
"Feliz Navidad todos! If you have one, alriiiight"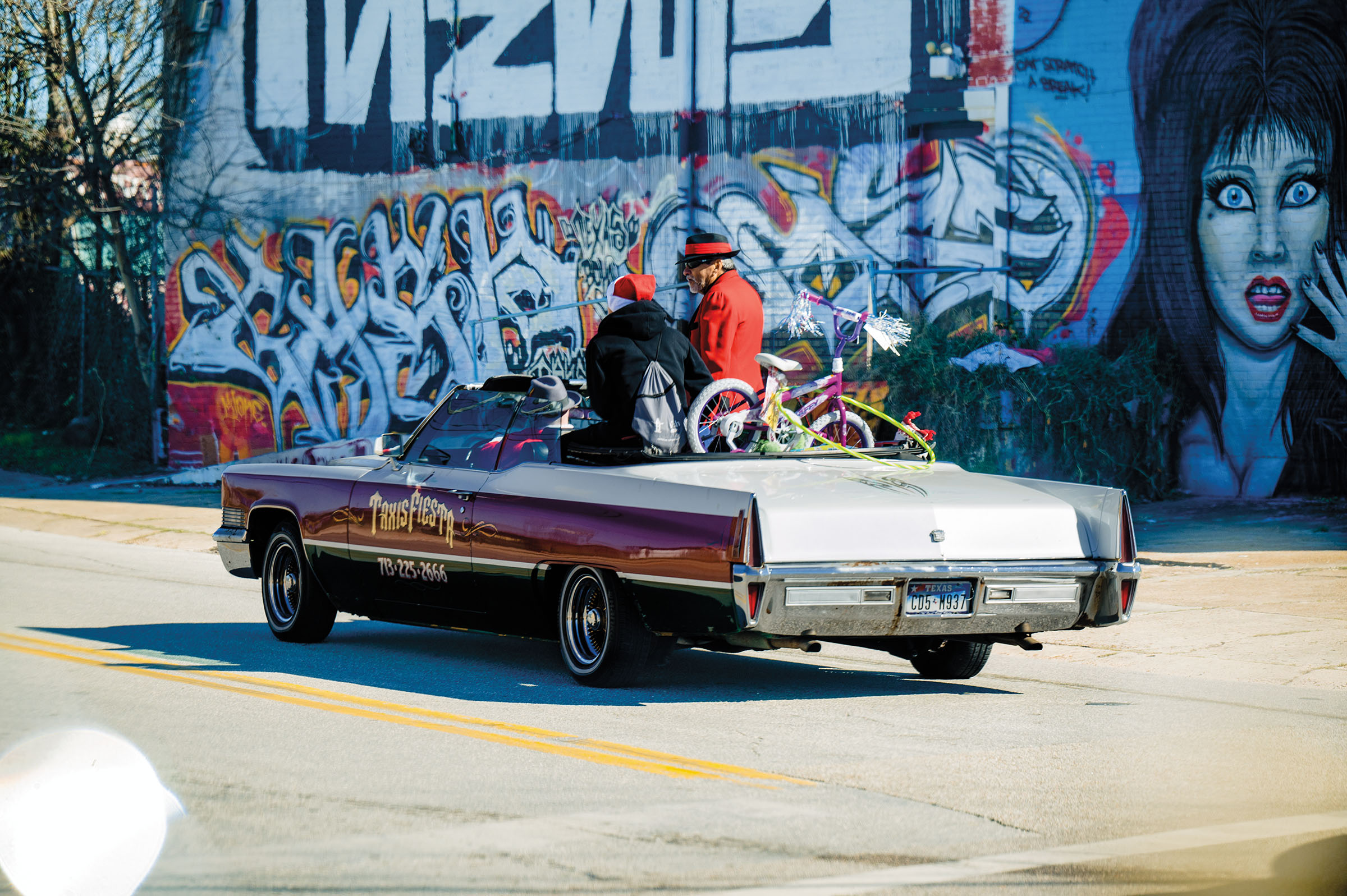 Onstage at NRG stadium, Reyes' performance is winding down. After 15 minutes of belting out songs, he takes a seat on the edge of the stage. He beckons to someone in the crowd, and a woman brings him his 3-year-old grandson, Rene. "He's like a whole new chapter of my life," Reyes says.
Reyes places him in his lap and begins to sing "Thank God For Kids" by the Oak Ridge Boys.
These days, his grandson keeps him going. Over the last 10 years, Reyes has survived three heart attacks and has been diagnosed with diabetes, cataracts, and chronic obstructive pulmonary disease. Though his low-rider broke down on his way to McAllen last year, he's working on getting a new one in time for the holiday season. Despite his personal setbacks, he intends to coast through Houston's streets like usual. He also hopes to return to McAllen this December—only this time, he plans to make it the spectacle he's known for.
Reyes wants to keep Pancho Claus going for kids in need, even after he's gone. He's preparing volunteers to take over the character once he is no longer able to perform, though Cano doubts anyone will ever fill his shoes.
But Reyes believes Pancho Claus is bigger than any one person.
"The whole community is Pancho Claus," he says. "The people who make toy boxes, the guys in the low-riders, the police escorts, the people sorting toys. Just go help your neighborhood—­that's who Pancho Claus is."