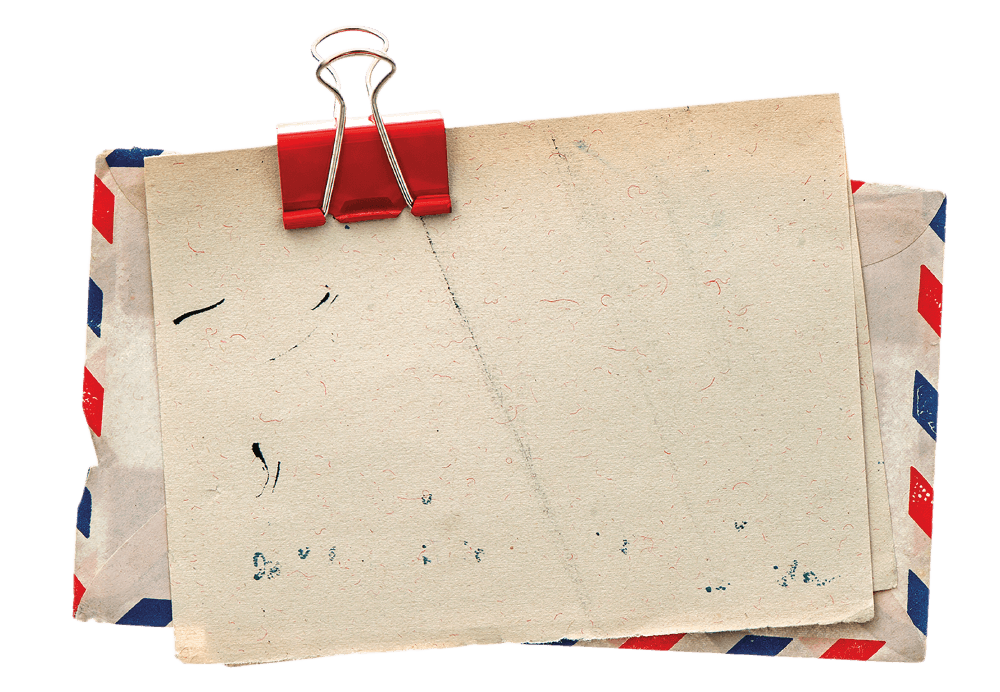 * * *
Deep Ellum Clues
Searching for the spirit of Blind Lemon Jefferson and the 1920s in Dallas' Deep Ellum
By Clayton Maxwell
photographs by Amy Scott
The 1920s
were a time of exuberant reinvention. Jazz pioneers in Harlem revolutionized music. Flappers unleashed new dances and hemlines. And speakeasies vibrated with all-night parties, defying the best efforts by prohibitionists to make everyone behave. Perhaps most notable for us in the 2020s, the world of a century ago was also recovering from a devastating pandemic, the Spanish Flu.
An unlikely epicenter of Texas' vitality during the 1920s was Deep Ellum, the historic Dallas entertainment district that has been mythologized as an enclave of good times. But the true story is far richer and more complex than the myth. If there's a central figure in the story of Deep Ellum's rising, it's enigmatic bluesman Blind Lemon Jefferson, whose success inspired other musicians to flock to the neighborhood. While few details are known about his life, I've set out to Deep Ellum in search of clues about his legacy.
Founded in 1873—some believe as a freedman's town for the formerly enslaved—Deep Ellum had grown into a hub of commerce and entertainment for African Americans by the '20s. It was known as Dallas' "black downtown," according to the book Deep Ellum, The Other Side of Dallas, by Alan Govenar and Jay Brakefield. Shunned by much of white commerce, African Americans, along with Jewish and European immigrants, built their own department stores, theaters, domino parlors, and dance halls. Musicians busked along the railroad tracks that brought industry to Elm Street, the source of the neighborhood's "Ellum" nickname.
It was along the railroad tracks that Jefferson once played the blues. In the 1920s, the musician from Freestone County rose to prominence in Deep Ellum. His local popularity propelled him to a successful recording career with Paramount Records, unprecedented for a down-home Texas bluesman. While musicians in Harlem introduced the world to jazz, Jefferson brought Texas country blues to the world.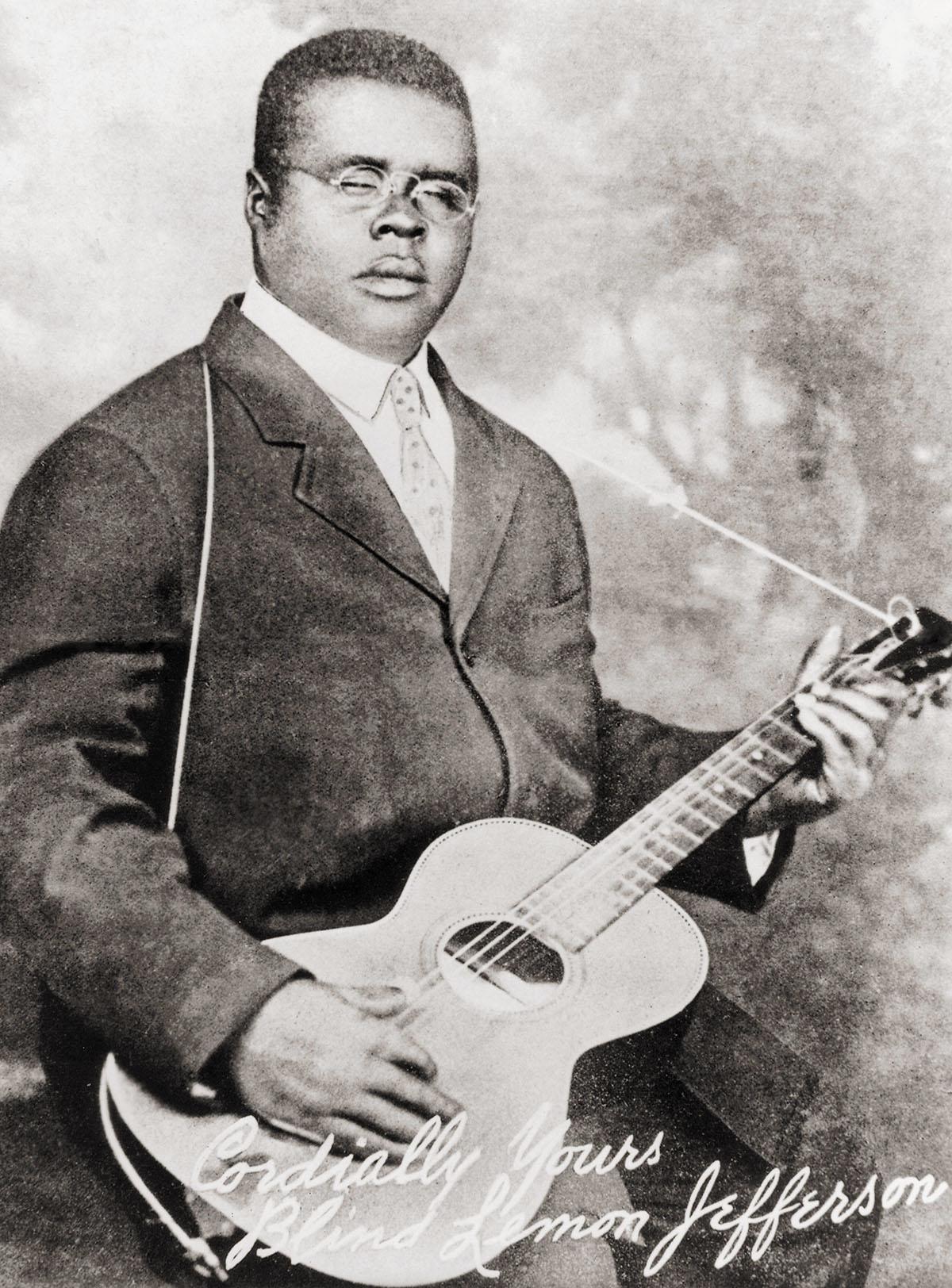 It's a hot Friday night in June.
We're in a lull of the pandemic; virus cases are dwindling, and the delta variant is not yet making headlines. With bars and over 20 live music venues, Deep Ellum feels like an exultant street party.
Rap and salsa music blast from terraces packed with weekend carousers. A couple on a vintage Harley cruise by blaring hip-hop. A posse of young men preach about Jesus from a podium on the sidewalk. Friends tend to a woman, sitting on a curb, who's had too much fun. I am reminded of a quote by J.H. Owens, a columnist writing in The Dallas Gazette, a Black weekly newspaper. In 1937, he described this Dallas neighborhood as "the only place recorded on earth where business, religion, hoodooism, gambling, and stealing goes on at the same time without friction."
In the 1920s, Deep Ellum didn't have speakeasies, per se, but there were "chock houses," informal roadside joints selling bootleg liquor. Today, Deep Ellum is home to speakeasy-themed clubs that play up Prohibition-era intrigue. One of them, Truth & Alibi, hides behind a facade of a vintage candy shop.
I find the shop and give the day's password, which I'd found on the club's Facebook page, to the bouncer: "Twizzlers." He smiles and pushes open a wall of candy dispensers to reveal a chandelier-lit lounge within.
Prohibition-era portrait paintings in thick gold frames hang against a backdrop of damask wallpaper. Waitresses in black micro-dresses serve 1920s-style cocktails to guests seated in oversized leather chairs. The crowd at Truth & Alibi is friendly and diverse, yet this is just a fun facsimile of a 1920s bar. I find no hint of Blind Lemon here.
Blind Lemon,
who was at least partially blind, traveled from his home near Wortham, northeast of Waco, in the early 1920s to perform on the streets of Deep Ellum. His soulful country blues grabbed the attention of Paramount Records, which invited him to record in Chicago. With songs that tell stories of love and hard living in the cotton-farming communities of Texas, Blind Lemon would later be emulated by the likes of Robert Johnson, B.B. King, and the Beatles.
"Blind Lemon was giving voice to his times," says Alan Govenar, a Dallas-based author and filmmaker who's co-authoring a biography of Jefferson. "What made singers like him appealing to their public was that they were really connecting with the spirit of the day and what people were feeling."
If his lyrics express the spirit of the day, that spirit was full of hard times, desire, heartbreak—and critters. In "Tin Cup Blues," Blind Lemon describes a hand-to-mouth existence: "I couldn't earn enough to buy me a loaf of bread / My gal's a housemaid, and she earns a dollar a week / I'm so hungry on payday, I can hardly speak." In "Elder Green" we hear about a lover who will "make a panther squall." In "Mosquito Moan," he evokes the ubiquitous vexation of Texas bugs.
Blind Lemon's music spoke to people. According to his fellow busker Huddie Ledbetter, aka Lead Belly, he and Blind Lemon were so popular when they'd play in Dallas "the women would come running, Lord have mercy. They'd hug and kiss us so much we could hardly play." A musician's dream regardless of the century.
The train lines that led Blind Lemon to Deep Ellum are a critical part of the neighborhood's history, says Clarence Glover Jr., the CEO of Sankofa, an African American education and cultural diversity consulting agency. The business takes its name from a West African word that means "it is not taboo to fetch the past for the future."
Glover says the Continental Gin Company, located on the edge of Deep Ellum, manufactured gin machinery that was shipped by train to cotton plantations. Built by cotton gin entrepreneur Robert Munger in 1888, the 70,000-square-foot factory has been partly redeveloped into a stylish community workspace.
African American cotton pickers from the countryside followed the train tracks to Deep Ellum. "All the tracks, you see, connected to the cotton plantations," says Glover, a former adjunct professor of African American Studies at SMU. "You can't talk about Deep Ellum in the 1920s without talking about cotton. Blind Lemon, his blues, spirituals—all of that music grew out of cotton."
I head to a spot where the railroad tracks used to run, now where Deep Ellum transitions into downtown Dallas under the North Central Expressway. Jefferson and Lead Belly used to play here. "The ghost of Deep Ellum lives there," Govenar says. Standing under the expressway, I hear cars rumbling overhead, but I can't feel the spirit of Jefferson wooing passersby with his soulful songs.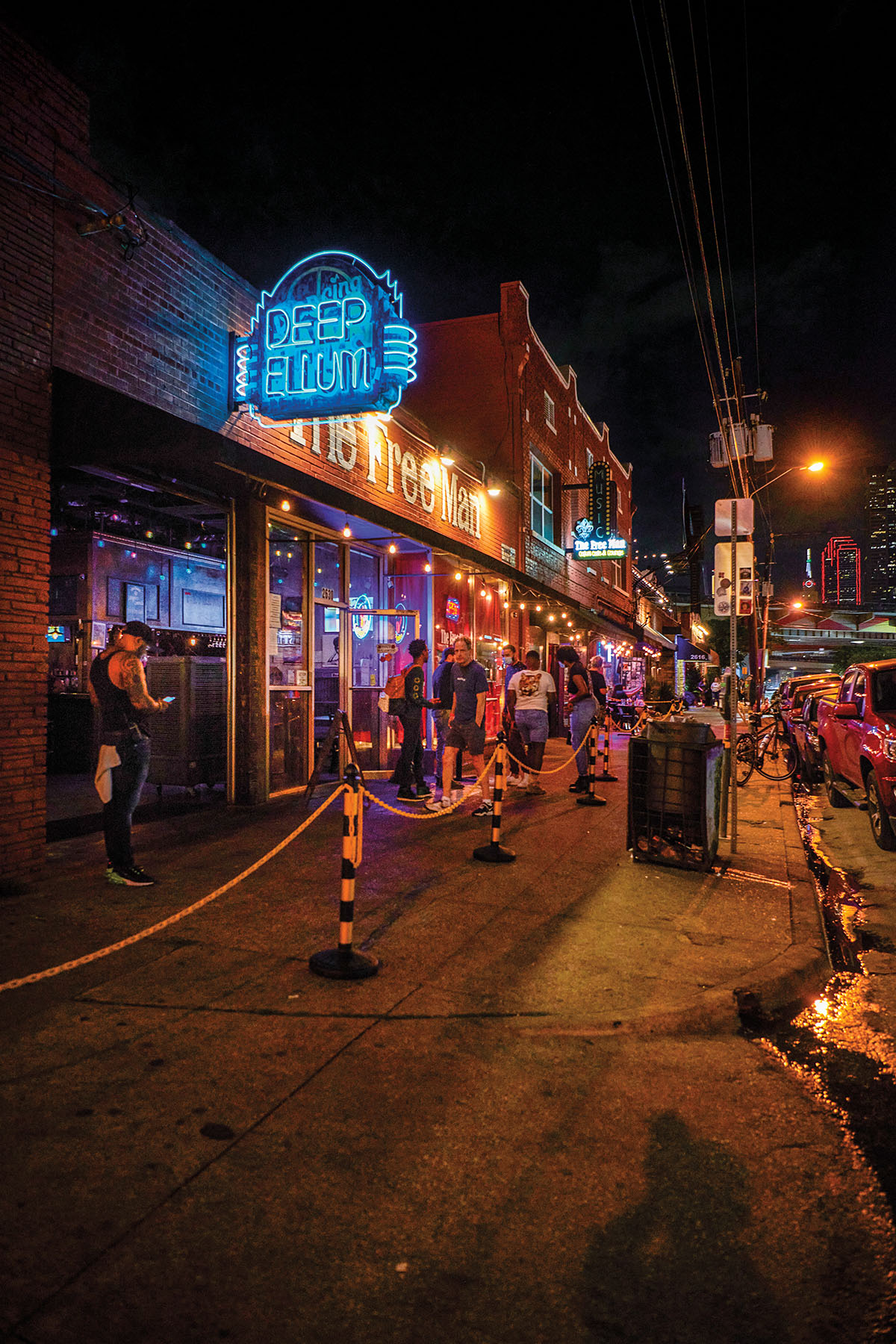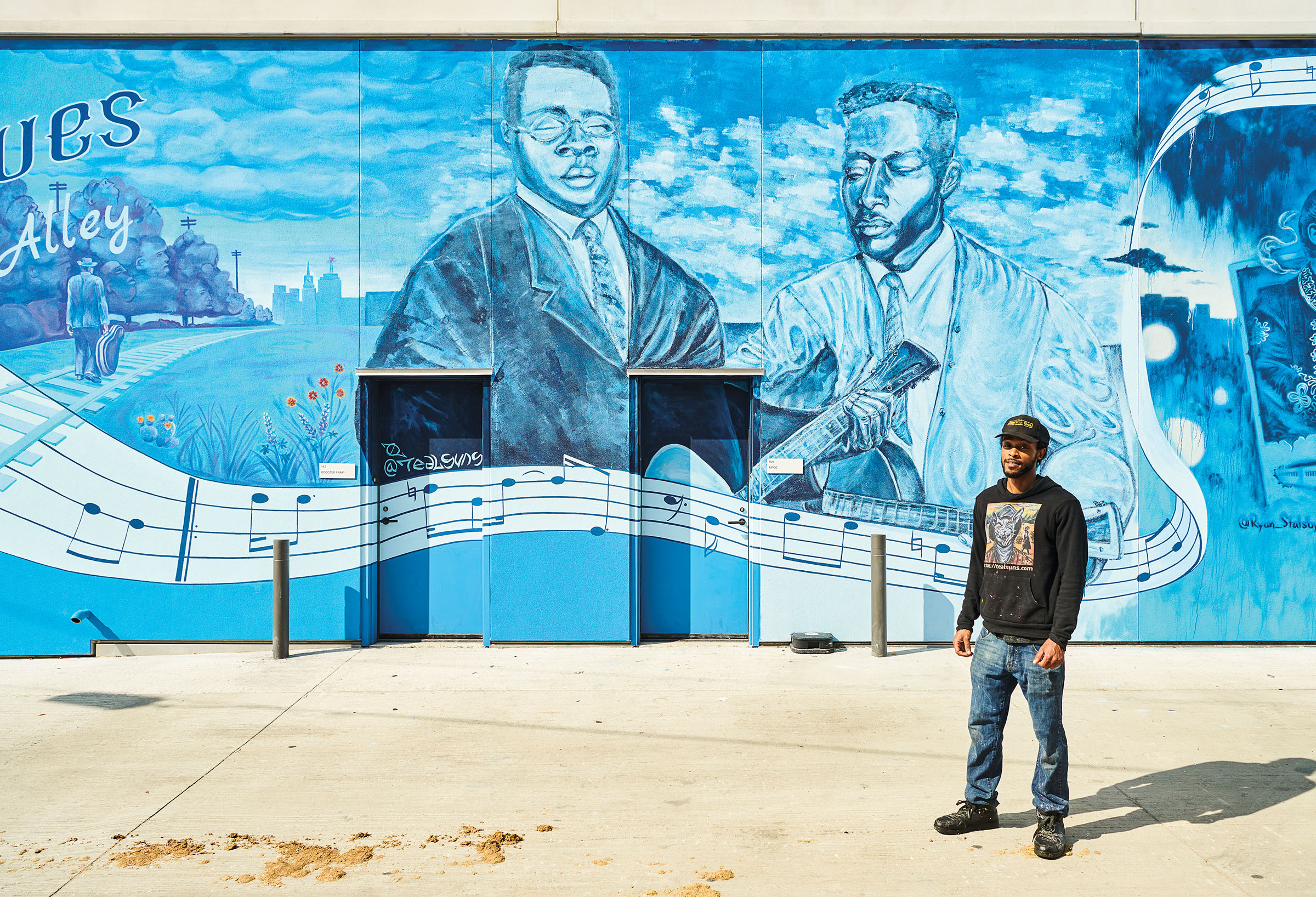 Just down the street,
on the corner of Elm and Good Latimer Expressway, the Kimpton Pittman Hotel harkens to the history of 1920s Deep Ellum and the Black culture that thrived there. With a restoration completed in 2020, the hotel preserves the work of William Sidney Pittman, an African American architect and son-in-law of Booker T. Washington. "It is the premiere building in Deep Ellum," Govenar says.
Pittman designed the seven-story Beaux Arts redbrick beauty with arched neoclassical windows in 1916. He was commissioned to do the project by the Knights of Pythias, a Black fraternal organization that served as a life insurance company and hub for Black business owners.
"Pittman created a building that's beautiful in proportion," says John Strasius, a project manager at Perkins Will, the architecture firm that oversaw the rebirth of the Knights of Pythias Temple. "What's really significant is the building's cultural history. This is the first African American financed, built, designed, and occupied building in Dallas."
Pittman, who built numerous churches throughout Dallas, is little known in architectural history, even though he was an accomplished architect and scholar who studied and taught at the Tuskegee Institute. Glover helps keep his memory alive. He puts flowers and flags on Pittman's grave in Dallas' Glen Oaks Cemetery, along with some of the original red bricks from the Knights of Pythias building.
"I am a minister, so as a spiritual commitment I do this as well," Glover says. For Pittman's birthday, Glover threw a small party at the hotel, and he often brings friends to eat breakfast on Sundays at Elm & Good, the airy restaurant on the hotel's ground floor. From there he occasionally leads tours through Deep Ellum, walking to the Continental Gin, about a 15-minute stroll away.
Glover also consulted with hotel management about hanging up Pittman's portrait and other images of Deep Ellum's history on the walls. The hotel's design team is currently working with an artist on Pittman's portrait. Glover appreciates that the Kimpton chain has named its boutique hotel after Pittman. "They didn't have to do that," he says. "And well, it does beg a deeper awareness, you see. In light of gentrification, the historic identity and dignity of William Pittman and the African American culture should not be lost."
Back in the 1920s, the hotel's fourth floor ballroom was the epicenter of Deep Ellum's intellectual and cultural life. In 1919, the Fisk Jubilee Singers sang Black spirituals here. In the 1920s, George Washington Carver lectured about sweet potatoes, and Marcus Garvey spoke about the Back to Africa movement. A large chandelier once dangled from the ballroom's ceiling, presiding over a space alive with dance and fellowship.
When I pull on the door handle of the ballroom, I see Pittman's towering arched windows. Strasius says he encountered collapsed ceilings during his first walkthrough before the restoration, and Pittman's grand windows were boarded up. Now, carefully restored, they shine with light.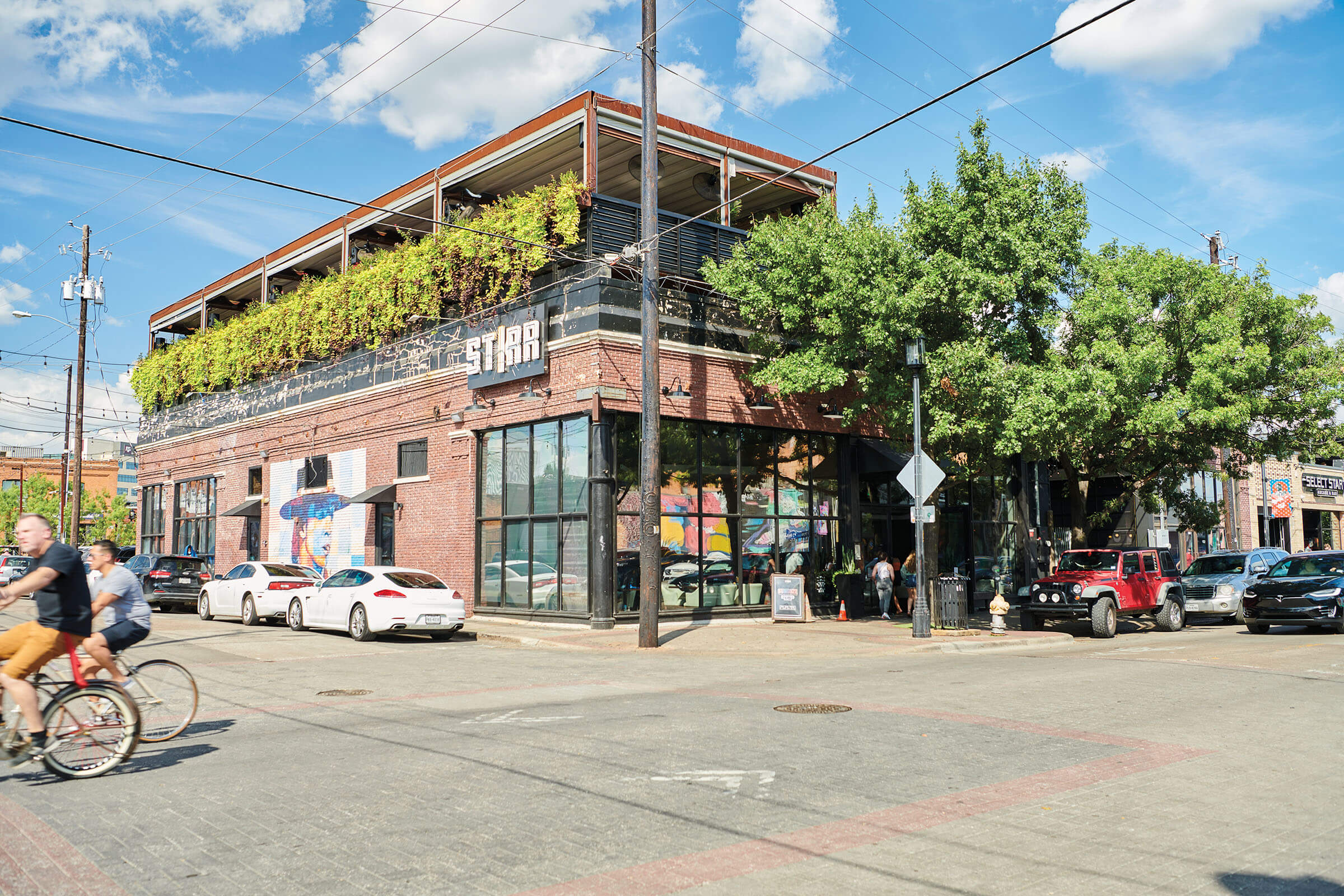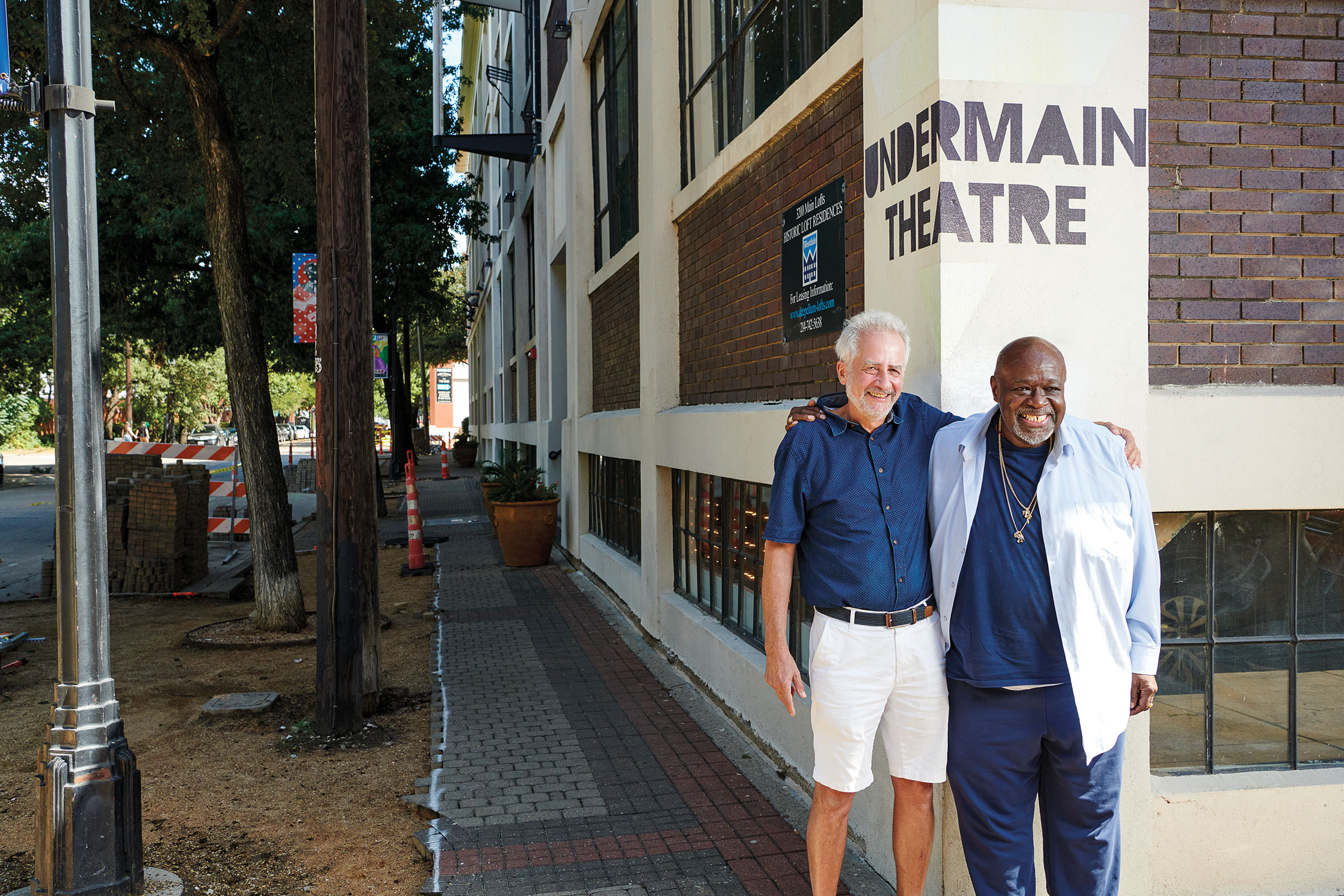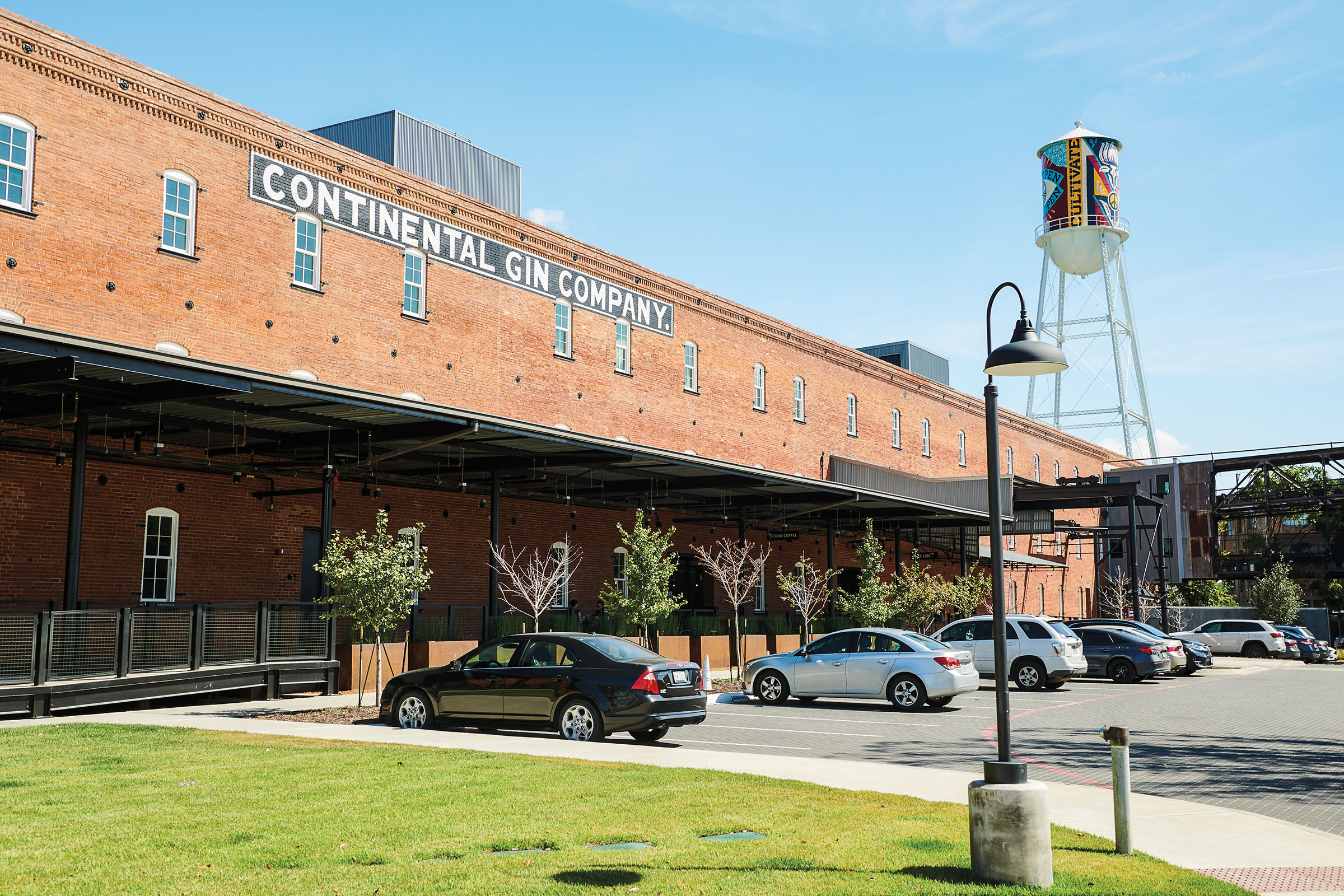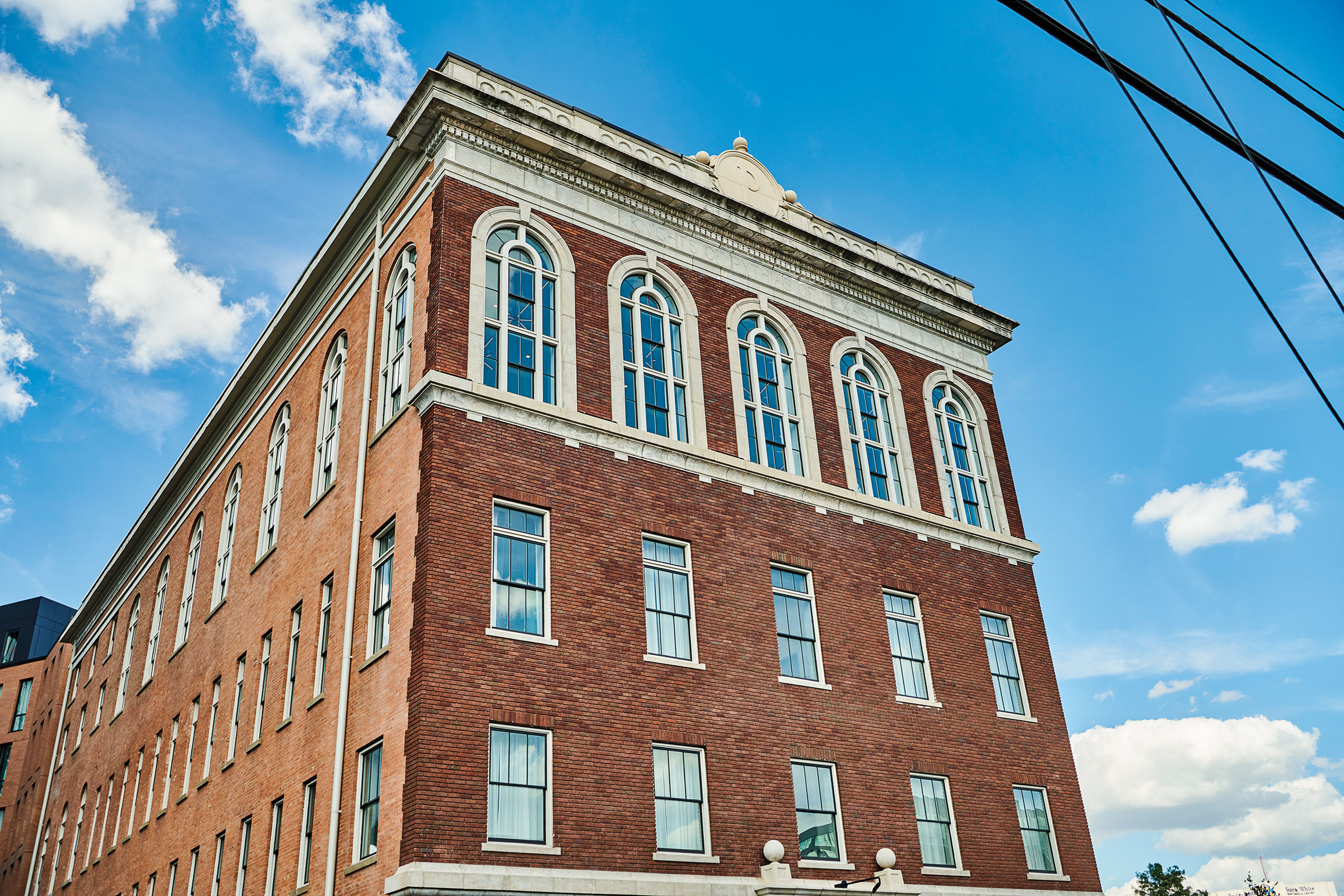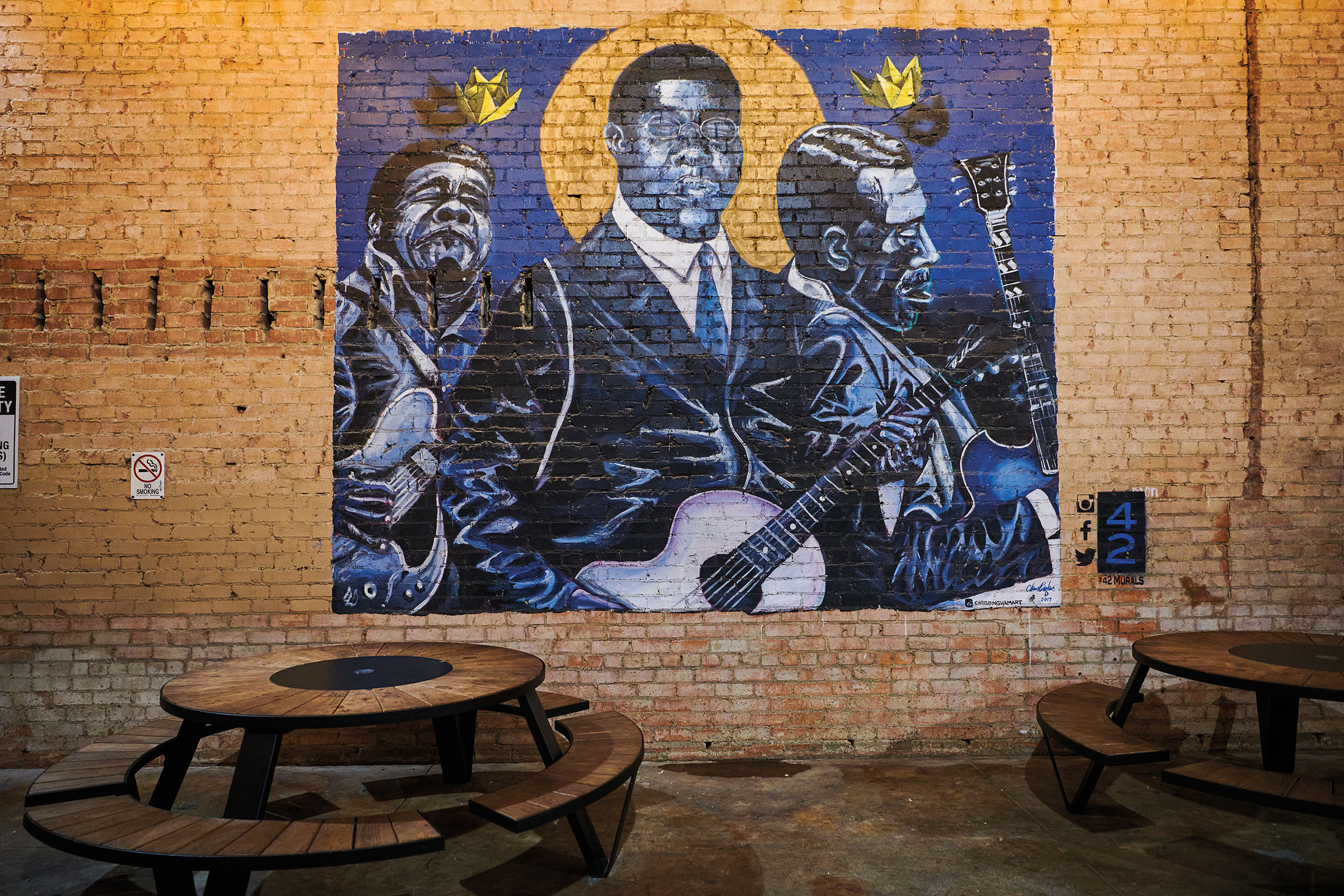 Like Blind Lemon Jefferson,
the entertainers and intellectuals of the Knights of Pythias ballroom were expressing the vitality of Deep Ellum in the 1920s. But now it's time to hear from the 2020s. My husband and I hop in a cab to R.L.'s Blues Palace 2, a club in nearby South Dallas owned by musician R.L. Griffin, aka "The Right Reverend of the Blues." The title of his 1999 LP, Too Hot To Stop, is an apt description of a man known for wearing flashy suits and igniting the crowd when he sings.
"R.L. not only runs the finest and most authentic blues club in Texas, but he's also been a brilliant bridge to the state's rich musical heritage," says Bill Minutaglio, a journalist and author of the PEN Award-winning book Dallas: 1963. "Whenever I've walked into his place, he serves as a genius guide to the very best of Texas."
As we wait in line, I can see over the bouncer's shoulder—something genius could be happening here. What looks like an inconspicuous cinder block bar from the outside is a thumping, dancing house of happy people on the inside.
We sit next to a woman in a tiara at a long table loaded up with chocolate-covered strawberries and pink cupcakes. It's her 60th birthday, and now we are part of it. Our tablemates introduce themselves and pass us plates of meatballs and chicken wings. They also offer me cupcakes. We are literally breaking some very sweet bread together. When the band starts in with Johnnie Taylor's funky "Who's Making Love," a large man in a fiery red suit with a microphone struts in from a side door, and the crowd, with their arms aloft, parts to make way. Griffin has arrived.
As Griffin sings his way through the crowd, his husky voice overtakes the room. A lady next to me in a short sequined dress and Bambi-thick fake eyelashes high-fives me. Griffin, blues alchemist, has transformed us into a dancing, singing gestalt.
For the next hour, The Right Reverend of the Blues leads us in a communal celebration, with moments of high-energy call and response. While dancing and sweating with the generous, welcoming souls of the Blues Palace 2, I realize I've found my best local link to Blind Lemon Jefferson.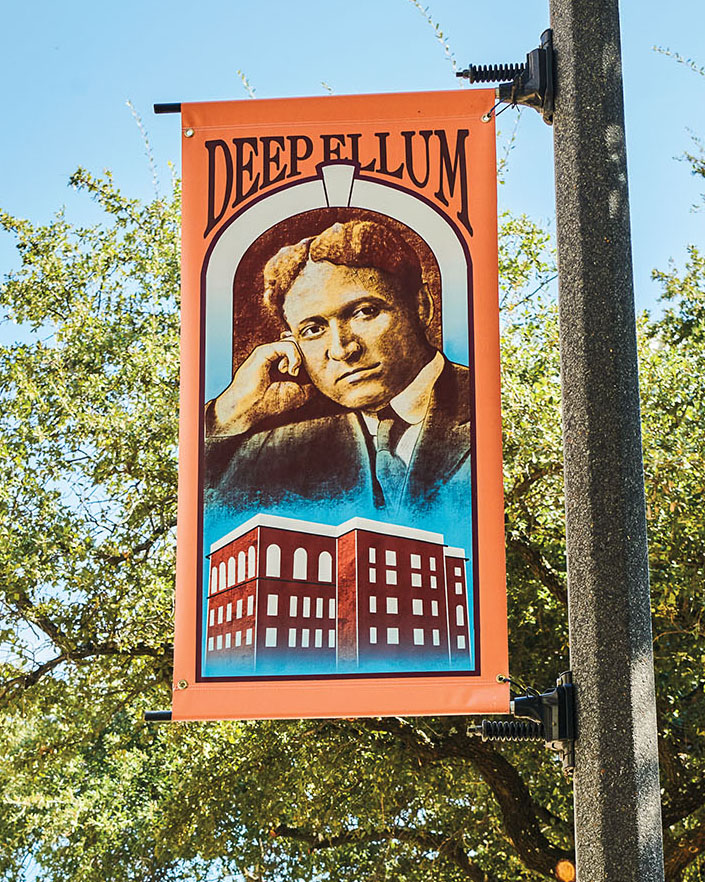 Deeper Ellum
"If you go down to Deep Ellum, to have a little fun…." As the classic song "Deep Ellum Blues" suggests, there's plenty of fun in Deep Ellum. Here are options for fun that go a little deeper:
The Undermain Theatre: This company features plays that capture the neighborhood's spirit. In the summer of 2022, it will stage Lonesome Blues, a musical about the life of Blind Lemon Jefferson, written by Akin Babatundé and Alan Govenar. undermain.org
Sankofa Deep Ellum Tour: Tours that recount the neighborhood's African American history.
sankofaeducationservices.com
Deep Vellum Books: Indie shop and publishing house with books by local authors. deepvellum.com
The Deep Ellum Foundation: A group that hosts neighborhood events and tours. deepellum-foundation.org
The Kimpton Pittman Hotel: Lodging in a restored 1916 building designed by architect William Sidney Pittman. pittmanhoteldallas.com
Truth & Alibi: A speakeasy-style bar hidden behind a candy shop facade. truthandalibi.com
R.L.'s Blues Palace 2: An authentic Texas blues club located a couple miles southeast of Deep Ellum.
facebook.com/rlbluespalace2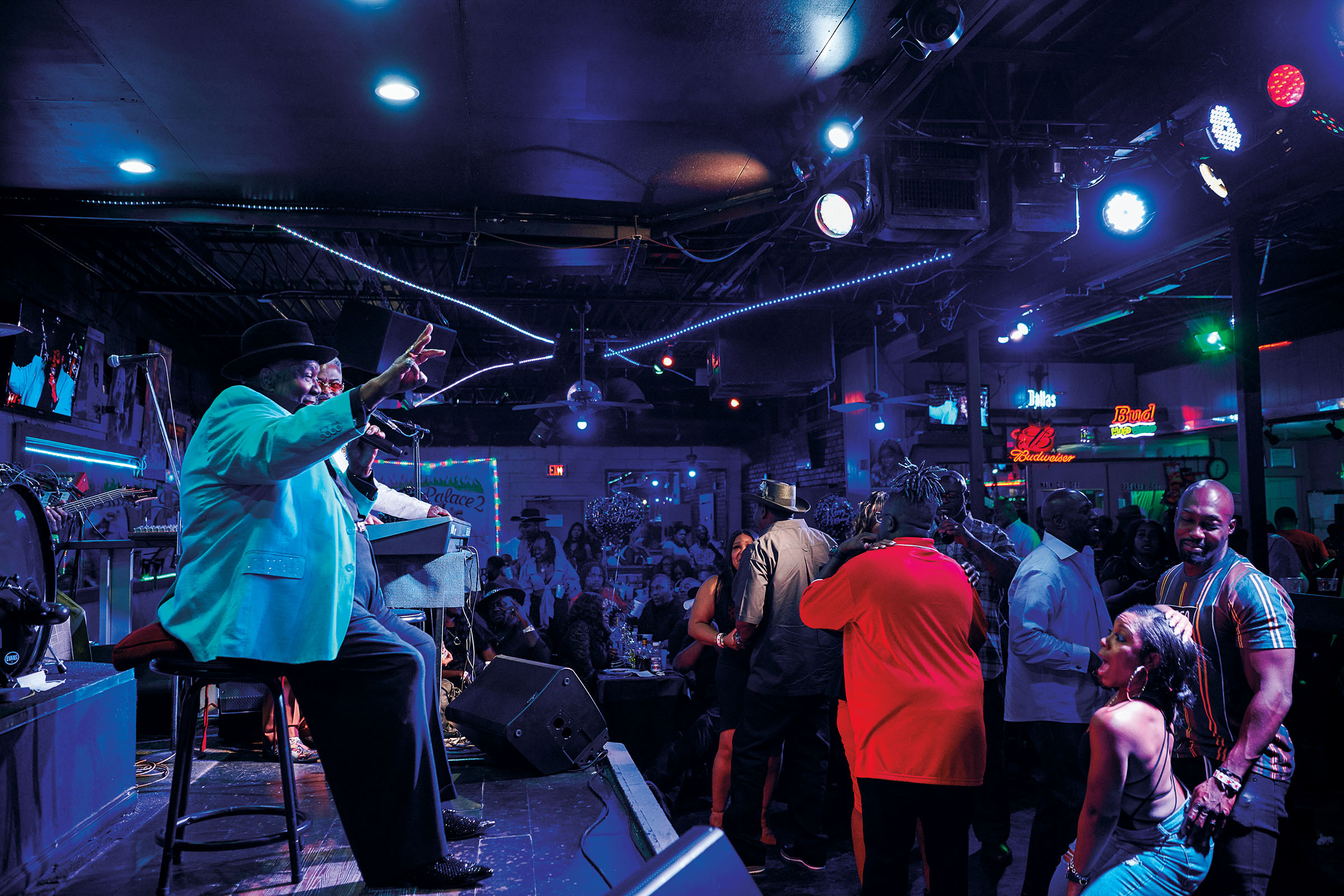 "R.L. was schooled as a blues musician, but he wants to present a vibrant contemporary sound," says Govenar, who interviewed Griffin for his book, Texas Blues: The Rise of a Contemporary Sound. "He wants to connect the past to the present. Blind Lemon was trying to give voice to the people who listened to him. R.L. is trying to give voice to the people who are listening to the music that's performed in his Blues Palace. And there is a message of hope there."
By connecting us through music, Griffin is making art that reasserts our better selves, reminding us how good it feels, no matter how old we are, to be in communion, to shake it, to sing along, and to invite others to sing.
One-hundred years ago, the 1920s in Deep Ellum roared with their own momentum—in commerce and street life, in the birth of the Knights of Pythias Temple, in Blind Lemon Jefferson bringing Texas country blues to the world. While it remains to be seen if or how our '20s will offer new possibilities, we would be lucky if they sound a lot like a Texas bluesman in his colorful suit, bringing us hope.
From the December 2021 issue