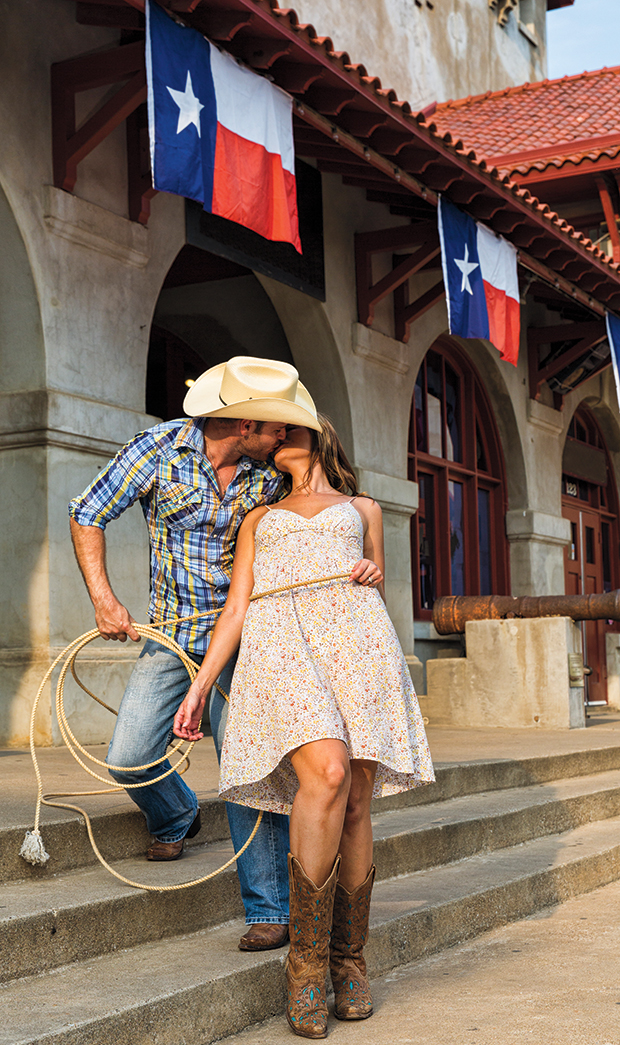 There's a reason all of George Strait's exes live in Texas — there's something ridiculously romantic about the Lone Star state. As the saying goes, everything's bigger here, and we're pretty sure that extends to love, too. We're not sure if it's the scenery or the people, but sparks fly easily all over the state, and especially during the month of February.
From Valentine, with love.

Have your Valentine's Day card postmarked from Valentine, Texas.

More Romantic  Tips

Gondola with the Wind

What's better than Venice? Getting a taste of it without leaving Texas – like enjoying a romantic gondola ride for two. Take a private Gondola Adventures ride on the Mandalay Canal and Lake Carolyn in Las Colinas. Whether you simply want to traverse the waters while swooning over your love interest, or opt for a dinner cruise, it's definitely the foundation for romanctic date night. The gondaliers will even sing or play romantic music for you. Don't leave it all up to the gondolier, though. Bring your A game! If a proposal happens, we want pictures!

Wining is Winning

Pairing a nice Texas wine with your romantic dinner is great. In fact, take the time to select a Texas wine to pair with each course of your meal. It'll be a beautiful touch for Valentine's Day. If you want to kick it up a notch, though, explore Texas wineries with your sweetheart. Make it a mission to find the one bottle that speaks to your true love … or at least your taste buds. Enjoy the gorgeous drive that comes with visiting popular Hill Country wineries or explore other options across the state that might be closer to you.

Lookout! It's Love!

Known as one of East Texas' most breathtaking views, Love's Lookout, could be a nice spot for some low-key, whispered "I love yous." Pack a romantic picnic – wine, cheese … – and grab a spot at one of the picnic arbors. Love's Lookout, north of Jacksonville in Cherokee County, has its own visitor information center. Stop in to get more details of your view that looks out across the valley for 30 miles or more.
So whether you're celebrating Valentine's Day this year with your lover or with your friends (Gal-entine's Day, anyone?) we've got you covered with some outings beyond dinner and a movie that are sure to inspire beauty and maybe even some romance.
One of the best reasons to live in Texas? Occasional 70-degree days in February. If the sun is shining on Valentine's Day, why not take advantage with an outdoor adventure at Mount Bonnell (also known as Covert Park). After about 100 steep steps, you and your sweetheart will find yourselves 735-feet high, overlooking an incredible stretch of the Colorado River. Take a seat and take in the views — and don't forget your picnic supplies.
Kick up the traditional gift of chocolate with something more experiential: A "Dallas by Chocolate" tour. On Tuesday, February 14 travel by a luxury private bus to some of the best chocolate spots in town, including Bisous Bisous, a French-style pâtisserie specializing in macarons. The three-hour tour includes transportation, desserts and drinks, but know that you're welcome to BYOB, too. So if you've been saving a special bottle of bubbles, a chocolate tour may be just the occasion.
If you're looking for an old-fashioned, two-stepping kind of evening, then Gruene Hall, Texas' oldest dance hall, can't be beat. Built in 1878, the 6,000 square foot dance hall hasn't changed much in all these years, still featuring a high pitched tin roof and huge outdoor garden for cooling off after cutting a rug. On Valentine's Day, the honky tonk legend Dale Watson will be playing. Head here to get tickets.
Although the renowned American light artist James Turrell has more than 80 skyscapes installed all over the world, many are private. Luckily for Houstonians, two of his incredible pieces are in their city — Twilight Epiphany at Rice University and The Light Inside at The Museum of Fine Arts — and both are free and open to the public. If beauty equals romance, then there are perhaps few places as romantic as a Turrell skyscape — large scale "reflection rooms" which feature circular openings to the sky and play with perspective through LED lights projected during sunrise and sunset. Make sure to reserve seats in advance.
Sure, a starry sky anywhere can send sparks flying. But at the McDonald Observatory outside of Marfa — where a lack of light pollution helps make the expansive skies extra clear — you can do more than just gaze up. The two-hour "Star Parties" give visitors a chance to take constellation tours and view celestial objects through various different telescopes. Want even more of an education on the night sky? Come early for a Twilight Program, a 1.5 hour talk featuring live scale models of the solar system and interactive demonstrations. Advance reservations are required for both.
Winding corners, cobblestone arches and the sound of rushing water — love feels in the air on San Antonio's Riverwalk all year long. Take a walk along what readers have long knonw is one of Texas' most romantic spots and then duck off into boutique hotel Hotel Havana for dinner and a nightcap. Originally opened in 1914 by a local grocer, Hotel Havana was built in a Mediterranean Revival style popular in Cuba in hopes of creating a tropical getaway. Listed on the National Register of Historic Places, the hotel was refurbished in 2010 by hotelier Liz Lambert (also known for El Cosmico in Marfa and Hotel San Jose in Austin) — many of the original cypress and palm trees remain. On Valentine's Day, attend the hotel's special three-coourse meal "in honor of Love and Shiner" (think charred tomato bisque, butcher's cut steak and chocolate mousse) before descending to the dark and sultry candlelit basement bar, Havana Bar, for a nightcap.
From the February 2017 issue