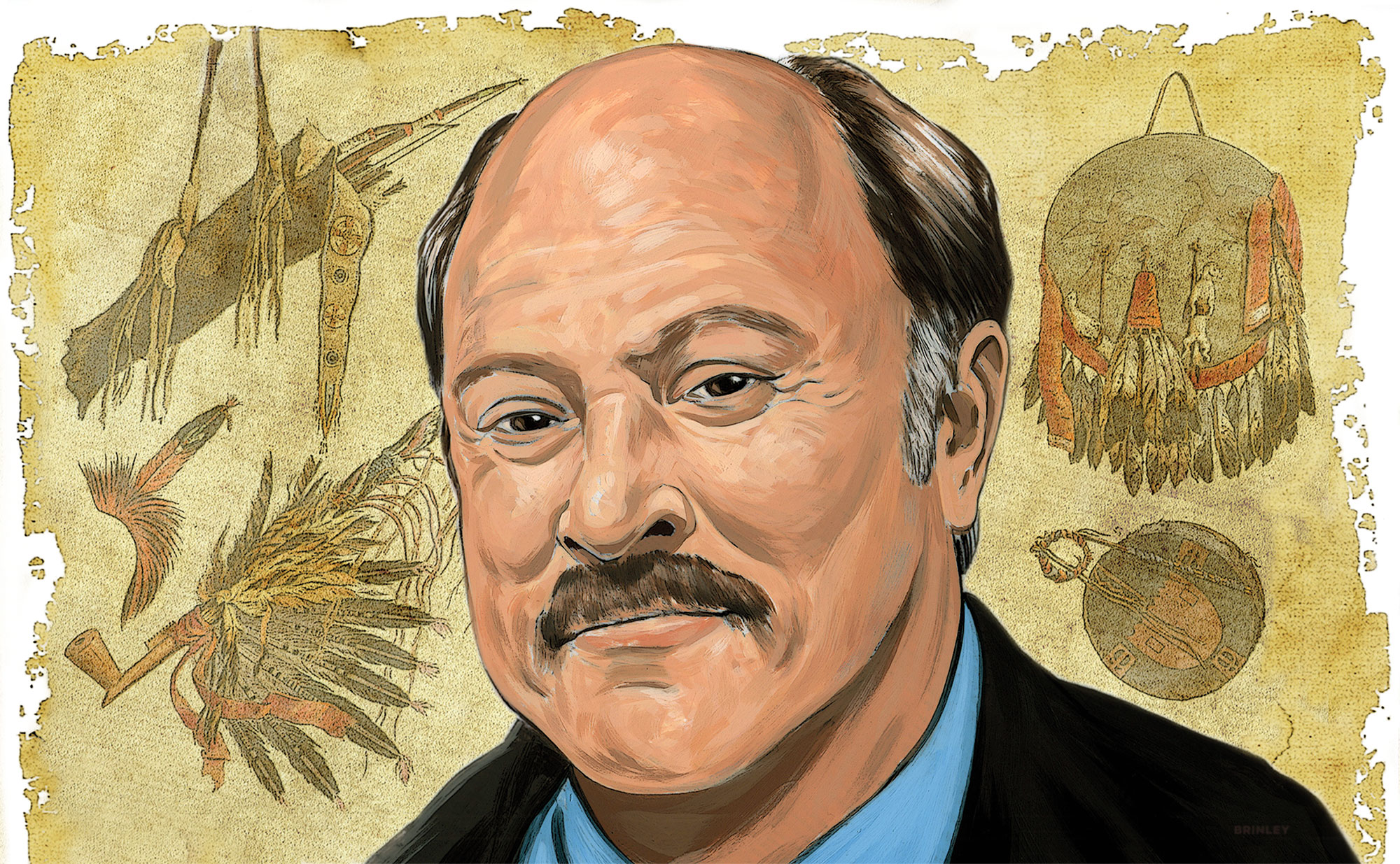 Bruce Shackelford is one of those enviable characters who's developed a notable career by pursuing his own particular interests. Once dubbed a "scholarly cowboy," the 65-year-old parlayed his fascination with Native American art, Western history, and horsemanship into a job as the Texas history curator at The Witte Museum, San Antonio's elegant and enlightening repository of Texas history and culture. He's also one of only a handful of appraisers to have appeared on every season of PBS' perennial reality show favorite, Antiques Roadshow. For 23 years, viewers have tuned in to watch Shackelford—who mans the Tribal Art table—and other experts as they appraise the significance and value of antiques and collectibles brought in by the public.
Q: What sparked your interest in history?
A: I grew up with it. My great-grandfather was born in 1869. He was 80 when I was born, and I grew up with him on the ranch [in Ovalo, near Abilene]. He was still working, and I'd go out there and spend the night in the house or sleep out in a tent in the pastures. And my grandmother, her father was the Methodist minister in Clarendon, and when they lived in the parsonage in about 1910, his next door neighbor was Quanah Parker's son. So my grandmother played with all of Quanah Parker's grandkids. I had heard the stories my whole life.
Q: How did you get into tribal art?
A: After I went to art school, I got real interested in the American Indian thing. And a job came up at a museum called the Creek Council House, and they couldn't hire anybody to try to get it together. I took the job and I moved to eastern Oklahoma, and that's what I've been doing ever since.
Q: What intrigues you about Texas history?
A: Texas repeatedly changed the boundaries of the United States. The Louisiana Purchase and the land won from the U.S.-Mexican War in 1848 and the Treaty of Guadalupe Hidalgo are pretty close to the same amount of territory. Most people don't know that. In our world here, the country definitely moved much earlier from south to north and to the east. You talk to people in Boston, and they don't know there's anything but east to west. There's always more to the history, and it's not just cut and dry. It's like the Alamo—it was a long series of confrontations; it wasn't one confrontation. It started way before the battle. It's a great story and hard to walk away from.
Q: If someone were to see only one thing at the Witte, what should it be?
A: The South Texas Heritage Center, because that's what I love and do. But if you were to ask Thomas Adams, who's the paleontology curator, he would say the dinosaurs. As far as a single thing, maybe the Gutzon Borglum sculpture of the trail drivers that's out in the back garden. Borglum also did Mount Rushmore.
Q: How much does the youth audience factor into a Witte exhibit?
A: It's real important, because every year we get 50,000 schoolkids on field trips. The wording on labels is aimed at sixth grade. It makes it more difficult to write, because you've got to communicate on a level that is true, correct according to today's knowledge, and clear. We want something to grab them that makes them want to come back. The best part is when you see them six months later, and they're with their parents dragging them in, "Hey, this is what we saw, isn't that cool?" That's the payoff.
Q: Are you surprised at the success of Antiques Roadshow?
A: The biggest show for the first season was San Antonio, and 1,200 people showed up. We were all saying, "Well, we're going to give it a year and it will probably wash out." So then the second season, we got to Dallas and there were 5,000 people in line by 9 o'clock. It was over a mile long. It was just insane. And at that point, we knew we had totally misread it. And by about the third season, I think it was in Providence, Rhode Island, there were people camped out in tents like a rock concert. It's not anything we could have imagined. You know, we're just geeky guys who are interested in what we're interested in.
The Antiques Roadshow 2019 tour comes to San Antonio on April 27. The ticket application deadline has already passed, but PBS will air the episode as part of the show's 24th season starting in January. Find past episodes online at pbs.org/wgbh/roadshow.

The Witte Museum
3801 Broadway St. in San Antonio
Open daily
210-357-1900
wittemuseum.org
Q: Why does the show remain compelling after 23 seasons?
A: It's the stories. They do the "this is worth a lot of money" thing because it excites viewers, but repeatedly the feedback is it's the story—why is this on TV, why is this important to look at? And that's why I'm still there. I don't sell this stuff. I'm interested in the market because I'm interested in what comes up. After 23 years of doing it, I've seen thousands of pieces. It just gives you a much bigger perspective on what's going on, and you can't buy that.
Q: How long do you have to research an object before you assess it for TV?
A: Five minutes.
Q: Seriously? How does that work?
A: I just know the stuff. When we were doing halls, we were seeing 6,000 to 7,000 people a day. It's so busy we don't have time to go research. We may spend a couple of minutes with a computer, and a friend of ours has a database to get the latest sales records for the past two or three years, and we'll do a quick comparable check for the price. I may look up when somebody died, some detail like that, but I know what I'm looking at and whether or not it's going to be worth pitching for TV. And so if we see something we think would make good TV, we call a producer and they say yes or no.
Q: Can you describe a particularly memorable day on the show?
A: We were doing the show in Denver, and I saw a diary from a guy who was with Custer going from Colorado to the battle of Washita River in Oklahoma where [Southern Cheyenne leader] Black Kettle was killed. There's stuff in there that is not anywhere else—not in any record or history books. Another lady came in that same show with a few items related to Maximilian, what they call a "look book" that had all of the proposed designs for the royal accoutrements when he was declared emperor of Mexico [1864-67]. It was all the stuff for his palace—all in watercolors, page by page.
Q: How has Antiques Roadshow changed your career?
A: In every way. It gives you an international profile that you didn't have before. But it gives you a little bit more humility about what's going on out there, and what people's situations are, because you're meeting every kind of person you can think of. You meet people who are trying to be sneaky and trick you, and people who lie, and people who are great, who are absolutely wonderful.
Q: What pieces do you remember most?
A: It was in Austin, or maybe Houston, a lady came in and she had a stick, and she slapped it down on the table and said, "Tell me what that is." It had rotted leather on one end, and it was some kind of handle, obviously. I got to looking and put it under a black light, and a mimeographing stamp shows up on the back. It was the handle of a bullwhip from the Alamo gift shop. And she said, "How do you know?" And I said, "Because I had one." That's what I remember, not the zillion-dollar whatever that came in. And I remember the guy who came in with a shrunken head that was in a music box. When you open the box it sings, "Raindrops Keep Fallin' on My Head." It's weird stuff like that—I remember that.
From the March 2019 issue