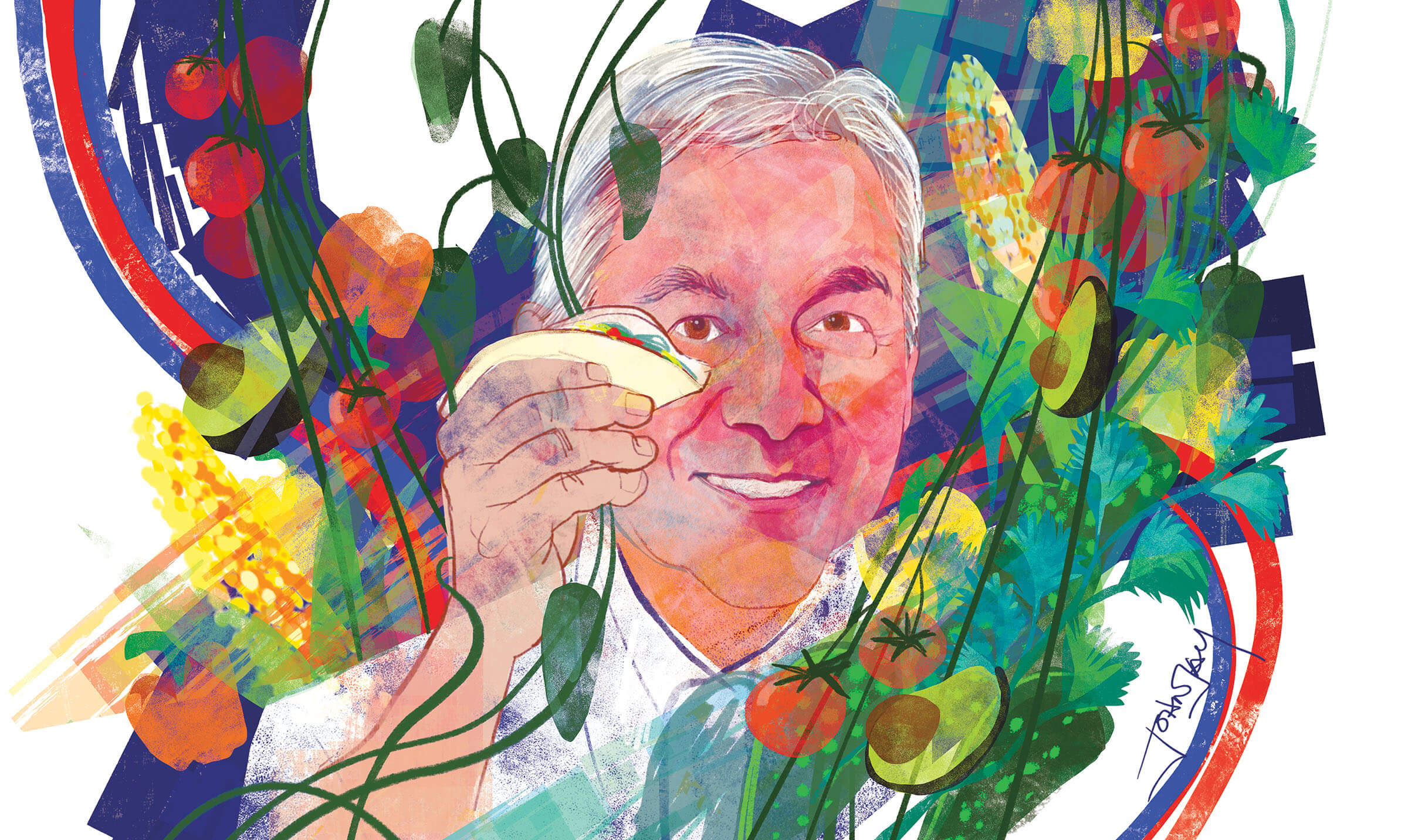 At first, the concept of "Texas Mexican food" espoused by Houston-based chef and food writer Adán Medrano is a little hard to wrap your head around. Wait a minute, you might wonder, don't we already have a name for that? Is this just splitting hairs over the semantics of Tex-Mex versus Texas Mexican? But the deeper Medrano dives, the more he reveals a truth that has been hiding in plain sight. Though there is some overlap, Texas Mexican is not Tex-Mex, nor is it what is sometimes referred to as "Mex-Mex" or "interior Mexican" food.
Born into a migrant farming family in San Antonio, Medrano worked as a film producer and as a chef at restaurants in Koksijde, Belgium, and Houston before focusing his work on the native food of his homeland. He describes Texas Mexican food as the modern-­day
expression of the fare indigenous to the original inhabitants of South Texas and northeastern Mexico. In pre-Columbian times, this patchwork of peoples known as the Coahuiltecans ate a diet that infuses the way both Texans and northeastern Mexicans eat today, reflected in dishes like sopa fideo, carne guisada, and chili con carne. It's typically lighter and less processed than Tex-Mex standards like nachos or fajitas, which are known for plentiful cheese and grease.
"Tex-Mex is what people think is our food. But Tex-Mex is really someone else's idea of how we eat. And that's not how we eat."
In Medrano's conception, the Rio Grande is just another stream, not a culinary border, and subtle shifts in language can have big cultural implications. He's written about this cultural history in two books—Truly Texas Mexican: A Native Culinary Heritage in Recipes and Don't Count the Tortillas: The Art of Texas Mexican Cooking. Now he explores the topic on film as the executive producer of Truly Texas Mexican. The documentary, which was shot in San Antonio, Houston, Corpus Christi, and the Rio Grande Valley, is scheduled to be released this fall. (Specifics of the debut are pending, complicated by the coronavirus pandemic.) In his work, Medrano aims to tell the story of Texas comida casera, or home cooking, and how it has survived to "sustain the memory of Mexican American families and strengthen the bonds of community."
Q: What does "Coahuiltecan" mean in the context of your work?
A: The Coahuiltecan region is a triangle. The upper end would be around Victoria, going all the way to Del Rio, and then down to Monterrey, and then back up the coast. That is what I call the Coahuiltecan region for food. It's really indigenous food from the peoples who lived there. From the very beginning the word Coahuiltecan didn't refer specifically to the Coahuiltecan language, nor did it refer to a very specific tribe in that area. It refers to a geographical area with many peoples in it. It's like when you say, "I'm a Texan." That doesn't go into your ethnic background; that just says you live in a particular cultural space.
Q: What are the foods of the Coahuiltecan region?
A: The bedrock foods of the Coahuiltecan region are seasonal and local—local meaning cactus, brush things [such as mesquite beans], deer, quail, turtle, fish, all of those plants and animals that are indigenous to this region. Cooking was the domain of women, and women really are the engineers of all the cooking technologies of the Coahuiltecan cuisine, such as earth ovens and boiling techniques. Today there is a straight line between all of those people and people like myself.
Q: What are the flavor profiles of ingredients like game, cactus, corn, and beans in Texas Mexican dishes?
A: I would divide it into the techniques that are used, and then secondly the ingredients and how you treat those ingredients. We wouldn't do a lot of deep frying. The techniques that would shape the flavor profile are roasting, steaming, drying. Very fresh—the fish is fresh. When you get to deep frying, that's more toward Tex-Mex. We do some deep frying, but that's not the flavor profile of Texas Mexican. As for the use of ingredients, the flavor profile is more direct. There's the floweriness, and the intricacy and the complexity comes in the way that you blend stuff together.
Let's take the cheese enchilada. My cheese enchilada is based on chile guajillo, chile ancho, and then the trinity—garlic, black pepper, and a little bit of comino. So that's not a lot of ingredients, and the trick is how to mix those in a way that they really come together when they're supposed to. You eat the dish and you say, "You can't add anything else. This is just right." It's that sort of technique that characterizes our food.
Q: And so what is Texas Mexican in relation to Tex-Mex?
A: Around the 1960s, there's a movement that happens called Tex-Mex. These are new restaurants run by Anglo people who imitate [Texas Mexican] food and are very successful in selling it. It's a format that is high-fat, high-cheese, and the format really attracts the Europeans because they are used to it. You have the Germans with their sausage and the French with their deep-frying. Those are not indigenous, but that is Tex-Mex food. And I think Tex-Mex becomes a reality because food writers of the '70s began to write about it. There were so many of them writing about it while [Mexican Americans] did not have access to the centers of communication; we didn't have any writers. So, other writers took over the conversation. Tex-Mex is what people think is our food. But Tex-Mex is really someone else's idea of how we eat. And that's not how we eat.
Q: Can you elaborate on your thoughts on pinto beans versus black beans?
A: You mean how I once said that black beans are not "philosophically correct"? Black beans are fine—serve them in a restaurant like Merida [a Houston restaurant that serves Yucatán-style Mexican food]. That is authentic to the Yucatán and southern Mexico. One time in Chiapas I had them alongside iguana enchiladas, which was—something. But if you want to cook the Mexican food of this region, use pinto beans because those are our beans. If you use black beans, the flavor's different, the relationship to the taste of rice is different.
Q: Pecans are native to Texas and play a role in many cultures. Are they part of Texas Mexican cooking?
A: The pecan for me represents how we have been dispossessed. It's a story of poverty. It's got a lot of pain and a lot of anger. When Mexican Americans begin to write these things about the pecan, it becomes more weighty. My parents used to shell pecans to make ends meet, and they were paid very poorly. In a land where we were hunters and gatherers who loved the pecan and were able to eat them freely, all of a sudden it becomes a vehicle to turn us into low-paid or slave labor. The delicious pecan became a symbol of terrible things. Whenever I speak in the Rio Grande Valley or elsewhere to Latinos, I tell that story in order to urge them to write or to speak. Because people who have written about our food have not been Mexican Americans or Latinos, and the more that we do, this side of the story—a more complete story—will be told. All food has culture, all food has politics, and I always say, "Make beautiful food." But can there be beauty without justice?
From the September 2020 issue