A Piece of Texas: A Travel Documentary took home the top prize in Texas Highways' True Texas short film category at Thin Line fest in Denton on Saturday, April 21.
"I think this film does exactly what the contest asked, and highlights Texas in a broad sense with really great video footage of the state." –Taylor Herstenberg
For 43 years, Texas Highways has been sharing stories of the Lone Star State. This year, the official travel magazine of Texas and Thin Line partnered to create this category which gives the magazine's readers an opportunity to add their own experiences to the mix.
The winning entry received the highest ratings from a panel of six judges, and was awarded more than $2,000 in cash and prizes sponsored by AJR Media.
"Among the entries, we found true gems that showcase different pieces of the Lone Star puzzle. The filmmakers' perspectives – from small town celebrations and traditions to journeys through art, nature and resiliency — help prove that Texas is, and Texans are, many things." says Texas Highways' Thin Line liaison Lois Rodriguez.
"A Piece of Texas" follows filmmakers Rich Baur, Luke Walker and Amberly Russell on a road trip through some of the state's key destinations. With a lighthearted approach, the trio responded to the call for entries by setting out on a five-day trek. Their film is tied together with an original tune proclaiming, "Oh, how I love the Lone Star State."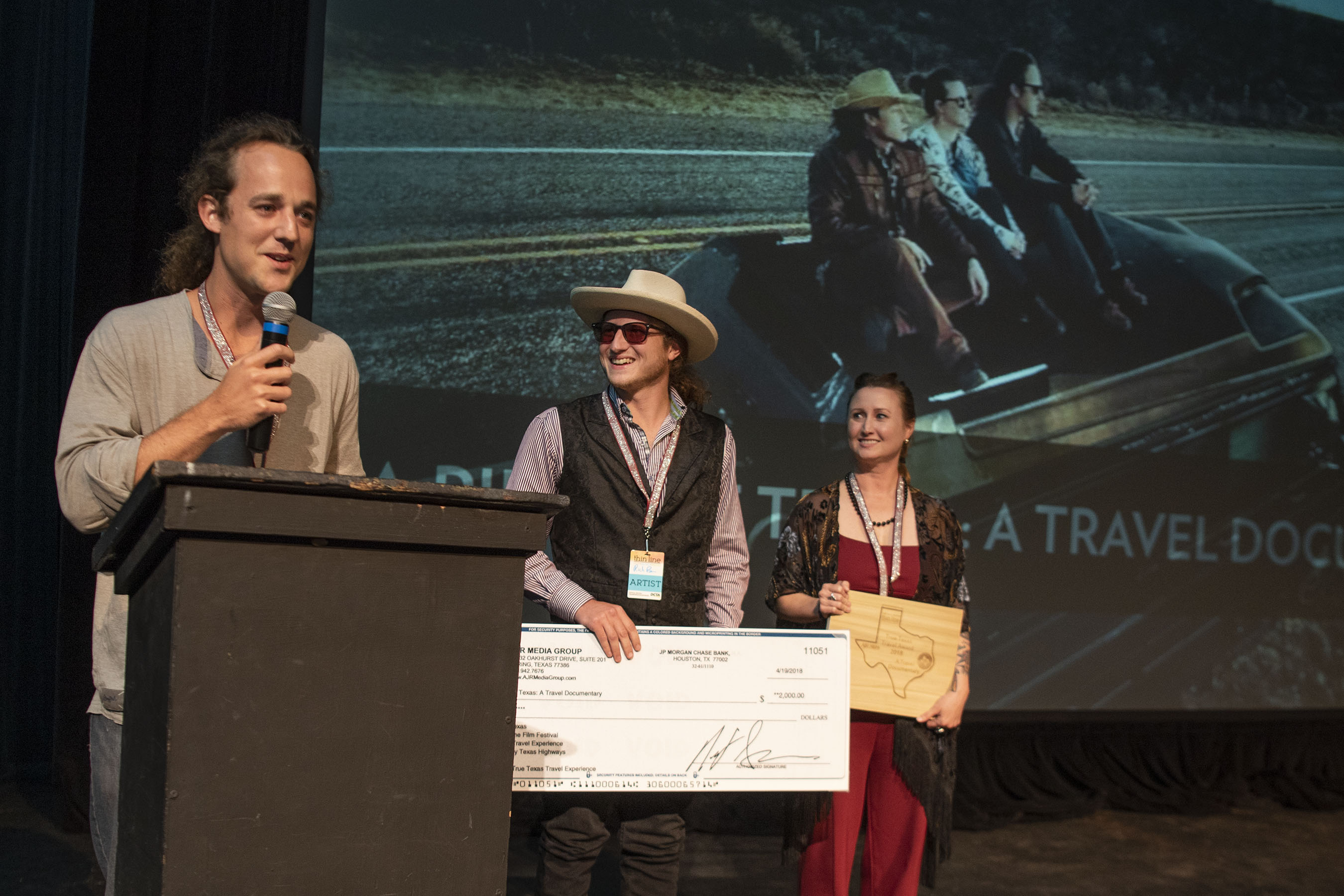 "I think this film does exactly what the contest asked, and highlights Texas in a broad sense with really great video footage of the state," says category judge Taylor Herstenberg of the Texas Film Commission.
Texas Highways Creative Director Mark Mahorsky added that this documentary's music "enhanced the overall experience. I wanted to see more of them and their journey."
The True Texas filmmakers were treated to a VIP reception organized and hosted by Denton Convention and Visitors Bureau Vice President Kim Phillips and her team.
Winner: A Piece of Texas: A Travel Documentary
While "A Piece of Texas" took top honors, the following films were recognized as finalists that sparked the inspiration to travel.
FINALISTS
Mineola
Filmmaker Lauren Cater's Mineola captures the essence of small towns by focusing on something they all have in common – public celebrations.
Prada Marfa
Prada Marfa, by filmmakers Pamela Falkenberg and Jack Cochran, examines the simulated store in the remote desert landscape near Marfa. It's landscape. It's art. It's a roadside attraction, and the film offers a great look at a niche part of Texas tourism.
Highway 100
Alejandro Pallares' photographic journey along Texas State Highway 100.
Echoes in the Night
This short film by Jessie Dean Story looks at the ecological impact that the bat species have on the environment, agriculture and tourism.
Looking Back
Jessie Dean Story's second entry, along with Colin Robinson, examines the effects of a hurricane on Port Aransas. That includes the community's resilience.
The Historic Downtown Tomato Bowl
Writer and director Grace Traylor, along with director Chip Hale, offer us a short film that taps into the feelings the Jacksonville community has about its town landmark – the historic Tomato Bowl Stadium.
Ancient Forest
In this film by Allen Phillips, Plein Air painter Deborah Paris immerses herself in Red River Country's Lennox Wood, a perfectly preserved forest in North East Texas.
Georgetown
A look at all that Georgetown has to offer, featuring resident TV host Chet Garner.