Anybody who's picked up a violin can feel its delicacy. A full-size instrument weighs less than a pound, with a slender body fashioned of elegant hand-pared wood. Four metallic strings run tightly down a neck that's skinnier than a matchbox. The sound reverberates from two narrow holes in the body, each shaped like a feather.
Fiddlers' Frolics Texas State Championship

April 26-29
Hallettsville Knights of Columbus Hall.
Fiddle contests and the barbecue cook-off take place throughout the weekend.
Jason Boland and the Stragglers headline the Saturday-night dance.
361-798-2311
fiddlersfrolics.com
But Texans have a way of aggrandizing things, and the violin is no exception. In the hands of a Texas fiddler, the graceful instrument roars to life with driving melody, swagger, and swing. (The difference between a violin and a fiddle? Violins have strings while fiddles have strangs; violins sing and fiddles dance.) Here we're talking about "Texas Style" fiddling, and on the fourth full weekend of April every year, you'll find many of the state's best Texas-style players in Hallettsville, home of the Fiddlers' Frolics Texas State Championship.
Held at the Knights of Columbus Hall, Fiddlers' Frolics draws nearly 100 fiddle players, ranging from kindergartners to nonagenarians, for three days of fiddle contests, live country and Cajun bands, plenty of down-home food—including a popular barbecue cookoff—and Shiner beer. A handful of fiddle contests across Texas play a role in keeping the state's fiddling traditions alive, but when it comes to bragging rights among fiddlers, the Hallettsville championship is one of the most coveted.
"For Texas fiddle players, Hallettsville is always the crown jewel," says Wes Westmoreland of Temple, who has won the Fiddlers' Frolics title nine times, including in 2017. "We're competing with each other, but we've all been friends for years. A fiddle contest is just a good excuse for us to get together and play."
On an indoor stage decorated with a string of white lights and golden hand-painted letters spelling "HALLETTSVILLE," five contests give the musicians a chance to showcase their chops. Over the weekend separate divisions highlight children, seniors, out-of-state players, guitar accompanists, and an "anything goes" category for different styles and tricks. The contests culminate on Sunday afternoon with the Texas State Championship, open only to state residents.
The difference between a violin and a fiddle?
Violins have strings while fiddles have strangs; violins sing and fiddles dance.
For the championship, about 25 contestants each perform a tune of their choice within categories specified by the judges—a breakdown, reel, hornpipe, rag, polka, swing, or waltz.
A table of five judges then winnows the field to about 10 fiddlers, who return to play two tunes. From those 10, the judges select three finalists, who each play five tunes in a round-robin playoff to determine a winner. The champion takes home $1,500 and a plaque.
If that sounds like a lot of fiddle music, it most certainly is. The weekend offers plenty of chances to take a break, either by stepping outside to taste the sausage, chicken, and brisket from the dozens of smokers competing in the cookoff or browse the tents of vendors selling crafts such as cutting boards and polished rocks. Inside the hall, the Knights of Columbus kitchen serves plate lunches of fried chicken and roast beef. If you don't want to miss a moment of the fiddle action, you can take your meal at one of the hall's dining tables.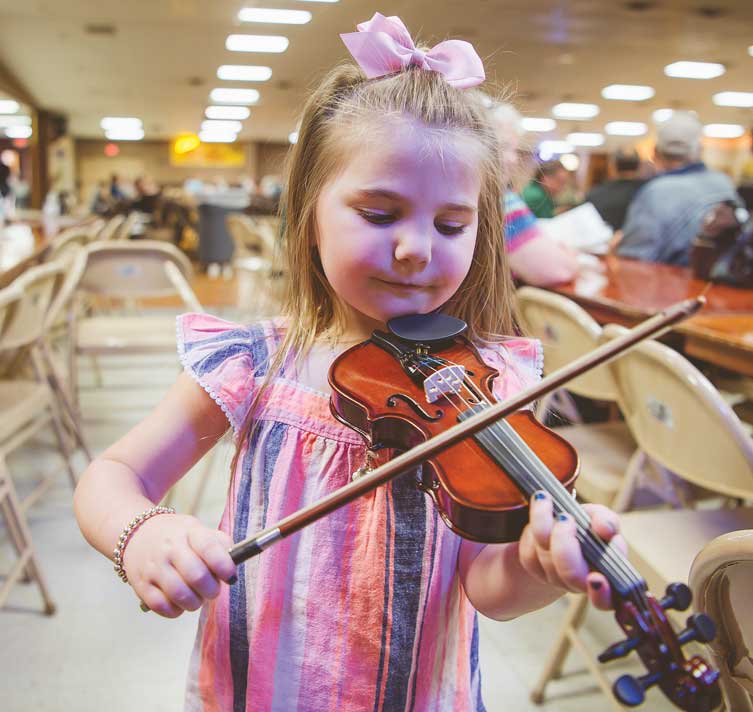 The weekend provides an opportunity to see multiple players interpret the canon of Texas-style fiddle music. With a little guidance from one of the fiddlers or educated fans, the nuances that distinguish the style take shape. Texas-style fiddle is not quite square-dance music, nor bluegrass, Irish, Western swing, or Appalachian. It blends all of those influences—along with elements of German, Czech, blues, and jazz—in a technique characterized by varied bowing and heavy syncopation on the fret board. Texas-style contest players have been perfecting their versions of traditional tunes for decades—songs like "Sally Goodin," "Grey Eagle," and "Durang's Hornpipe."
"What makes the Texas style really stand apart from a lot of other styles is the controlled improvisation," says Kimber Ludiker, an Austin-based fiddler who plays with the bluegrass band Della Mae. "You're taking a melody and you're manipulating it in different ways but not really ever leaving it. I think growing up playing Texas-style has helped me in bluegrass and different genres because you learn how to keep true to a melody and to a song while weaving in different ideas."
---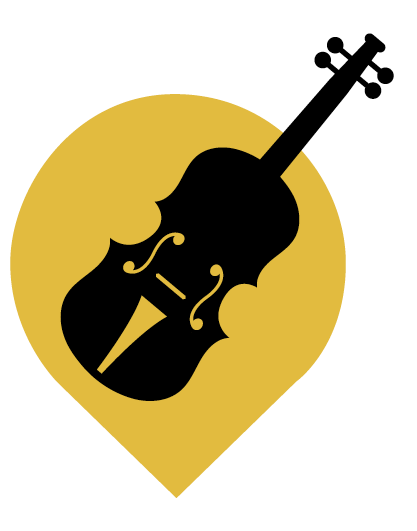 Fiddling Across Texas
A handful of events across Texas hark back to the days when there was a fiddle contest nearly every weekend somewhere in the state. For more events, check out the Texas Old Time Fiddlers Association website, totfa.org:
Llano Fiddle Fest, April 6-8
Athens Old Fiddlers Reunion, May 25-26
World Championship Fiddlers Festival, Crockett, Sept. 22
Bob Wills Fiddle Festival and Contest, Greenville, Nov. 2-4
---
Texas-style fiddle traces its roots to the folk music that English, Irish, and Scottish immigrants brought across the Atlantic and carried westward into the American frontier. In the pioneer days, practically every hollow had its own fiddle style. (Legend has it that Davy Crockett played a fiddle during the siege of the Alamo to buoy the spirits of his fellow Texian defenders. In San Antonio, The Witte Museum displays a fiddle reportedly owned by Crockett when he was still a resident of his home state of Tennessee.) The early Texas players learned tunes by ear from family members—a tradition that continues today—and string bands led by fiddlers were the go-to entertainment for dances and parties.
"When you're familiar with fiddling, you can travel around the United States, and it's almost like hearing people speak with different accents," says Joey McKenzie, a fiddle teacher and coproducer of the annual fall Bob Wills Fiddle Festival and Contest in Greenville. "Texas fiddle is a melting pot of all of these, and Texas fiddlers have long been recognized for being really clever players. I think it's created one of the most interesting fiddle styles in the world, because everywhere else in the U.S. they're all wanting to play Texas fiddle."
In the 1920s and '30s hometown fiddle bands gave way to Western swing, radio, and other commercial forces. Exposure to new styles led Texas fiddlers to innovate their playing and incorporate new influences. In 1922, Texas Panhandle fiddle player Eck Robertson recorded several tunes in New York for Victor Recording Studios. The session produced the first-ever country music record, which has been a fundamental influence on Texas-style playing.
Fiddle music's evolution from barn-dance entertainment into more complicated melodies and rhythms coincided with the popularity of fiddle contests. In towns across Texas, contests with prize money popped up at county fairs, harvest festivals, and the like. Though many have died off with their audiences, several contests still take place across the state. The Athens Old Fiddlers Reunion (May 25-26), which started in 1932, is the oldest contest in the state.
Hallettsville got into the game in 1971 when the Knights of Columbus organized its first Fiddlers' Frolics as a fundraiser. With clever marketing, the group elevated its festival as the "state championship" and launched a Hall of Fame, which is housed in the KC Hall in Hallettsville. The Hall of Fame features the photos and biographies of a who's who of Texas-style fiddlers and influential supporters.
During Fiddlers' Frolics, many of the surviving Hall-of-Famers attend the contest to compete and cheer on their friends and descendants. You'll catch them milling about the contest and gathering for jam sessions in the parking lot and RV campground, passing along tips and tunes to younger players. With the percussive strum of guitarists keeping the rhythm, the fiddlers take turns playing for hours as ever-evolving sounds and tunes dance from the strings of their graceful wooden instruments.
"When it gets in your blood," says Tom Fonville, a two-time Senior Division champion from Flint, "you just can't stay away from it."
From the April 2018 issue