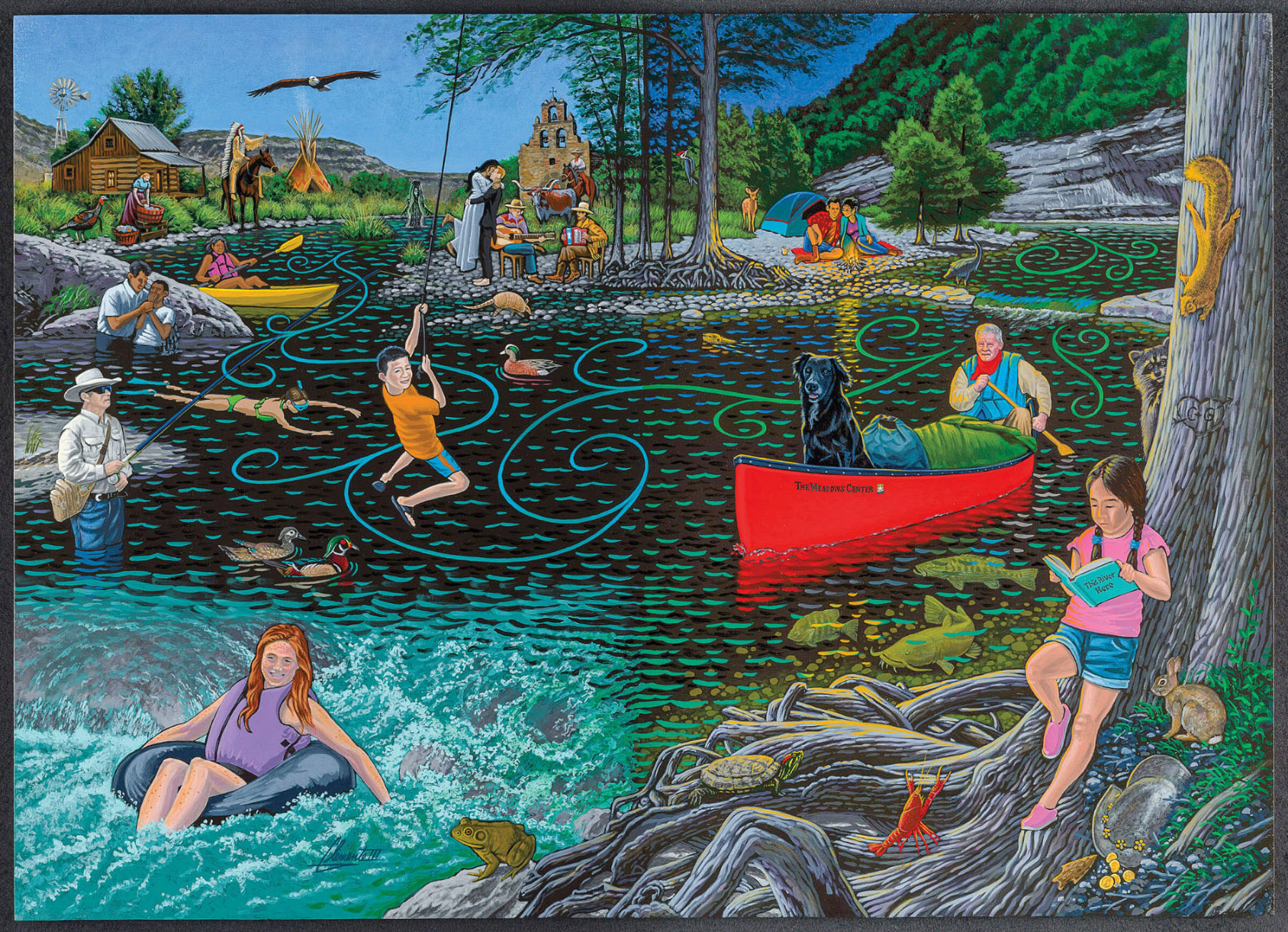 To know the geography of Texas, you must know its rivers. The book Viva Texas Rivers! Adventures, Misadventures, and Glimpses of Nirvana along Our Storied Waterways may be the most comprehensive effort to date to capture the charms, mythologies, and challenges of the state's rivers in one volume. Published by Texas A&M University Press, the book is a glide down more than 28 waterways with more than 70 writers, mostly Texans, as your guides. The compilation explores the muck as well as the transcendence of Texas rivers and includes pieces by songwriters T-Bone Walker and Butch Hancock, poets Naomi Shihab Nye and Carmen Tafolla, nonfiction writers S.C. Gwynne and John Graves, and novelists Attica Locke and Joe R. Lansdale. Two Texas Highways stories are also featured—Michael Barnes and Joe Starr's "In Search of Half-Forgotten Rivers" (July 2020) and my story on the Guadalupe, "A Return to the River" (July 2018).
"Every author has a story about a river, and it's a story that affects their heart," says Sam L. Pfiester, a writer who co-edited the book with Steven L. Davis, literary curator of the Wittliff Collections at Texas State University in San Marcos. Pfiester is the founding member of River Ratus Americanus, a group of Vietnam War veterans and friends and family who've been paddling together for 50 years. "When you're around the campfire on the bank of a river," Pfiester says, "it's a connectedness with nature that's just hard to find anywhere else."
The book includes watercolor maps by artist and cartographer Molly O'Halloran and, for its cover art, a painting (right) by Clemente Guzman that was also selected for the 2021 Texas Book Festival promotional poster. An exhibition at the Wittliff, through May 2022, includes contributions from the book's writers, including swim flippers from Stephen Harrigan and a pair of swim trunks from Joe Nick Patoski, Texas Highways writer-at-large and resident river expert. And in honor of Graves, the most esteemed Texas river writer of them all, one case exhibits the canoe paddle he took on his famed trip down the Brazos, chronicled in Goodbye to a River.
For more information, visit thewittliffcollections.txstate.edu.
From the November 2021 issue