The first time I visited Green Pastures Restaurant, as a new Austin resident in the early 1980s, it felt like going to dinner with relatives—if mine had been well-to-do. That feeling came from the restaurant's setting in a grand 1890s home on spacious, oak-shaded grounds as well as the warm atmosphere and general good mood of everyone there.
Mattie's at Green Pastures

811 W. Live Oak St., Austin
512-444-1888
mattiesaustin.com
A recent visit proved that the welcoming ambiance survives despite decades of change in Austin and new ownership of the restaurant, now called Mattie's at Green Pastures.
After all, the name gives a nod to the home's previous owners, Henry and Martha "Mattie" Faulk. The freethinking Faulks eschewed racism and narrow-mindedness and entertained an eclectic assortment of people—and their five children followed suit. (Their son John Henry, a radio humorist and author, fought back when blacklisted under McCarthyism in the 1950s, and a jury awarded him $3.5 million in 1962, at the time the largest libel judgment in history.)
Festive lights strung among the trees over an outdoor seating area provide a perfect setting for happy hour.
In 1946, Henry and Mattie gave the house to their daughter Mary Faulk Koock, who soon turned it into a restaurant, calling it Green Pastures. Frequent customers in the early days included local luminaries J. Frank Dobie, Walter Prescott Webb, and Roy Bedichek, as well as other writers, poets, musicians, and thinkers. In Mary's The Texas Cookbook (1965), she reported that famous pianist Van Cliburn once ate 17 biscuits along with a "substantial four-course dinner." Years before Austin was desegregated, Koock welcomed people of all races and backgrounds.
The Green Pastures menu pulled from a vast accumulation of recipes from Koock's mother and cousins, as well as ones she picked up on her own travels. Ownership eventually passed to Koock's son Ken, who later sold it to Bob Buslett, a former Green Pastures bartender. Austin developer Greg Porter and La Corsha Hospitality Group's Jeff Trigger bought the property in 2015.
"I started thinking about how to incorporate the history and spirit of the family and what Green Pastures meant to Austin," says Porter, who communicated extensively with family members as he made his plans. "It's all predicated on that history, these very real people's lives and the way they lived. I wanted Mattie's to be about true hospitality, not exclusivity but inclusivity. I tried to deduce what the property was all about, and I think it is a single word: 'welcome.'"
Festive lights strung among the trees over an outdoor seating area provide a perfect setting for happy hour. Inside, gleaming wood floors, large windows, rich colors, simple wooden tables, and comfortable seats contribute to the welcoming atmosphere. So, too, does the menu. Anchored by American dishes, it arose from collaborative efforts between Porter, Trigger, and chef Joshua Thomas, who trained at the Culinary Institute of America in New York before moving to Austin. Thomas worked for the Hyatt Regency Lost Pines and Spa in Bastrop before eventually opening a food truck, Chaat Shop. When the Mattie's project began, he came on board.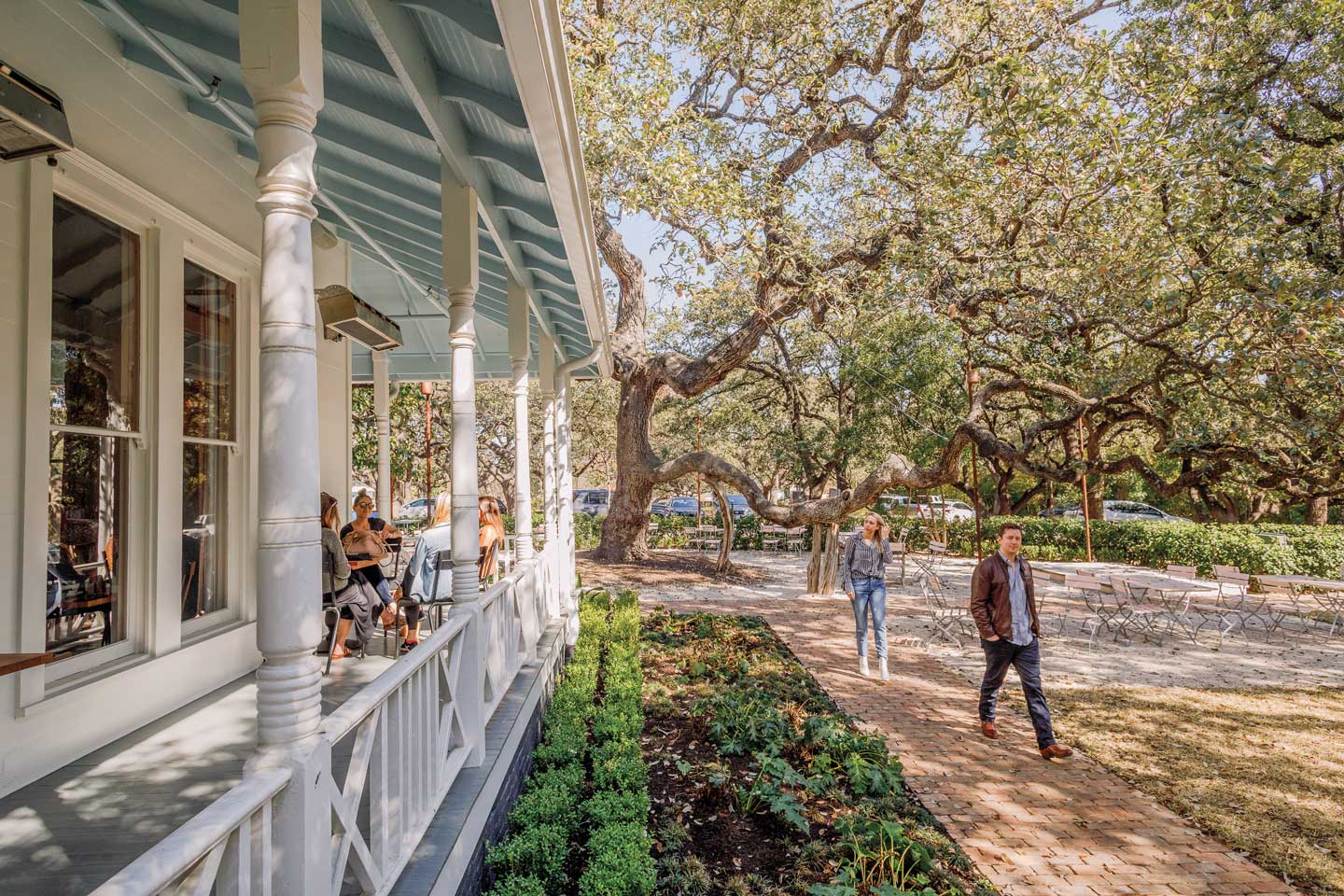 "We're continuing old Green Pastures traditions but also figuring things out for the new Green Pastures," Thomas says. "The old menu hadn't been updated in a while in terms of food and trends. We stripped down the fine dining-ness of the place. The heritage was about bringing people over and hosting parties, and I wanted to keep that feel, return to its roots, yet make it more approachable and comfortable."
Recipe
The two most popular items on the menu, fried chicken ($24) and buttermilk biscuits ($8), accomplish both goals; this is Southern comfort food at its most basic, yet made even more delicious by top-quality ingredients and attention to detail. For the chicken, for example, a yogurt-and-buttermilk brine and south Indian spices add subtle flavor notes. My tender Mattie's Fried Chicken arrived with a light, crispy crust and was served with creamy mashed potatoes, spinach, pickled onions, and a chipotle-yogurt dressing. The flaky, rich biscuits, served with seasonal fruit butter (mine was strawberry), would make a fine dessert as well as a starter to the meal.
My companion's dish, Pan Seared Idaho Trout ($30), came with crispy potatoes, green beans, and a perfect homemade caper remoulade. We shared a side of crispy cauliflower ($8), a generous portion of florets tastily caramelized in a subtle combination of Thai bird chile, tamarind barbecue sauce, and scallions. Desserts change seasonally, but we shared a rich chocolate ice box cake; current offerings include lemon bars with poached pears, monkey bread with fried bananas and milk chocolate sauce, and tres leches cake with rum-braised pineapple.
Longtime Green Pastures fans will be happy to find the famous peacocks still patrolling among the oak trees and the popular milk punch on the menu, albeit with an upgrade. La Corsha's beverage director, Jason Stevens, returned to Koock's original recipe, researching spirits true to that time and using an in-house vanilla cream. The final version blends sweet vanilla cream with Kentucky bourbon, VSOP cognac, aged rum, and freshly grated nutmeg to create a smooth, slightly sweet concoction evocative of eggnog.
"The recipe had changed throughout the years, and we reverted as closely as we possibly could to the original," Stevens says. "With beverage programming at Mattie's, it is important to stay true to the history."
Thomas adds, "We make an effort to work with a lot of local farmers and vendors. We have to be cognizant of where the products come from, how they are grown." He sources vegetables and produce from nearby farms, grass-fed beef from south of San Antonio, trout from Idaho, sustainable salmon from New Zealand, and chicken from Smart Chicken, the first U.S. poultry company to be certified humane and organic.
"I look at Mattie's as if we are stewarding it for future generations," he adds. "There is nothing else like it in Austin in terms of history."
From the April 2018 issue