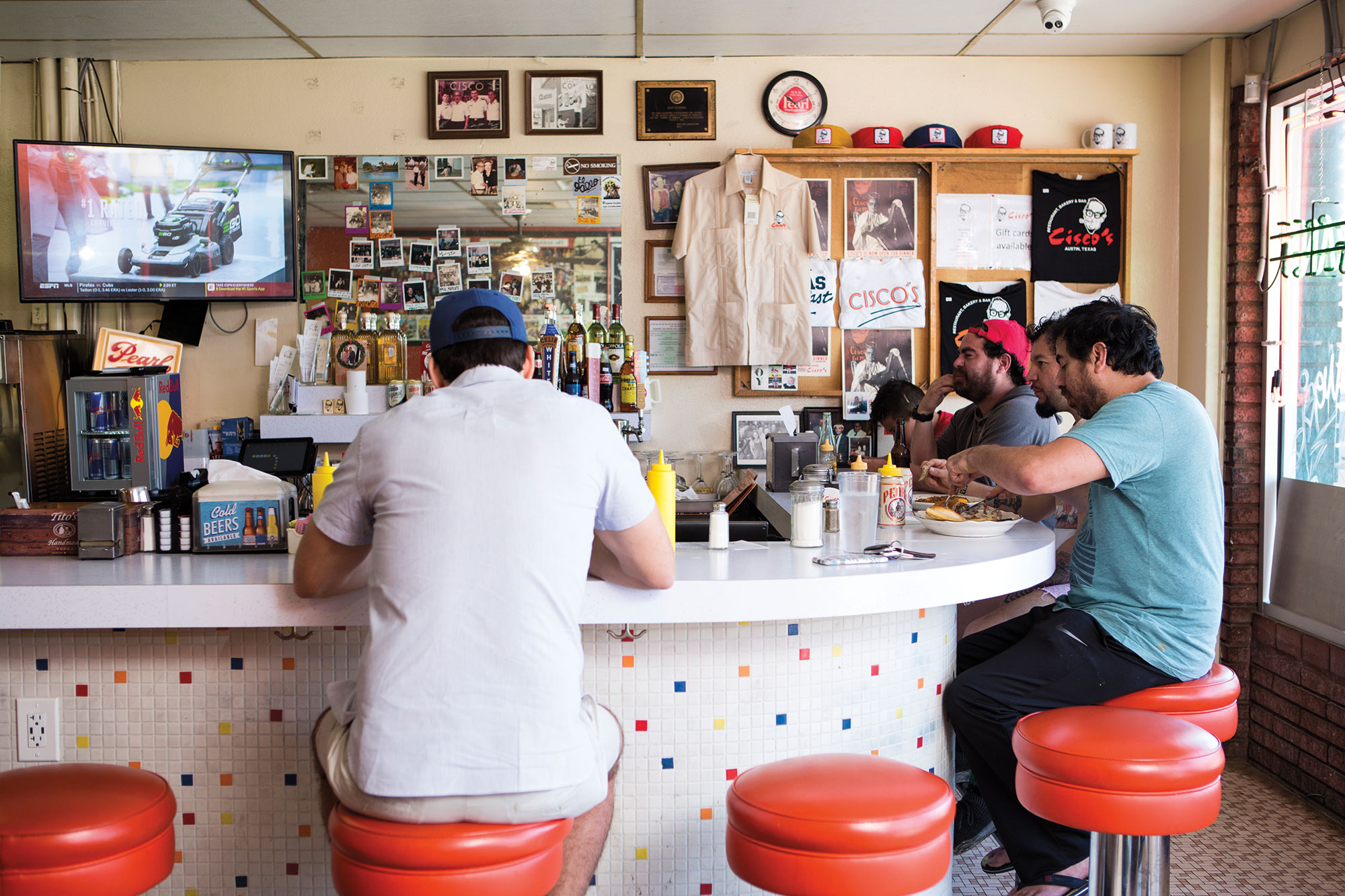 Austin's East Sixth Street has seen quite a bit of change in recent years. This once-scrappy strip of bars and music venues is now a corridor of expensive condos and trendy restaurants, sleek and packed with tourists. Longtime Austinites—or those who visited in earlier eras—might be excused for thinking they were in a different city altogether.
Cisco's

1511 E. Sixth St., Austin.
Open daily 7 a.m.-10 p.m.
512-478-2420
ciscosaustin.com
Cisco's sits in the middle of it all at the corner of East Sixth and Comal streets. The teal two-story building was erected in 1914—a brick "9" and "4" still crown the façade. Before Rudy Cisneros opened Cisco's, which is an abbreviation of Cisneros Company, in 1950, it housed a butcher shop and packing company. The building recently received Historic Landmark status from the city of Austin in a unanimous vote, ensuring it will remain on that corner for years to come. Matt Cisneros (Rudy's grandson) and Will Bridges—high school friends and native Austinites—are tasked with ensuring Cisco's continues to sling its renowned migas.
Its migas are so famous in fact, they earned a special spot on Rudy's epitaph. "Literally, on my grandfather's grave, it says, 'The man that made huevos rancheros famous … and migas too,'" Matt says.
Cisco's has counted many prominent Austinites among its regulars over the years, including a certain U.S. president. "LBJ and my grandfather were friends," Matt says. "LBJ, Willie Nelson, and a handful of other guys would play poker after the restaurant closed until the wee hours. Then [Johnson would] hop on Air Force One the next day and go back to D.C."
But the restaurant's greatest legacy is as a place where all of Austin came together, regardless of celebrity status and despite Interstate 35, which racially segregated the city. "[My grandfather] bridged the gap of East and West Austin," Matt says. "All were welcome." Matt grew up in that community, and dreamed of taking an active role in the restaurant as an adult. When his uncle Clovis Cisneros floated the idea of selling the restaurant a few years ago, Matt recruited Bridges to help make that dream a reality.
Bridges, who also had a hand in restoring Austin landmarks Deep Eddy Cabaret and Antone's Nightclub, says the key to reviving an institution is simply to make necessary repairs. "It's almost like somebody restoring a painting," Bridges says. "You can't be afraid to touch it. You've got to get under the hood and tinker with it. You're trying to put it back together like it was in its prime."
To that end, they've made a few improvements, but no major physical changes. Cisco's is a warren of interconnected rooms: the front room boasts a bar that curves around the open diner-style kitchen, and the back rooms are covered in framed photos of Rudy's famous friends. There's a new era-appropriate jukebox in the front room, and the fluorescent lights in the back still cast their signature glow. With its sunshine-bright tiles and scuffed linoleum tabletops, the restaurant has a cheerful Tex-Mex hole-in-the-wall vibe modern Austin restaurateurs often try—and fail—to recreate.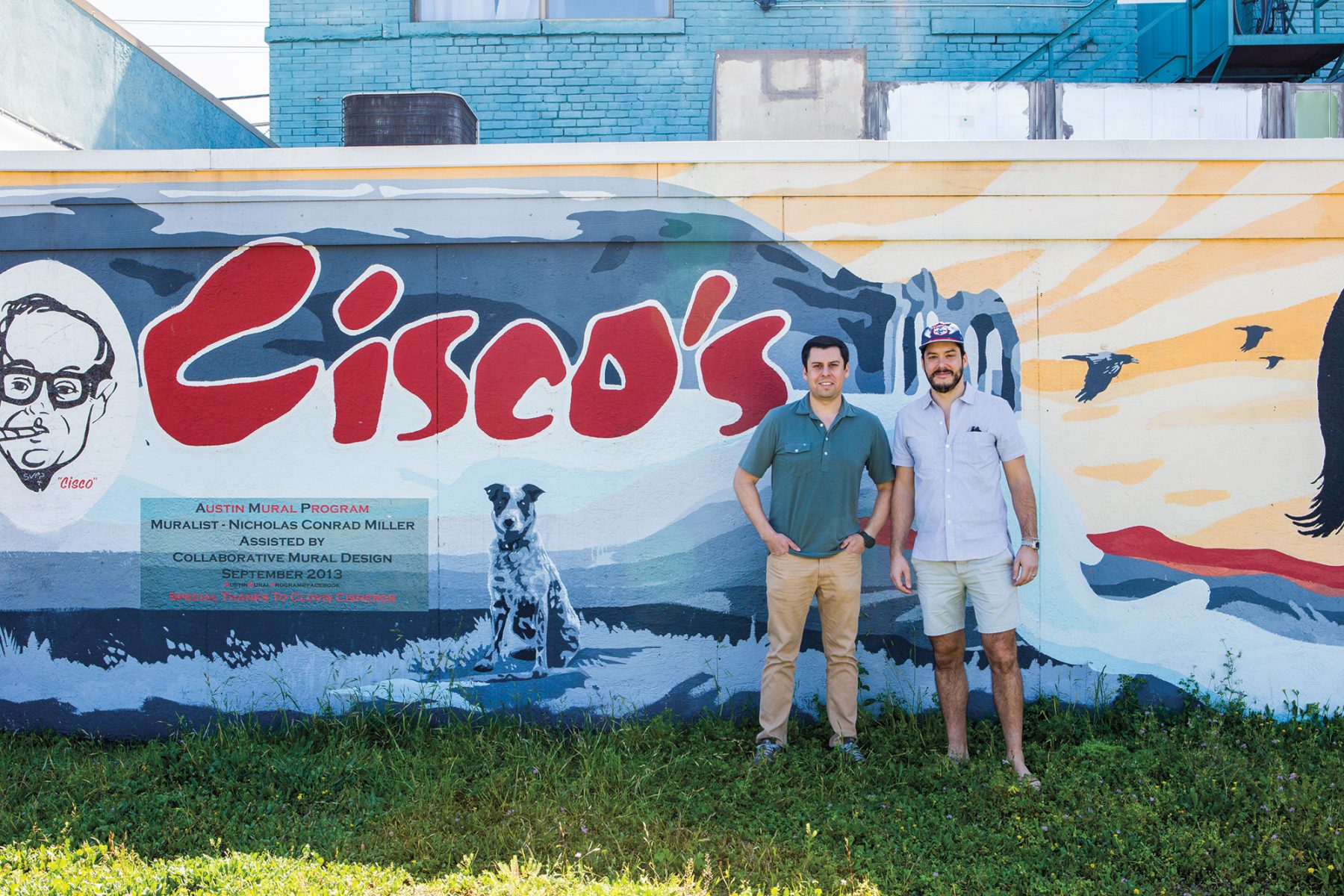 They've also kept much of the existing staff on board. "If a cook has been here 22 years, if you lose that, [Cisco's] is just a sign on the door," Bridges says. The menu remains largely the same as it's always been, and you can still get the original migas, biscuits, and breakfast tacos.
"It's almost like somebody restoring a painting. You can't be afraid to touch it."
Cisco's has started sourcing locally roasted coffee from Texas Coffee Traders a few blocks away on East Fourth Street, and they serve local sparkling water brand Rambler. Perhaps most significantly, the restaurant has been granted a Texas Alcoholic Beverage Commission license and serves margaritas and Austin-brewed beers. Accordingly, they're also open for dinner now. Back in the day, Cisco's was only open for breakfast and lunch.
Can Cisco's survive an East Sixth Street—an Austin—Rudy Cisneros wouldn't recognize? "Let's roll with the punches," Matt says. "You have two choices: You can try to make the thing work and grow, or succumb to using gentrification as a reason for failure. And that's not what we're here to do." He sees the influx of high-end residences on the city's east side as an opportunity to recruit a new generation of regulars.
He also hopes Cisco's can still serve as a unifying force for Austin, the same way it always has. "We're a staple in this neighborhood," Matt says. "We're famous for something that was built on hard work and quality."
And of course, the migas and margaritas aren't too shabby, either.
From the July 2019 issue